London Like a Local: Best Eats, Bars, Markets, Shopping & Hotels
Posted on August 6, 2012 by Sarah Demartini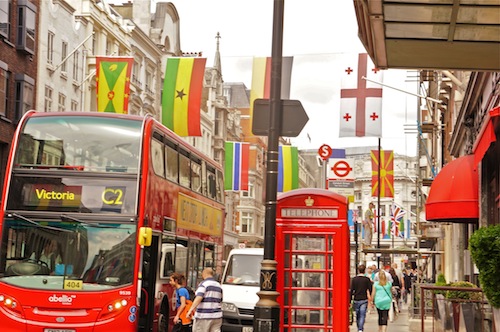 London Getting Ready for the Olympics. Photo credits: Michaela Guzy.
London, like any major city has something for everyone, but for those treasure hunters, there are some gems tucked in pockets across east, west, north and south boroughs of London.
Keep reading for Londoner, Sarah De Martini's favourite (the British spelling): over the counter cialis                
cheap sildenafil citrate online Cafés, Bars & Restaurants. Plus: Markets, Shopping & Hotels.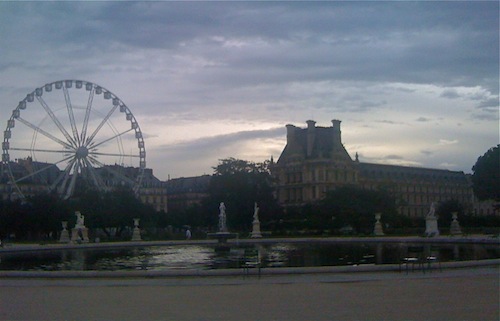 cheap generic viagra I.  My Favorite Cafés :  Breakfast is my favorite way to start the day and fortunately, the café scene is relaxed and lucky for the late risers, most are open all day.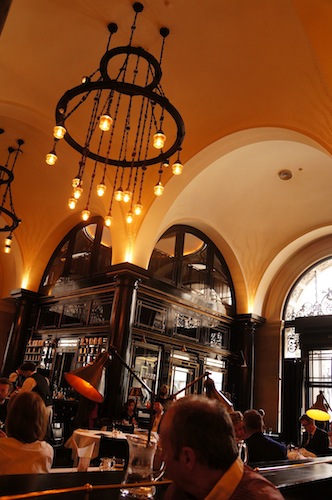 The Wolsley, 160 Piccadilly, London.
Ozone – this is just behind Old Street Station, not the prettiest part of London but one of the best finds for good coffee and breakfast in a long time.  Ozone is an old warehouse which is the typical architecture of east London, open airy and lively, great revival place for a Saturday or Sunday morning and if you manage to get a seat at the bar you can engage in good conversation with the chefs as well.
Riding House Café – Situated towards the west end near Goodge Street, a relaxed breakfast option, family friendly but also very chic in terms of the décor. Food and coffee are great and you can easily spend hours in the buzzy vibe of the place before hitting the shops around Bond Street.
The Modern Pantry – heading east to a quiet spot in Farringdon, where the quality of food and coffee is paramount, second being the décor and open breezy space. If you can nab a table outside to soak up the sun, even better.  A favorite for lunch.
Ottolenghi – crafted by the masterchef, Yotam Ottolenghi, his cafes appear in a number of spots in London so you won't have to travel far to find one. My favorite is the Notting Hill location, tucked in among the designer boutiques of Notting Hill Village (Westbourne Park).  It's the mouthwatering cakes and pastries in the window that draw you in and then the true gastronomy experience begins. Coffee is great and the food can be eaten in on the large communal table a level down, or taken away to a nearby quiet spot under a tree.
La Fromagarie – located just off Marylebone High Street, and recognized as one of the best cheese shops in England, will never disappoint. La Fromagarie offers every mouth watering option you can think of, from coffees and pastries, to cheese, meat and wine. Breakfast is served at the bar in a relaxed communal space. A perfect start to a day of shopping along the high street, which is full of designer boutiques.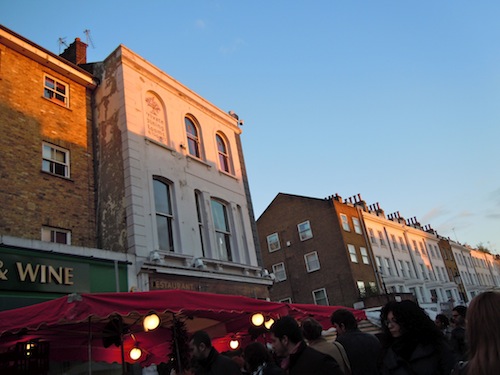 Outside a local cafe.
II.  Bars & Food:  London has elevated to new heights over the last 5 years and really changed the status quo when it comes to fine dining and just eating out in general. There are 36 Michelin star restaurants alone in Westminster, and rest assured London's culinary delights stretch far wider than that. Whether you prefer a relaxed but lively atmosphere with great food and wine or the ultimate degustation menu, it's all here. I have chosen some favorites, the rest I leave for you to discover!
Planet of the Grapes – tucked away in Leadenhall Market behind the hustle of Bank, therein lies a very quaint wine bar with a very cozy rustic feel where you will often find the city bankers and lawyers unwinding from Thursday evening onwards. The food is simple as it is all meant to compliment the wine from all over the world. The vibrant personality of the barmen and wait staff, make this a lively scene.
Boundary Rooftop – when the weather is good, which, lets be honest, is not often, this is east London venue is a great place to relax with friends, cocktails and tapas. Sitting just behind Shorditch House, it rises high enough to see expansive views over the city. Don't miss the French restaurant and bar on the lower level.
Aqua Nueva – This gem is amidst the Oxford St hustle and can be the destination for the entire evening, it's glitz and glam, but tasteful. If the weather is fair the rooftop bar is a great place to start the evening, again with winning views of London. The Spanish restaurant is the marvel here, simple and elegant. The atmosphere is lively, albeit loud. If you are still not done, head to the Spirit Bar to extend the evening, where the barmen will create an impossible, but equally satisfying concoction.
Vinotecca – another award winning wine bar in east London just behind Farringdon Station, it's small but atmospheric, even on a Monday. If you desire living like a Londoner, Vinotecca is your spot. Food is designed to accompany the wine so the menu will change often. A perfect spot for a casual dining experience with quality food and wine that won't hurt the pocketbook.
Roka & Shoshu Lounge – in the heart of London's media district, Roka is set on a well know restaurant strip, Charlotte St. World class Japanese food is prepared in an open kitchen for diners to watch as the chefs meticulously prepare  your meal.  The restaurant is light and airy with a buzzy atmosphere, if you are eager for more, make your way downstairs to Shochu Lounge where you can relax with a cocktail or two.
The Breakfast Club – a real London gem with a twist, they have four locations across London, but the favorite is Spitalfields, just behind Liverpool St. The food is good and a casual vibe, but what makes this place so much fun is the secret underground bar. I say secret, as it also requires a password to enter…tell the wait staff  "I/we are here to see the Mayor" at which point you will then be lead through a Smeg fridge door (the secret door) to a basement cocktail bar, "The Mayor of Scaredy Cat Town". Great vibe and open late (a novelty in London).  There are many more hidden spaces like this in London, generally kept a secret by the locals, I don't want share everything just yet.
Sanderson – another chic London bar in the media district, also part of the Sanderson Hotel which see many famous faces due to it's discrete location. The long bar is lively and great for evening drinks, if you can get a table outside even better.  Sanderson boasts an extensive cocktail menu.
Salt Yard – If you are a fan of tapas, this is the place for you.  Situated on Goodge Steet, the menu is both Spanish and Italian. And because it's award-winning, you will need to book, or take your chances on an open bar seat.
Polpo – this Soho favorite tapas bar is the first of three in London. It has been claimed by many critics to be one of the hottest tables in town if you can get one. There is a no booking policy, so make sure you get there early. The food and wine are innately Venetian, as is the building Pulpo is located in. An informal lively vibe.
Pollen Street Social – a recent edition to the culinary delights of Soho, featured as one of the best new London eats. It is fine dining made simple. Start with an aperitif in the very quaint bar, main courses are eaten in the restaurant and one more move to the desert bar to finish your meal. Great food and bar scene.
Hawksmoore – home of the best British steak in town and a wonderful wine list to match. There are three locations in the city, but Guildhall, a converted warehouse, is the most famous. Large groups are welcome as it is a spacious setting.  There are mouth watering cocktails to compliment the wide variety of meat for dinner.
Smiths of Smithfield: Top Floor – a delicious steak house with spectacular views over London.   Set right next to the Smithfield Markets, where local London chefs shop for their meat, poultry and produce– guaranteed your food is fresh.  If the weather is good, opt for a table outside.
Dabbous – a recent French import, a good albeit pricey one at that. The food is simply "incroyable".  The produce is British infused with French flavours (another British spelling) but by no means rich or overpowering. Retire to the basement bar afterwards for a refreshing concoction of gin cocktails. Book ahead as waiting lists have been lengthy.
The Providores – set in the heart of Marylebone on the high street this is an absolute delight every time. The menu boasts New Zealand wine and food pairings.  The tapas bar downstairs is very cozy with lively crowd, upstairs is more formal dining.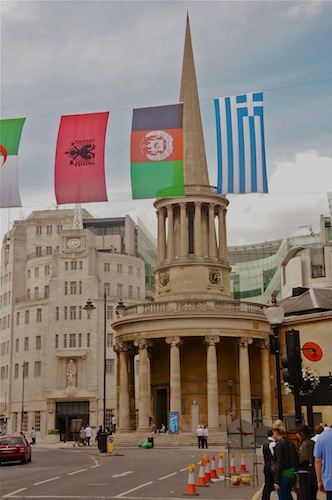 All Soul's Church and the BBC building just across the street from The Langham in London.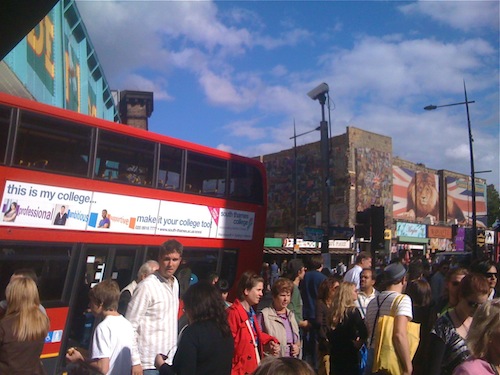 The typical red bus driving through a crowded market in London.
III.  The Markets:  Londoners love markets.  Historically they've been a place where smaller communities came together but as you can see above, locals and visitors alike spend their days checking out what the markets have to offer.
Columbia Road Flower Markets – these are my favorite, not only can I get and incredible bunch of flowers for next to nothing, but the street itself is lined with galleries, coffee shops, home wears, antiques, live jazz, and very good restaurants (Brawn, Laxerio and Campania), and S.Jones for French cheese and bread.  There is also a fabulous wine bar next door if you are in the mood for lunch time tastings! Go on a sunny days if possible, as they are all open air markets.  Always a good idea to have an umbrella handy.  Make sure you venture off the main road into the cobble stone side streets as there are a number of gorgeous ally-ways and mews featuring even more coffee and food.  A real treasure of east London (Shorditch).
Broadway Markets – venturing not far from Columbia Road and into a more residential areas of Shorditch/Hackney, you will find gourmet French and Italian eats and some of the freshest produce to create some true works of art in the kitchen. A must for either a quick coffee stop and or a lazy breakfast, is French café & providore La Bouche, and for a mouth watering Argentinian steak Buen Ayre is one of the best– simple and no fuss, the food speaks for itself.
Borough Markets – set in the heart of London Bridge, Borough Markets are one of the most established and esteemed food markets in London, attracting tourists from all over the word and locals in search of hard to get, quality produce.  It is only open Thursday, Friday and Saturday, I suggest avoiding the mayhem of the weekend traffic try and explore on a weekday. Monmouth Coffee is a great place to sit down for breakfast or a take a breather from the crowds with one of the best coffee's in London. For something upmarket and British in terms of cuisine, Roast is the answer.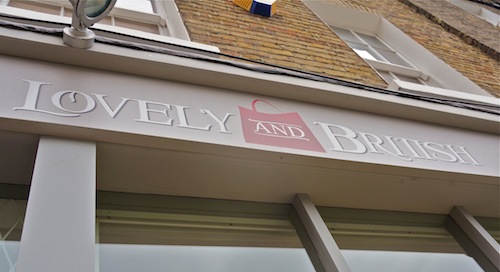 Lovely & British, lifestyle shopping on 132A Bermondsey Street.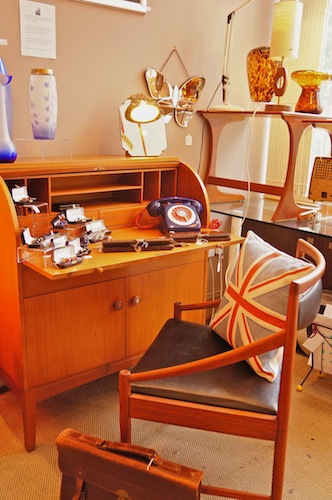 Inside Lovely&British.
IV.  Shops and shopping streets:  London, like many big cities has an array of international designers as well as the rising stars (especially in its east areas, with all of it's budding artists). Whether you consider yourself trendy or not, there are plenty of places to shop.
If you're a department store lover then the top three are Harrods, Selfridges and Harvey Nichols. Each have every luxury designer you could possibly imagine. If you prefer the fresh air and possible sunshine, Sloane Street, New Bond Street, Old Bond Street, Piccadilly Arcade are all close by and offer even more choice of shoes, bags and jewels. There are plenty of lovely cafés among them where you can reenergize for the next leg if you are making a day of it. Further west is the infamous Kings Road in Chelsea with a great mix of high end and high street shops.  And plenty of places to eat and drink in between.  On Saturday, catch the gourmet food markets outside the Saatchi Gallery.
The villages in London offer a very different experience, and one not easily gained on Oxford Street or anywhere else in the city for that matter.  For quaint shops and a local feel, then Notting Hill, Hampstead and Wimbledon Village are lovely alternatives tucked away in quiet residential areas. Admire the architecture and sheer grandeur of the old Victorian and Georgian homes as well as retreat into ornate little cafes where the coffee is second to none.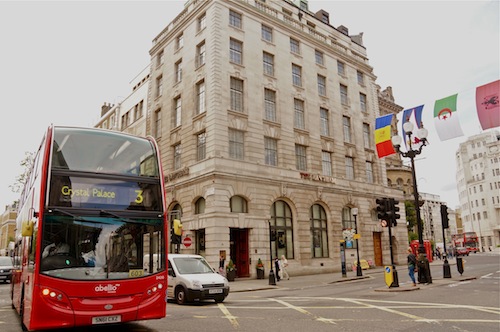 Outside The Langham Hotel.
V.  Places to Sleep (Hotels):  London has everything from five-star grandeur to luxury boutique and many of the grand dames have undergone major renovations.  A few of my favorites:
The Dorchester– an iconic London hotel and as opulent as opulent can be.  The lobby is always packed, the spa has an extensive menu and afternoon tea in the Promenade are a must – try the Paris tea, you'll love it.  Free wifi.
45 Park Lane – also part of the Dorchester Collection, opened last year.  Located just across the way from The Dorchester this newly refurbished hotel made a statement with it award winning restaurant Cut and Bar 45, which attract the nearby Mayfair and Kensington locals. It's simple and chic design attract a young trendy clientele.  Free wifi.
The Corinthia – underwent a total refurbishment. Opulence was not spared, it has many attractions within such as Massimo, the newly opened suites and its Spa with the sexiest pool imaginable.  Try and envision an indoor pool, that's black with a fireplace.  Even the manicure stations are over the top.   Views over South Bank are a must if available.
The Savoy – this was a much talked about rebirth and no penny was spared in the process. It embraces all of its history and now gives so much more. Once home to many royalty and socialites, it still holds the same level of prestige. The River restaurant a popular spot for today's London social swingers.
Claridges, The Connaught, The Berkeley – three quintessentially British hotels in the heart of Mayfair and Knightsbridge. With lavish surroundings, even the standard rooms are fit for a Queen. Afternoon tea and the spa are essential if you need some R&R.
Soho Hotel – set in the heart of Soho, a hop, skip and jump away from bars restaurants and shopping. With a stunning roof garden to relax on anytime of the day, it soon becomes the your adopted sanctuary.
Baglioni Hotel – with its Italian influence you can expect it to be sleek and stylish. Gaze out over the Kensington Gardens from Brunello restaurant, or to retreat to the spa for an expert massage.  Be sure to check out what exhibit is on at The Serpentine Gallery just a short walk through the park.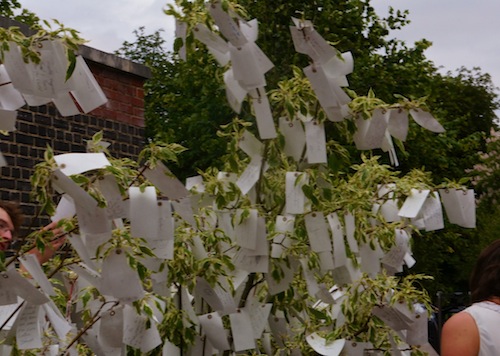 The Tree of Wishes at the Yoko Ono "To The Light" Exhibit at The Serpentine Gallery in Kensington Gardens.
St James Hotel – full of exquisite furnishings, thanks to a recent overhaul has brought this innately British property into its prime. With its Michelin Starred restaurant Seven Park Place, your taste buds will be thrilled with it's extravagance.
Blakes Hotel – crowned the first luxury boutique hotel, attention to detail was second to none. The courtyard offers a tranquil retreat especially for breakfast.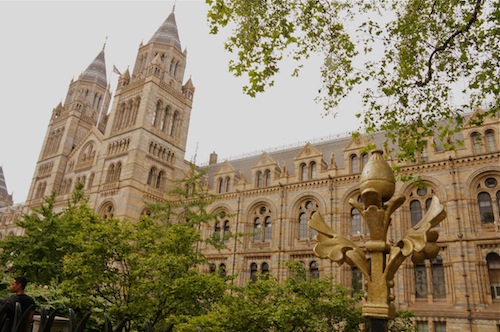 Outside The Natural History Museum on Cromwell Road.