Bhutan: A 5-star hike in the Himalayas
Posted on May 28, 2013 by Muriel Truter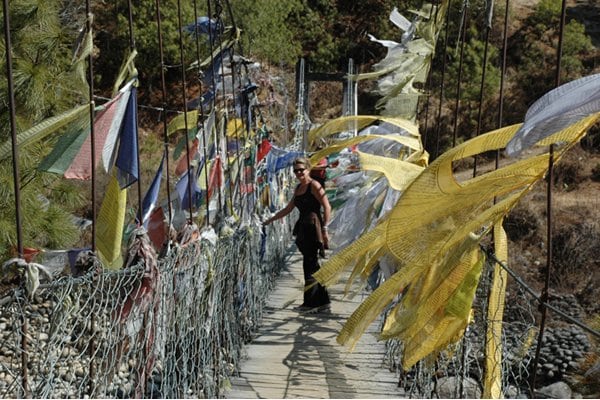 Muriel Truter, owner of Askari Travel, on a flag-covered Bumthang bridge, en route to a farmhouse lunch.
Bhutan, the birthplace of Gross National Happiness, lies nestled in the Eastern Himalayas between India and Tibet.  Our fact finding mission in February 2013 confirmed that this small Himalayan kingdom offers beautiful life experiences:  pristine breath-taking mountain scenery; a gentle Buddhist culture; remote villages and luxurious lodges.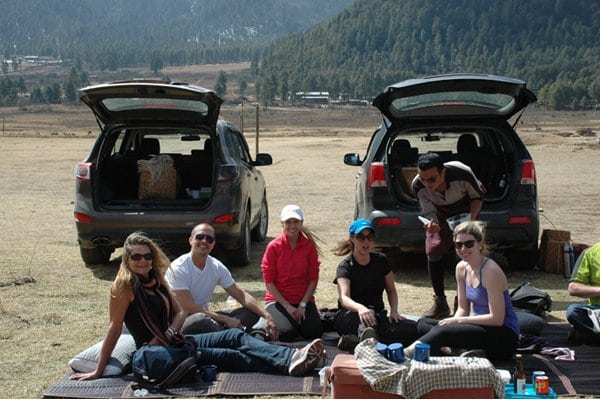 A picnic in Gangtey.
We begin in Thimpu, the tiny capital city, where a single policeman with snow white gloves directs traffic (there are no traffic lights in the entire country).  We travel in comfortable 4×4's with an English speaking guide and a driver and a picnic basket stashed in the back for impromptu stops.  We journey east over the 10,000 ft Dochu La Pass to the Punakha Valley, then to Gangtey and finally to Bumthang, the far east of Bhutan.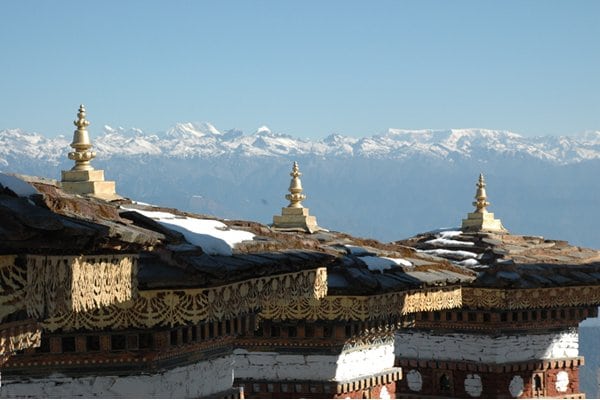 Tibetan mountains in the distance as we travel the Dochu La Pass.
We drive along roads where every turn brings snow-capped mountains and valleys with a patchwork of rice paddies and colourful wooden farmhouses clustered around a central Dzong or fortress. Women in their traditional sari-like kira and men in their kilt-like gho go about their day-to-day.  Nomadic yak herders come down from the mountains and set up their camps along the rivers.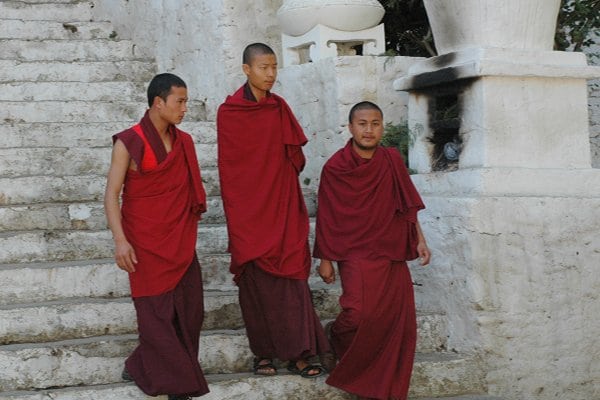 Bhutan monks in Punakha.
Bhutan fits perfectly into our search for places where we can enjoy the culture and outdoors on foot.  Hikes range from simple mountain paths that lead through shrines and villages, to the five hour, 3,000 ft hike up from the valley floor to Tiger's Nest, a temple suspended on the side of a cliff.  One hike led us over a hanging bridge covered in prayer flags, a beautiful mark of Bhutan culture. The narrow trails are shared by locals with their cows and donkeys.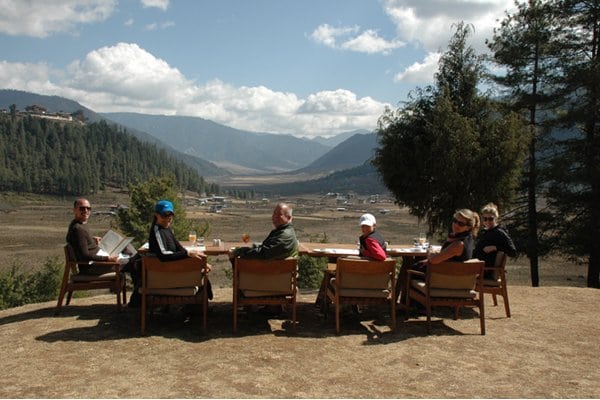 Our farmhouse lunch with a vast view of Bhutan's valleys and mountains.
From riverside picnics to farmhouse lunches, we feasted on ema datshi – the national dish of spicey cheese and chili, nutty red rice, yak curry and delicious buckwheat pancakes. Themed dinners with western choices are available for non-spicy eaters.  One night we find ourselves in a low-ceilinged, stone potato shed lit only by candles; another in a crumbling, abandoned Dzong where a table is set with crystal and china. We join the chef on a foray to the local market for vegetables and spices– we are quickly elbow-to-elbow with nomads hawking piles of produce.  Children play with bicycle tires, careening between bags of rice. Monks buy a seemingly excessive amount of sugar cane.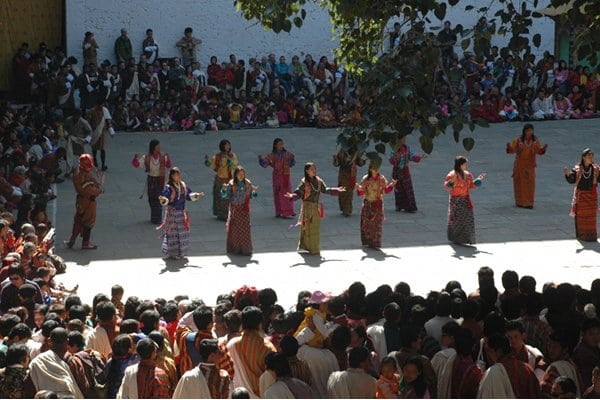 Bhutan tradition manifests in colorful kiras and festive dance.
We are entertained by fireside temple dancers in Thimpu, blessed by monks chanting mantras for good karma in alter rooms, and lost amid crowds of locals in their finest traditional dress at a festival in Punakha Dzong. We are the only chilips (foreigners).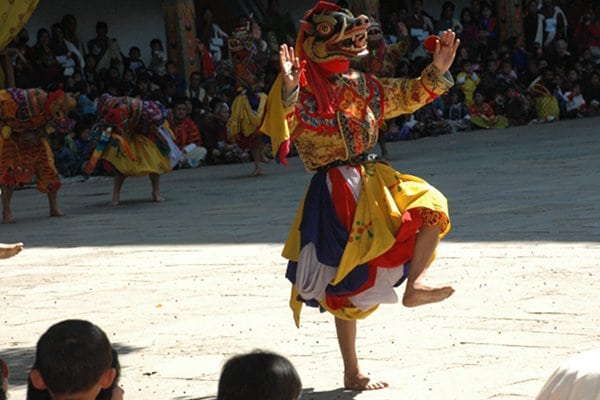 We soak our exhausted bodies in hot stone baths in a candle lit hut with views of Phobjikha Valley. One day we join our guides in an afternoon archery shoot-out, the national sport of Bhutan. We dare each other to drink shots of ara, the traditional rice liquor that contains a cordycep. Cordyceps are small, expensive worms that sell for $25,000 kg dried and are gathered by the local yak herders.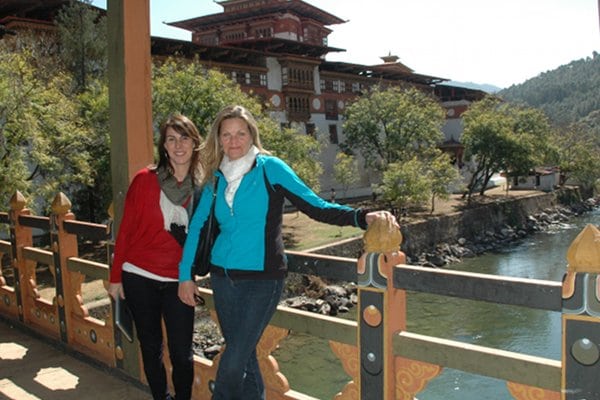 Kymberly Milroy of Aman Resorts and I, visiting a Dzong on the water in Punakha.
We have chosen, at the invitation of the Bhutanese, to stay at Aman Resorts, a collection of luxury properties scattered throughout the country.  The resorts range from serene Aman Thimpu nestled in a pine forest to Aman Punakha, a Bhutanese farmhouse reached by hanging bridge.  The Gangtey property sits at the head of a massive  valley where endangered Black-Neck Cranes come during winter. In Paro we are surrounded by mountains towering 23,900 ft high and in far eastern Bumthang our rooms overlook ancient painted houses where monks live. We watch the villagers and monks gather for dinner from our bedroom window.  As diverse as the locations are, the service is uniform: a simple, absolute anticipation of every need before we even know what we want.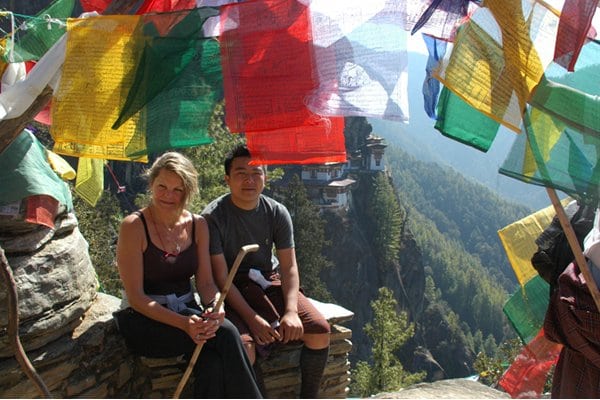 Sonam the Saviour- my guide and I at Tiger's Nest.
Our team of guides and drivers share their stories with much humor and laughter. They are a warm people who have great pride in their country. They regal us with stories of The Great Unifier who brought Buddhism to Bhutan from Nepal, and my personal favorite The Divine Madman.  They even help negotiate our sole purchase of the trip – a colorful yak-wool carpet that will cover a hallway floor at home and will always remind me of this magical journey.
Askari Travel is running a private departure to Bhutan in February 2014 – visit www.askaritravel.com or contact 416.528.7915 for details.