Culture, Caffeine & Chicken Chips: Australia translated
Posted on June 25, 2013 by Beth Egan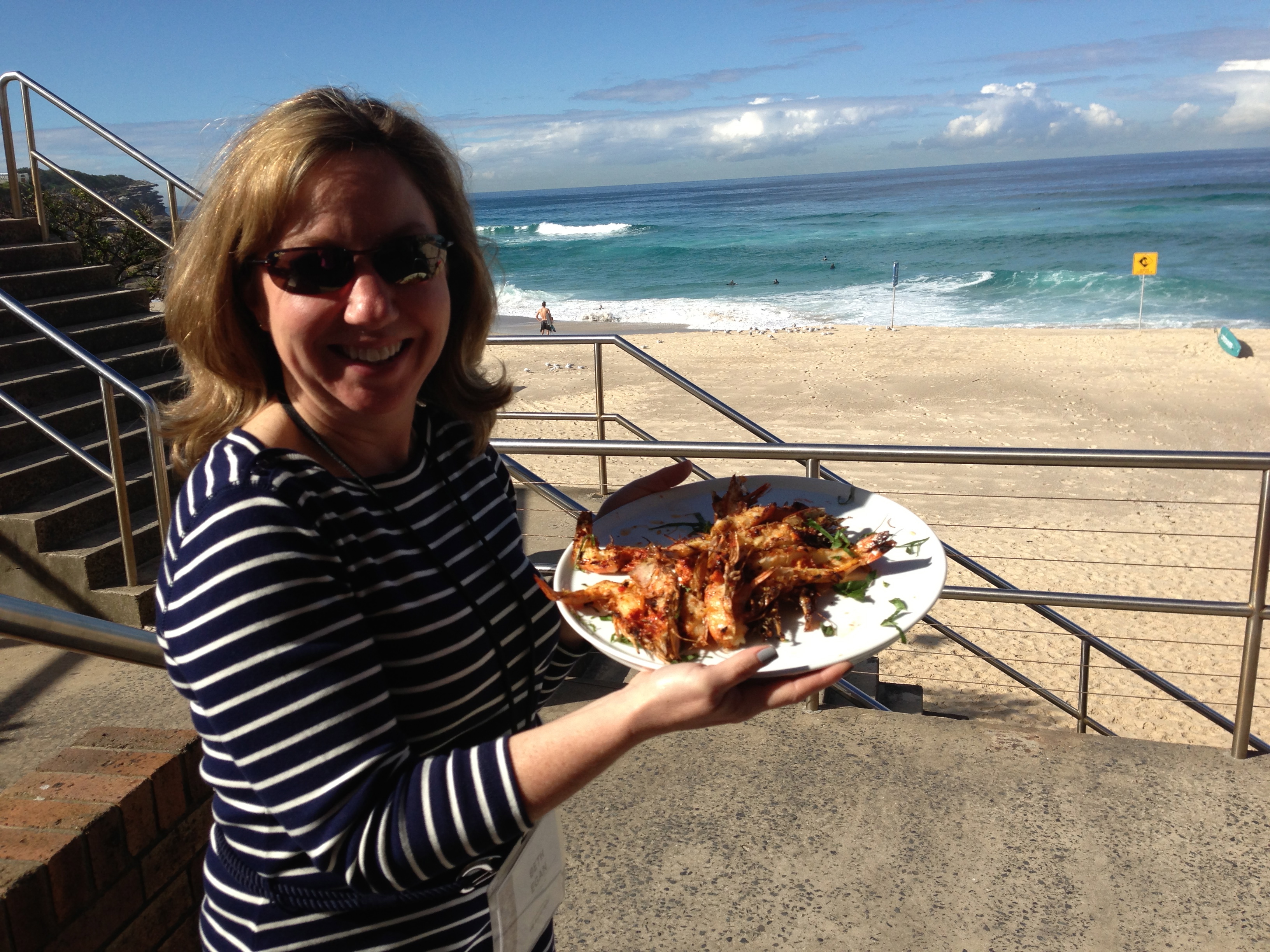 Beth Egan at Bondi Beach, Sydney, Australia. Photo compliments of: Beth Egan.
If you live on the East Coast of the United States like I do, you know that London can be a weekend trip. Paris, too. Even Rome can be fit for a long weekend. But Australia? Now that's a commitment. Having long yearned to visit the land down under, I finally prepared myself enough to take the 18-hour flight.
Yet even with the distance, I thought, "how foreign could Australia be? They speak the same language, right?" I quickly discovered that while the residents of this island country do in fact speak English, it didn't necessarily translate ordering at a restaurant.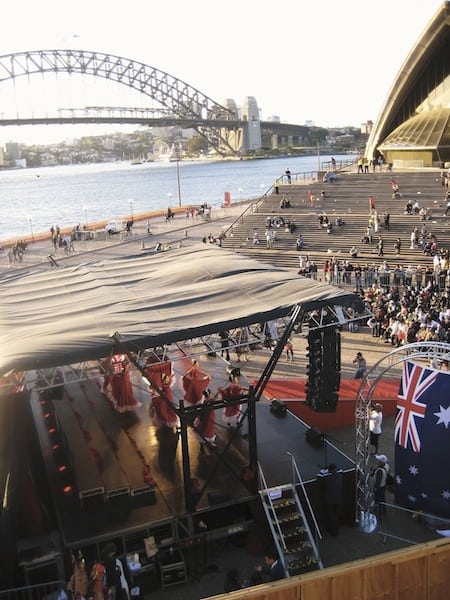 A view of the Harbour Bridge & Sydney Opera House, Australia. Photo: Michaela Guzy.
1) Knowing the Aussie Lingo:
Locals have a whole other language I wasn't aware of, which really became apparent when it was time to eat.
In Australia, you don't order things "to go", you order "take away". And DO NOT call a short flat white a flat white short, you will be corrected on the spot (see coffee culture below).
Speaking of ordering, you should know that they have their own vernacular for fish over there. I'm used to my fish & chips either being cod or haddock. In Australia you decide between flathead or leather jacket, two variations of white fish.
The bread is served with Dukkah, a spice, herb and nut mix used to dip your oil-soaked bread. And a popular vegetable-of-choice is Kumara, known to Americans as a sweet potato.
After a busy day exploring Australia, Aussies would say you're "flat out like a lizard drinking!" (Originating from the image of an exhausted lizard stretching flat out for a sip of water.)
There is a playfulness to it all.  Not unlike pig latin, you can basically take the root of any word and just add an "ie" and you'll sound like a local. Breakkie is breakfast, mozzies are mosquitoes, sunnies are sunglasses and a prezzie is a present. One of my favorites: a voddie tonnie, which I definitely ordered a few of!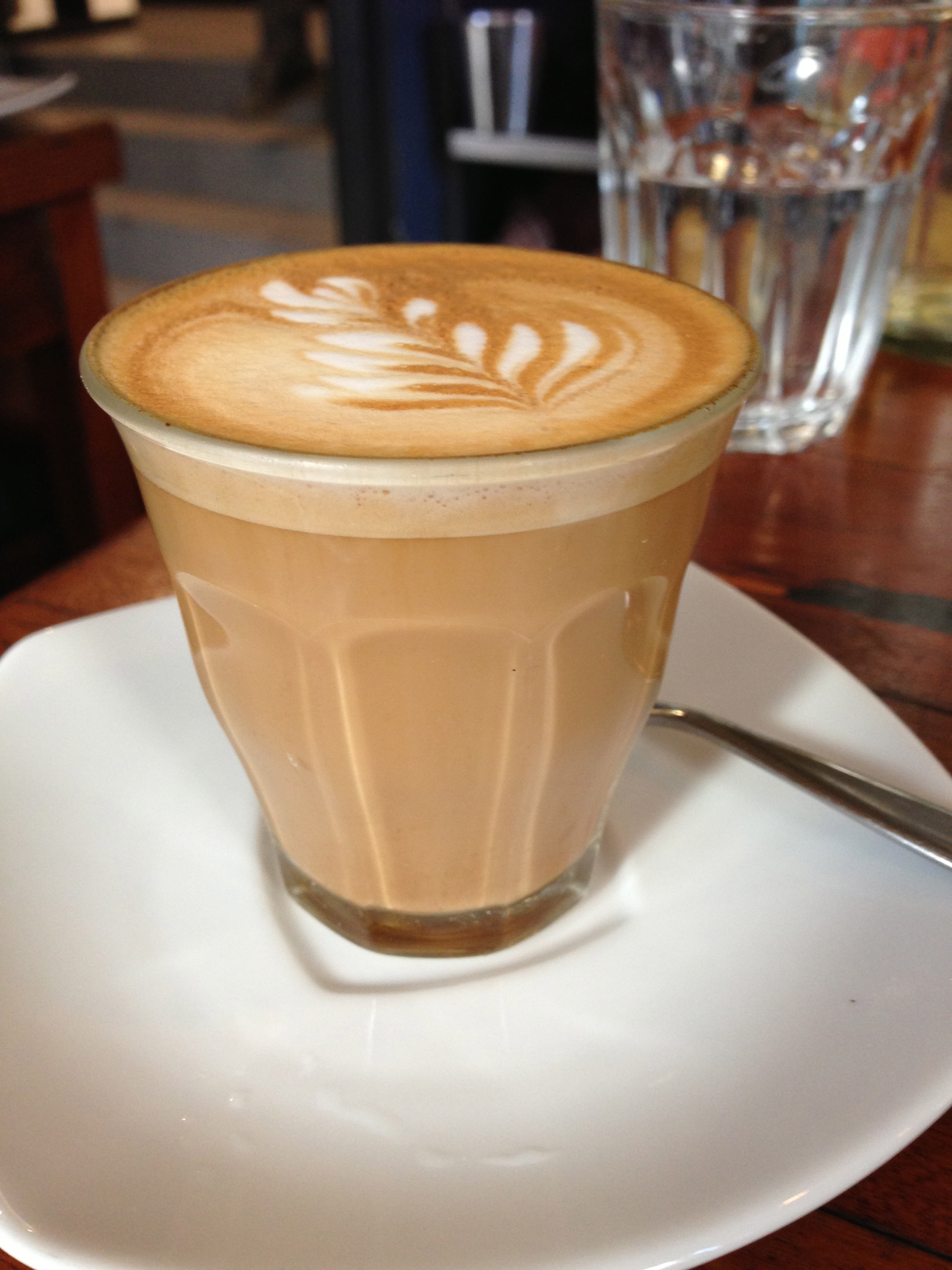 A just-brewed cup: not just a quick cappuccino.
2) The Coffee Culture:
Imagine you are sitting alfresco sipping the most divine cup of coffee. Where might you be: Italy? France? Columbia? No, you are in Australia- one of the world's most coffee-obsessed cultures.
The over caffeinated Australians think about coffee morning, noon and night.  And, true to Aussie form, it's all in another language. Confronted with long tall blacks, short flat whites and piccolos, I was bewildered. My  entire first week there I drank lattes because I knew what they were and how to order them.
Admittedly, I am one of those Americans raised on weakly-brewed, mass-produced coffee from a can. Whenever I travel, my taste buds need time to adjust to finely selected beans and rich espresso roasts.
Tall and short in reference to coffee means exactly what they say – a lot or a little. White means milk. Black means no milk. A piccolo is a little latte. And although I never did figure out the difference between long and flat, it didn't seem to matter.
Coffee is more than just a beverage choice down under. It's a ritual. What Starbucks is to a New York City block, independent coffee bars are to Australian corners. A local friend told me she doesn't even own a coffee maker, but rather goes out every morning to her corner cafe. Another friend said, "If you want to catch up with a friend or hold a business meeting, you don't meet for a drink, it's done over a cup of coffee." This love and appreciation of coffee and how it's served helps explain why there are only 24 Starbucks in a nation of over 20 million people. Aussies don't need a conglomerate to encourage them to take a coffee break.
And while they are sipping their coffee, it is almost a guarantee they will be glued to their smart phones– 3G is the norm, but don't expect to find wifi in their coffee bars. Wireless internet is almost non-existent in Australia.
While there is a café on every corner in Sydney, my personal favorite is Caperberries Cafe.  Caperberries is in the hip and trendy Alexandria suburb located on the corner of Garden St. and Henderson.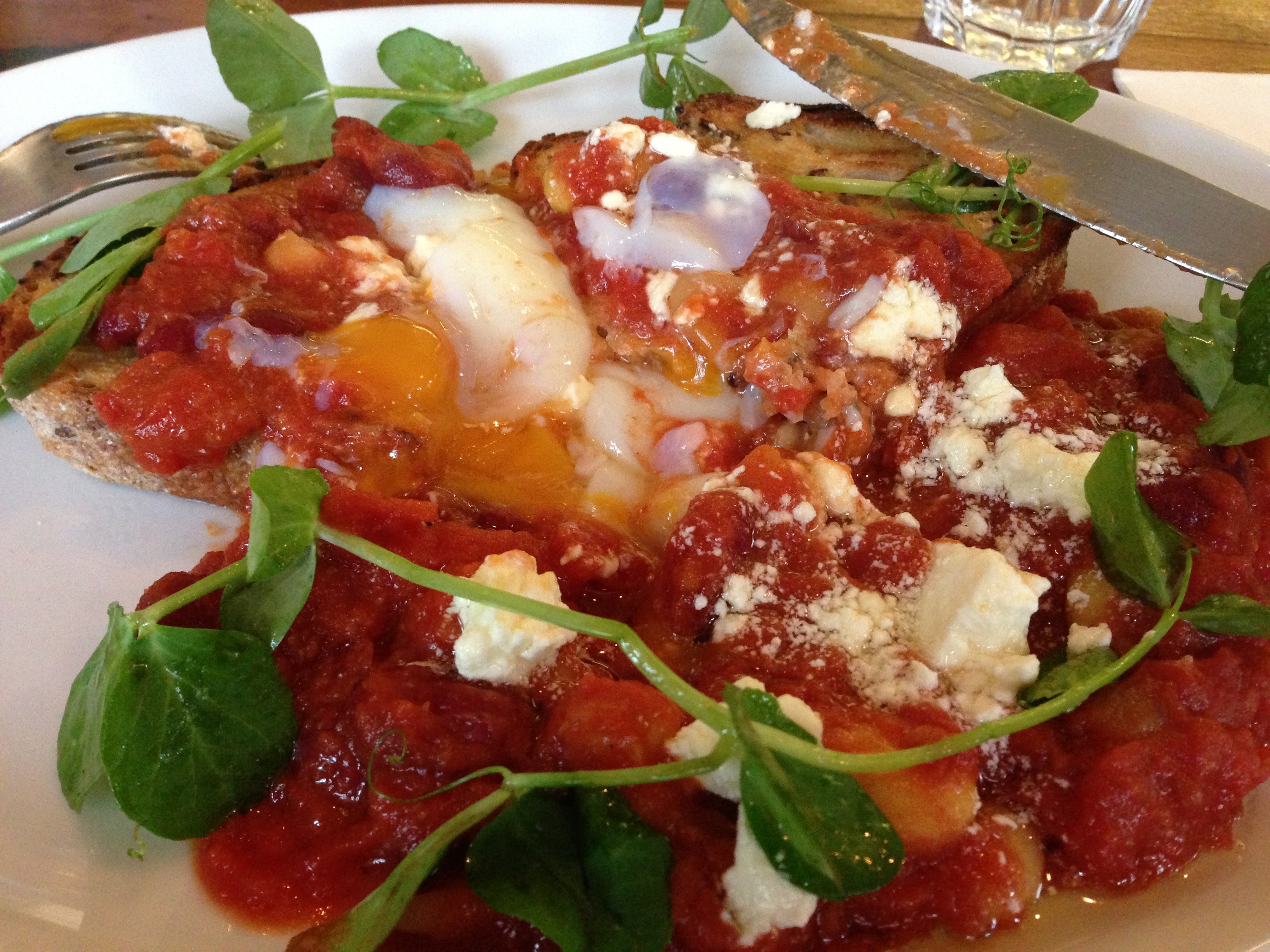 Poached eggs with tomato sauce and beans at Single Origin Roasters.
Single Origin Roasters is one of the most popular coffee shops in Australia.  When TedxSydney featured the best coffee roasters, SOR made the list.  Not to take anything away from the coffee, it is outstanding, but don't miss their much-talked about poached eggs either!
3) Chicken-Flavored Potato Chips:
I admittedly have an obsession with chips (potato chips or crisps, depending on your location). I have a theory that the different flavors of chips in various countries is a cultural statement. My hosts in Melbourne, in an attempt to introduce me to all things Aussie, served me Chicken Chips as an appetizer to our barbie (also known as a BBQ in America), which are potato chips that are chicken-flavored. Australians love chicken chips. And I will attest that they are: 1) delicious, 2) abundant in the land of Oz  and 3) most definitely should come to America. Hey, Lay's, are you listening?!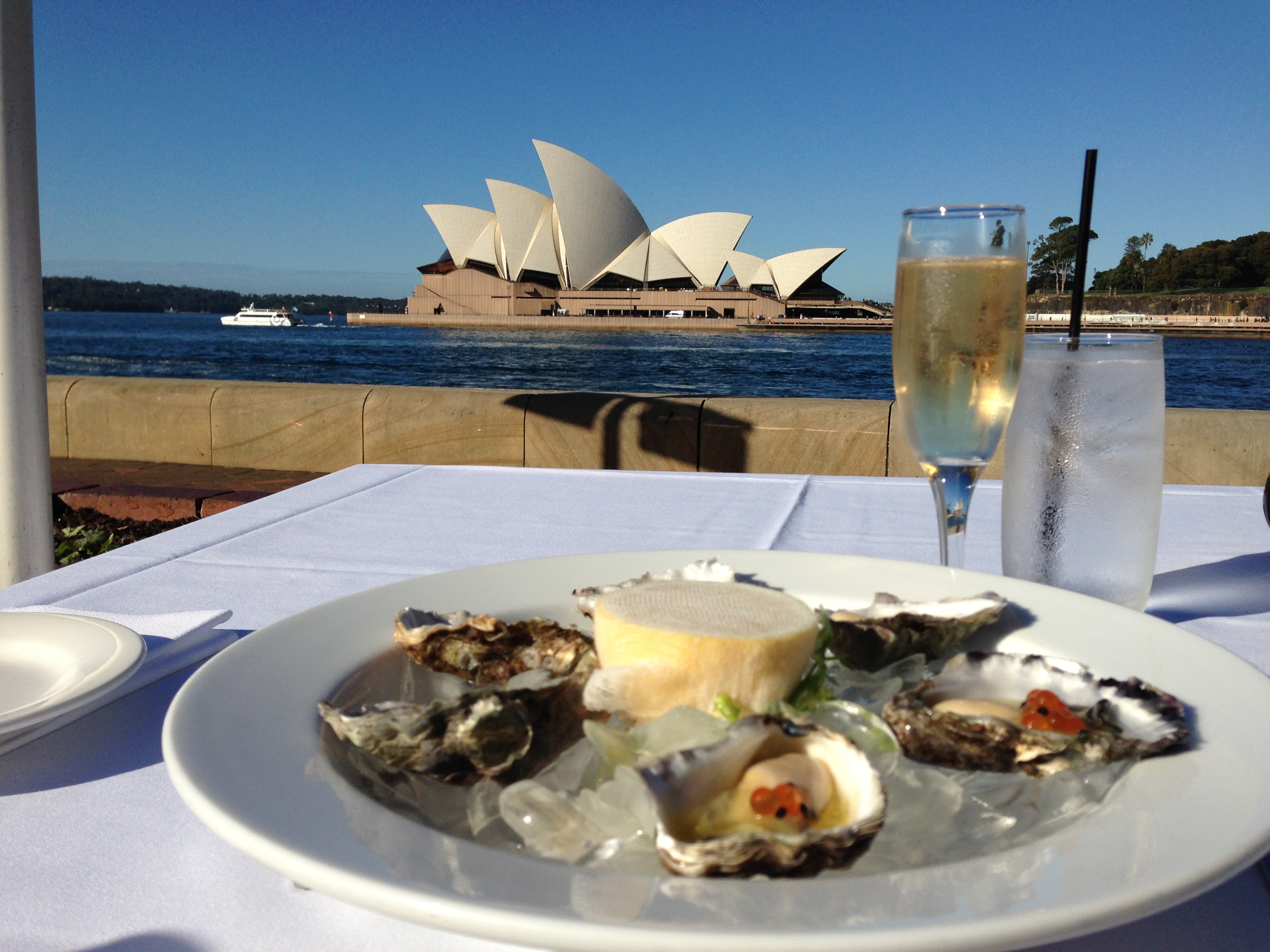 Champagne and oysters at Peter Doyle at the Quay with a clear view of Sydney Opera House.
Once you've seen the Opera House, the two next most iconic views in Sydney Harbour are the bridge and Luna Park. And there is no better place to see each of them than from the Bar at the End of the Wharf. The name is unpretentious but endearing, the menu is simple yet outstanding and the views are unparalleled.
It is truly eye opening to experience a country where the people seemingly speak the same language, and yet with a little exploration, have unique phrases and intriguing cuisine. Admittedly, the plane ride was a doozy, but it was a small price to pay for the Australian Outback experience and the lessons learned along the way. You might end up flat out like a lizard drinking!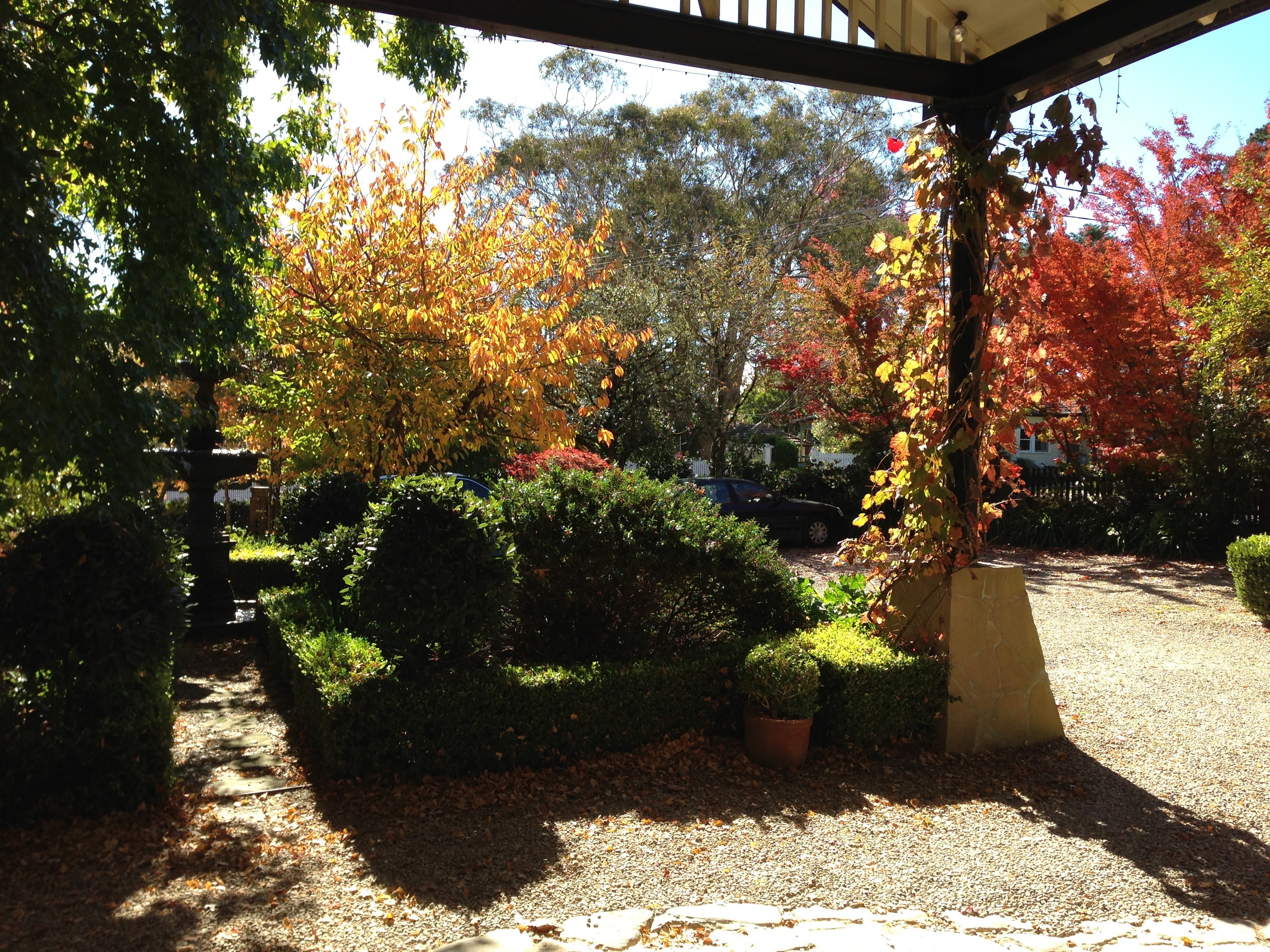 One of the scenic views from Echoes.
WHERE TO STAY:
Echoes Lodge, Blue Mountains: About a two hour train ride from Sydney. Get off the train in Katoomba and hop in a cab to the hotel, just a 10 minute ride.  Echoes offers a smaller, more personalized experience than its neighbor Lillenfels.  Every room has magnificent balcony view. Yes, the mountains are truly blue due to the eucalyptus oil that casts a blue tinge to the air.
The Byron at Bryon-Gold Coast: The resort sits on only 10% of the 45-acre rain forest that makes up the property and was designed to enhance its surroundings.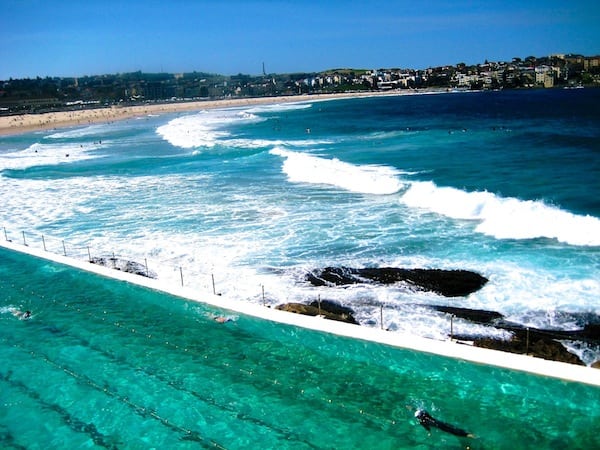 The view from Iceberg's over the seaside pool on Bondi Beach, Australia. Photo courtesy of Michaela Guzy.
WHAT TO DO:
Head to Giants Stairway and have an authentic workout in nature. It's a 1000ft drop managed by 800 stairs.
Bondi to Bronte Walk: After lunch at Iceberg's, start your walk at Bondi Beach, packed with bikini clad hipsters, beach volleyball players and surfers, pass by constantly changing views along the path that follows the ocean. The reward for your walk is the even more beautiful Bronte Beach.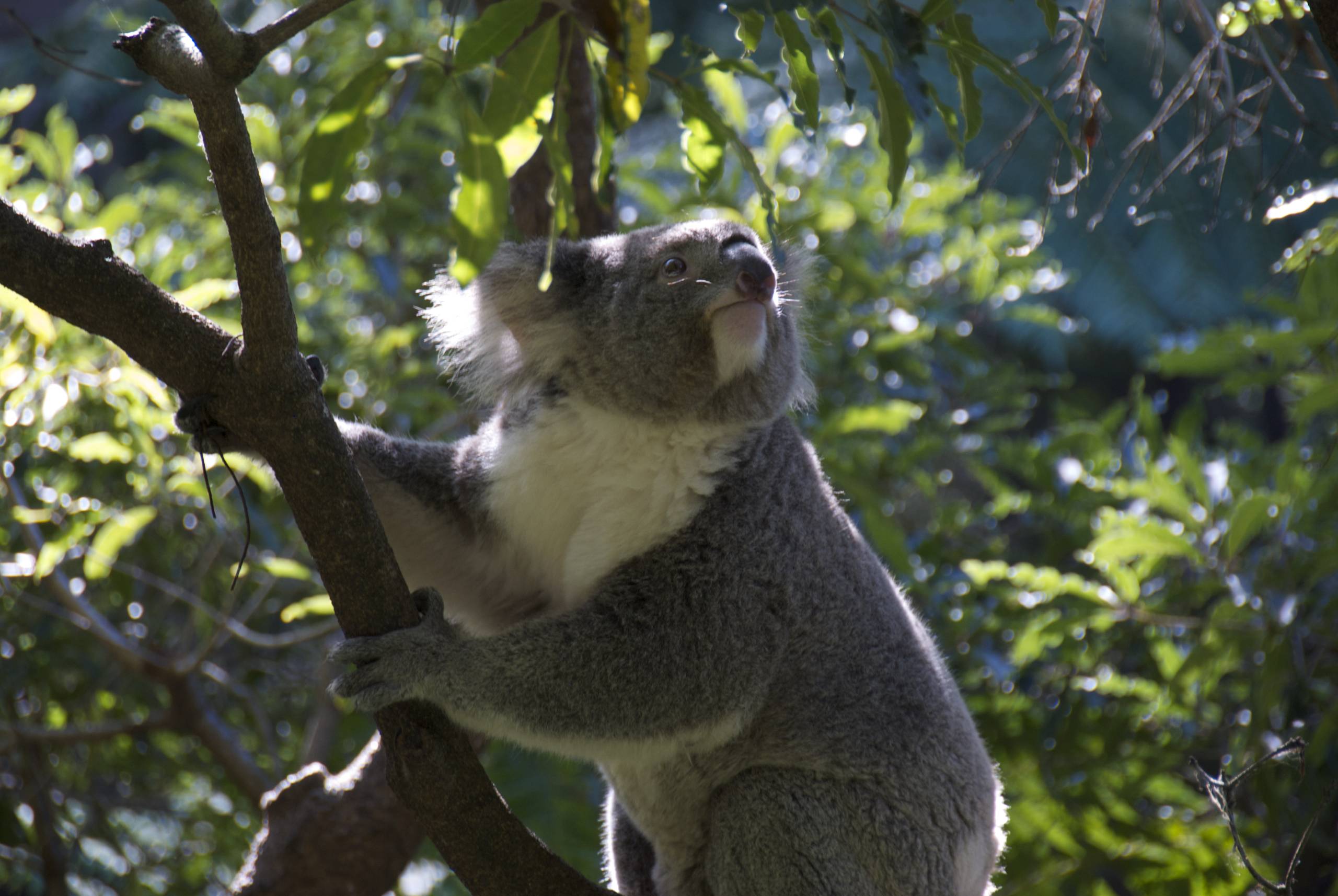 An Australian native, a Koala at the zoo.
The Taronga Zoo, Sydney, is worth a visit. The ferry ride across the Harbour, offers spectacular views of the city and the zoo itself has clear views of the Harbour Bridge. Take a look at Australian Koalas and Tasmanian Devils.
More on Australia's coffee culture: