Hidden Brazil: How a Pousada Changed My Life
Posted on August 26, 2013 by Alison McGowan
Boipeba Island, Bahia, Brazil.
When I look back on my 40 years of mainly solo travel, the Hidden Pousadas Brazil project almost seems pre-ordained. At the very least, the seeds were planted by two extraordinary trips: hitchhiking from the United Kingdom to Afghanistan in 1973 and a trip around Brazil in 1983 as an Oxford University Press Manager.
During my hitchhiking trip, I discovered that between Istanbul, Turkey and Herat and Kabul, Afghanistan only one real road existed; a kind of "Silk Road" taken over by travelers. Everyone at that time transported via this route and in those pre-Lonely Planet years everyone talked to each other, left notes on bulletin boards along the way and generally recommended the next place to stay.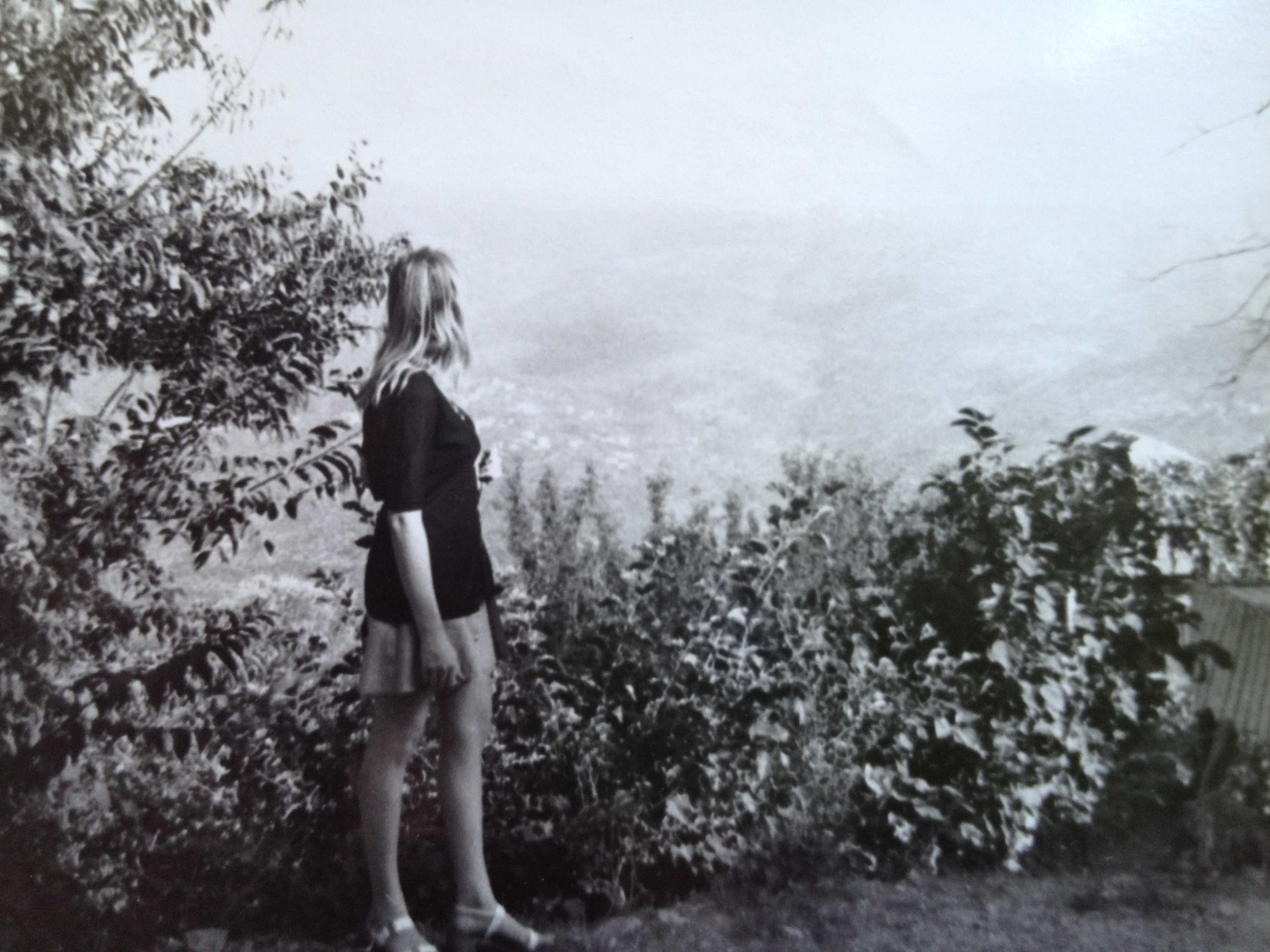 Alison overlooking the mountains of Lebanon circa 1970.
In the case of Brazil, 1983 was the year when I did a mammoth round of 65 training sessions for budding English teachers and in doing so I discovered colorful, offbeat places in Brazil I had no idea existed, even after living there for four years. By collecting recommendations, personal stories and a collection of unique destinations together I have been able to create, Hidden Pousadas Brazil– a guide for independent travellers, sharing insider tips on uniquely beautiful places to stay in non-mass market Brazil.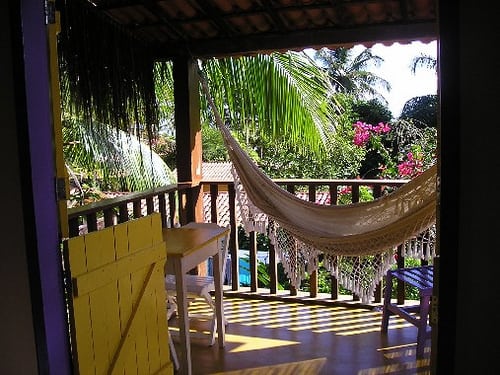 Pousada Santa Clara where Hidden Pousadas Brazil was born.
Of course it wasn't just smooth sailing through all those intervening years. I had my stint in senior positions and corporate life back in the UK (I have always excelled in interviewing, but I am hopeless when it comes to patience with incompetent bosses)!
From 1993 to 2008 I had my own business marketing language schools in the UK and USA to students in South America. But by 2002, the latter was floundering from a combination of economic and political problems, increased internet use and the tragic events and aftermath of September 11, 2001. With that perfect storm, I decided to relocate my business to Brazil. At the time it was a lot cheaper and the business started improving, but my heart wasn't in it anymore, because in addition to my day job I had started getting involved in the organization of a noteable cello festival in Rio de Janeiro. Help came from the most unlikely source in the shape of a chance meeting on a bus in Chile with a fellow Brit who also lived in Brazil. When I told him I was looking for a beautiful place to chill out after the festival where no one could find me, he didn't hesitate for a second. "You go to Boipeba Island and stay at the Pousada Santa Clara."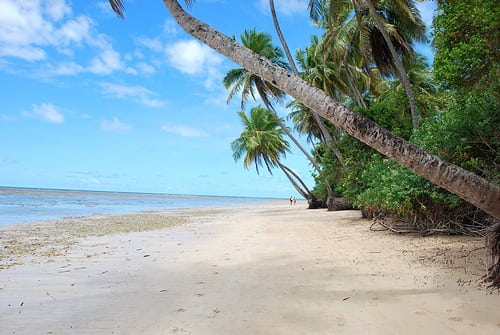 Deserted beaches of Boipeba Island, Bahia, Brazil.
So I went to Pousada Santa Clara and was instantly blown away. I arrived by a dug out canoe powered by a motor to end my five-hour trip from Salvador, Bahia. I feasted my eyes on what looked like someone's artistic portrayal of Robinson Crusoe island. The sandy, tropical beach with swaying palm trees and a few beach bars was almost entirely deserted. We paddled to shore, made our way to the gorgeous guesthouse of Pousada Santa Clara and walked the two minutes back to the beach for a caipirinha and a glorious sunset. And that was where it dawned on me that I was in paradise and that there must be other hidden gems in Brazil that must be discovered.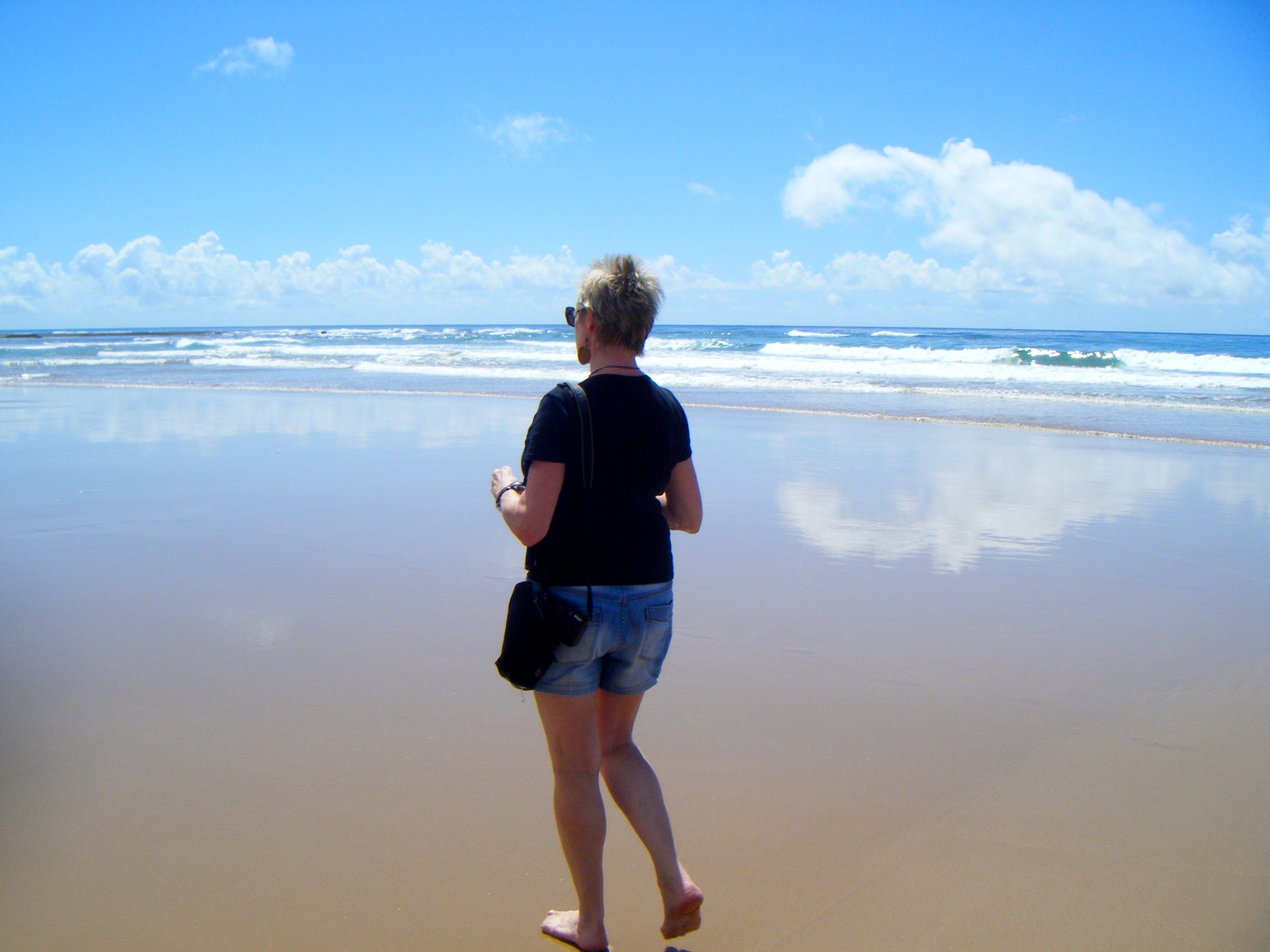 Alison in Boipeba, Bahia, Brazil 2013.
These days I still explore Brazil– always checking out new pousadas and undiscovered places. I always find myself returning to Boipeba Island every year for a "fix" of that very first Brazilian paradise where I happened upon my life-calling, uncovering the best of Brazil for other journey seekers across the globe.