California Wine Country: A Guide to Napa Valley & Sonoma County
Posted on October 8, 2013 by Nikki Pepper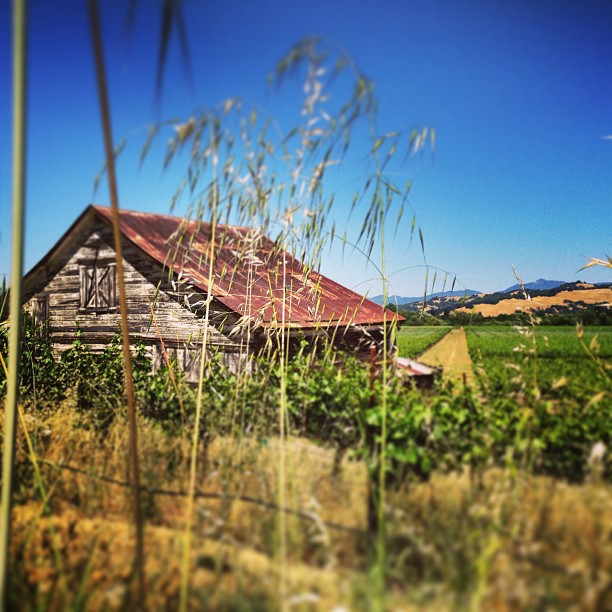 A rustic farmhouse in Sonoma County, California.
Photos by: Michaela Guzy
Fall is the ideal time to visit wine country in Northern California because of uncharacteristic warm weather, aka: Indian Summer from September (the official 'Wine Month') to November. Although, when isn't it a perfect time for a glass of California Sauvignon Blanc or Pinot Noir?  For first timers, there are some notable basic differences between the two best known regions, Napa Valley and Sonoma County. The former  is a bit larger, louder and more commercial, while the later is a quieter and quaint experience.
SIP & STAY: NAPA VALLEY & SONOMA COUNTY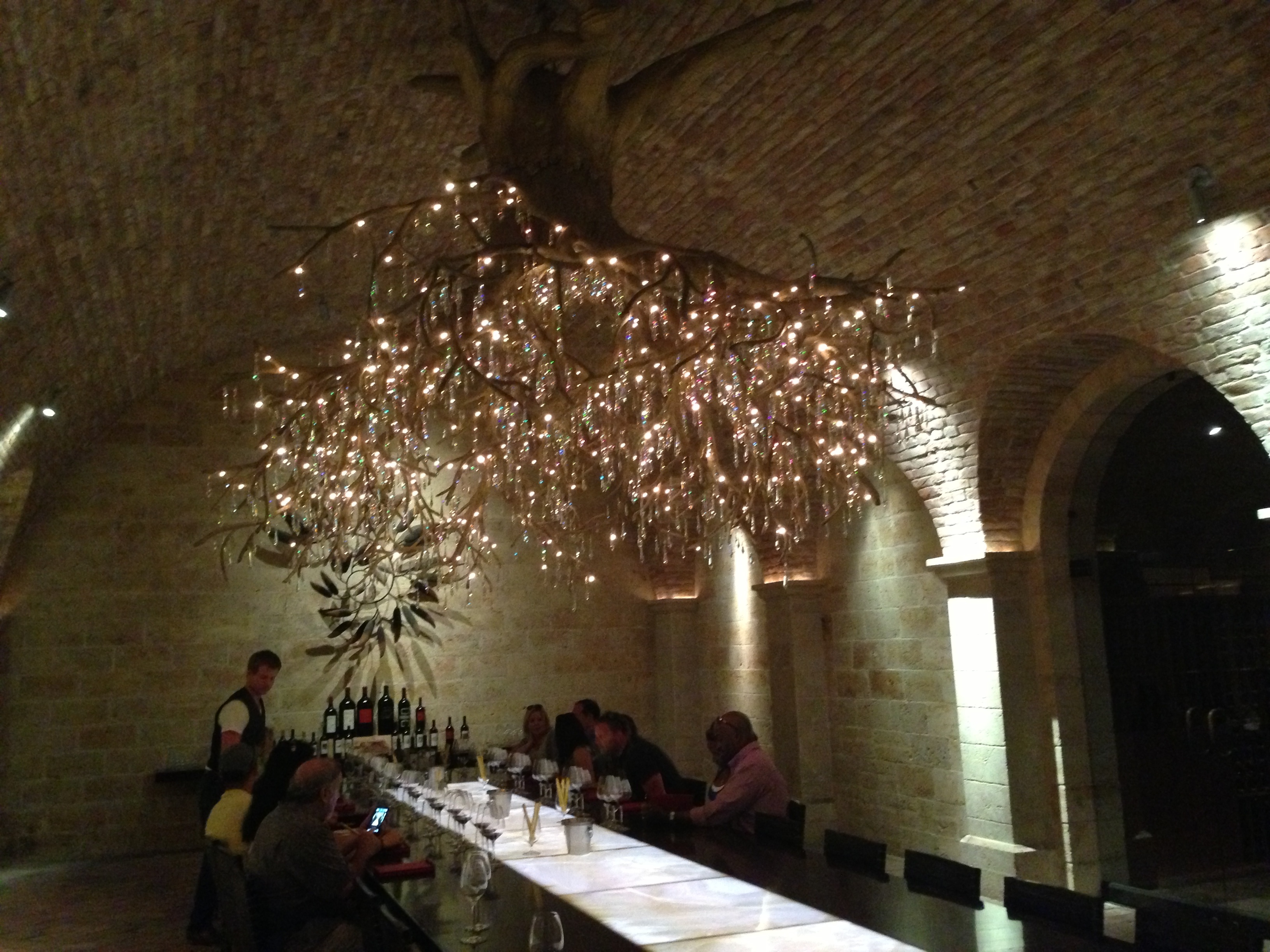 The enchanting tasting room at HALL Rutherford.
A) SIP:
1. HALL Rutherford Winery– belongs to a husband and wife team, Craig and Kathryn Hall, who dedicated their hearts and souls into building a state-of-the-art winery in St. Helena (a city in Napa) focused on limited-production Bordeaux.  As if the small-batch vino and the sizable chandelier in the private taste room weren't impressive enough…HALL Rutherford is the first winery in California to become LEED gold certified.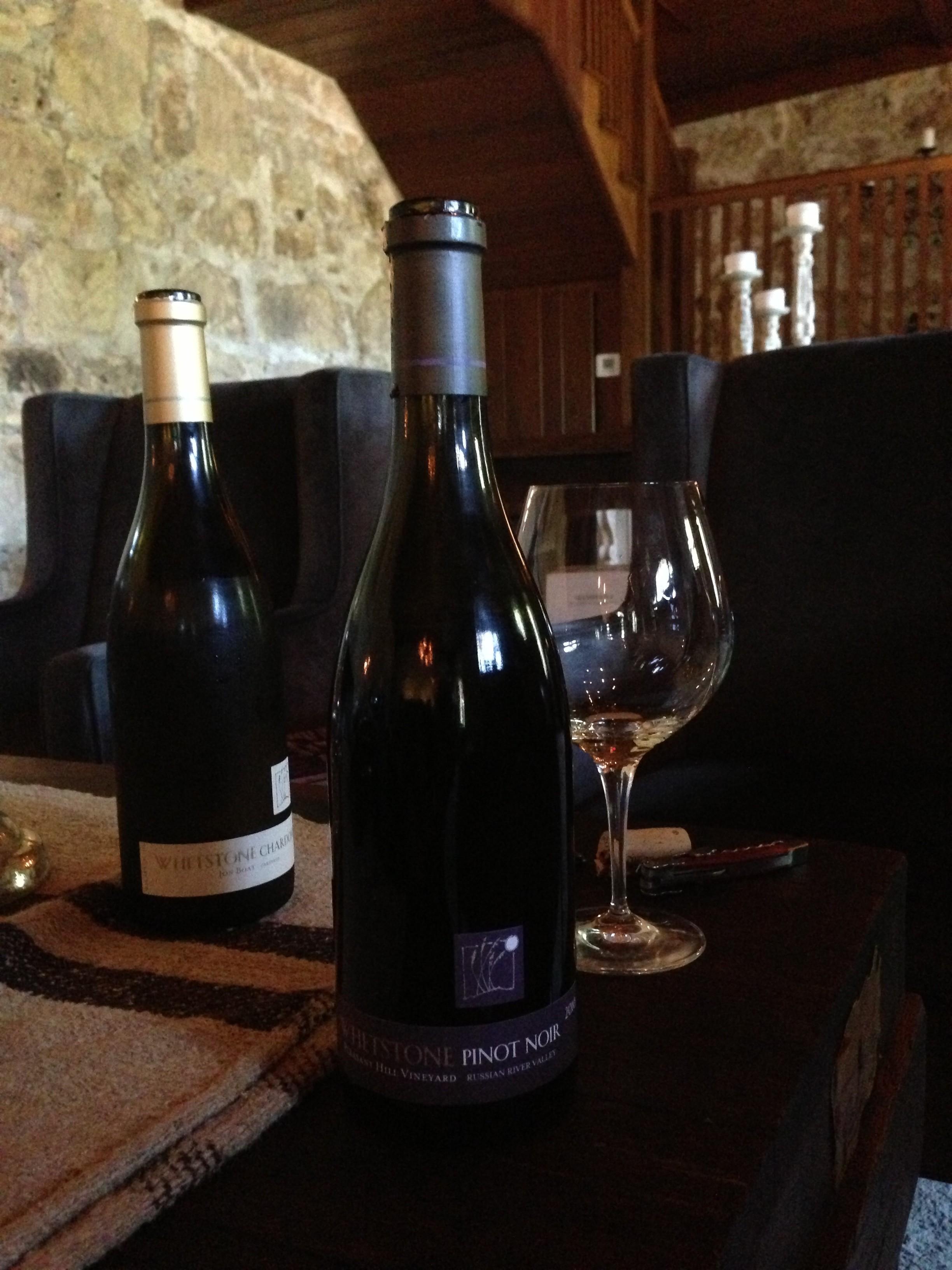 Sipping Pinot Noir at Whetstone Winery.
2. Whetstone Wine Cellars– is family-owned luxury brand settled in a French-style chateau just a mile east of the Silverado Trail a few miles away from downtown Napa. The estate has a private tasting room, perfect for you and a group of your closest friends. The intimate experience allows you to escape other wine country tourists and indulge in their unfined and unfiltered Chardonnay and medium to full bodied Pinot Noir blends on your own. Whetstone's owners are hands on, which is reflected in the personal service and face-to-face conversations.
3. Darioush Winery– is infused with the owner, Darioush Khaledi's Persian heritage. The columns, the stone facade and 95- acre vineyard will transport you off of the rustic Napa wine path and into the luxurious Middle East. If you're looking to indulge, book a private tour of Darioush's personal wine cellar which includes a hand-selected bottle and pairing for $300 per person. And if you like shopping while slightly tipsy, the tasting room sells designer homewares, handbags, books, jewelry and of course wine tasting accoutrement.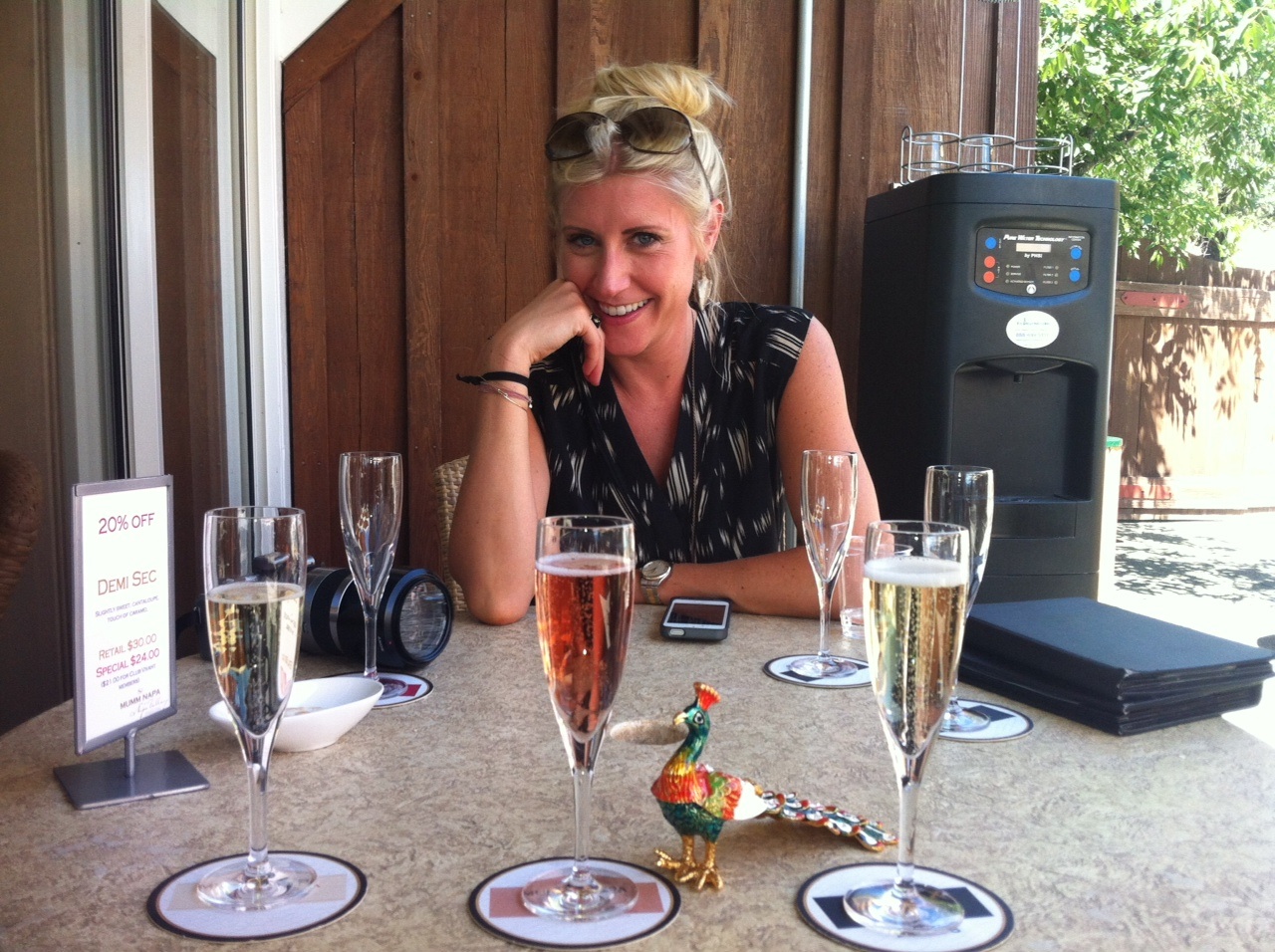 What to taste first? Michaela Guzy eyes-up her sparkling trio at Mumm Napa.
4. Mumm Napa– takes an already delicious glass of wine and makes it sparkle. Sit on the patio overlooking their vineyards nestled in the Carneros region while you taste one of their trios of selection of the sparkling wines in a trio of blush rose, rich reds and crisp whites. Aside from the bubbly, Mumm Napa is unique in that it has a a Photography Gallery of Ansel Adams originals along with a rotating exhibit of artists.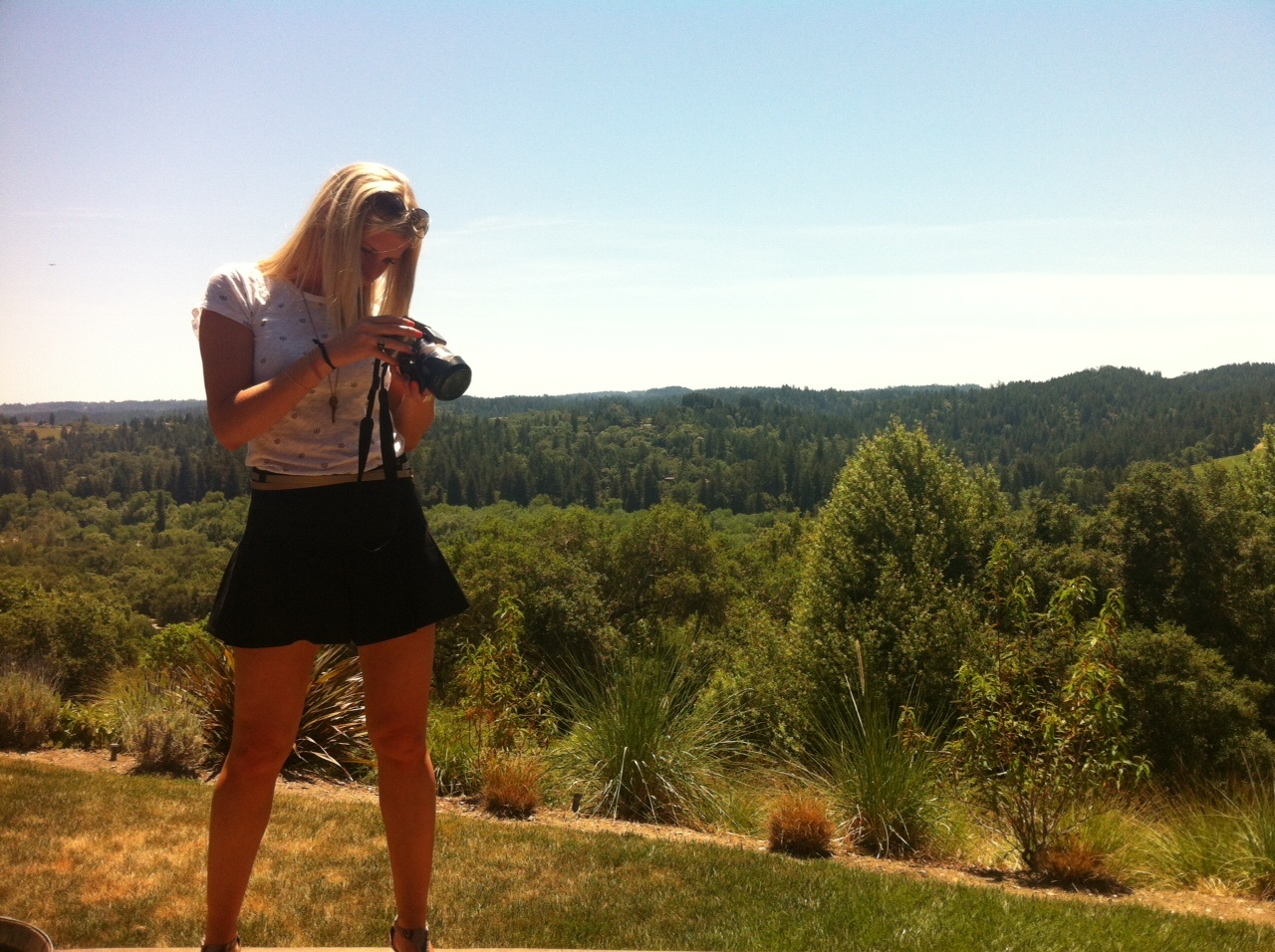 Michaela making sure she captured the panoramic view from Gary Farrell Russell River Valley tasting room.
5. Gary Farrell Russell River Valley– is a rustic vineyard in Sonoma County known for its Pinot Noir, which founder Gary Farrell first crafted in 1982. Sip in the scenic valley and rich vino from the terrace, available for tasting bookings. The variety of tastings and tours provide a nice selection depending on the experience you are looking for – from traditional to fireside – and are well-priced, especially for members. Membership grants you 50% off tasting prices and three shipments of wine per year when you join at one of the three membership levels.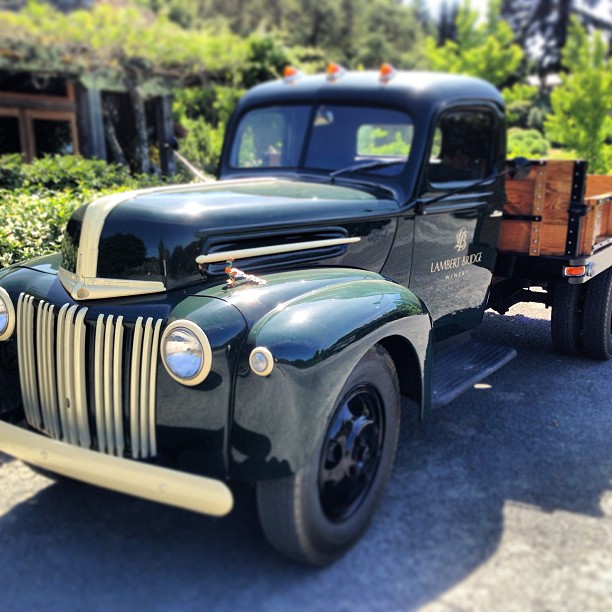 Rustic ranch touches – like this old pick-up at Lambert Bridge in Sonoma County.
6. Lambert Bridge– this former ranch turned winery in 1975, is best known for its blossoms and picnic areas. Seasonal tours are offered. Our favorite seasonal feature for the Indian Summer is the Harvest Tour while the Barrel Room Wine and Food Pairing is a fun culinary experience year round.
B) STAY: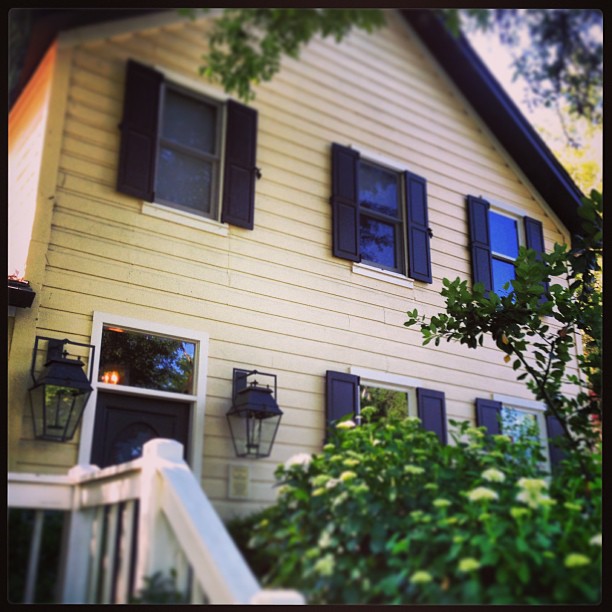 The cozy entrance to Farmhouse Inn, Sonoma County.
1. Farmhouse Inn– is a luxury B&B with a quaint, intimate feel. The inn has a guests-only spa and delicious food. Your stay includes a farm fresh breakfast every morning. For a carb-ophobe like me, take my advice- the pastries are well worth the indulgence. The spa even uses all farm-to-spa table products! We suggest the warming ginger honey massage.
Farmhouse Inn partners with an ever-changing list of vineyards to offer a VIP tasting program. Although the specials vary season to season, special treatment is guaranteed, from waived tasting fees to exclusive tasting room experiences.
2. Madrona Manor– offers a Michelin-Star restaurant option in Healdburg. The estate – built in 1881 – is the place to go for Victorian luxury and eight vast acres of lush grounds. Some rooms include fireplaces and note there are no in-room TV's. Have a glass of wine and enjoy the view instead.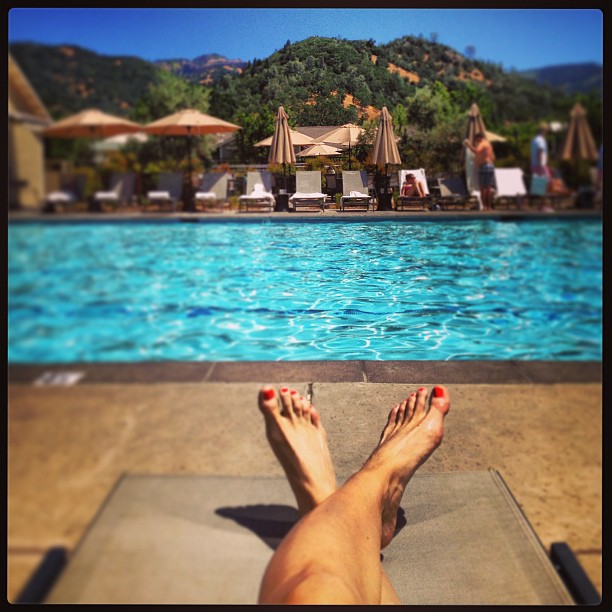 Lounging pool and mountainside at Solage Calistoga.
3. Solage Calistoga– is a resort in the mountains of Northern Napa. Dine at the Michelin-Star Solbar for a taste of sustainable and organic cuisine. The menu changes around the seasonal ingredients that the local farmers supply, but when can you go wrong with a fresh heirloom tomato and buratta salad? Oh and their studios and suites aren't too shabby either.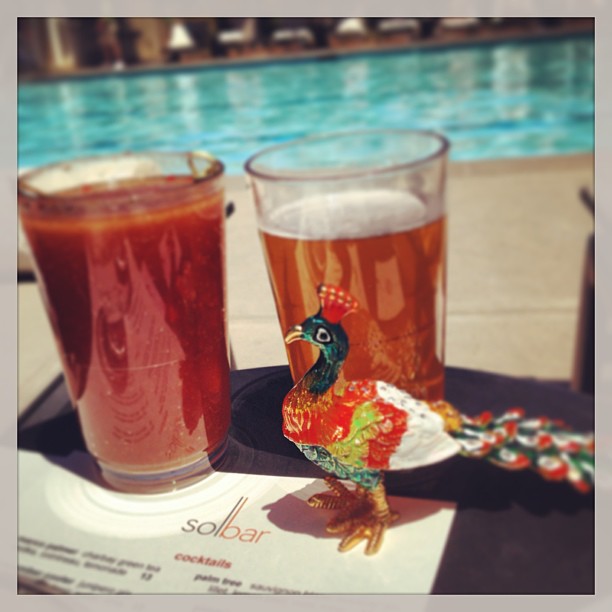 The #opulentpeacock combating the Indian summer heat with poolside cocktails from Solbar.
4. Andaz by Hyatt– is located in the center of Downtown Napa. The hip and social environment is ideal if bed & breakfasts and countryside resorts aren't your thing. Enjoy wine country without getting dirt on your shoes at Merchantile Social, a craft cocktail bar, complete with wooden swings and fire pits.
C) OTHER TRIP TIPS:
-TRANSPORTATION- we recommend arranging a car service to bring you from vineyard to vineyard so that you can spend your day sipping varietals from multiple wineries. We used Carlos Barreda and Jenna Kennedy, two knowledgeable Napa drivers who are available seven days a week. Make note that Sundays through Tuesdays are reservations only. Call 415.269.2104 to plan ahead. They also have great recommendations of lesser known wineries, sandwich shops and even great pizza post-tastings.
–FOOD– Many wineries do not serve food or allow picnics. Check online or call before you arrive hungry expecting to order lunch!
–TASTING DEALS– Quite often hotels in and around wine country have relationships with the wineries which means deals for you. Ask the front desk or concierge if the hotel has any promotional offerings you can take advantage of. A waived tasting fee makes a trip to wine country just that much sweeter!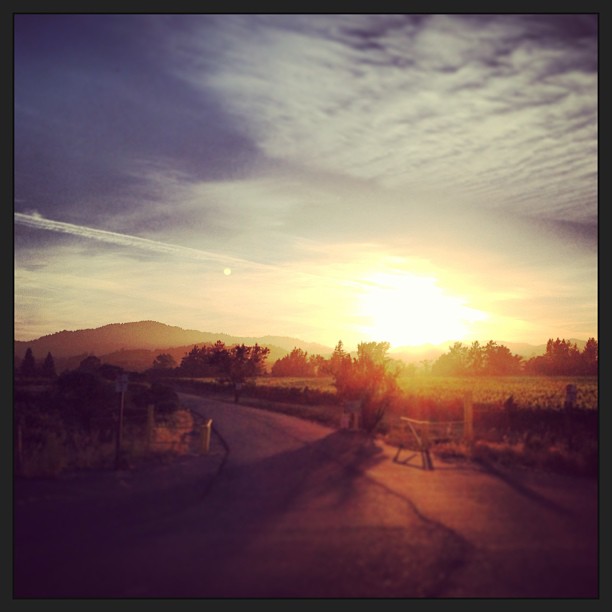 Sunset over the mountains of Sonoma County.