Navigating Iran: A Westerner's Journey
Posted on April 17, 2014 by Edgar Vaudeville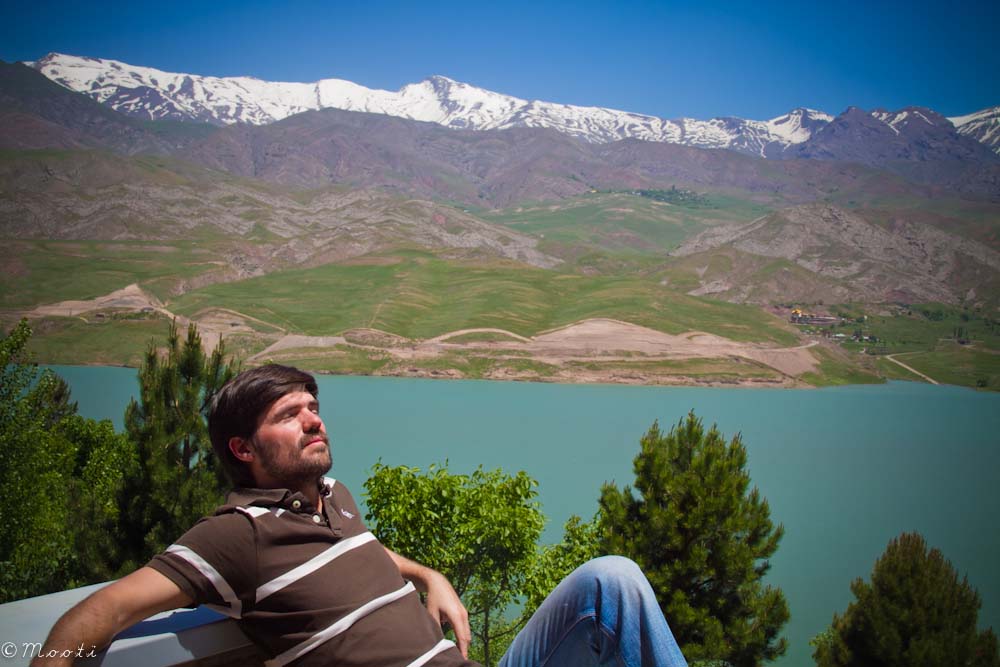 Resting after a long afternoon drive on my journey through Iran.
Story by: Edgar Vaudeville; Edited by: Nikki Pepper & Michaela Guzy; Photography by: Mooti Khan & Edgar Vaudeville.
I recently received a unique invitation- to accompany an Iranian friend as he ventured on a journey through his homeland, Iran. Since the area is little explored by western travelers, I jumped on the opportunity to navigate this lesser-known country with a knowledgable guide. Here is a glimpse into the beautiful, eye-opening and adventurous road trip I took from southern to northern Iran. 
Iran has been covered in western media recently for its political instability and unrest, but it is also a country offering a unique culture, landscape and hospitable people I was fortunate enough to experience firsthand.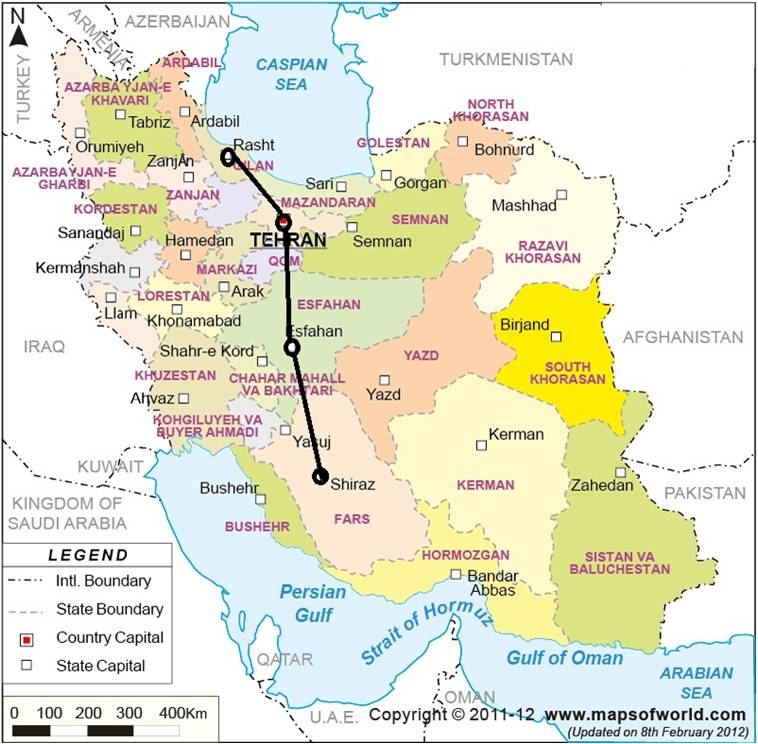 Our 2,200 mile journey mapped out.
Apart from the major cities, most of Iran does not have five-star hotels. I recommend planning and familiarizing yourself with your itinerary, including destinations, accommodations, and travel arrangements, beforehand. I also suggest always having a well-connected, local male accompany you. Iran Safar and Persia Tours are two major and reputable tour operators in the country, and they can tailor your trip according to what you'd like to learn and explore. And don't forget- Iran requires visitors to have visas. Apply for a visa well in advance of your journey and know what you need beforehand.  I recommend checking out the expediting company It's Easy. They can eliminate the headache and some paperwork and make the process…well…easier!
The journey began in Shiraz with a local photographer who was my guide for the duration of trip: from Shiraz to Isfhan, to Tehran and then up to the north of the Caspian Sea facing Russia and onto the forested mountains on the border of Uzbekistan.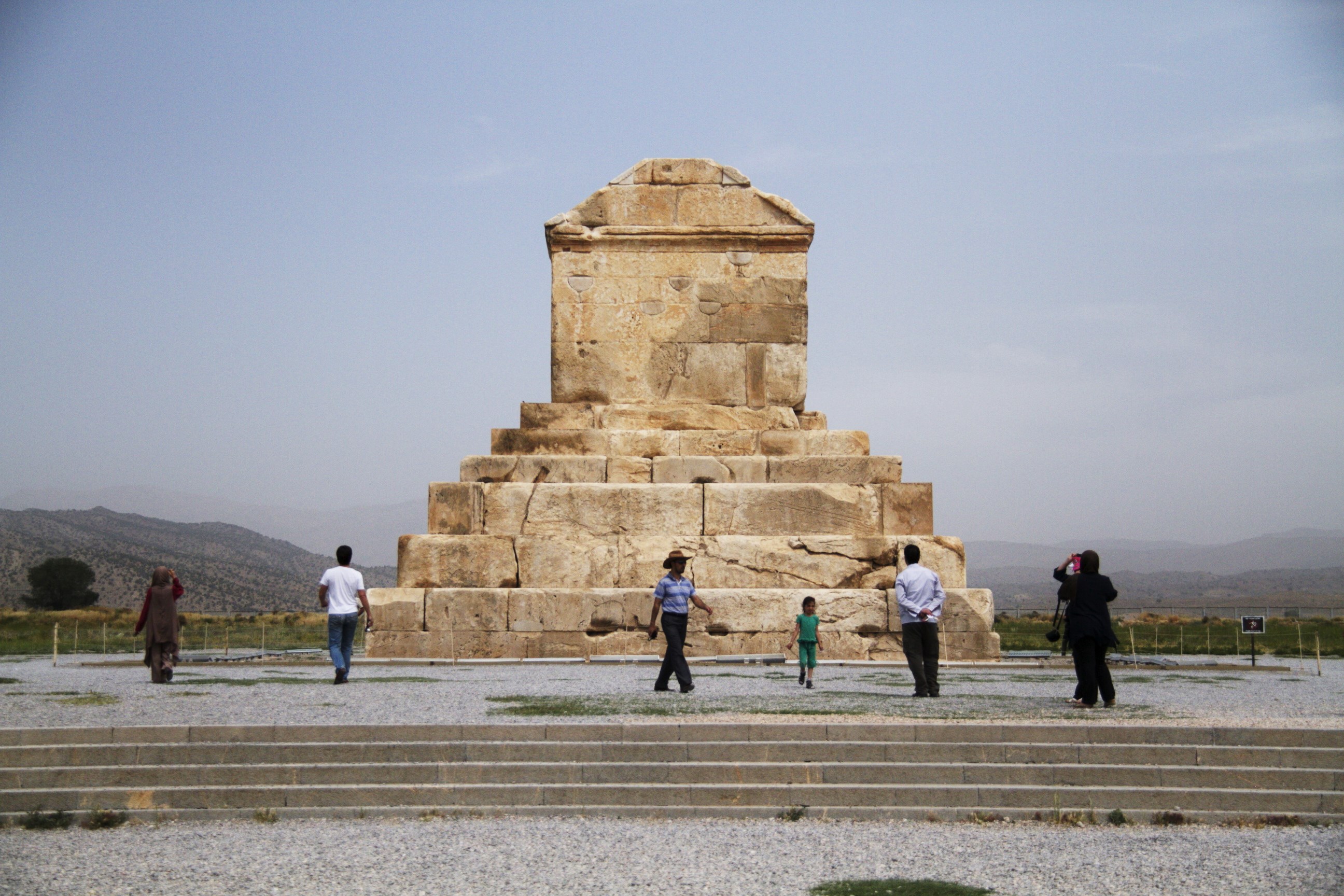 Cyrus Tomb.
Our first stop was The Tomb of Cyrus The Great located in the Pasargadae, a World Heritage Site (UNESCO). The Tomb has six broad steps leading to the sepulcher, a massive chamber with a low and narrow entrance.
After a brief visit, we got back on the road. The ride was enjoyable with a mountainous landscape and well-maintained roadways, which was much appreciated after the less than desirable driving conditions from Cyrus Tomb to Isfahan.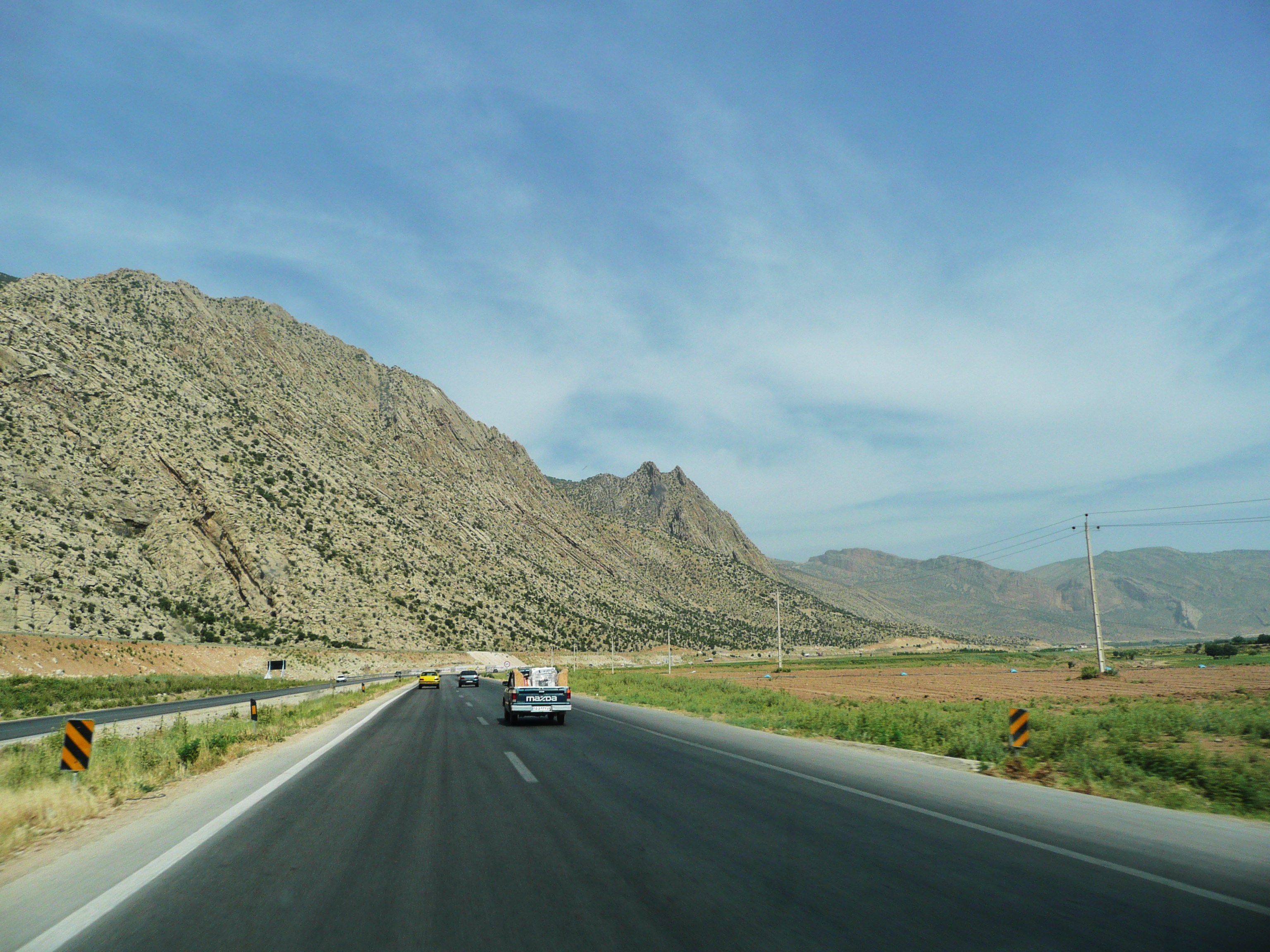 On the road from Shiraz to Isfahan.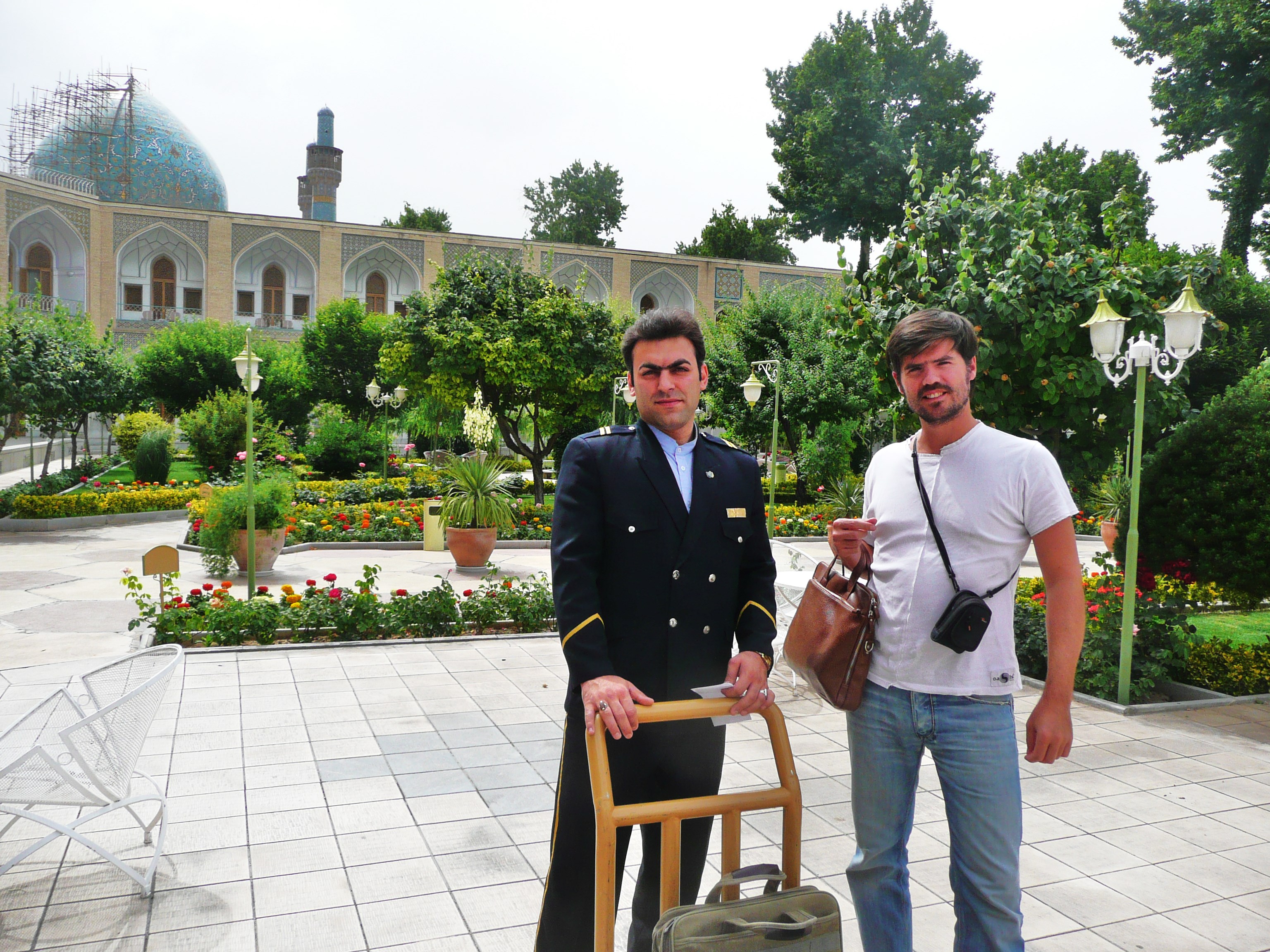 Checking in at Abbasi Hotel, Isfahan.
In Isfahan, we checked-in at the Abassi Hotel, one of Iran's top hotels. It was built in the time of Sultan Husayn of Safavid about 300 years ago. Request a room or suite in the main building, which is part of the original structure. We witnessed a jovial meal that evening as friends and families gathered to enjoy some Isfahan traditional food.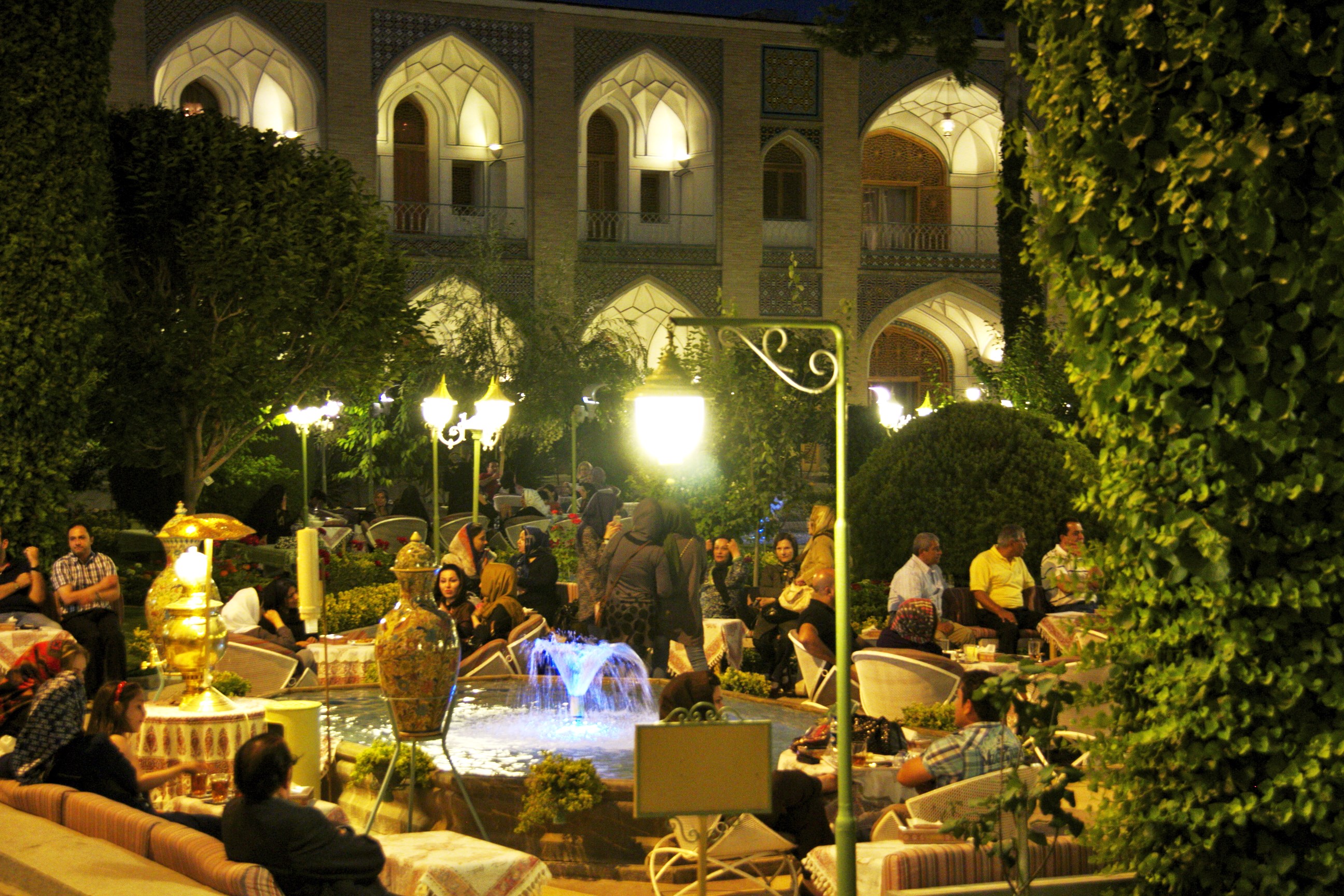 Weekend at the Abbasi Hotel, Isfahan.
We saw the flowing Zayandeh River, which is the only river in Iran that does not go dry for several months a year. I recommend a walk around the river by day and be sure to capture amazing shots of the reflections of the Siose Bridge at night. Isfahan is known for its carpets and its handicrafts, especially silver and metal work. We came across many artisans on our journey through the city.

Next up, Ali Qapu, the palace of Safavid Kings from the early seventeenth century. We climbed the colorful staircase to the sixth floor to experience the first-ever music room– its circular niches in the walls have both aesthetic and acoustic value.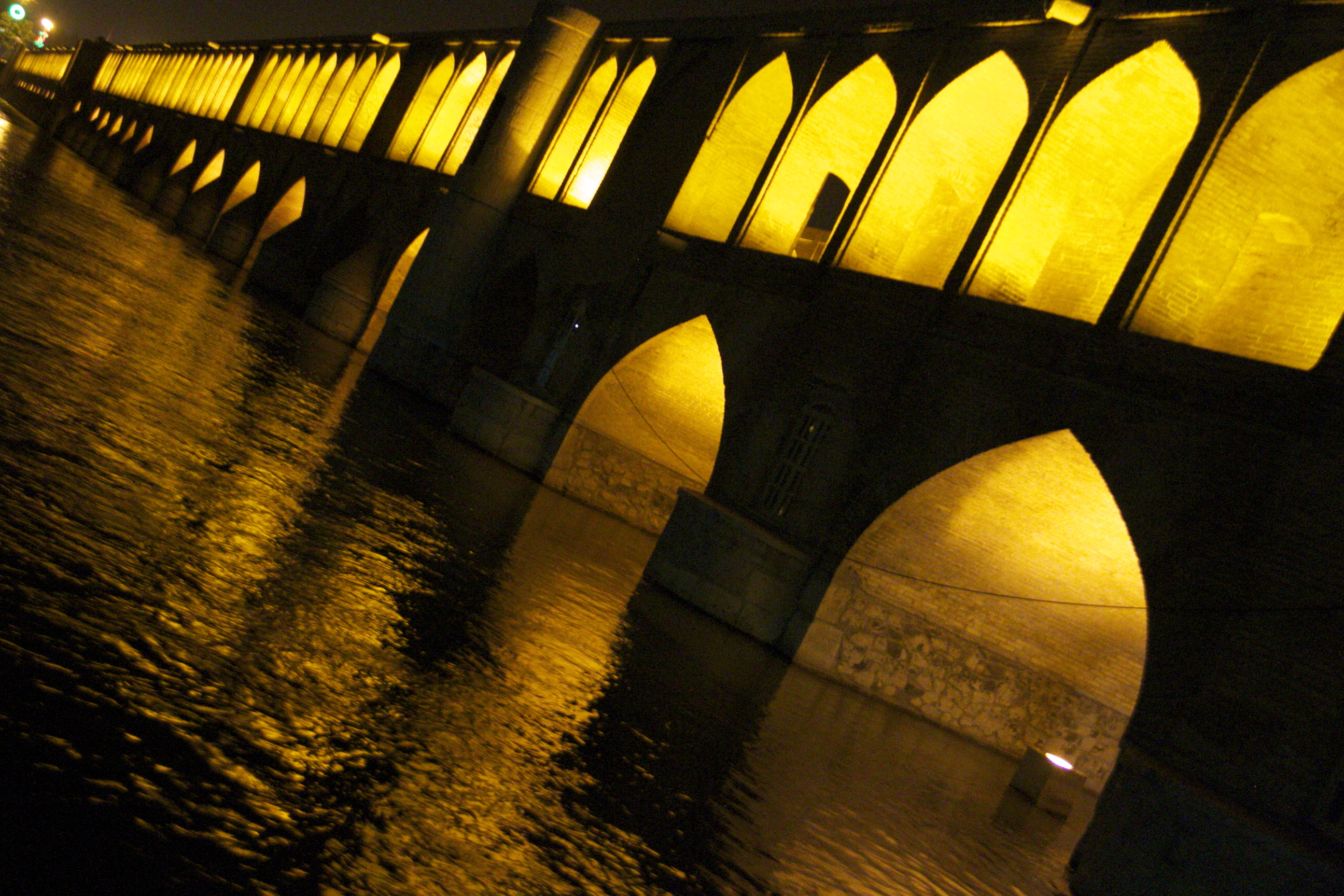 Siose Bridge refection on the Zayandeh River.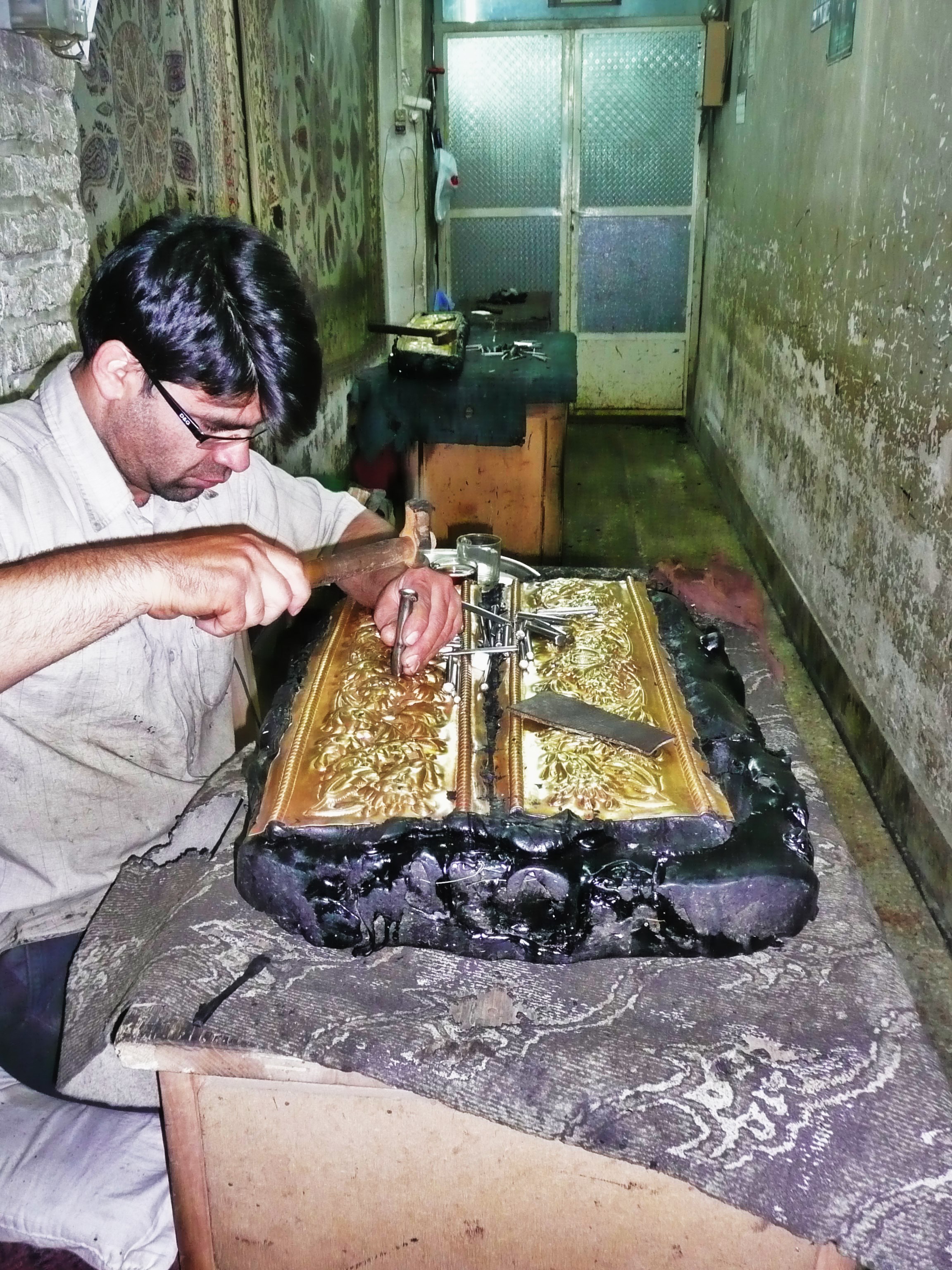 A man working with silver in Isfahan.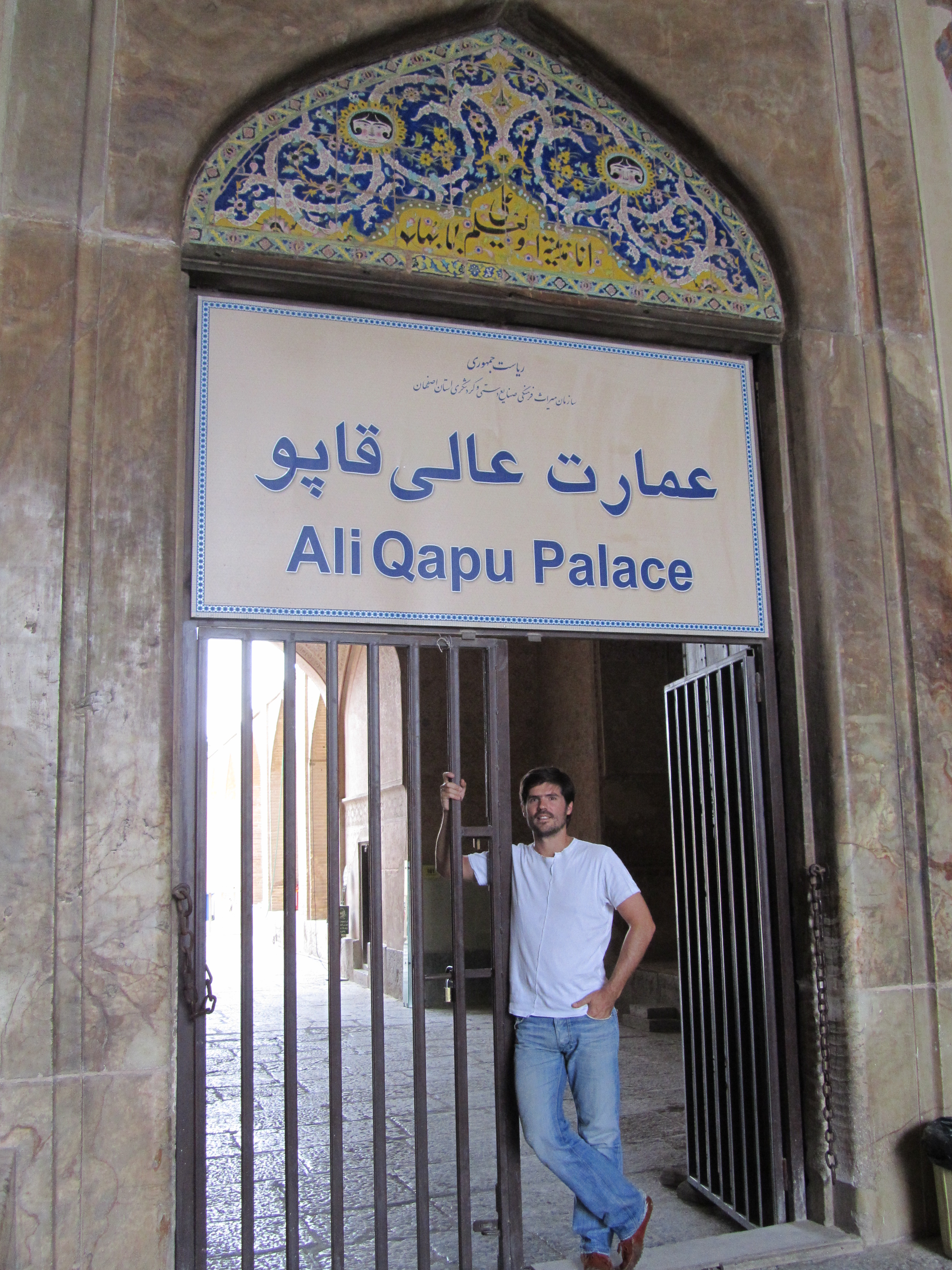 Ali Qapu Palace.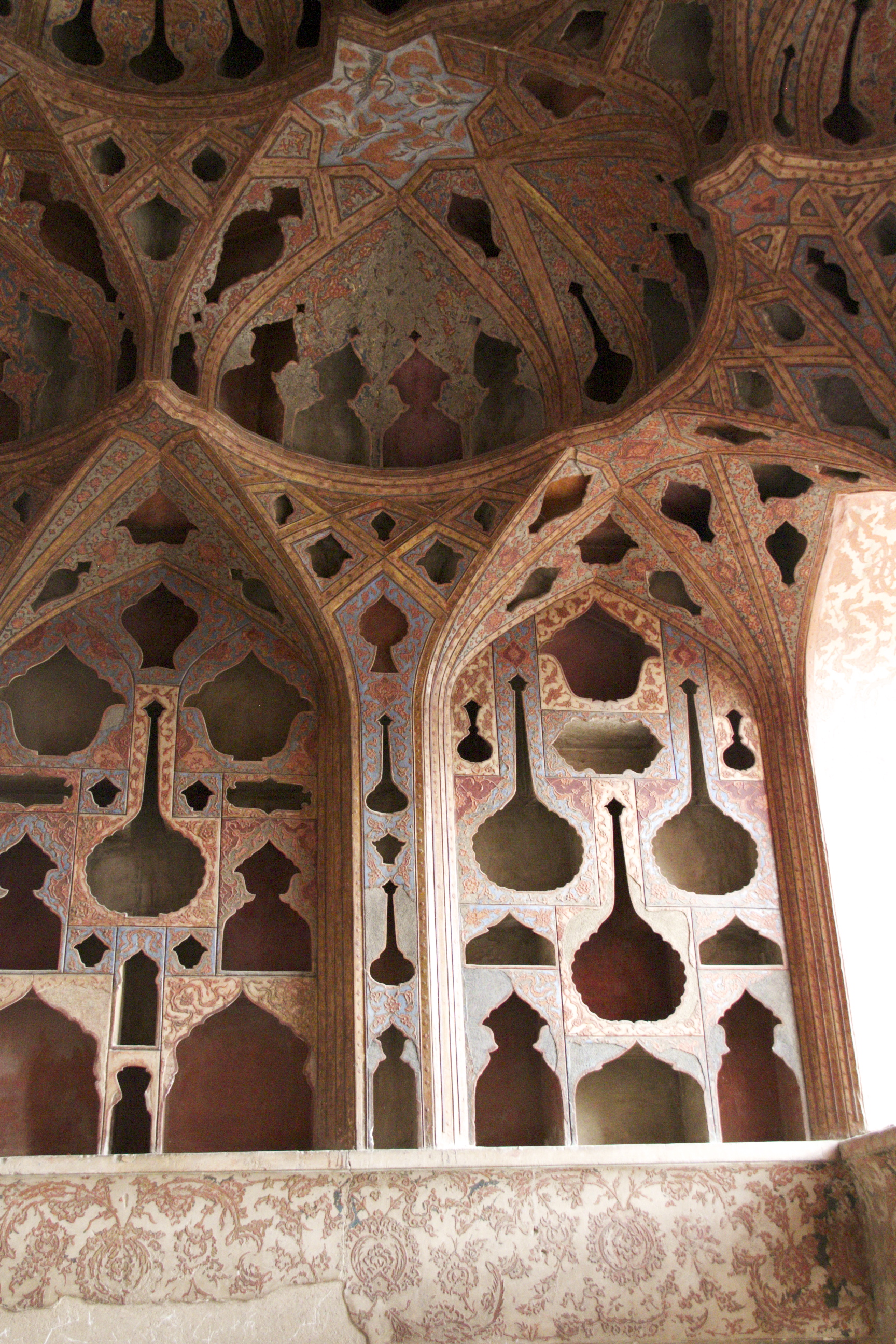 The first music room in Ali Qapu Palace.
On the way back from the music room we stopped to take in the view of Naqsh-e Jahan Square (also known as Meidan-e Shah Square). It was constructed between 1598 and 1629 and is now an UNESCO world heritage site. The square is surrounded by buildings from the Safavid era: the Shah Mosque situated on the south side; Ali Qapu Palace on the west side; and Sheikh Lutf Allah Mosque on the east side.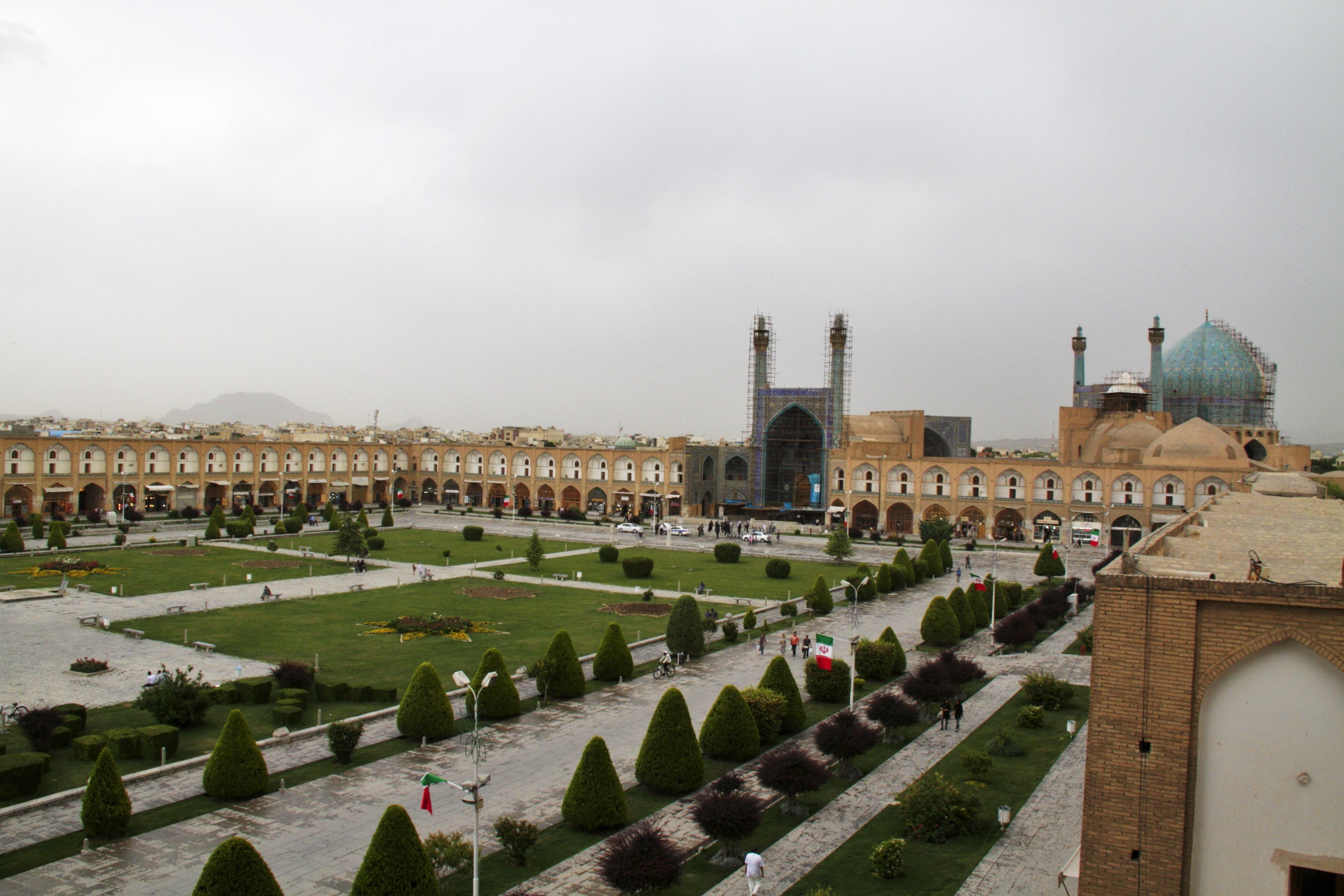 A view of Naqsh-e-Jahan Square.
Vank Cathedral and The Church of the Saintly Sisters are in the Armenian area of New Julfa. The Church was established in 1606 when over 150,000 Armenians moved to Iran. New Julfa is still an Armenian-populated area with over 16 churches in the small city alone. You will find young, trendy people filling the numerous restaurants and shops. Here I enjoyed  Khan Gostar, a restaurant that serves tasty chicken, fish kababs and even offers a large salad bar for vegetarians.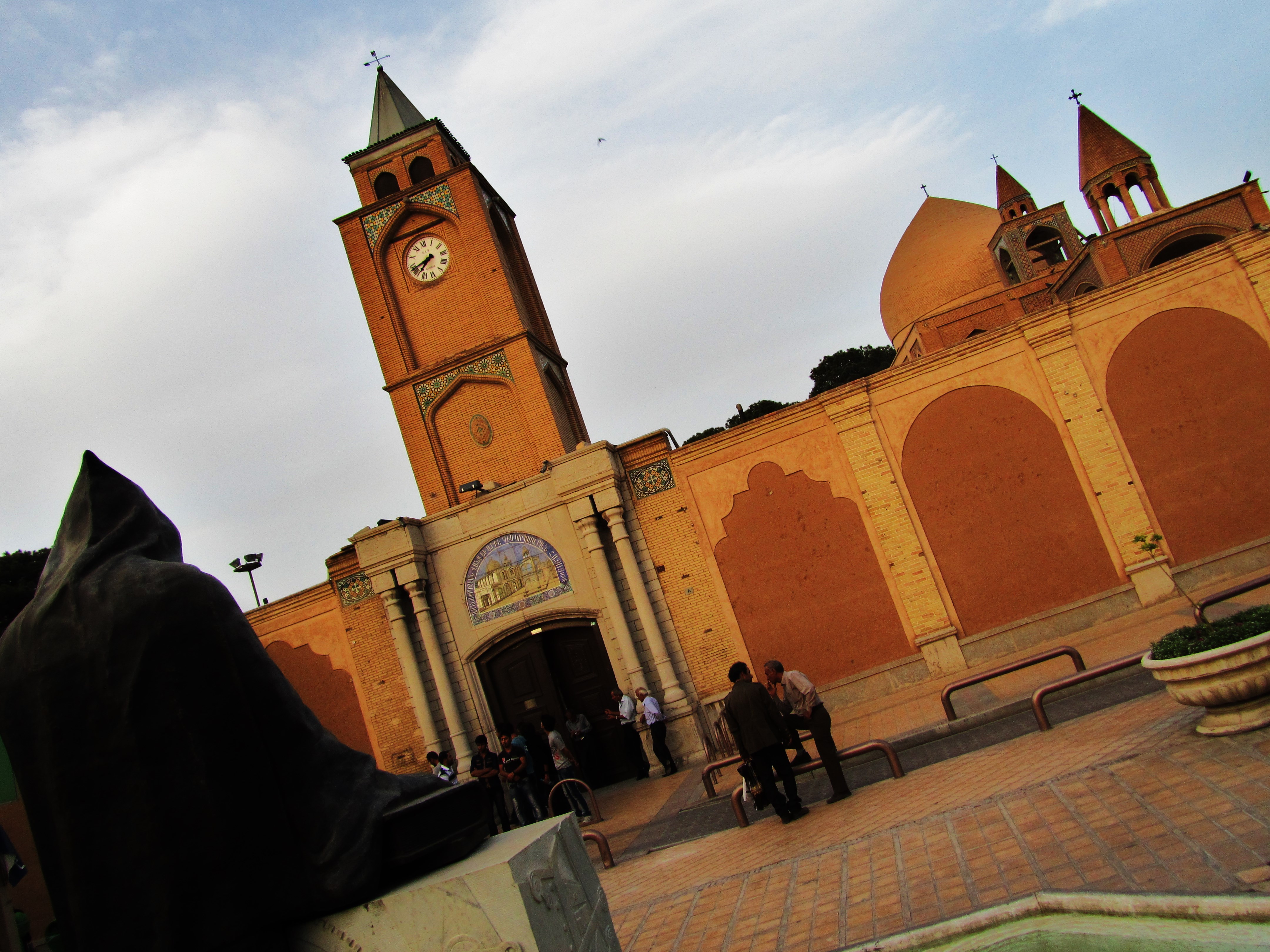 Work started in 1606, and completed with major alterations to design between 1655 and 1664. Jolfa District.
After discovering most of what Isfahan has to offer, we got back on the road. Next was one of my favorite parts of this entire trip: a visit to Abyaneh, Iran's oldest village.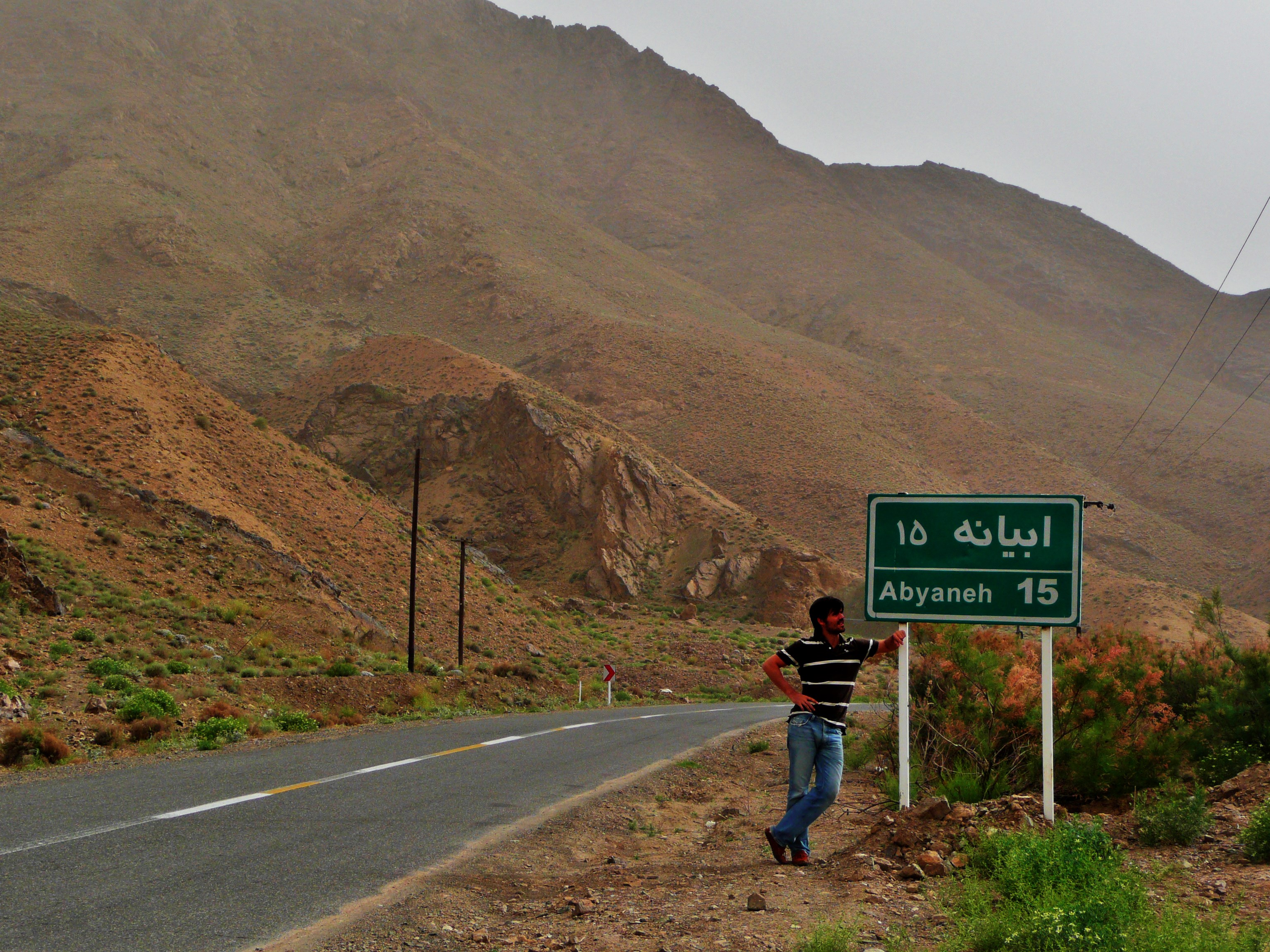 On the way to Abyaneh.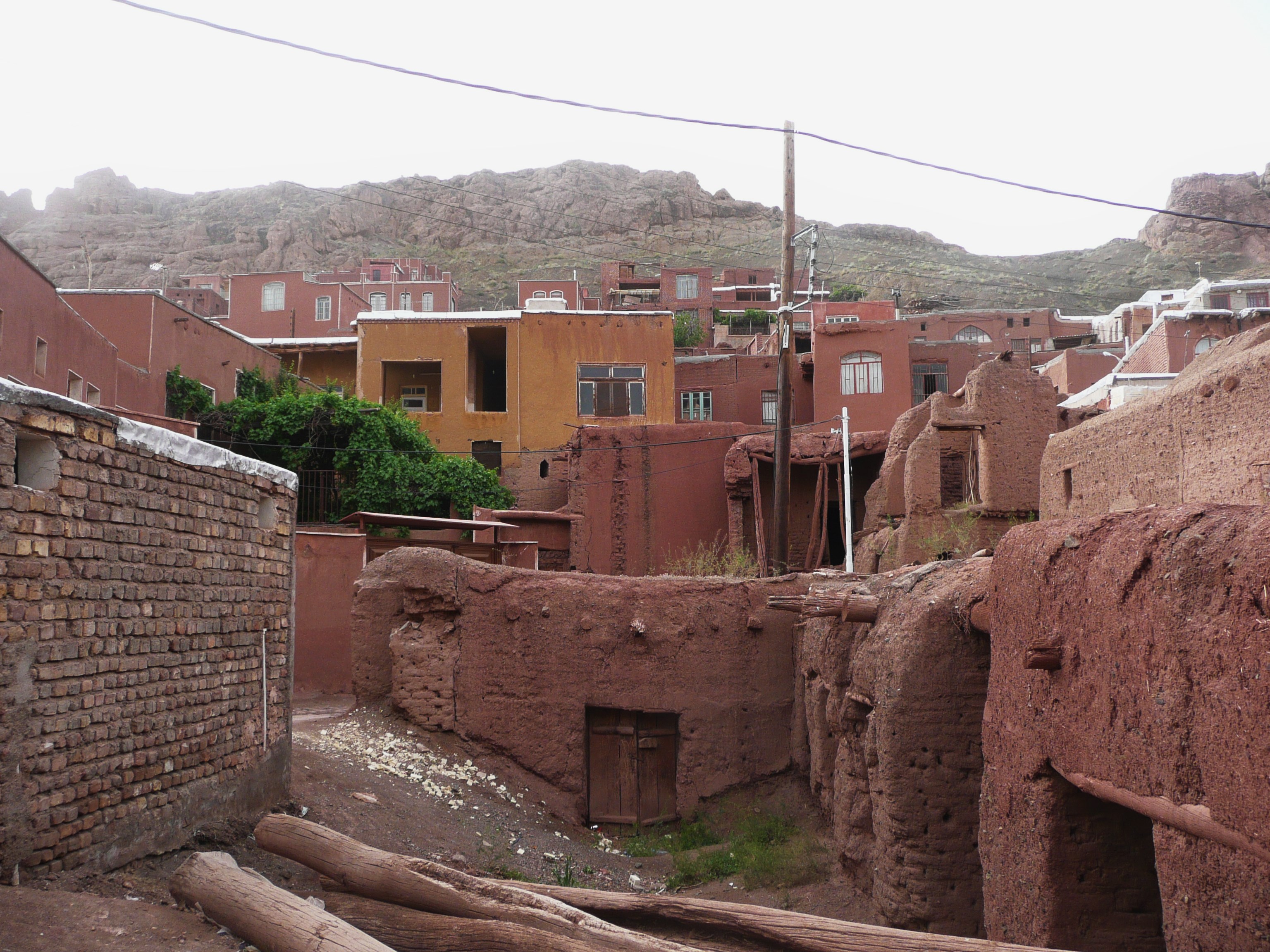 Abyaneh Village.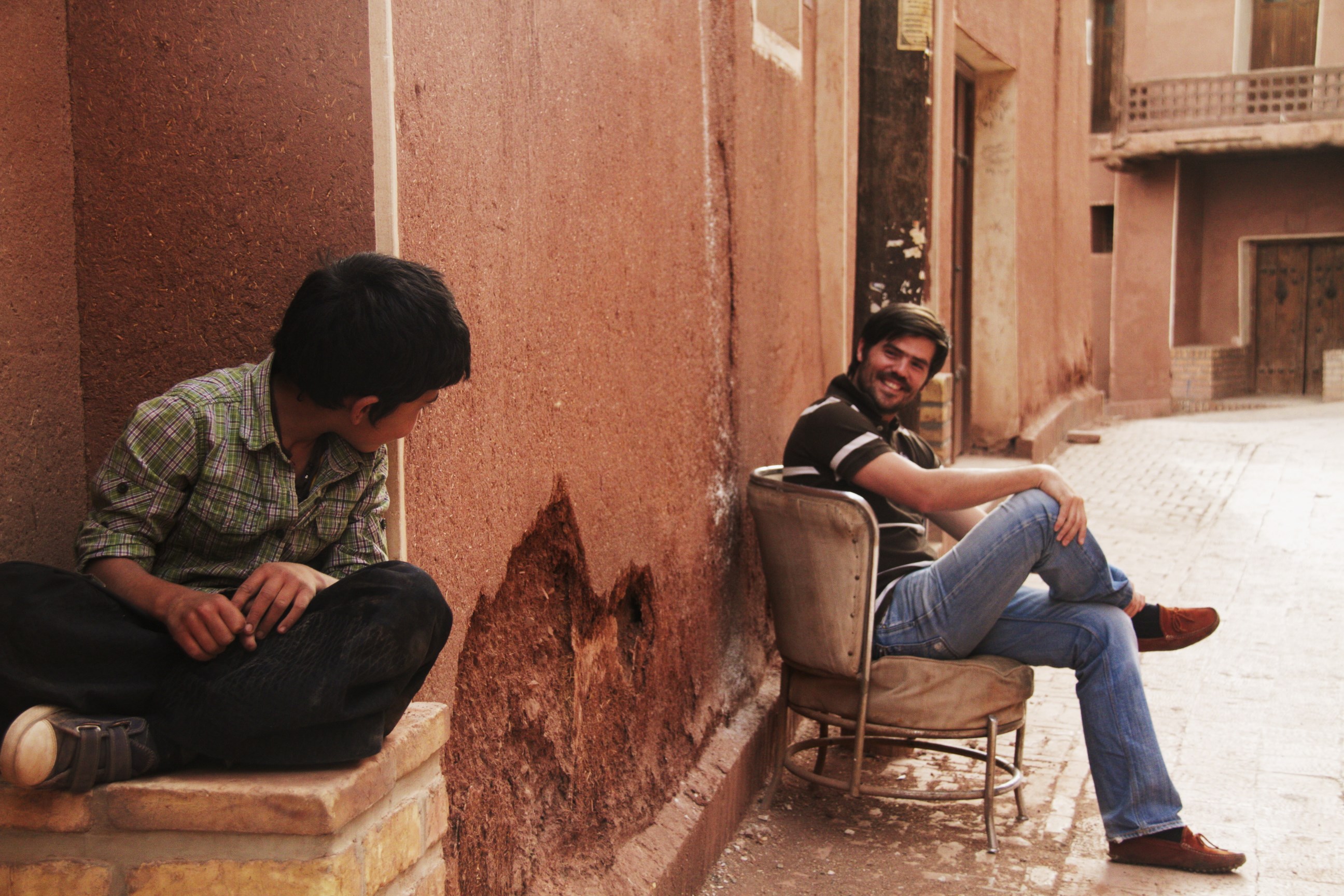 A young child playing on the streets of Abyaneh.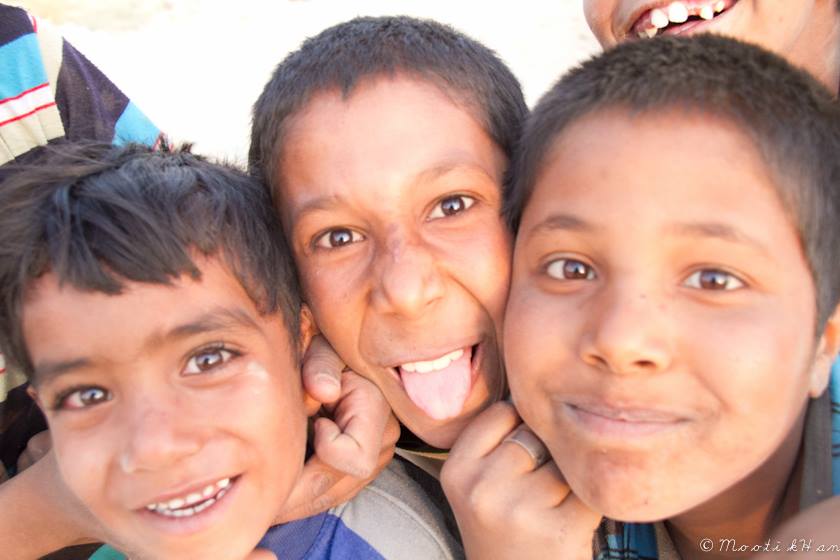 Children in Abyaneh.
After Abyaneh, our next stop was Tehran, the capital of Iran, a densely populated city with heavy traffic.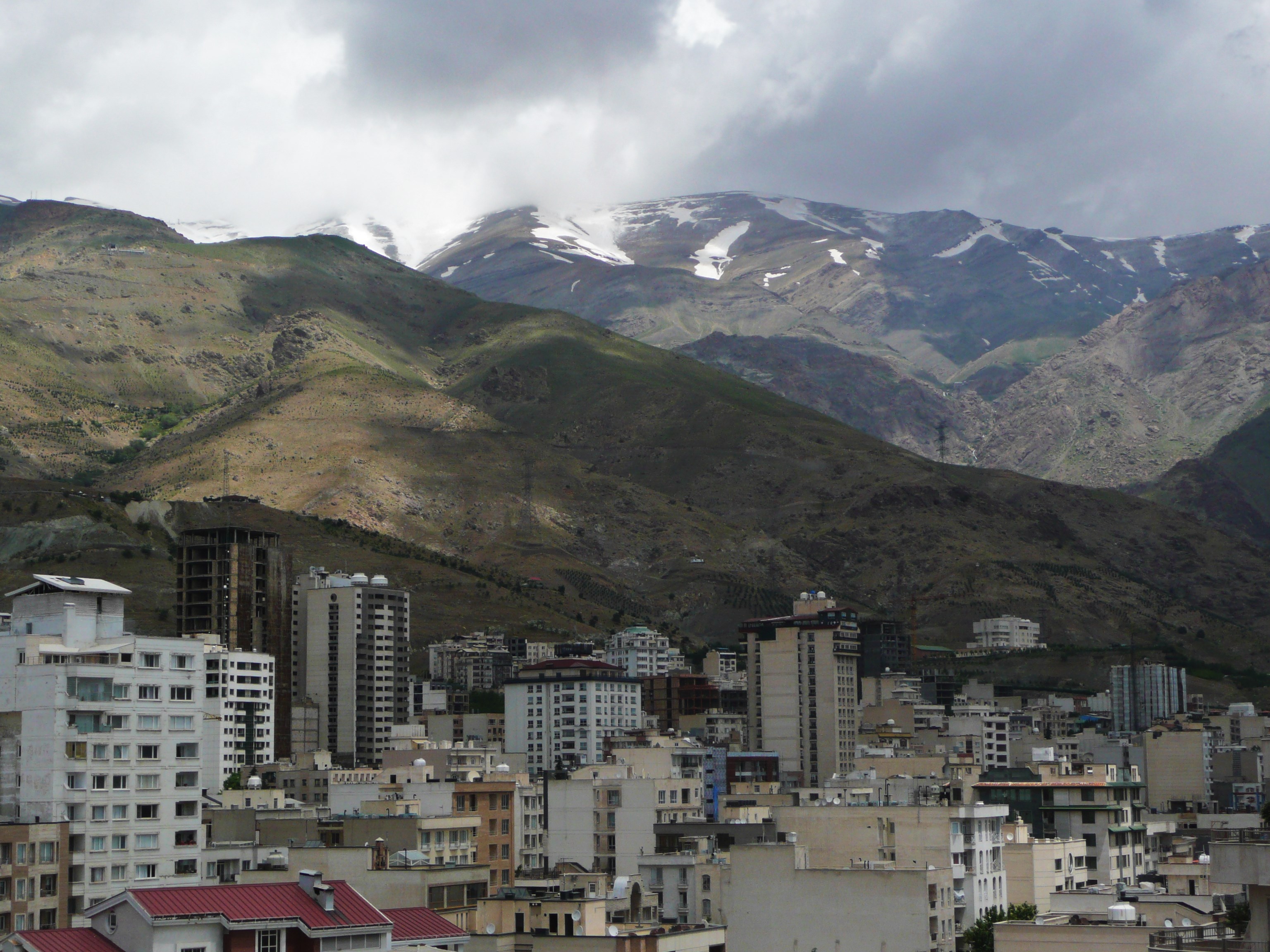 View from my room at the family home of my guide: the upper east side of Tehran.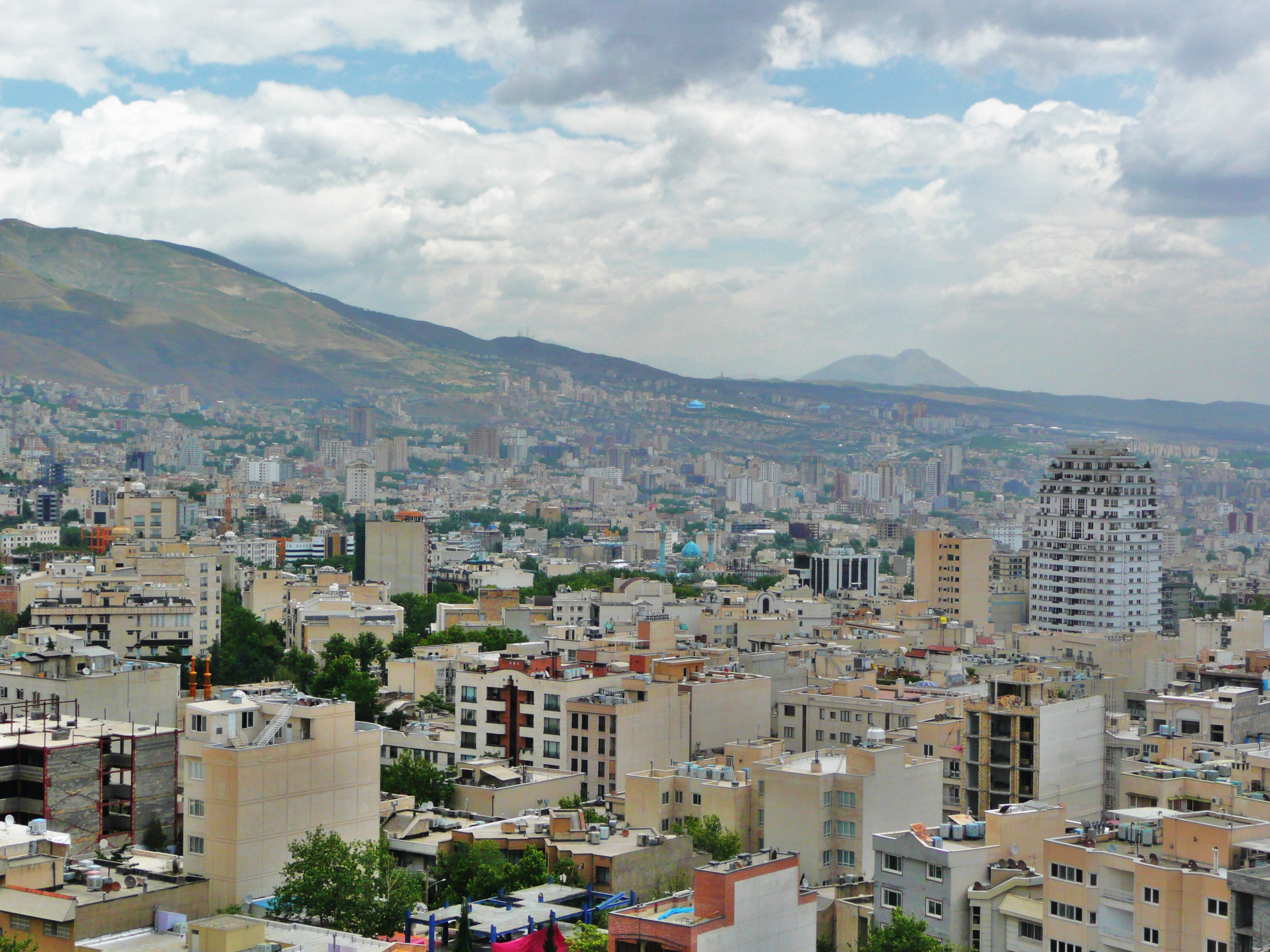 A view of downtown. Tehran has a population of over 8 million people, 14 million including the surrounding metropolitan area.
On our way to the Caspian Sea we stopped in Taleghan. Taleghan is a valley that transformed into an artificial lake a few years ago. The area is uninhabited, making it an ideal location for relaxing and meditating. We planned to stay one night but it quickly turned into four. Every afternoon was spent hiking around the lake and taking in more memorable sunsets.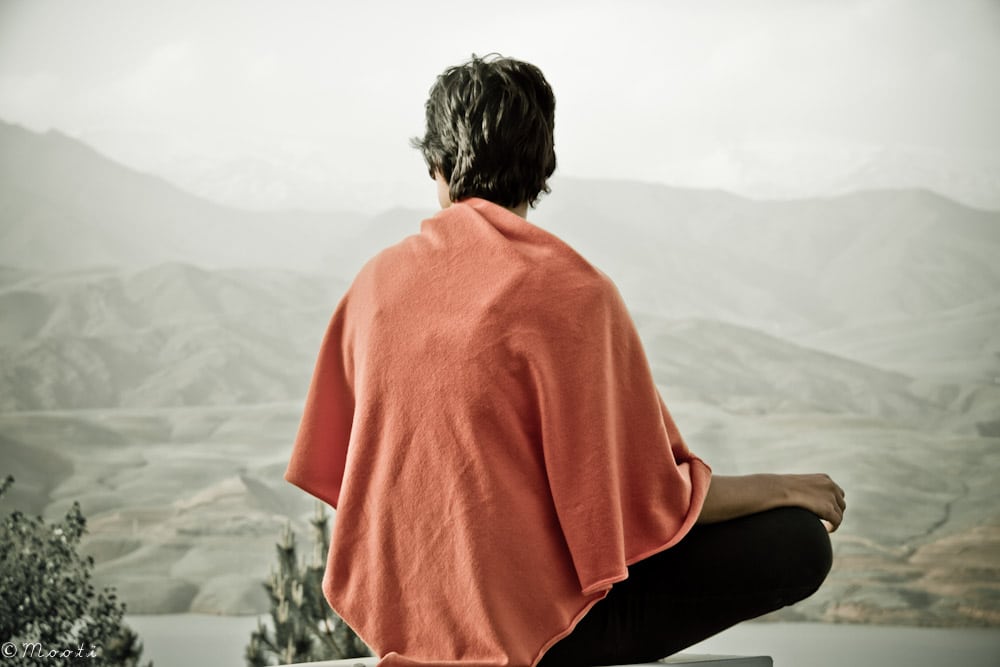 Meditation time overlooking Lake Taleghan.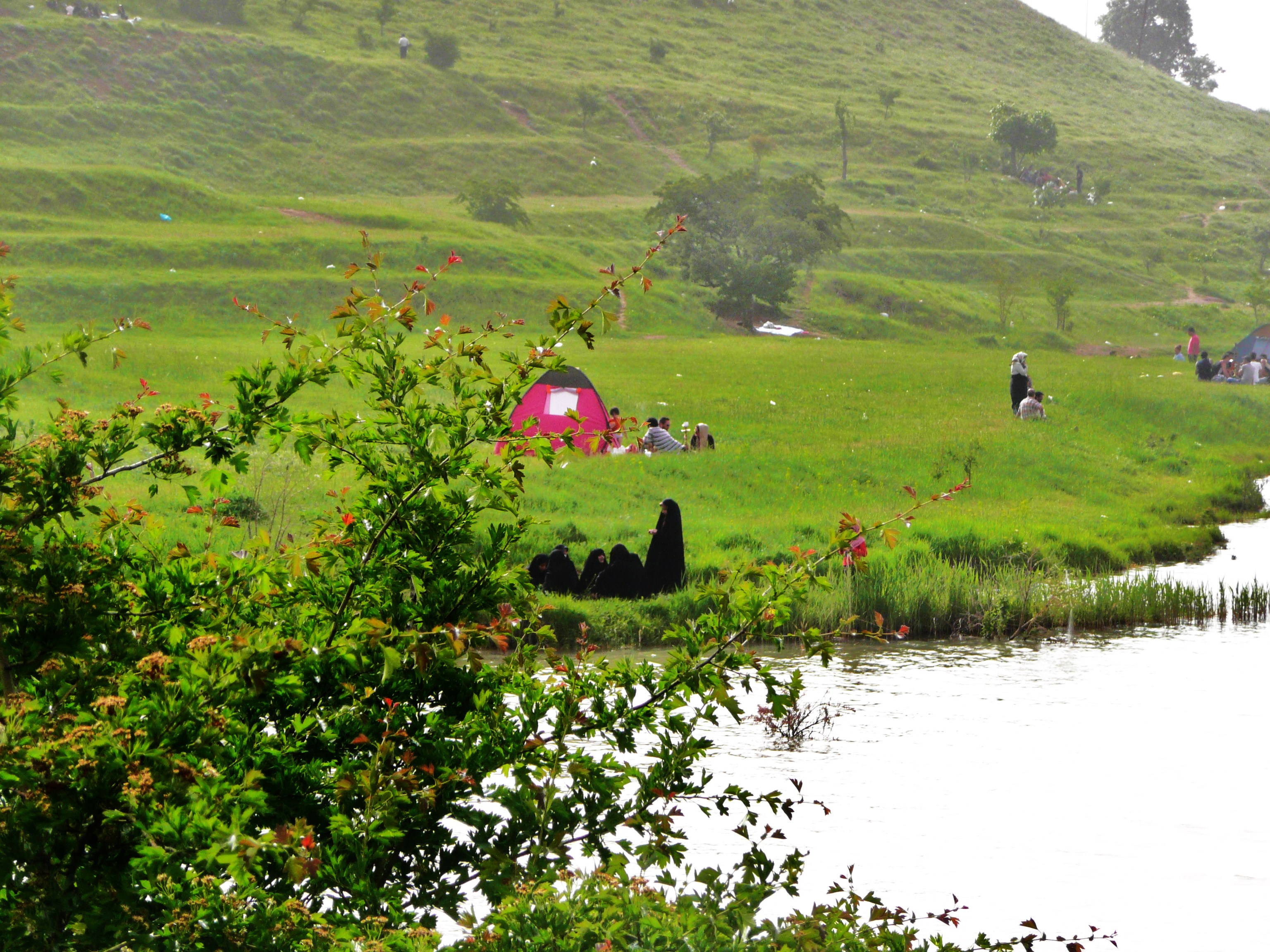 Friends and families get together to spend the weekend around the lake, but no swimming is allowed.
After our four nights in Taleghan, we stopped in Ramsar which lies on the coast of the Caspian Sea. It used to be  known as Sakhtsart, one of Iran's thermal stations, with casinos, luxury hotels and an amusement park. However, Ramsar was found to have the highest levels of natural radiation on Earth. Sadly, the local population abandoned Ramsar leaving it a virtual ghost town. If you plan to visit, note that there are very few hotels, so arrive no later than early afternoon to bargain with local hotel owners. Luckily we were a few of the guests who were able to secure simple accommodations.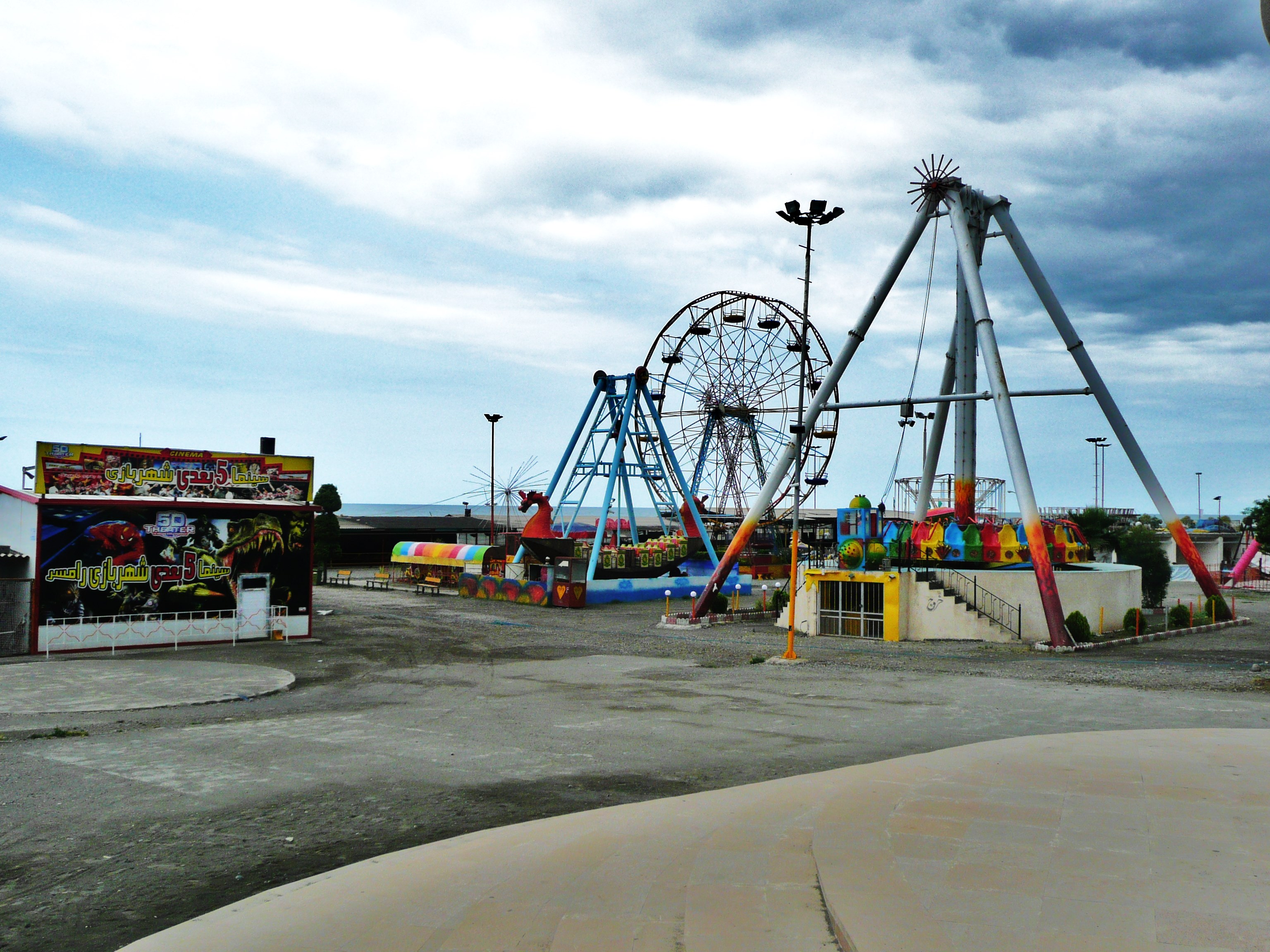 The abandoned amusement park.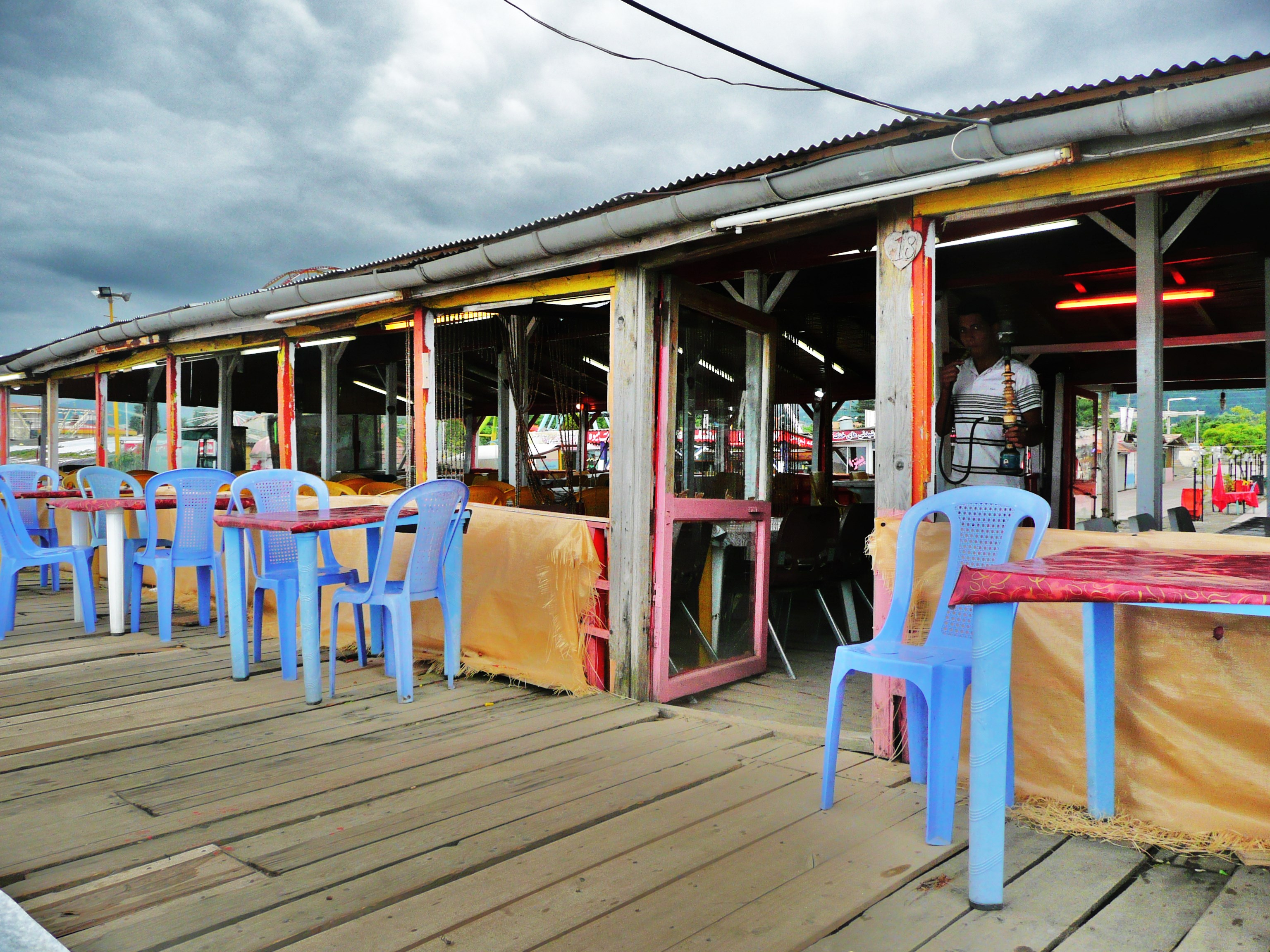 A coffee break at a formerly abandoned restaurant, now operated by two young kids who serve drinks and sheesha only.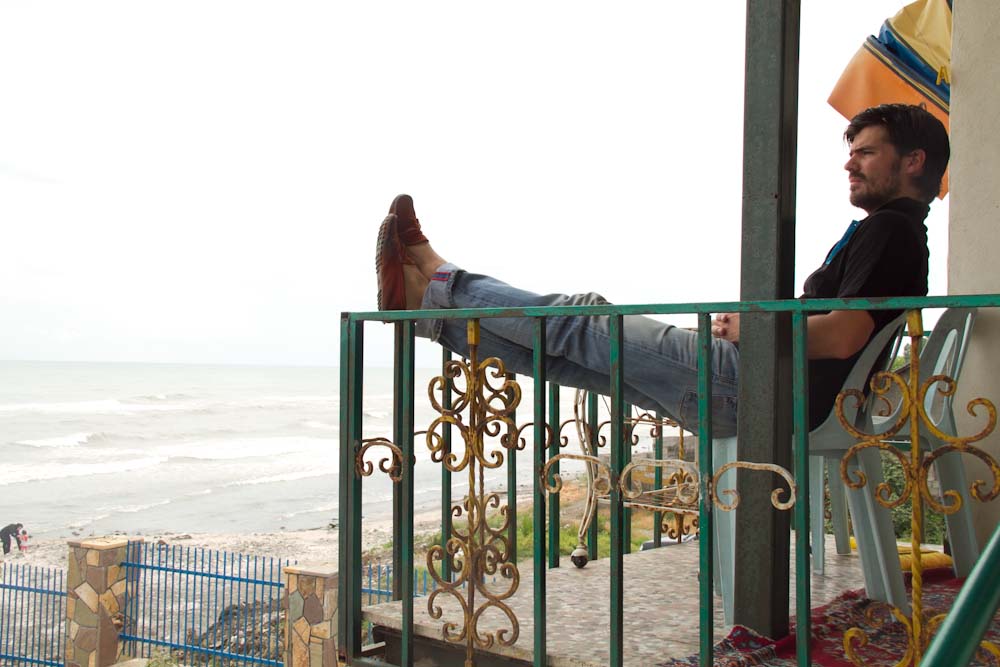 Resting on our hotel balcony.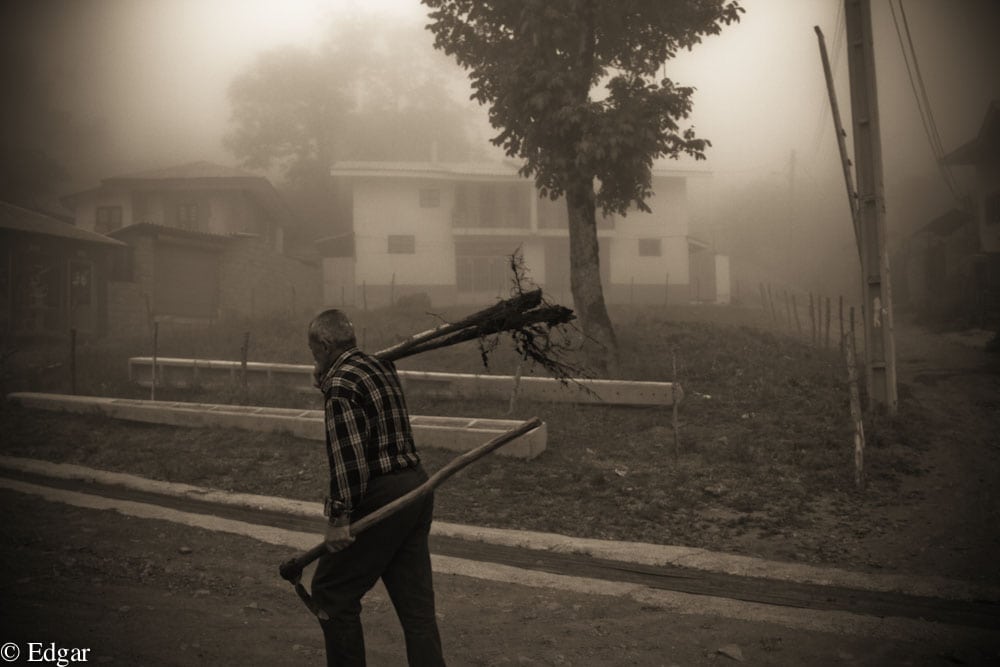 A men finishing his long day of hard labor and heading home in the fog, tools in hand.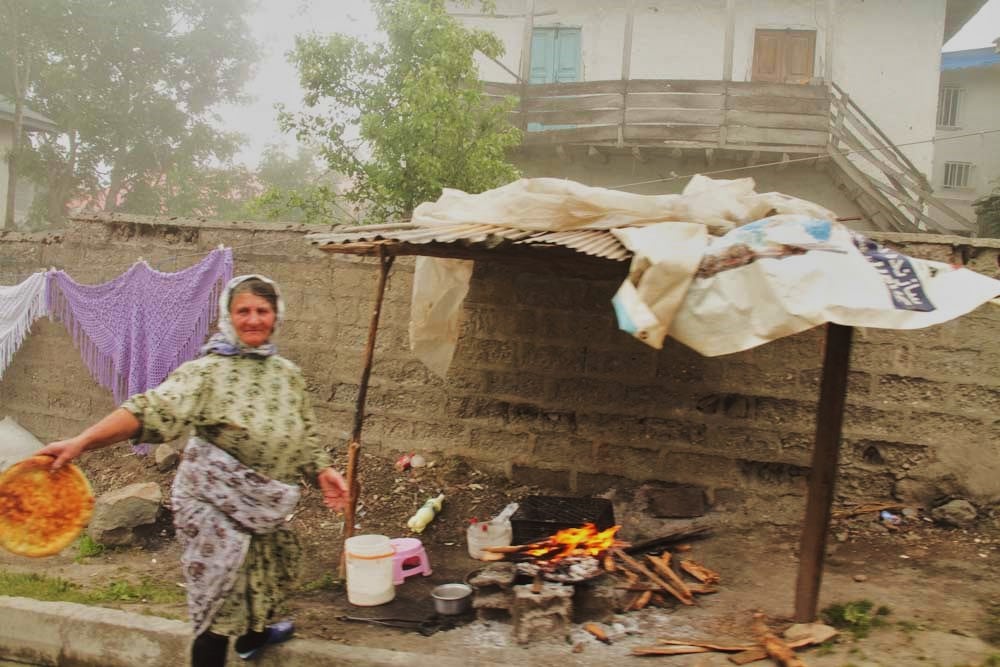 A woman cooking flat bread on the side of the road. It was delicious!
The entire next day was spent driving through the mountains, which were covered with a dense fog. We couldn't see a car-length in front of us. After a few hours of driving, we could no longer see the road, so we decided to stop in a very small village called Javaher Deh.  We were fortunate enough to find a generous household that was willing to take us in for the night. We woke up in the morning to a breathtaking view overlooking the mountains to the north and the Caspian Sea to south.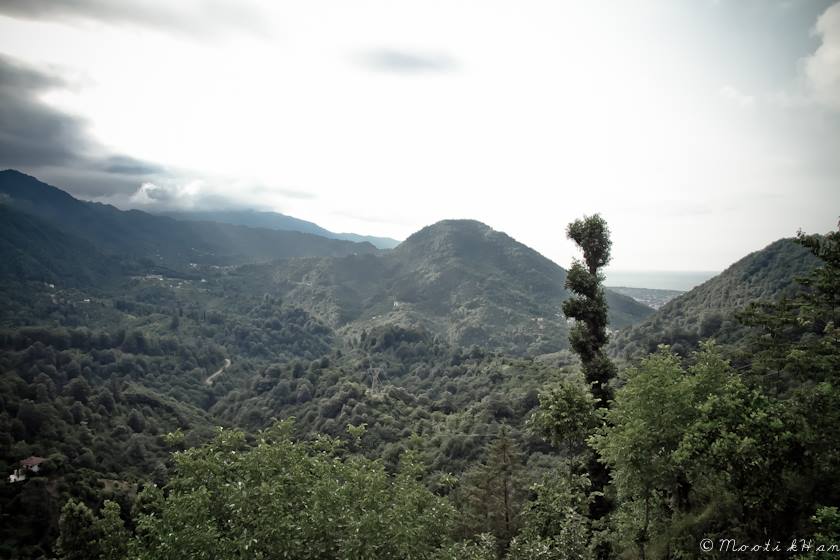 A view of the south from my room in Javaher Deh.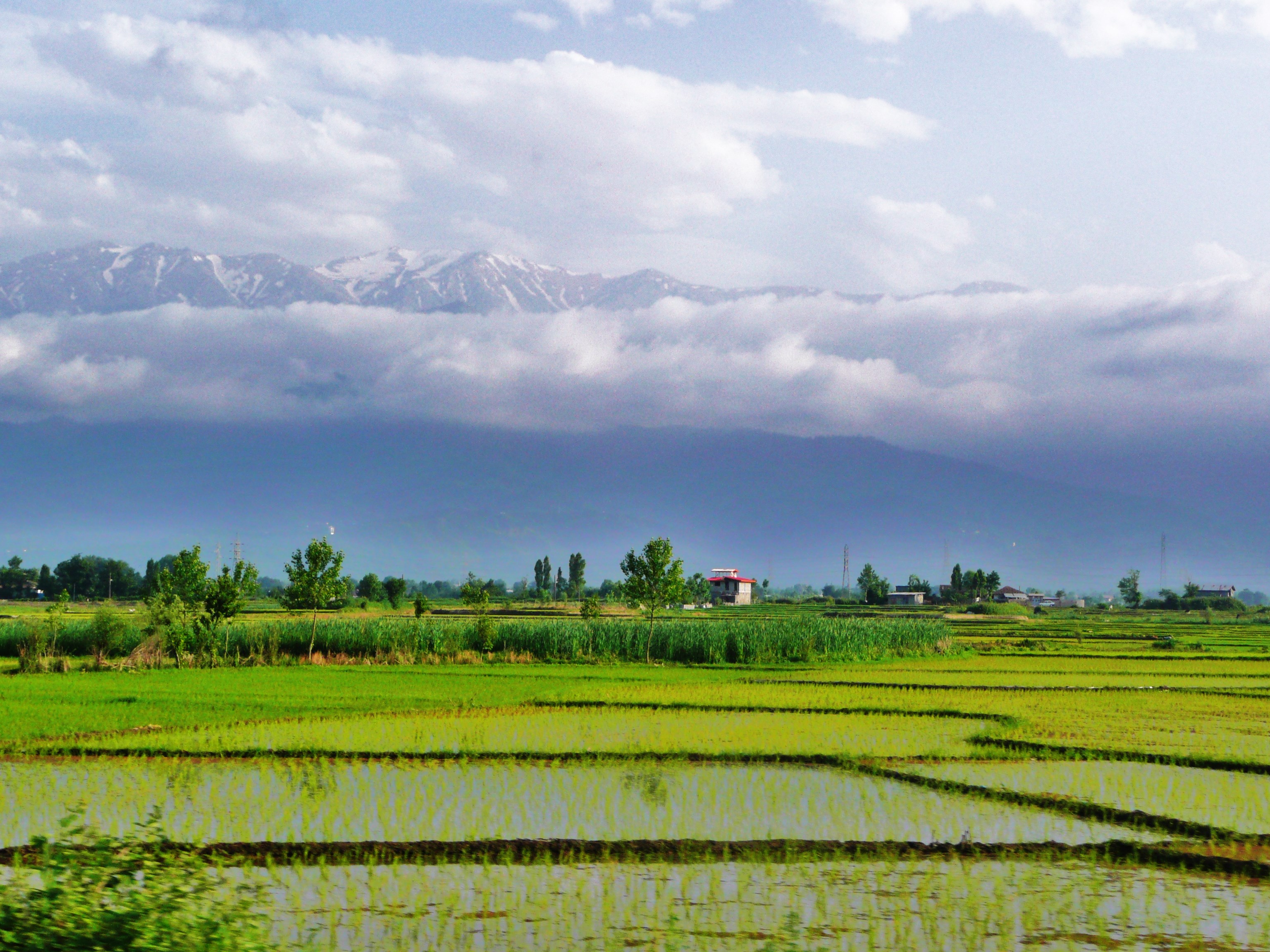 Tonekabon.
Later that day, we drove through two villages: Tonekabon famous for kiwi fruit, rice and tea and its semi tropical climate, and  Namakabrood, with fields of violets. After a few hours around Tonekabon we decided to explore the mountains back in the direction of the tiny village of Javaher Deh. We discovered fields of waist-high ferns and no cars for miles on end.
After several stops to experience the local culture, history and landscape along the way, we stopped for a celebratory lunch at a restaurant in Abad Garan for a typical Iranian meal to commemorate our journey through untouched Iran.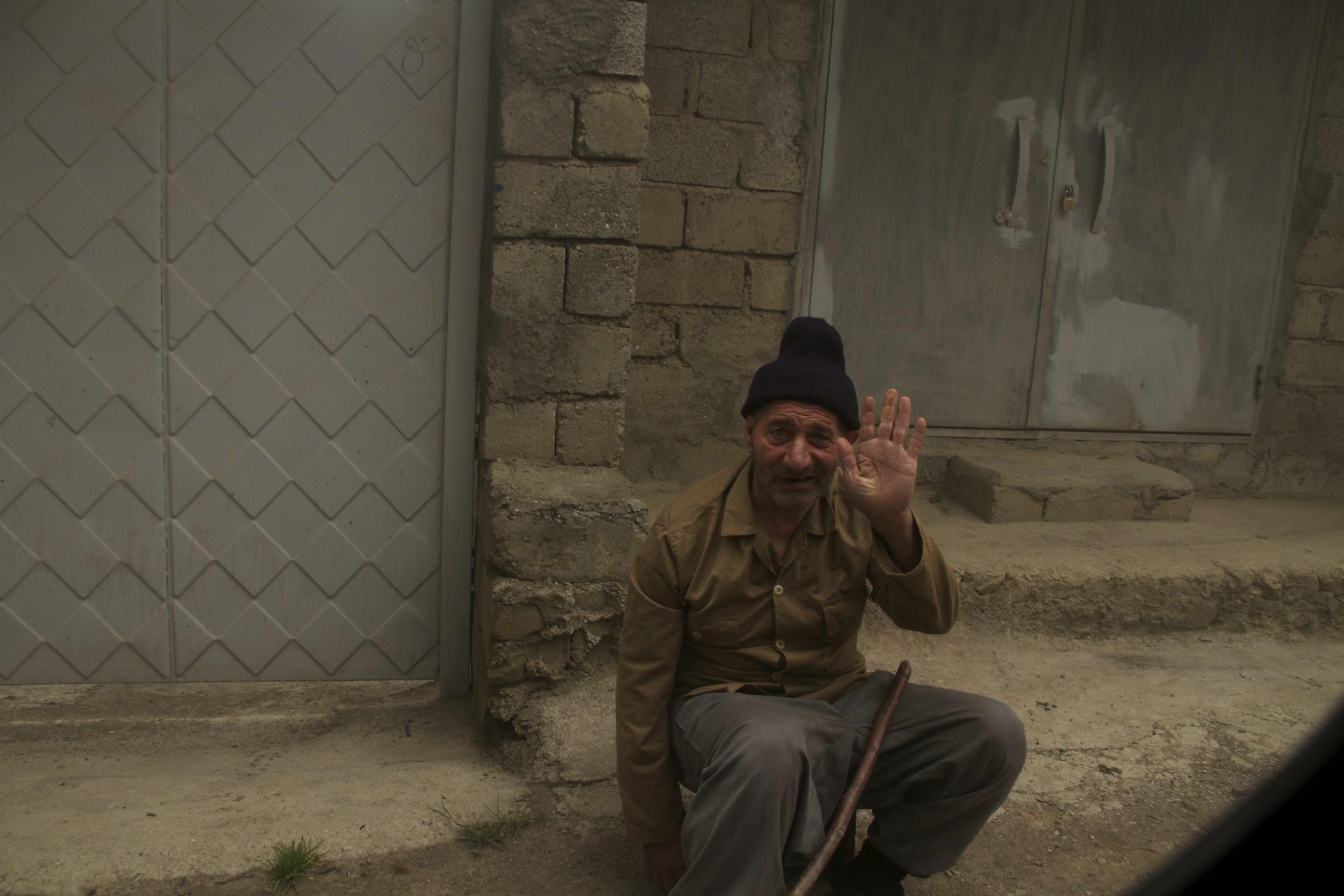 Living his entire life in the mountains, this man said he rarely sees cars.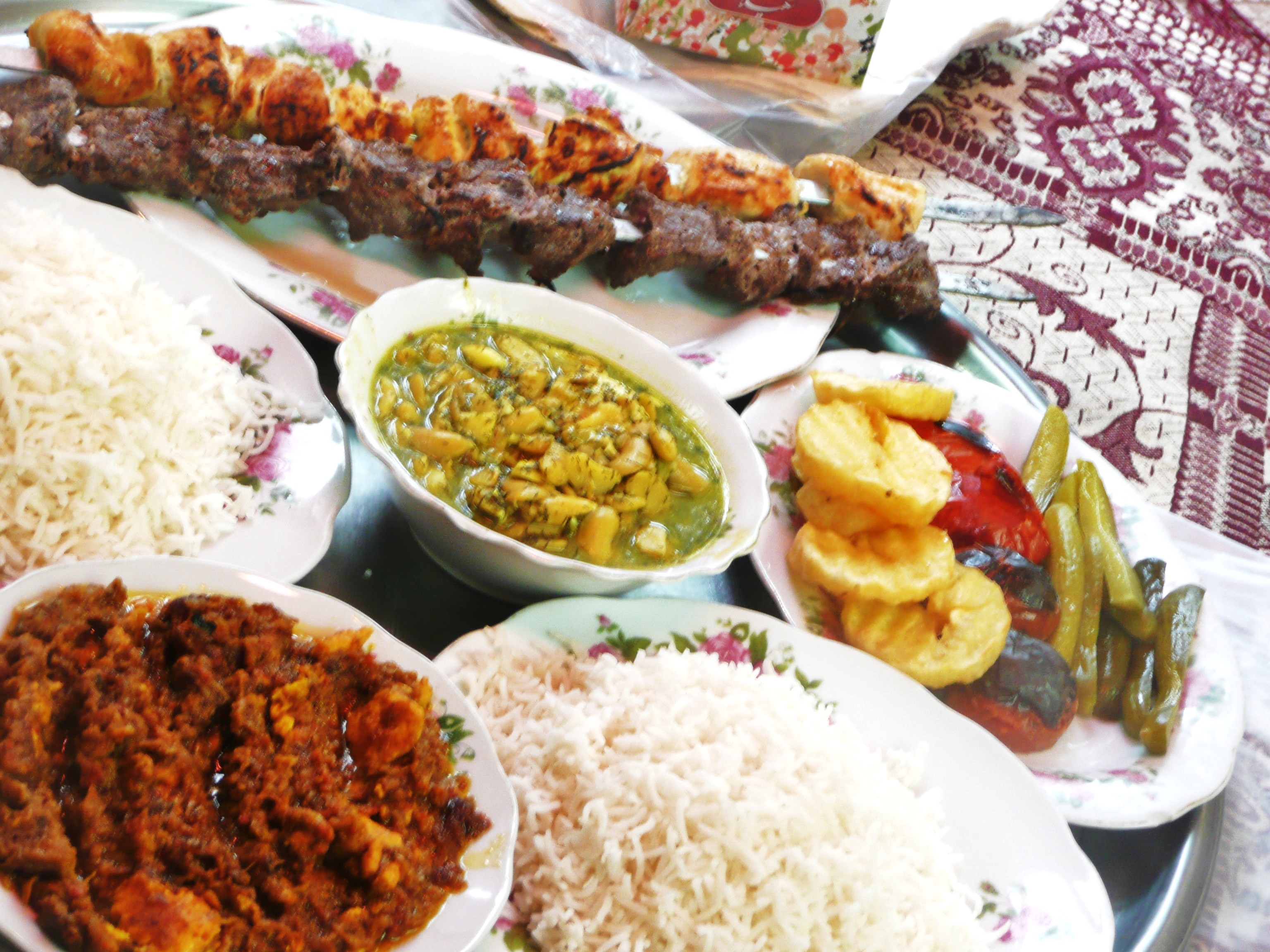 Local kebab for lunch.