Local Favorites: Prague's Best Beer Gardens
Posted on May 12, 2014 by Charles Neville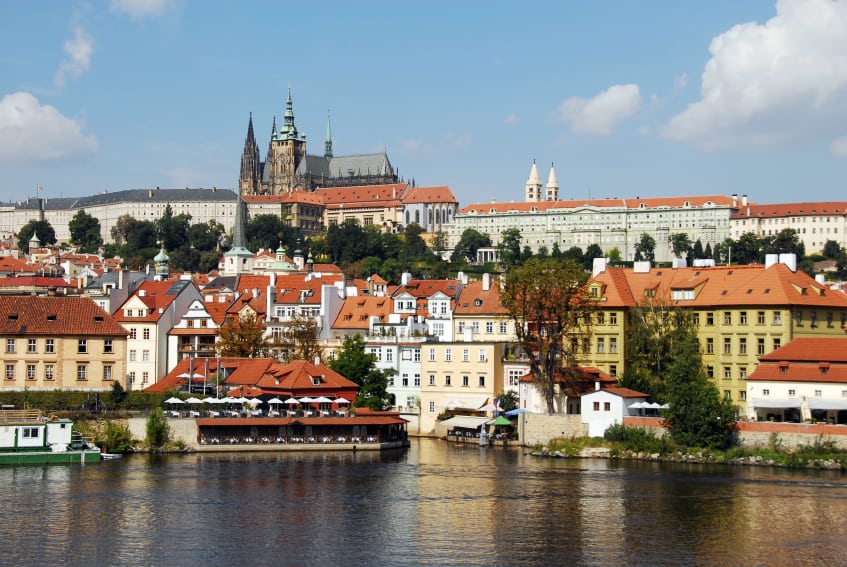 Historic castles and beer is aplenty in Czech Republic's capital, Prague.
As soon as the evenings start to get warmer, the first instinct of the Czechs (and the expats such as myself who've made the Czech Republic their home) is to take their beer consumption outdoors, to one of Prague's legendary beer gardens.
There are plenty of beer gardens dotted throughout the suburbs of Prague, some little more than a shack with a few kegs and a bowl of nuts or potato chips. Here I've chosen four beer gardens that stand out for reasons more than just their beer: popularity with locals and stellar views. They're all located in scenic park areas but are within easy reach of the city center- the best of both worlds!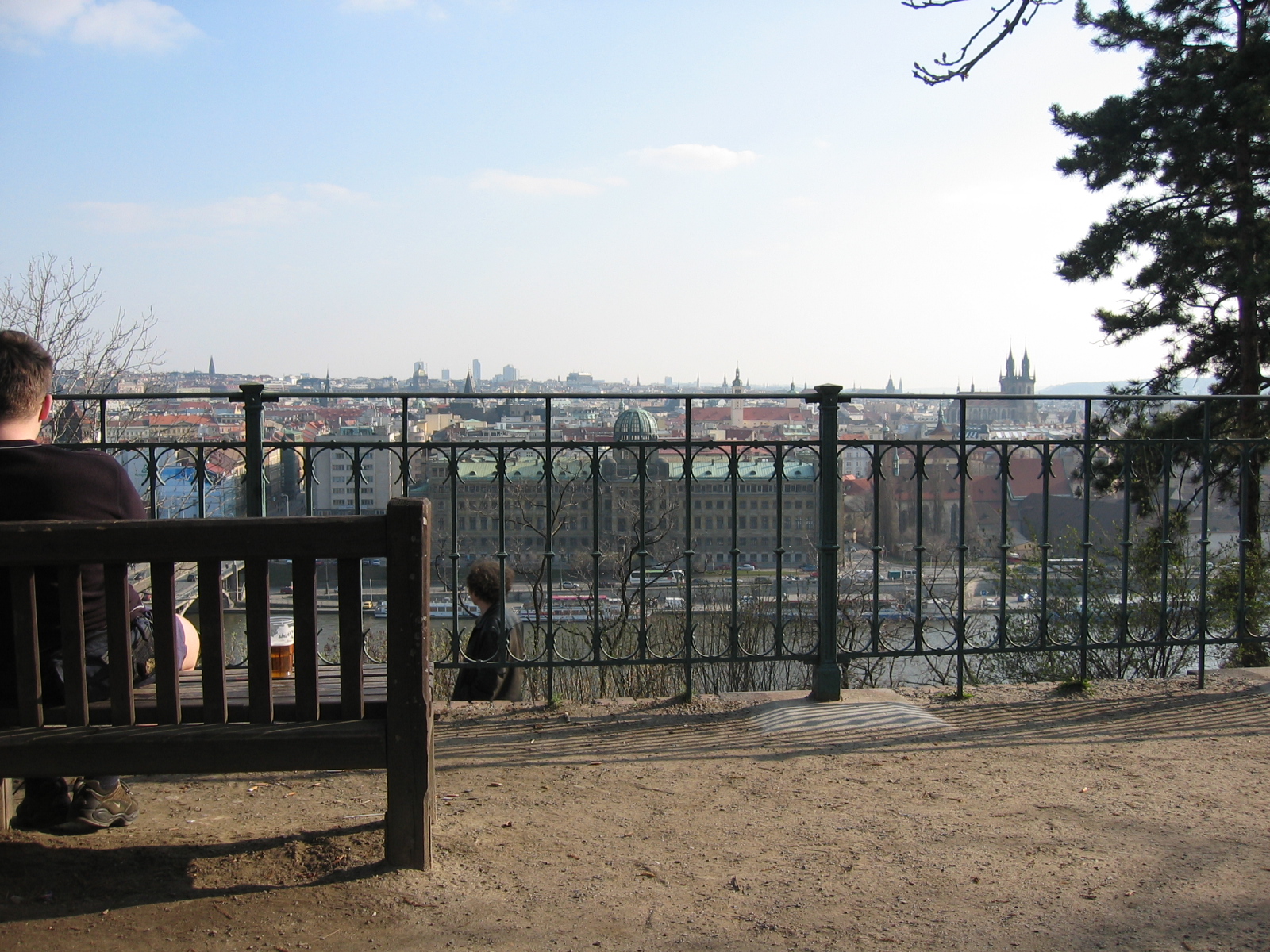 Quite a view from Letna.
Letna Beer Garden, Letna Park
Letna is an area with an enduring popularity among expats, situated on a plateau above the city center with a large park popular with rollerbladers, dog walkers, and joggers. It's famed for the views from its beer garden which looks out over the Old Town and is located directly in front of the chateau Letensky Zamecek. The beer's cheap and the food options so-so (unless you splurge and eat at the chateau's restaurant terrace) but the real draw here is the cosmopolitan crowd and the killer views. There is no better vista for the money in this city. After knocking back a few, go on a stroll in a westerly direction and you'll end up by a huge metronome placed on the plinth which was home to a massive statue of Stalin until the mid-1950's when it was dynamited on the orders of Khrushchev. From there, walk down to the river, across the bridge and straight into Old Town Square.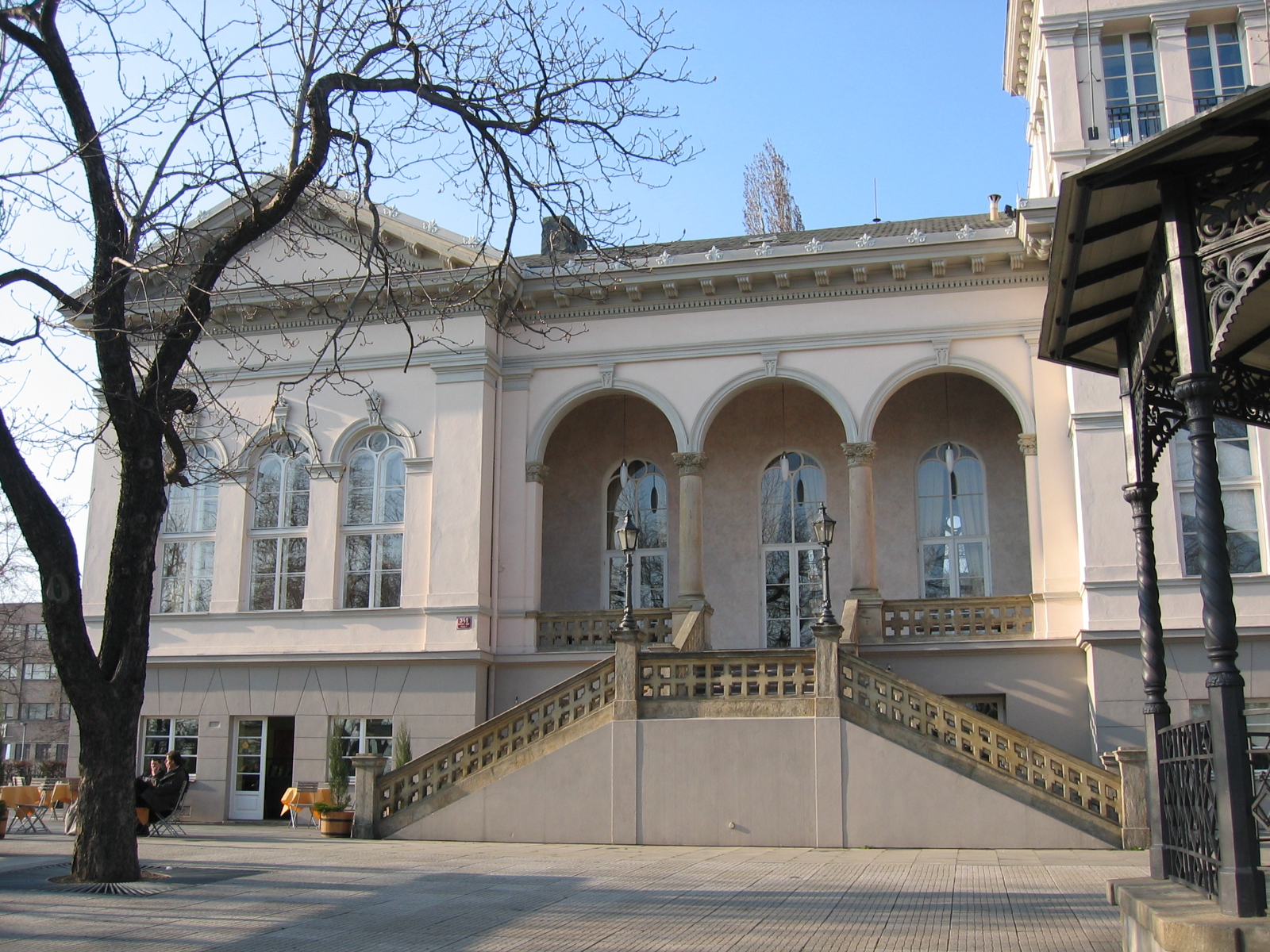 Letensky Zamecek, the chateau across from the Letna Beer Garden.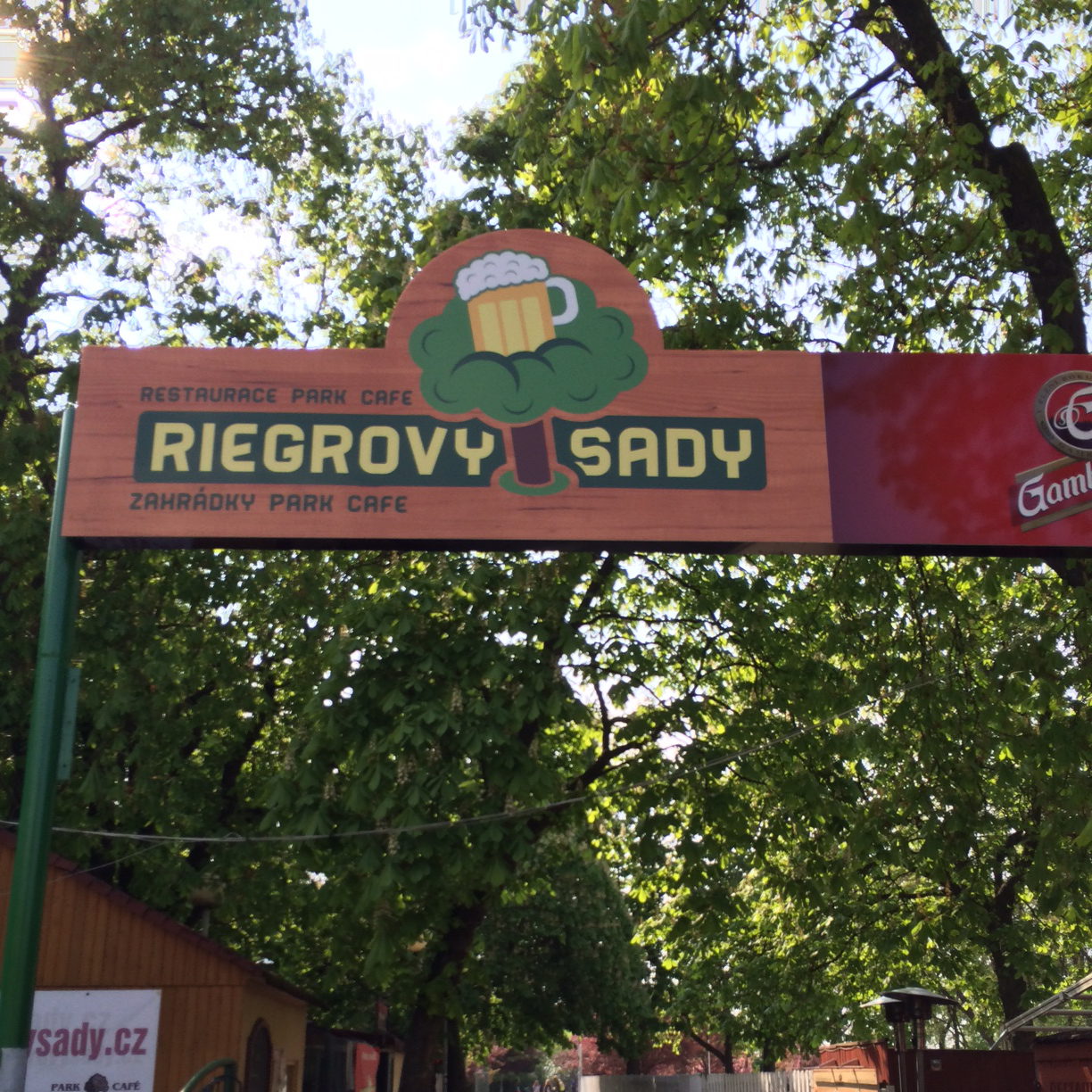 Thirsty? You're in the right place. Welcome to Reigrovy Sady.
Park Cafe Beer Garden, Riegrovy Sady
The Park Café beer garden at Riegrovy Sady (Rieger Park in English or Riegrak to its denizens) forgoes the views for sheer size, though view-hounds could head for the slope that faces the city center and has great views over to Prague Castle. This summer is World Cup time and the Vinohrady neighborhood is still an expat-heavy area, so this beer garden, with its massive projection screen, will be packed for the games and is usually host to fans from whichever country is playing. Even when there's not a game, a sizable crowd keeps the bar staff busy and fills the many benches. Food here's fairly basic; kielbasas (klobasa in Czech) is the order of the day. Sipping a cool beer under the cover of huge trees, with a steady hum of conversation around you– sometimes it doesn't get any better!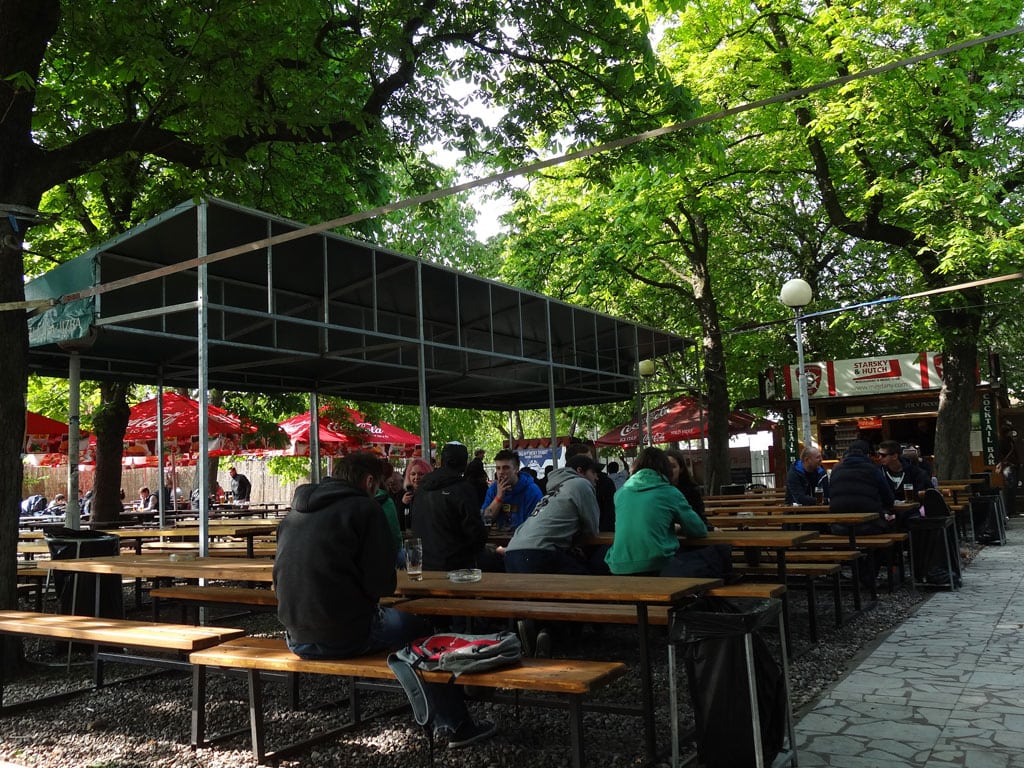 The tables lined up at Riegrovy Sady.
Na Hradbach, Vysehrad
You may hear people speak of Vysehrad (high castle) as the site of the first castle in Prague. There's very little left of this national monument from the Baroque era and almost nothing remaining from the Middle Ages. But don't fret, Prague has plenty of other historic architecture to see. But enough with the history lesson, we're here for the beer!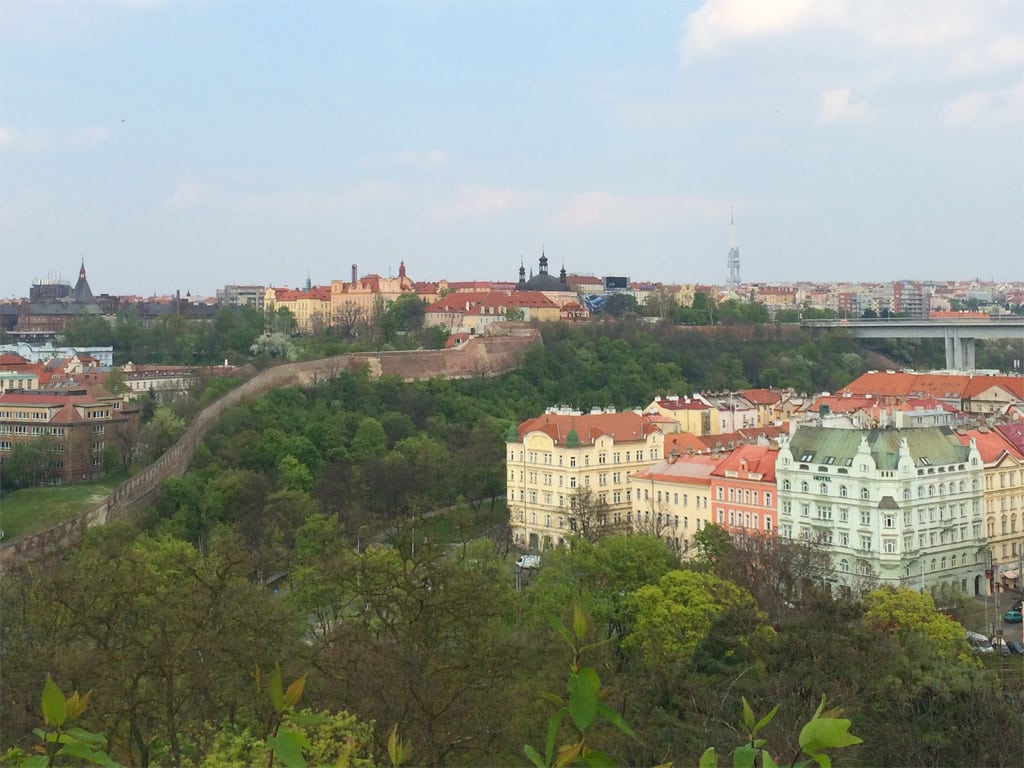 A view of Prague (and an in-the-distance TV tower) from NA Hradbach beer garden.
Situated in one corner of the ramparts is a beer garden called 'Na Hradbach' (literally, 'On the Ramparts'). Hardly well signposted, the few foreign tourists that make it out to Vysehrad might not even notice it, but they'd be missing out on the well-poured beer and expertly grilled meat from the Balkan grill. (Tip: If the indoor bar is packed, you can get a brew at the outdoor serving hatch.) Many of the tables are below the parapet but some towards the edge afford views of the Communist era Nusle Bridge, once infamous as a suicide spot. You can even see New Town and Vinohrady, with it's the love it or hate it TV tower, in the distance.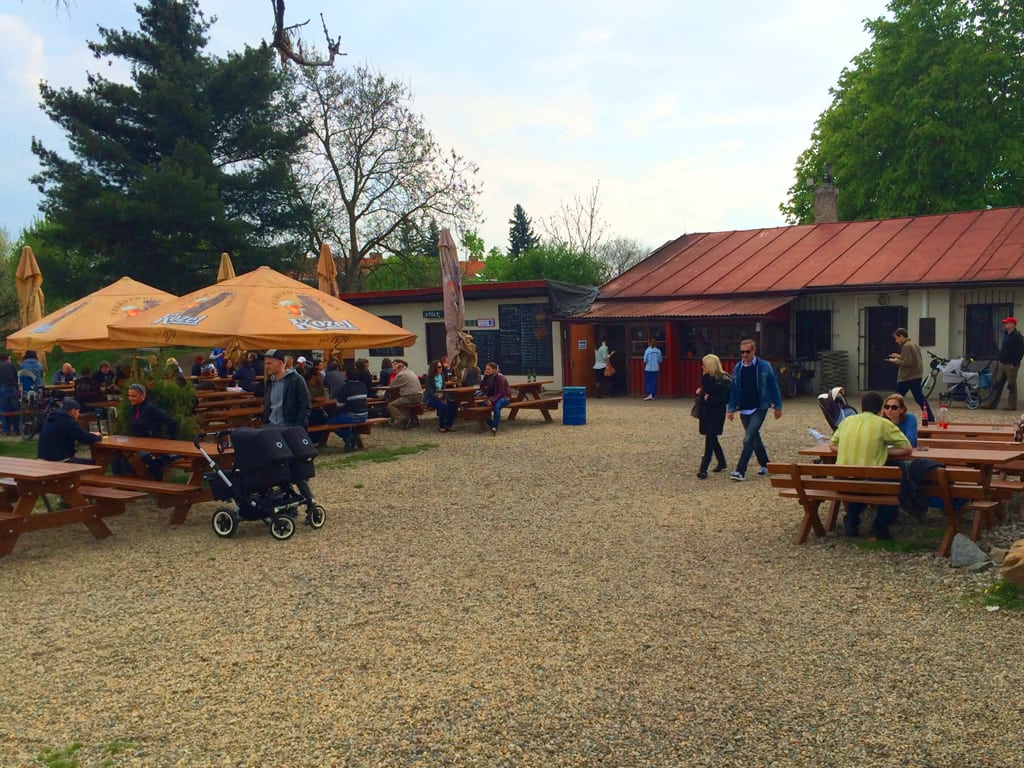 Take a seat and a swig at Na Hradbach beer garden. And don't forget to check out the views!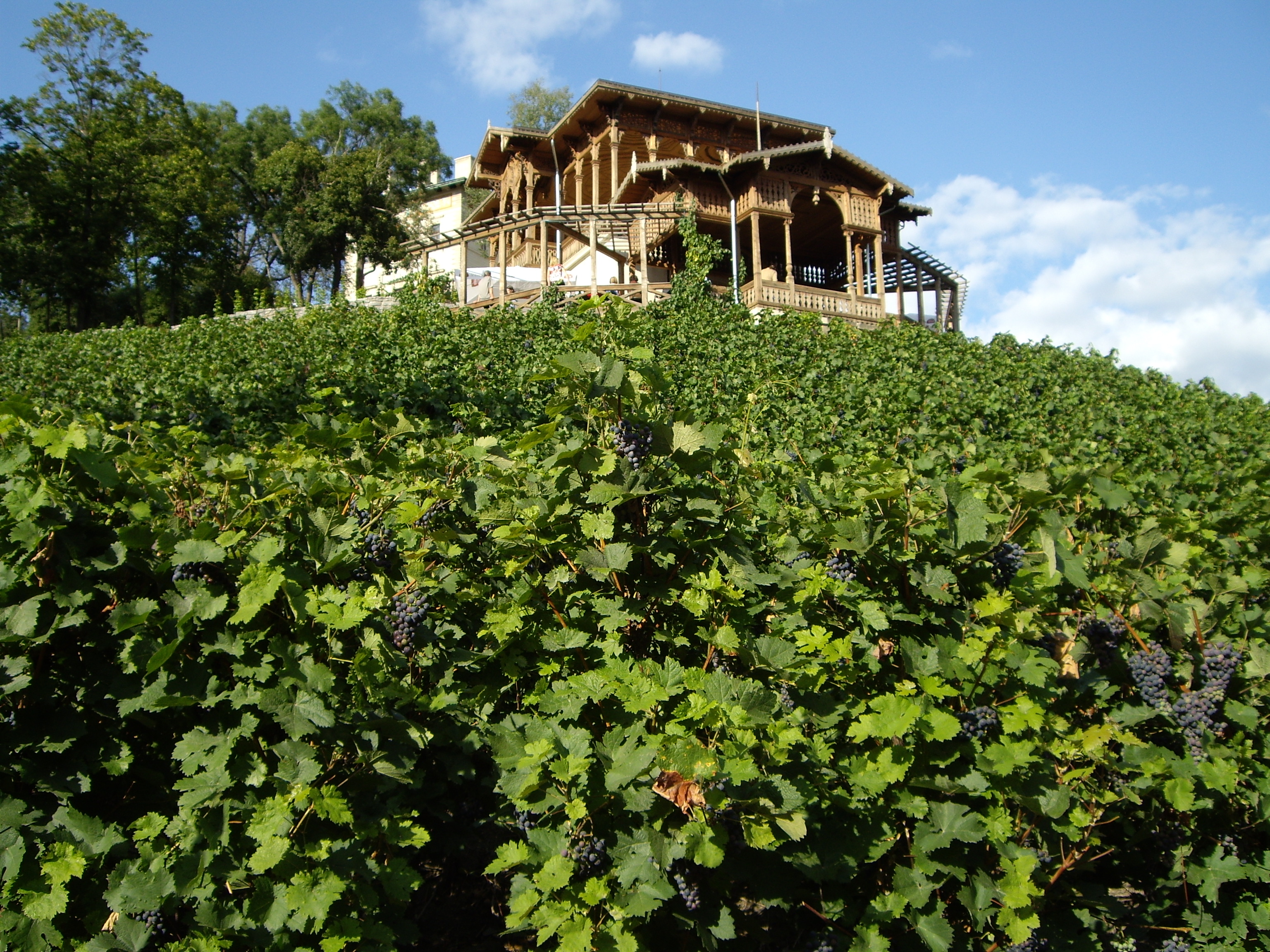 Vinicni Altan's local vines.
Vinični Altán, Vinohrady
The 'Vineyard Gazebo' might sound an odd name for a beer garden and in the normal sense of the term, this isn't one. It's a wine garden where you can also order beer! At the end of a residential street on the southern edge of the Vinohrady neighborhood you'll find a park that slopes down towards Vrsovice and looks south over Prague districts 4 and 10 (which means no castle views, sadly). The vineyard gazebo is just that: a bar/cafe with a terrace perched above a steep hillside covered with vines. You could order a pint or order a glass (of wine that is), choosing from hyperlocal (from the vines you're looking at) and other small producers in the Czech Republic.
Up close and personal with the grapes of Vinicni Altan.
Is your mouth watering yet? These four gardens are a surefire way to a good time of sharing pints with friends and gazing out at the historic castles and green landscapes of Prague. And this is just a few of my favorites! Prague and its surrounding neighborhoods have lots to offer visiting foreigners and locals alike. But where to stay after a long day of taste testing? Here's a couple recommendations, one for luxury and one with a convenient location.
The Emblem Hotel
Splurge on this 5-star independent hotel to experience sleek design and luxury. The Emblem opened its doors in September 2013. All guests have free spa access. The best amenity: a rooftop hot tub with views of Prague Castle.
Hotel Central
For a value for money option, check in to the Hotel Central. True to it's name, it is conveniently located less than a five minute walk from Old Town Square. You'll have a comfortable stay, prime location and room in your budget for a few extra pints of beer!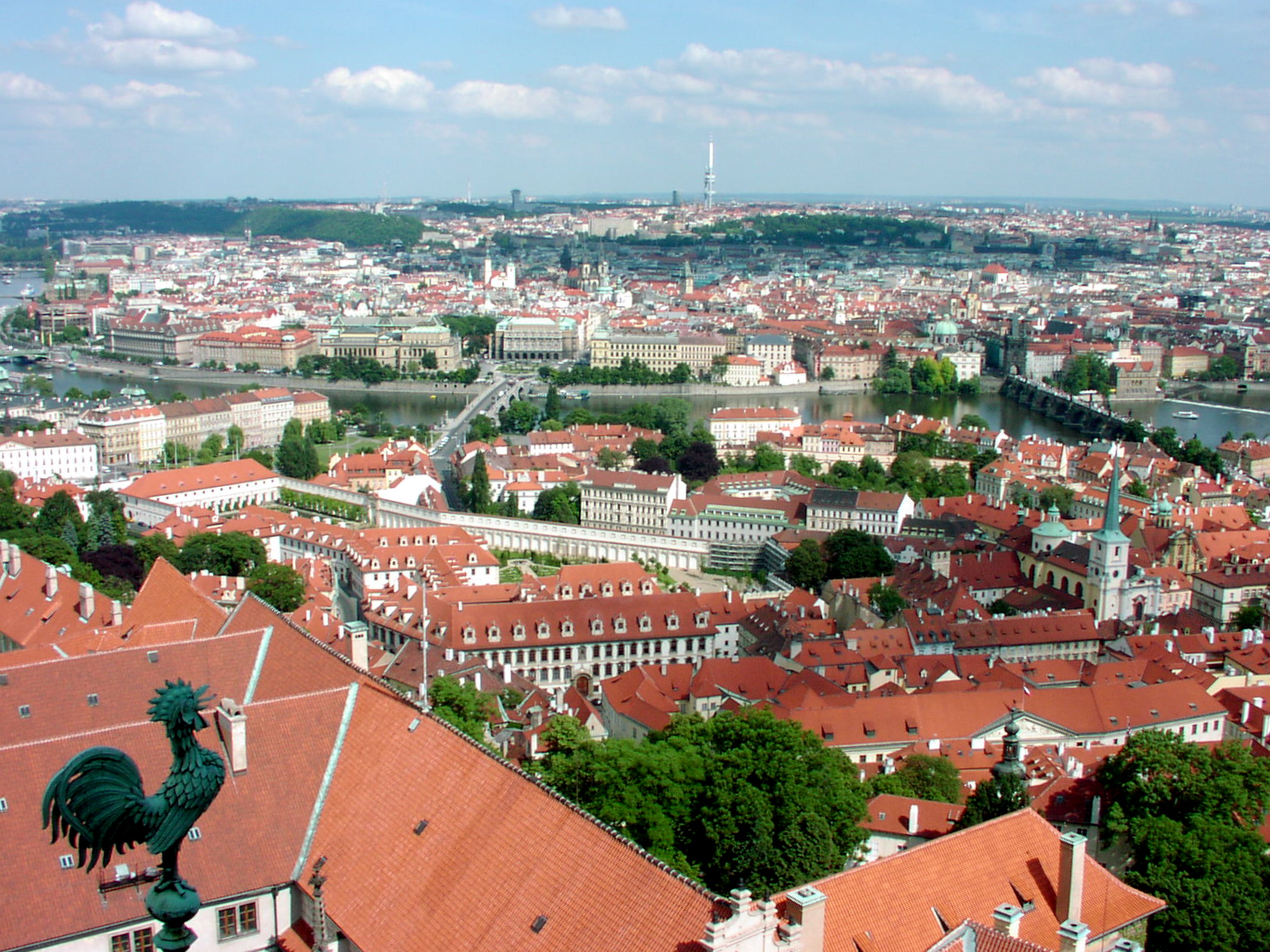 Overlooking the orange roofs of Prague.