Mary Gostelow's Hotel of the Week: The Peninsula Chicago
Posted on September 4, 2015 by Mary Gostelow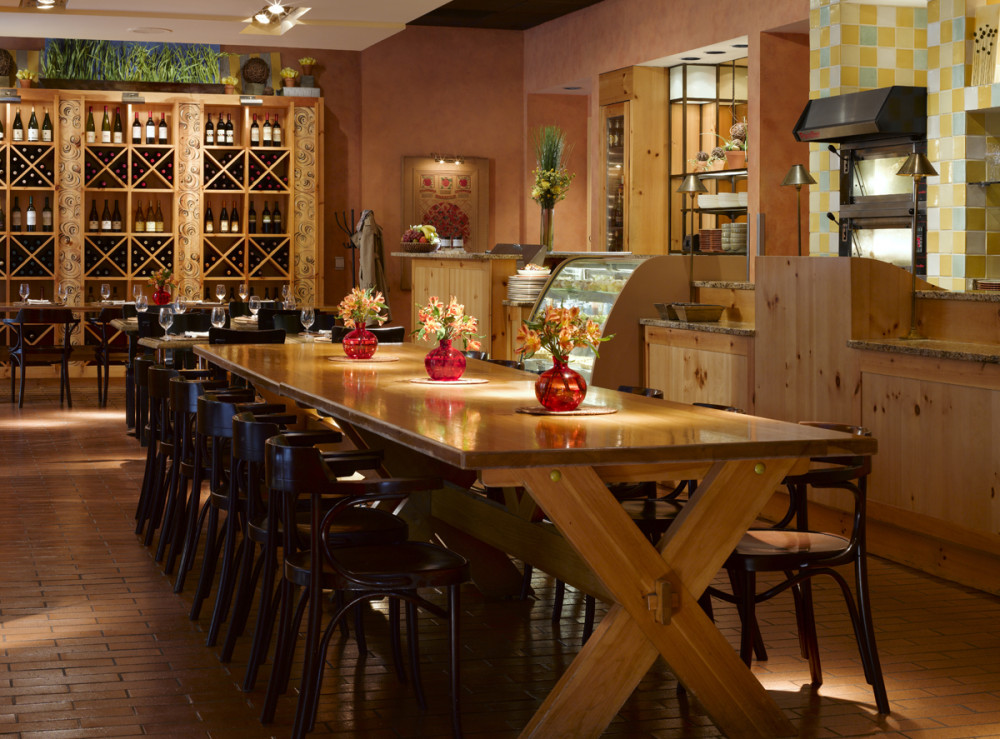 Pierrot Gourmet, one of the property's dining options. Photo Credit: The Peninsula Hotel.
Part of a weekly series featuring luxury hotel expert Mary Gostelow's hotel pick of the week.
Sometimes it is color that distinguishes one hotel from its competitors. The Peninsula Chicago, coming up on its 15th birthday, has had a Bill Rooney re-do that has brought in soft shades and the most divine chrysanthemum pictures. You still take the elevator up from East Superior to the main reception: exit elevator, walk along a heavenly honey-marbled promenade flanked by giant vitrines, showing jewels and other valuables. At the far end behind the concierge, you still have a 1930s allegorical wall mural, Gérard Coltat's liberal interpretation of Chicago at that time.
The nighttime lobby set up. Photo Credit: The Peninsula Chicago.
But now when you turn your head slightly left, you see an elegantly embroidered silk. And yes, the little bee is part of the art! There is a similar panel, about eight feet high by ten across, in all the suites (bedrooms have similar floral panels but sans embroidery). Bill Rooney chose the chrysanthemum not only because this is Chicago's city flower, but also one of the key quartet of Chinese flowers – and he sent the silk to be embroidered in China. As part of the new look The Peninsula Chicago, like other Peninsulas, now has in-room digital displays in 11 languages, and telephone calls, worldwide, are free. All 379 rooms are pale beige with slight ripple patterns on the plush carpets and Pratesi linens, a reminder of Lake Michigan a few blocks away.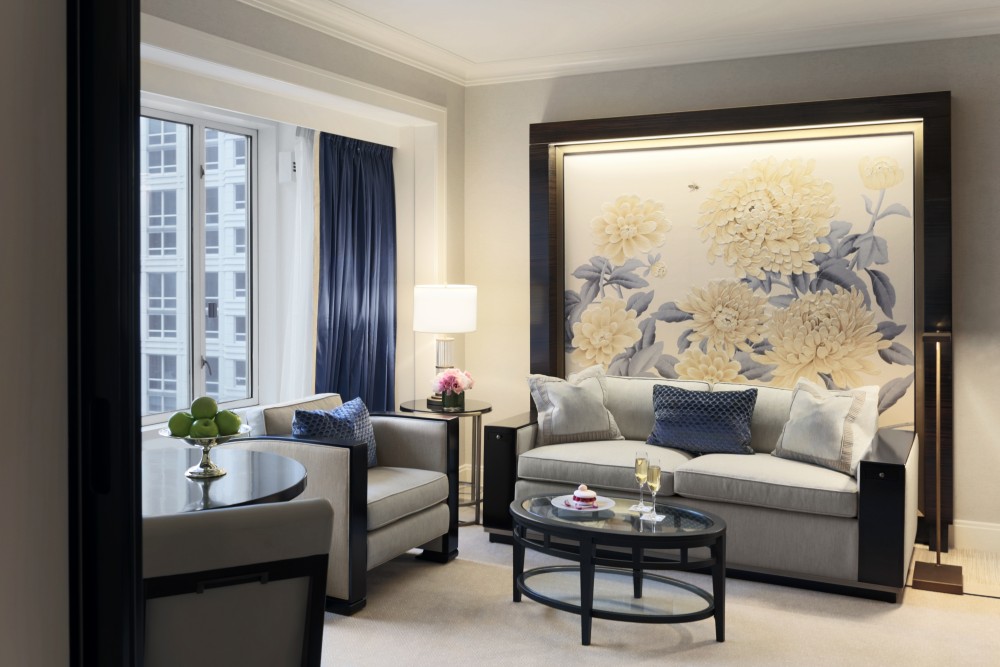 A deluxe suite, with embroidered chrysanthemum Photo Credit: The Peninsula Chicago.
Head out to the hotel's Shanghai Terrace – which becomes a skating rink in winter. Summer-long, try a Cucumber Martini, Hendrick's, cucumber, ginger syrup and lime; and a Long Jing Green Tea Mojito made with Bacardi white and green tea; and Lost in Shanghai, Belvedere vodka, Soho lychee, grapefruit juice and cassis.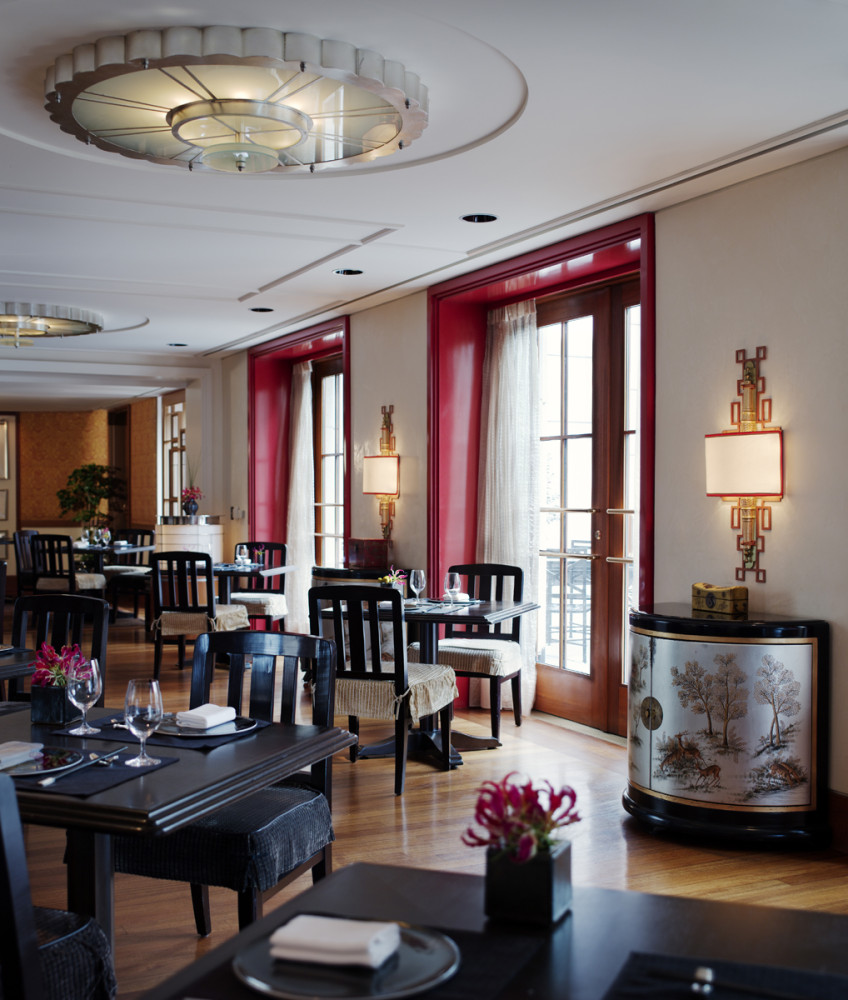 The indoor area of of Shanghai Terrace. Photo Credit: The Peninsula Chicago.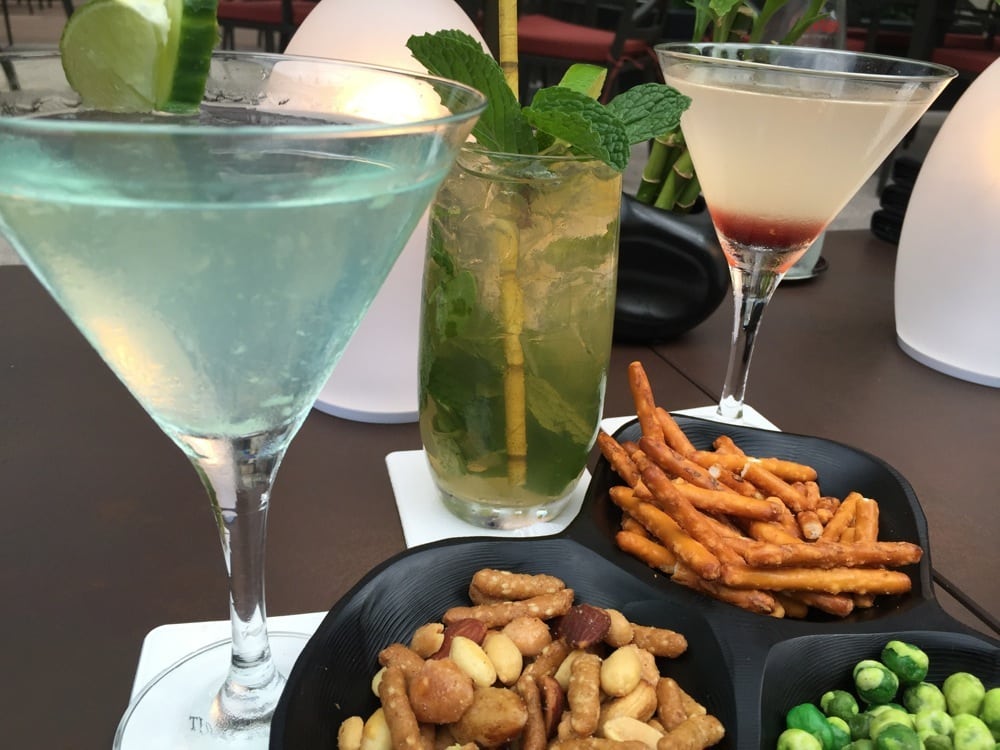 Summer cocktails on Shanghai Terrace.
While sipping, I put the photo below on Instagram and within five minutes the Terrace manager came over with a little thank you present. One more distinguishing point: the service. Friday and Saturday are chocolate buffet nights, with 12 different chocolate beans, including intense Inaya and sweet-milk Alunga, that can be ground for your customized hot or cold chocolate drink. And to compliment? Macaroons, petits fours and oodles of calories.
Read last week's Hotel of the Week here.