Co-Pilot Spotlight: Annie Fitzsimmons
Posted on April 25, 2017 by Nikki Pepper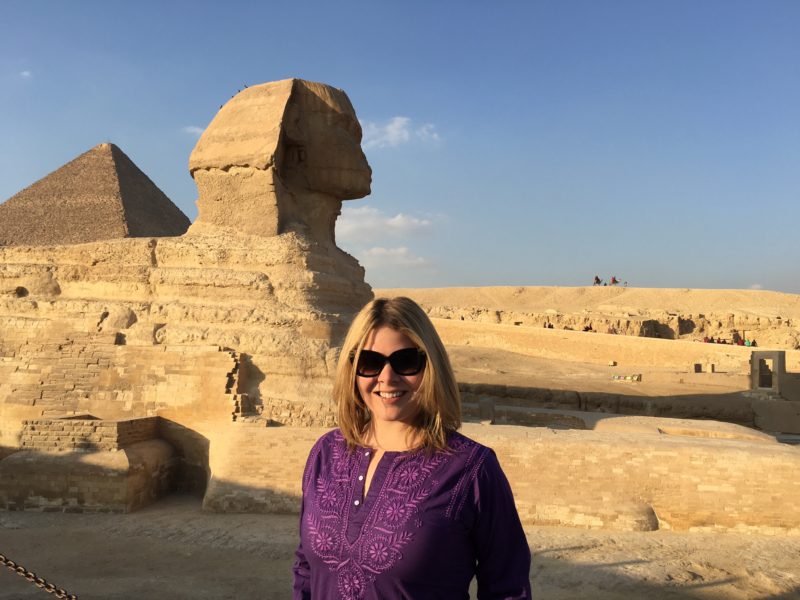 The Co-Pilot Spotlight navigates into the minds and experiences of travel professionals and professional travelers. Join us in the cockpit with Annie Fitzsimmons, Digital Editor, Virtuoso and Editor-at-large, National Geographic Traveler.
OTPYM: Where was the first place you ever traveled?
ANNIE: I traveled as a kid with my family in the U.S. but the first trip I really remember is my first trip to Europe when I was 19. It was July in Paris and I was dazzled – and hot and exhausted. I lived in Vienna in college and fell in love with Sachertorte, European-style cafes, and the sense that the city was set to a waltz.
Where is the last place you visited?
My last two trips were Egypt and Bermuda – I fell completely in love with both places. Egypt because I basically had my jaw to the floor the entire trip – the entire country is one big treasure box. Bermuda for its sense of rootedness (families go back hundreds of years) but also the feeling that it's experiencing a sexy new awakening, thanks to America's Cup.
I also was in Munich recently and rediscovered why I love it so much. Germany is such a fantastic destination.
Where is next for you?
I am going to Italy this month and Ireland next month. I spend a lot of time in Europe lately, particularly Switzerland, as my partner is Swiss, and I love it so, so much. I feel at home in Europe.
Why do you choose to travel?
It used to be to check off all the sites and see as much as I could. I'd print out these lists of restaurants, museums, sites – and literally check things off. Now, it's much more about serendipity, and time – grasping on to the beauty of spending unplanned time in a place. I learned this spending more time in Europe. My boyfriend meets his friends and spend hours with them. I'm lucky if I see my friends for an hour here in New York. We're always rushing off to the next thing.
How has travel helped to define your world view?
In every single way, large and small. I didn't go to grad school but I feel like I got my master's degree in world history with the travel I have done.
Where is the favorite place you've traveled and why?
South America is the place that captured my heart in the most vast, pure way. There is so much joy in places like Buenos Aires, Peru, and Chile. I was going through a massive upheaval when I went to the Galapagos Islands and I feel like they helped to heal me through the fearless animals and stunning landscape. I also love the Middle East – I have such wonderful memories of Israel and Jordan. You can't go to Jerusalem (no matter what your religious background, if you have one at all) and not be affected. Your heart beats faster!
I have eternal love affairs with Berlin, Lisbon, and the countryside of England. Oh – and Mexico City!
When on your travels have you felt the most out of your comfort zone?
Funny but probably Bangkok. I never "got" Bangkok. Usually, I can get a hold of a city in a couple of days. But here, I never did and it made me uncomfortable in a way. I didn't get public transport. I was always in traffic. Was I supposed to go to the big, air-conditioned malls or be by the river and lounge about? I feel like I need to go back and dig deeper.
Who is the most interesting person you have ever met while traveling and why?
Picking one?! Insane. I will say that people in the travel industry have fascinating stories because they travel all the time.
I miss Keith Bellows from National Geographic Traveler and his sharp, funny, inspiring take on the world – he made you feel like you could do anything you wanted. Matthew Upchurch, CEO of Virtuoso, is that kind of legendary travel thinker. When he speaks, the audience is quiet – they are spellbound listening. I love Virtuoso's objectives of human connection and communities in travel, promoting global citizenship for kids and families, and connecting consumers to travel advisors.
What is the most adventurous food you have tried while on the road?
I'm so not adventurous with food – even though I love food generally. I'm the one politely declining guinea pig in Peru and insects in Asia. Oh, I just remembered I had yak butter tea in the Yunnan province of China – you just can't say no when the kindest family is offering it to you. It tasted like drinking a mug of hot, fatty lard. I just couldn't finish it.
What's the next trend in travel?
Simplicity. Nostalgia. Long lunches. Long walks. Long conversations. Doing less, not doing more. This is a constant battle for me!