Co-Pilot Spotlight: Costas Christ
Posted on September 24, 2017 by Cora Boyd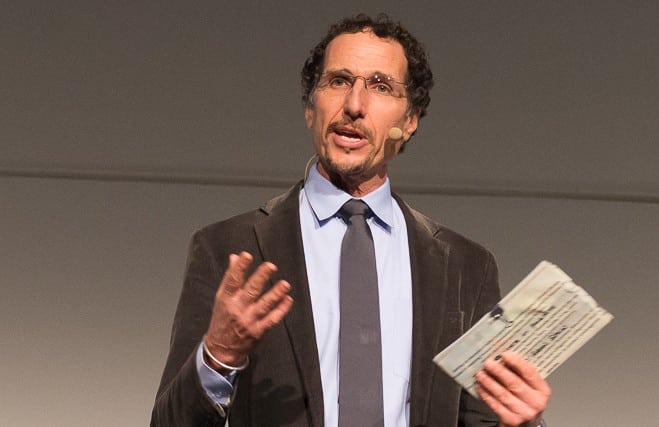 The Co-Pilot Spotlight navigates into the minds and experiences of travel professionals and professional travelers. Join us with Costas Christ, award-winning Editor at Large for National Geographic Traveler, Global Sustainability Strategist for Virtuoso Travel Network and Founder and CEO of Beyond Green Travel.
OTPYM: Where was the first place you ever traveled?
Costas: At four years old, I quietly slipped out the back door of my family home and trekked my way nearly two miles to watch a flock of ducks in Toms River, New Jersey. My panicked mother called the police to report me missing. They found me by the river looking at a group of mallards and brought me home. It was the start of a lifelong love affair with nature travel.
Where is the last place you visited?
I went to the Gobi Desert in Mongolia to retrace the expedition route of explorer, Roy Chapman Andrews. In 1920, Andrews led the first scientific expedition by automobile, using a fleet of Dodge cars to cross the Gobi in search of dinosaur fossils. It led to the at-the-time sensational discovery of a fully intact nest of dinosaur eggs and earned him a place in paleontology history.
Where is next for you? Why?
I am headed to the Douro Valley in Portugal, where I will stay at Six Senses Douro Valley – a sustainable tourism retreat that embraces cultural heritage and authenticity. Using that as my base, I plan to explore the area during the peak of the grape harvest – locals still stomp on grapes with bare feet to crush them and make wine as they have for centuries.
Why do you choose to travel?
To travel is to be human. The Dalai Lama once told me that the ancient Tibetan word for human being is "groba," which translates as "one who goes on migrations."  So, the very definition of what it means to be a human being in ancient Tibetan is to travel. We live on a beautiful, fragile and diverse planet filled with cultural and natural treasures. I want to see and experience as much of it as possible, and help to protect our global heritage for future generations.
How has travel helped to define your world view?
I think of travel the way John Steinbeck wrote about it: "People don't take trips, trips take people". I would add that trips take people to new understandings of our common humanity, beyond borders.  At Virtuoso, we like to say, "Borders Divide, Travel Unites".
Where is the favorite place you've traveled and why?
I do not have a favorite place; rather, I have favorite places. Five countries I would go back to in a heartbeat include:
Botswana –Possibly the best wildlife viewing on the planet.
Mexico – Incredible nature from deserts to jungle, and fantastic culinary diversity.
Greece –I have been traveling to Greece for decades. I love the islands and recently started exploring the mountain interior. There is a spectacular little place called Aristi Mountain Lodge. Highly recommend it.
Seychelles – Rare wildlife species, ancient palm forests, mist-shrouded mountains, and powdery sand beaches enveloped by blue lagoons. Need I say more?
Sri Lanka – I have made three trips there in the past 24 months and am headed back again in 2018. Epic surfing, amazing food, friendly locals and, incredibly, eight World Heritage Sites, all in a country slightly larger than West Virginia
When on your travels have you felt the most out of your comfort zone?
When I was caught in a rebel fire fight along the southern Sudan- Ethiopia border. I happened to be in the wrong place at the wrong time. I crawled under the 4×4 truck we had to escape the flying bullets. That said, I lived 10 years in Africa – one of the best decades of my life.
Who is the most interesting person you have ever met while traveling and why?
Wilfred Thesiger picked me up hitchhiking on the Mombasa Road when I was reading his book, "Arabian Sands". Talk about coincidences! Here I was on a remote stretch of tarmac in Kenya, reading a book by one of the last great British explorers, when a Landover pulls over and offers me a lift. It was the legend himself, then in his 80s. Thesiger and I talked about exploration and travel for hours. It was serendipity.
What is the most adventurous food you have tried while on the road?
Fermented Yaks fat "beer" at 14,000 feet in the Himalayas. Once was enough.
What's the next trend in travel?
I am not into travel trends. I am into travel transformations. Sustainable tourism, based upon protecting cultural and natural heritage around the world, is a global transformation that can harness the positive power of travel to make the world a better place. This is something every traveler today should have on their agenda.
Any funny anecdotes from the road?
Growing up enthralled with all things adventure and nature, I always wondered if a person could really swing through the jungle on hanging vines. I decided to put it to the test on a rainforest trek with a friend. Convinced no one else was around, I stripped to my birthday suit, tied tropical foliage around my waist for clothing, plotted my route, and grabbed a dangling liana. I went wildly swinging through the air and made it to the second vine, when I lost my grip and crashed, just as a group of village women emerged on a footpath and saw me. They burst into laughter. Let's just say I am glad this happened before social media.