Copilot Spotlight: Felicity Aston
Posted on February 16, 2018 by Cora Boyd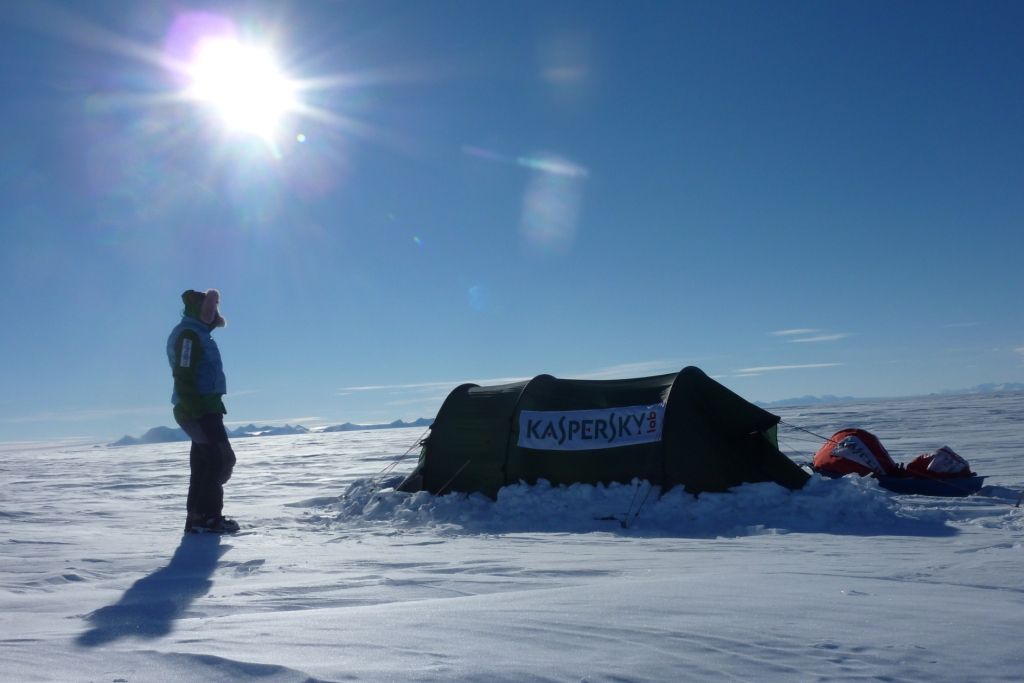 The Co-Pilot Spotlight navigates into the minds and experiences of travel professionals and professional travelers. Join us in the cockpit with polar explorer, Felicity Aston.  
OTPYM: Where was the first place you ever traveled?
FELICITY ASTON: My parents took me on a road trip around Italy and Greece while I was still a baby. I took my first steps in Greece.
Where is the last place you visited?
I recently returned from Gozo.
Where is next for you? Why?
I am skiing the last degree to the North Pole in April with a team of women from across Europe and the Middle East – The Women's Euro-Arabian North Pole Expedition 2018.
Why do you choose to travel?
Curiosity.
How has travel helped to define your world view?
Travel continually confirms to me how precious and wonderful both the human race and our planet truly are. I often wonder how our behavior on Earth would be altered if the result of our search for extra-terrestrial life was to know that there is no other life in the universe. Would it make life more sacred to us?
Where is the favorite place you've traveled and why?
Antarctica. It is so vast, so ancient, so empty and – still – so unknown.
When on your travels have you felt the most out of your comfort zone?
In the Arctic when there are Polar Bears around. They are magnificent creatures but fearsome predators!
Who is the most interesting person you have ever met while traveling and why?
Does my husband count? I met him while on expedition in Antarctica! I've met several shaman in various parts of Siberia and they have each been memorable encounters. But perhaps the most dramatic meeting was at the 'Pole of Cold', the coldest inhabited place in the world, which is a small village in north east Siberia. We arrived to find the Lord Keeper of the Cold, a figure from the local Yakut mythology, waiting for us in magnificent robes. He told us all about his role in local folklore, as well as his views on why winter is a force for good. It was a great meeting and, to this day, I do not know how he knew we were coming!
What is the most adventurous food you have tried while on the road?
The food I liked least was dried seal meat in Greenland – the overwhelming fishy taste stayed with me for days. Cubes of raw horse liver, eaten while frozen, in Yakutia was pretty challenging too.
What's the next trend in travel?
I avoid trends at all costs. I live in Iceland which is currently enduring its turn as a travel 'trend' destination and it is devastating.
Any funny anecdotes from the road?
While on a two-month ski across Antarctica, I thought it might be a good idea to wash my underwear but woke up in the morning to find them completely frozen like some kind of contemporary art sculpture. It took me days to thaw them out again.
We all have our stories. How has your life's story influenced the way you travel? 
Most of my travelling has been in the form of expeditions – which makes me a bit of a nightmare when it comes to holidays. I find myself inventing goals and becoming absorbed with them, like walking every path on the island or snorkeling the entire length of coastline, rather than just relaxing.
What is the most impactful travel experience you have had? How has it shaped you?
Looking back it is clear that my first visit to Antarctica has played a huge part in shaping the rest of my life so far. Being able to travel through that challenging landscape has given me an inner confidence that I have personal resilience – not just of the physical kind but emotionally and mentally too.
In what ways, as a society, can we change travel to be a force for good? 
I don't think travel needs to change – it is by default a force for good. The only way to counteract the distorted perspectives of international politics is through individuals experiencing the truth of peoples and places for themselves, however that is done. Travel deliberately and travel with purpose.