Eating in Portland
Posted on December 17, 2012 by ellakeeven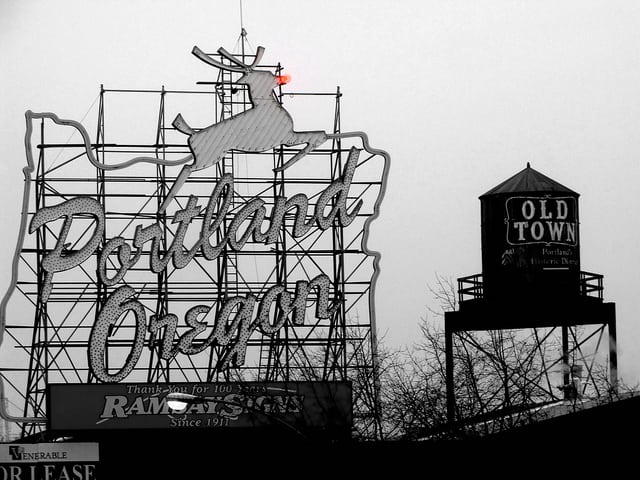 Photo via Mavis' Flickr
Anyone who knows anything about food knows that Portland has become the place for food lovers. And while the soggy city has much more to offer besides food (beauty, brains and COFFEE!), if you haven't made your way to the City of Roses recently, now is the time.
Pok Pok– They've already made their way to Brooklyn and even a short stint in NYC's Lower East Side, but this is the original. Real deal Thai food. Everything is good. There isn't a single thing on the menu that is not good. There will be a wait, so head across the street to Whiskey Soda Lounge, where you can call in an order of Pok Pok's famous chicken wings and wait for your table.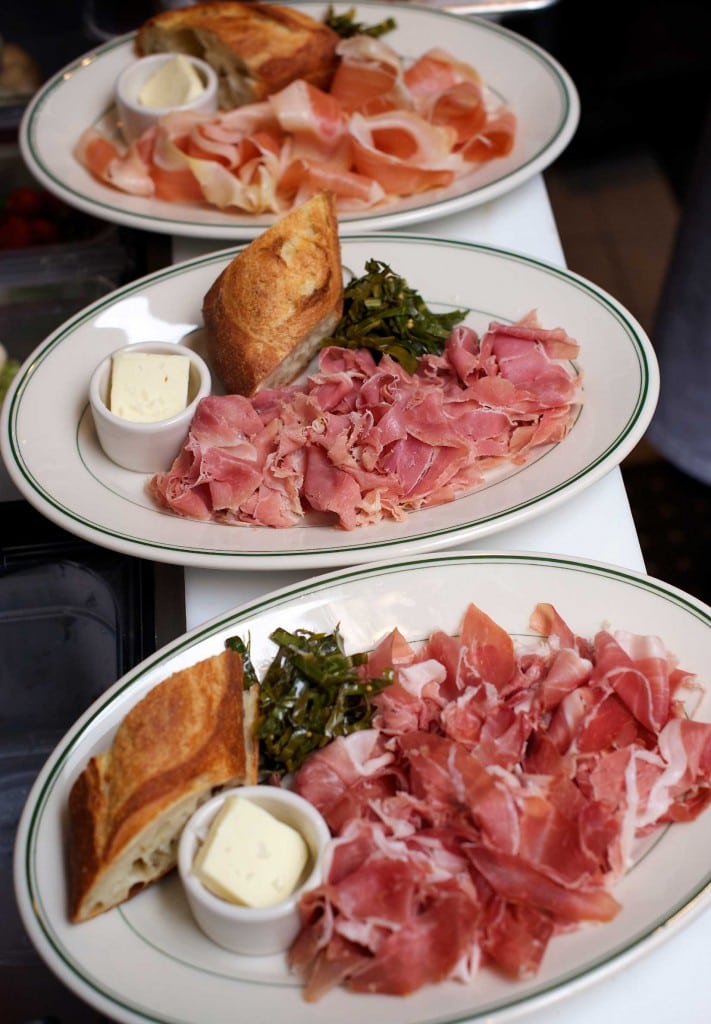 Image via Woodsman Tavern
Woodsman Tavern– First of all, the menu features "Drinking Snacks". What could be more perfect for a Sunday funday? But Sundays aside, Woodsman Tavern's menu is upscale pub grub, with seafood and cured ham as the shining stars. The cocktail menu is heavy on the brown liquor persuasion. Food, cocktails and atmosphere are all put together by some of Portland's industry heavy hitters.
Ox– Argentine inspired food, which means meat, meat and more simple gilled meat- all grilled on the massive wood-fired grill that takes center stage in the space. Look for the spicy braised octopus and beef tripe, house-made morcilla or flanken-style beef short rib. While the menu is meat-centric, there is plenty for vegetarians, like sunchoke empanadas with black truffle and grilled asparagus with salsa verde. Ox is currently one of the hottest restaurants in Portland, so be prepared for a bit of a wait.
Aviary– In a year and a half, Aviary opened, burned down and reopened. The menu is built around pairing Asian flavors with European techniques. The signature dish is a wok of coconut rice mixed with Chinese sausage and crispy chips of pig ear. Ambitious, creative and delicious. The menu might not look like it's for everyone upon first glance, but give it a shot. You won't be sorry.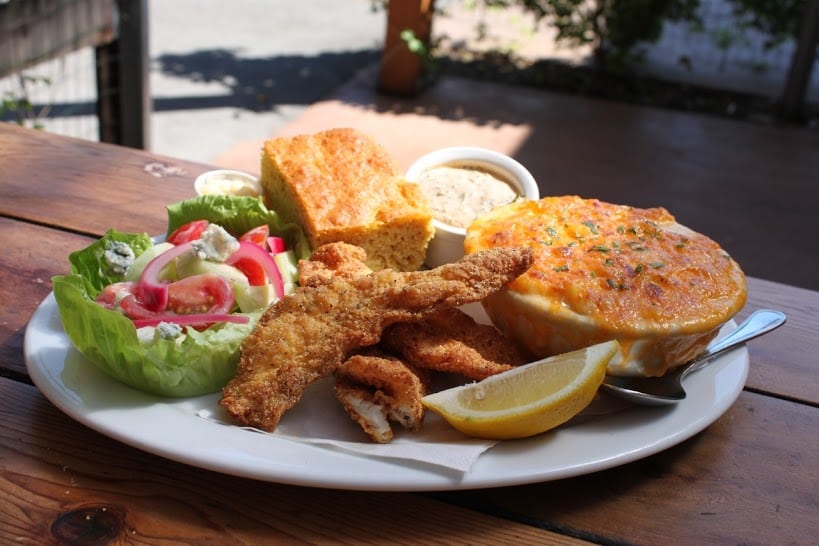 Image via Screen Door.
Screen Door– What I love most about Screen Door is that it is straight-up southern food. None of this "southern food with a northwest twist", B.S. Of course in true Portland form, it's farm to table and all meat and produce are local and organic. It gets the most play for brunch, but the inevitable line might be more bearable at dinnertime.
Riffle– What would a Portland food guide be without a seafood restaurant? Oddly enough, seafood restaurants are kind of lacking here, despite Portland's proximity to the Pacific Ocean. Riffle describes itself as a "catch-inspired" eatery, meaning the menu is built around the catch of the day. The kitchen is set up with several cleaning stations where the fresh catch goes from whole fish on ice to fillet in the hot oven within minutes.
Casa Diablo– Vegan strip club. Vegan restaurant. When in Rome? Why not? Portland has the most strip clubs per capita, so there is a club for every taste. But Casa Diablo takes the cake… an egg, butter and milk free cake.
Voodoo Donut– Wacky donuts galore; Bacon Maple Bar, Gay Bar, Captain my Captain (yep, Captain Crunch), Maple Blazer Blunt, Tangfastic (TANG!! seriously), and your regular run-of-the-mill donuts, to name a few. And yes, they are good. Magical, in fact. Don't let the line deter you from your McMinnville Cream.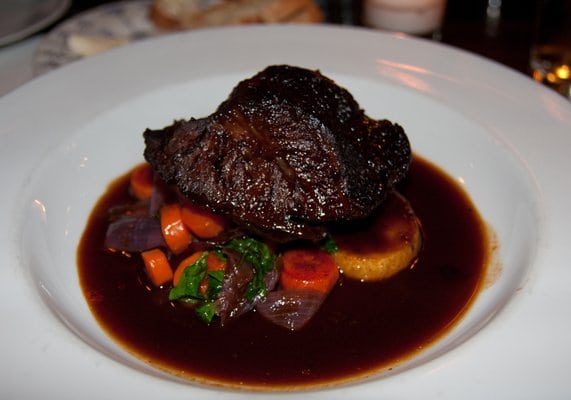 Beef Cheek Bourguignon at Le Pigeon.
Le Pigeon– One of PDX's best fine dining restos. The frequently changing menu is short and sweet and features adventurous French inspired food- grilled venison parsnip cake, green tomato chutney, marrow vinaigrette; and sweet pepper bread pudding grilled onions, smoked tomato vinaigrette, soft egg, are a couple items on their most recent menu. Maybe you will even be lucky enough to get one of the only five burgers they serve per night. Get there early!
Bunk Sandwiches– No blurb that I write will be nearly as good as how Bunk explains the sandwiches on their own site. Straight from the horse's mouth: "Why Bunk Sandwiches you may ask? Well, why the heck not? Aren't you sick and tired of everybody bragging about "the greatest burger in the universe" or "the country's best cup of coffee" or "the world's best blah blah blah"? Here at Bunk Sandwiches, we've decided to level the playing field. We didn't think it was very nice to brag about how incredibly awesome our sandwiches are. We figured we would let your tongues do the talking. You be the judge. I bet if you come on down and buy a Bunk Sandwich today, it will be virtually impossible for you to go away disappointed. With a name like Bunk, things are only bound to get better."
Sure, there is a certain level of gastronomic snobbery in Portland these days, but it is well deserved. So if you plan to hop on the bandwagon and you are an out-of-towner, here are some of my favorite hotel suggestions:
Ace
Jupiter Hotel
Hotel deLuxe
McMenamins Kennedy School
Hotel Monoco
After you stuff your face to oblivion, you will need coffee to wake you up:
Stumptown (the original)
Albina Press
Ristretto Roasters
Coava
Then head to one of these Portland venues to check out some of your favorite bands: Doug Fir Lounge
Mississippi Studios
Roseland Theater
Crystal Ballroom 
Im sure you all have other worthy suggestions and I'm all ears. Feel free to add some of your favs in the comments section below.