Dining Out in St. Louis, Missouri: T-Ravs, Oxtail, Mahi Mahi & Frozen Custard
Posted on January 23, 2013 by MichaelaSGuzy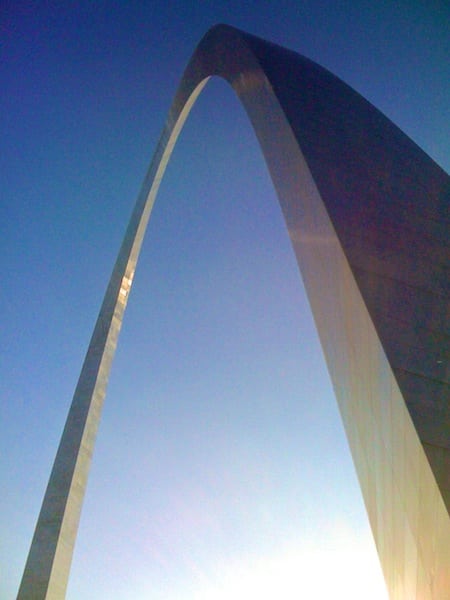 Written by: Michaela Guzy, considering I didn't know I was writing a story at the time, the iPhone photos aren't too shabby.
My hometown, the gateway to the west, has the reputation of delicious but fattening food that can only be found in St. Louis, Missouri. St. Louis style Imo's pizza made with provel cheese, toasted ravioli (accidentally created during the 1904 World's Fair), Ted Drew's frozen custard so thick it can be turned upside down, BBQ ribs and of course Budweiser.
Pleased to report that when I was home over the holidays, I discovered a whole new slew of restaurants that ranged from chic speak-easies to farm-to-table deliciousness.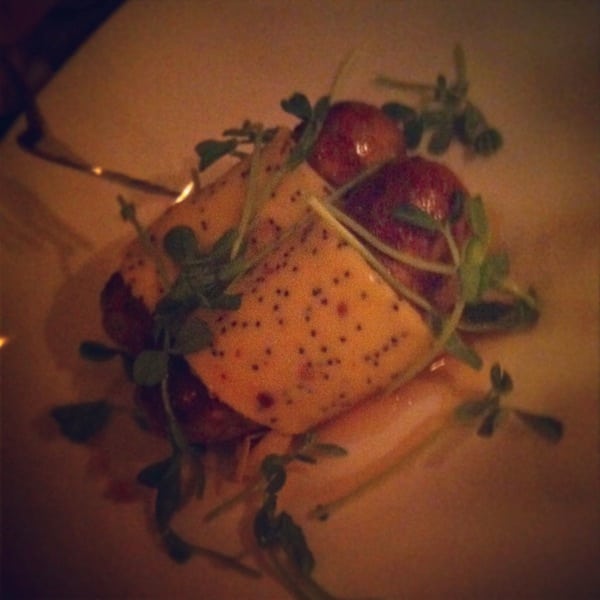 Pigs in a blanket with Vietnamese flavors.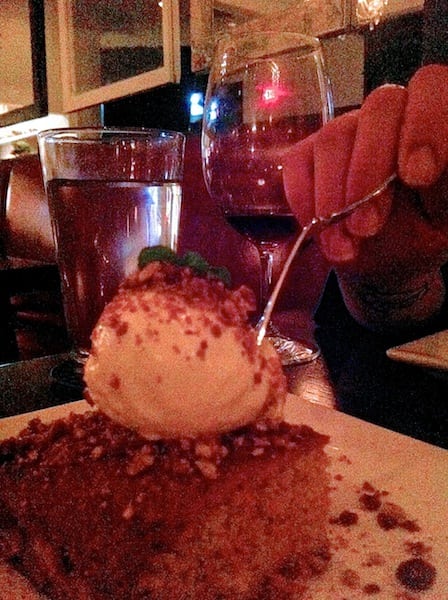 Carrot cake with goat cheese ice-cream & toffee.
Private members only club, Blood & Sand, is named after a cocktail composed of Scotch whisky, Rosso vermouth, cherry brandy and orange juice. The cocktail selection, decor and fact that you have to be a member to dine here make Blood & Sand, located in downtown St. Louis, reminiscent of a speak-easy. And while the privacy may sound a tad snobbish, the staff are beyond friendly and the menu proper mid-western– large portions, comfort food and of course, lots of meat. Don't miss the truffled tater tots with parmesan, oxtail braised with orange, cardamom, rapini and  granola or the grass fed burger with onion jam, pea shoots, homemade American cheese with house fries (and for a little extra you can add a farm egg or Thai BBQ pork).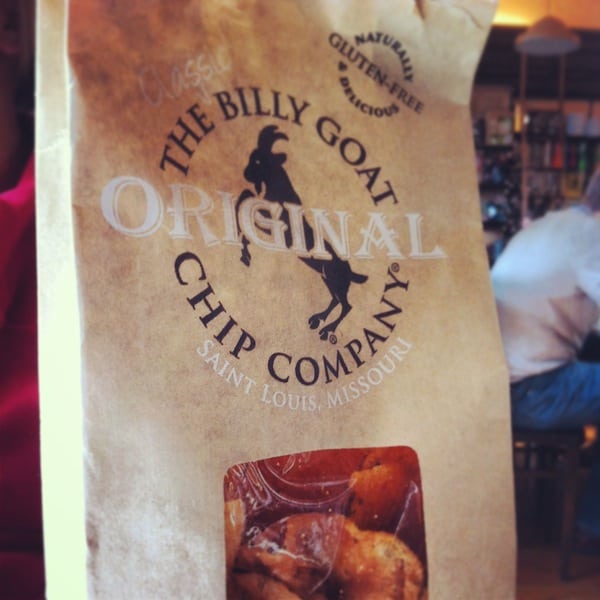 I think the bag says it all. Sold at Winslow's.
Winslow's Home & Farm it's part market, part restaurant in University City (near Washington University). Everything from their chicken and veggies are grown on their farm just 35 miles outside of STL. Casual ambience, but gourmet food. You order from the counter in back and get your table afterwards– they are sticklers for the rules. No worries if a seat available right away, there are plenty of knick-knacks, including miniature statues of the Gateway Arch, organic soaps and books on design to check out. You can even do your grocery shopping or have a glass of wine from their cellar.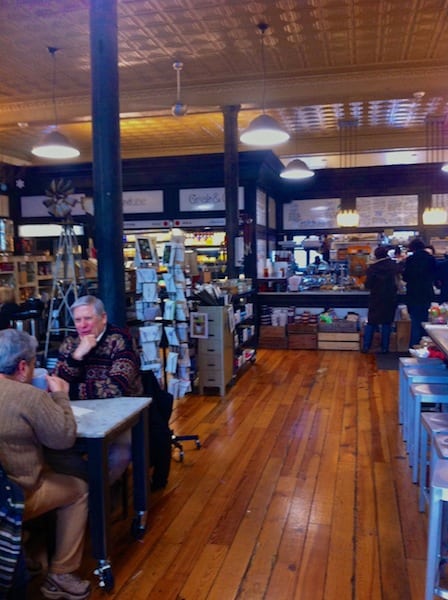 Inside Winslow's.
The Tavern Kitchen & Bar is out in the burbs, but worth the drive to the corner of Dougherty Ferry Road and Big Bend. Local Chef Justin Haifley returned back to STL after working in NYC to introduce a new chic comfortable environment, a vast international menu and New York prices. Admittedly, growing up, my limited interaction with seafood revolved around catfish, McDonald's fish sandwiches and the Friday fish fries during Lent. To say my opinion of fish before heading to college was low, would be at best, an understatement. I begrudgingly ordered fish that luckily can't be found in the Mississippi River. The sesame mahi mahi with Thai coconut curry, black tiger shrimp and jasmine rice was fresh and flavorful. Even if you aren't a fish lover, there is meat galore- I'd suggest the meatloaf (yes mom, I've been reformed) or char-sui pork steak with pineapple habanero salsa, fried egg and fried rice.
The Royle Food & Spirits located in South City is a self-described public house. While you still can't beat a sandwich from Mom's Deli, Royale serves up healthier versions of pub food, with a fully stocked bar. DJ's and bands nightly.
I returned to NYC post holiday a tad home sick for my caloric-splurges that can only be found is STL, to find that provel cheese, thanks to another NYC transplant, has made it's debut in New York at Speedy Romeo's in Fort Greene Brooklyn. A little piece of home in the big city.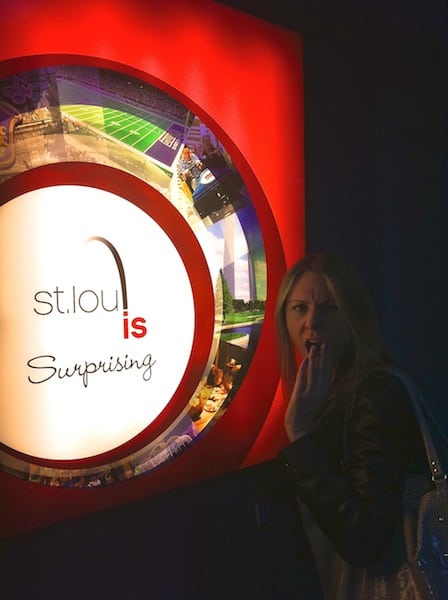 Deputy Editor, Ella Keeven in front of a promotional sign for our hometown at Lambert International Airport.
Laclede's Landing, downtown St. Louis.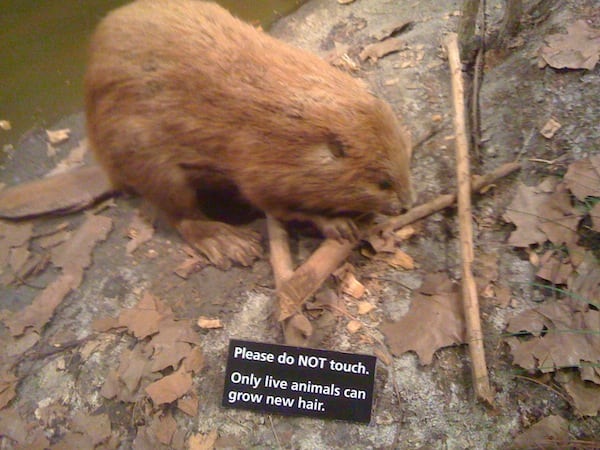 An exhibit at The Gateway Arch Museum (under the arch).