Our Top 5 Picks for Fourth of July around NYC
Posted on July 2, 2014 by Nikki Pepper

The NYC skyline. Photo Credit: Michaela Guzy.
The quintessential American holiday – aside from ever-popular National Donut Day of course – is the Fourth of July, aka Independence Day, marking America's autonomy from England's empire. This extended weekend of summer has no shortage of BBQs, hot dogs and hangovers. We selected five of our favorite Fourth of July happenings to celebrate yet another year of US of A independence. And since there's such an abundance of festivities that are just plain drinking outside, we decided to give you a few non-alcoholic options…to pair with a bottle of beer, of course.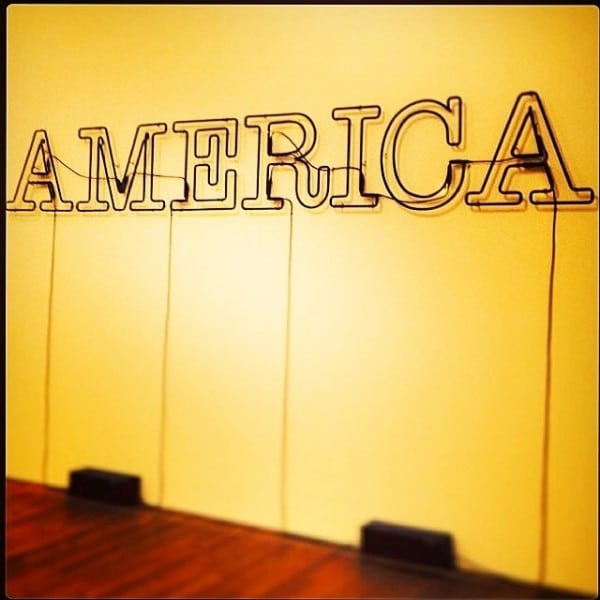 Bright, proud and neon: America. Shot at the TATE MODERN, London. Photo Credit: Michaela Guzy.
1. FILM in Manhattan: Indie-dependence Day Festival $5 show/$20 festival pass Celebrate the fourth of July in NYC with an emphasis on the 'independence.' The Indie-dependence Day Festival is hosted at The Peoples Improv Theater in midtown Manhattan and starts on the fourth at noon. Teams taking the stage every hour; you can stop by for one show or buy a festival pass and stick around for the day.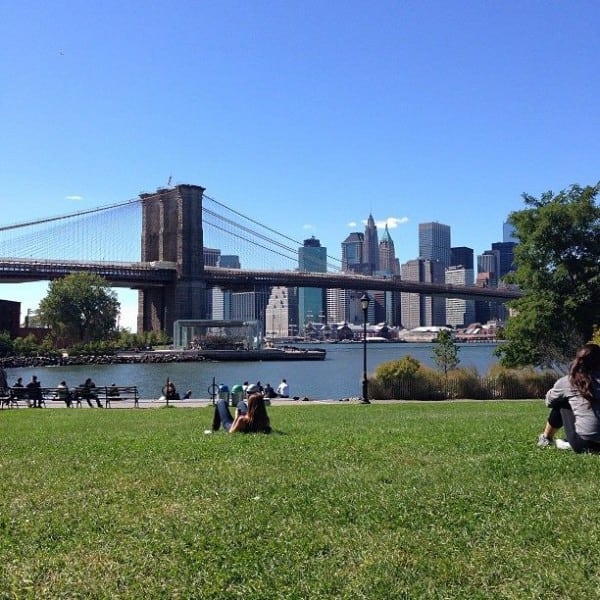 A prime spot for this year's fireworks off the Brooklyn Bridge. Photo Credit: Nikki Pepper.
2. FIREWORKS in Brooklyn: Macy's Fourth of July Fireworks 9pm eastern standard. I know, I know, a no brainer, annual event anyone could recommend, right? Well this year is a bit different. Usually over the Hudson River, Macy's fireworks are going off from the Brooklyn Bridge this summer, making DUMBO's Brooklyn Bridge Park and Promenade the places to be. Arrive early for a spot on the lawn. The kids can ride the carousel, you can wander along Front and Water Streets to shop boutiques Zoe and Nos, and stationery shop Dabney Lee) and everyone will enjoy ice cream at Brooklyn Ice Cream Factory, a little white lighthouse shaped building serving homemade scoops. And for the night owls, DJ Danny Tenaglia is spinning all night long at Output, arguably the club with the best sound system in NYC.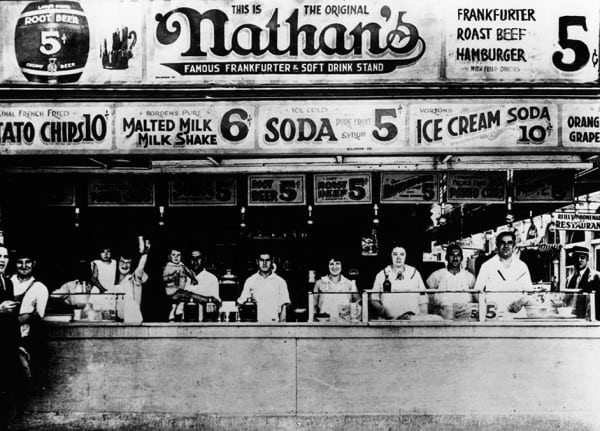 Nathan's has remained an iconic part of Coney Island. Here circa 1920. Photo Credit: Nathan's.
3. FOOD in Brooklyn: Nathan's Famous International Hot Dog Eating Contest Needless to say, this isn't an event for those with weak stomachs. But if you can take the heat, check out this famous annual hot dog eating contest. Last year the winner housed 69 Nathan's in only ten minutes, breaking his own world record. The international event is a culmination of contenders who made it through qualifying rounds in order to compete on America's birthday. Food festivities start kick-off at 10am and run until the winner is crowned at 1pm.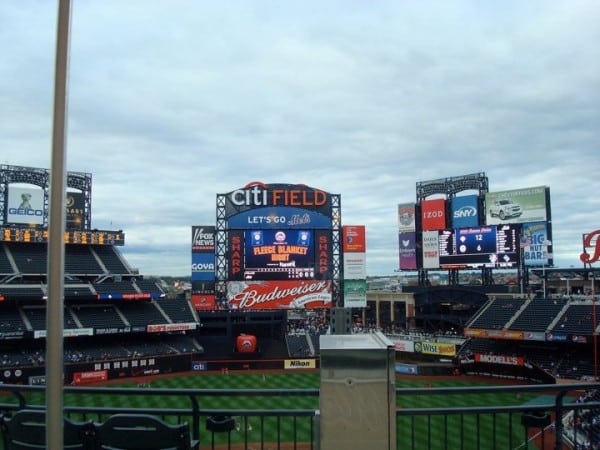 Celebrate the fourth of July in NYC with America's favorite pastime. Photo Credit: Nikki Pepper.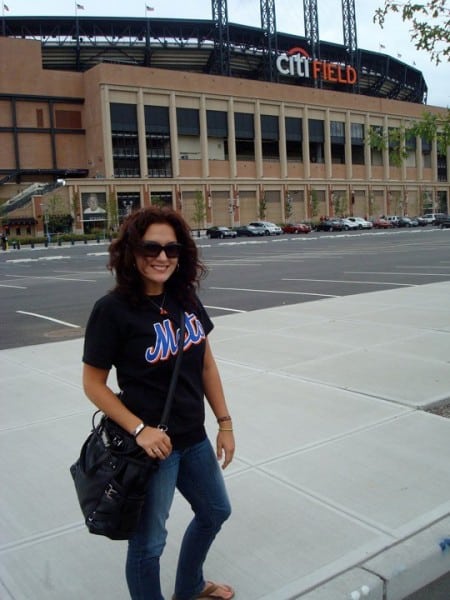 Ready for a Mets home game. Photo Credit: Nikki Pepper.
4. BASEBALL in Queens & Staten Island: Mets at Citi Field tickets vary Baseball: can't go wrong with America's sport. Watch the fireworks and New York Mets at Citi Field. Unfortunately for Yankees fans, the Yanks are playing away this weekend. But you can check out a minor league team for an equally as fun and entertaining outing. Plus, minor league tickets are a fraction of MLB prices. Brooklyn Cyclones in Coney Island and Staten Island Yankees in…you guessed it…Staten Island both have Friday games followed by Fourth of July fireworks.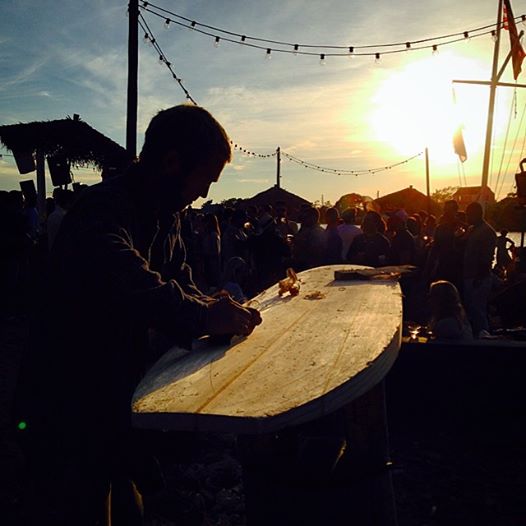 Surf's up! Sunset at the Surf Lodge. Photo Credit: Michaela Guzy.
5. BEACH in Montauk: Get out of the city The Hamptons, affectionately known as "out east" to Manhattanites, is the quintessential summer destination for city dwellers. The temp might be the same, but escaping the city heat with the ocean breeze and sandy beaches makes it all tolerable. Not to mention a few margaritas and grilled corn help do the trick. Visit Montauk, the eastern-most part of The Hamptons, and book a room or a table at the Surf Lodge for a beach-y weekend getaway, sunset cocktails and the place to be seen. There you have it- five OTPYM favorites for the Fourth of July weekend. Just don't forget the sunblock and enjoy the birthday of the US of A!