10 Don't-Miss Travel Tips for Seoul, South Korea
Posted on August 6, 2014 by Edgar Vaudeville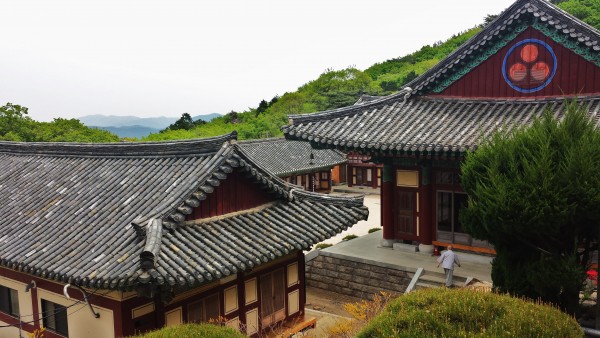 Beomeosa Temple.
My friends asked me why I chose to visit South Korea. My response? Business is booming; technology and hospitality businesses are flourishing. Plus, I'd never been and not knowing what to expect from a new destination always lures me in. Here's what I learned and enjoyed along the way– my travel tips for Seoul, South Korea.
NEIGHBORHOODS, TRANSPORTATION AND ACCOMMODATIONS:
1. Take public transportation; it's super convenient
From the airport don't hesitate to take the luxury buses. They will drop you off at most of the major hotels. They will take the same amount of time as a private ride and will cost you $15 USD instead of a $100 USD taxi.

Public transportation is very clean and convenient; including the luxury buses or trains for longer distances. Note: taxi drivers rarely speak English, so have an idea where you are headed. When taking a taxi, take an orange one; the others are significantly more expensive.
You can however find WiFi everywhere in South Korea: streets, buses, taxis and trains. Which means you can access a translation app at any time! Still, make a few notes of common words and phrases in case you need directions. I'd suggest asking a younger local as he or she will more likely speak fluent English.
2. Stay chic in Gangnam

I recommend staying in the Gangnam-Gu area, especially if you are looking for a bit of glamour. You can find a range of luxury 5-star international hotels to budget hotels such as Best Western Premier Gangnam. Gangnam is where you will also find the most expensive real estate and luxury shopping. Here you will also find The Raum, a social venue often rented for celebrations and grand weddings. If you are local, it will cost you a pricey $100,000 in annual membership to enter. Worth it to join the number one social scene of South Korea?
FOOD AND DRINK:
3. Try the local specialties
The street shops offer fresh and tasty eats. Don't be afraid to try what you don't recognize- exploring new flavors is part of the beauty of travel.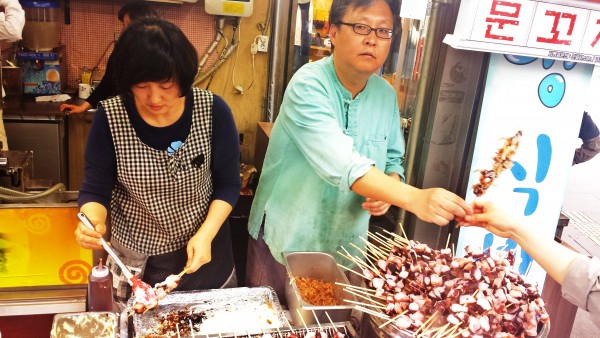 Fresh grilled octopus served on the street in Insadong, Seoul.
In most of the Korean restaurants you order your main course and are brought the local Kimshi, which is a traditional fermented Korean side dish made of vegetables with a variety of seasonings. It is often described as spicy or sour but varies region to region — so you'll get something a bit different as you travel through the country. It's a surprise at every meal!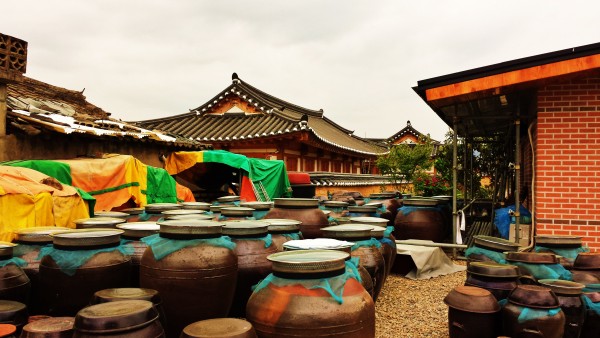 In traditional preparation, kimchi is often allowed to ferment underground in jars for months at a time.
Leave your go-to vodka martinis and wines at home. Try the local beverages. Three musts: the rice-based alcohol Suju referred to as "happy water," Baekseju rice wine and makgirli, a milky rice liquor.
4. Eat meat
Kabojung is a famous Korean restaurant known for it's Kalbi Korean BBQ beef short ribs. They serve some of the best meat I have ever had. Expect to spend a dime on this meal but it will be well worth it.
5. Don't leave a tip
Remember that at many establishments, there is a no tipping policy. In some, it's even offensive to leave one.
6. Check out a fish market
Noryangjin Fish Market is an extensive farmers fish market that was established in 1927. If you can stay awake until 4 am or get up that early, you can experience the live fish auction, guaranteed to be a memorable localized experience.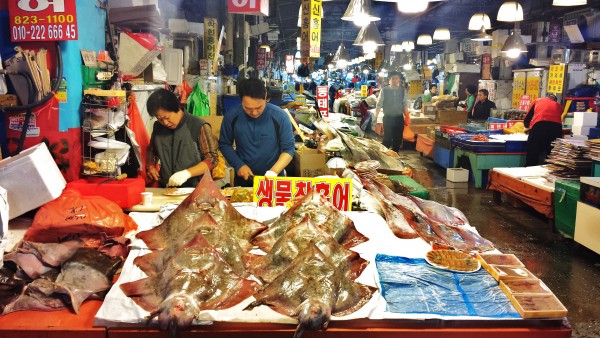 Sushi for breakfast: fresh sashimi cut at 4am.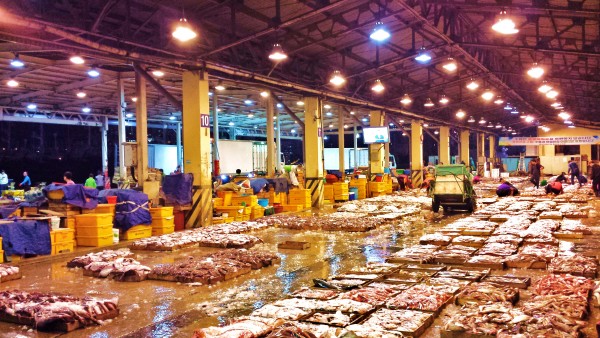 Seoul fish market.
Jagalchi Seafood Market is located on the edge of Nampo Port. It's a prime spot to watch the sunset. Sit at one of the street restaurants (cash only) and enjoy some of the freshest seafood and sashimi.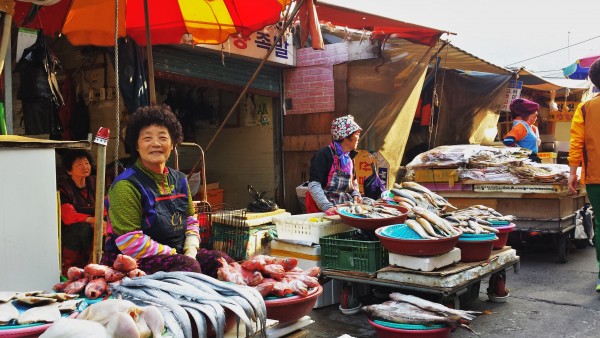 A local woman selling fish at Jagalchi Market.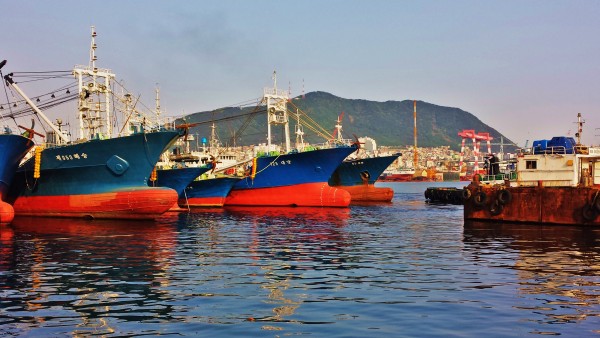 Sunset at Jagalchi Market.
WHAT TO DO:
7. See the lights
Samsung D'light is located within the Samsung Electronics building in Seocho-dong, Seoul. The global exhibition space showcases the latest product lineup by Samsung Electronics. It is a futuristic space that allows visitors to interact with the state-of-the-art digital technology. A must do for any techies or gadget collectors.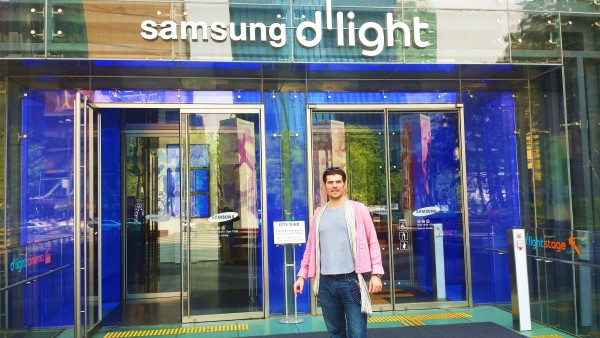 The company strives to be "a guiding light to the digital world". Edgar pictured.
8. Visit the president
Cheong Wa Dae is the executive office and official residence of the President of the Republic of Korea, located in the capital city. The Blue House, as it's known, is actually a complex of buildings, built in traditional Korean style with modern elements.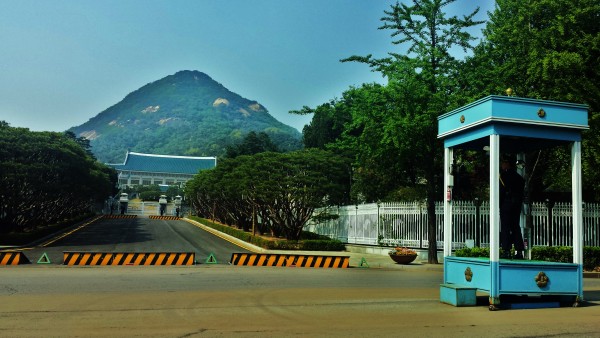 Cheong Wa Dae.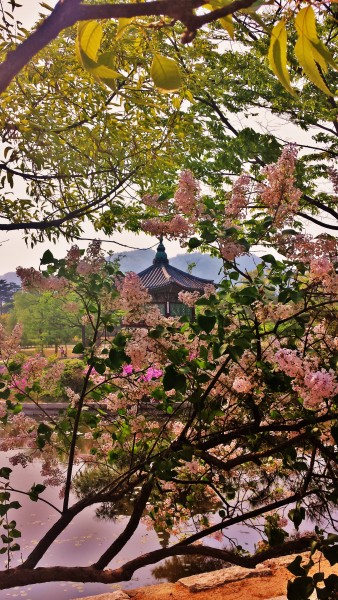 A garden at Cheong Wa Dae.
9. Admire the architecture and history
Gwanghwamun Square was redesigned and reopened to the public in August 2009 after years of closure. Gyeongbokgung Palace is situated at the front of the the square. It was constructed in 1395, burned down some years later, and abandoned for almost three centuries. Then in 1867, it was reconstructed as the main palace of the Five Grand Palaces of Seoul built by the Joseon Dynasty.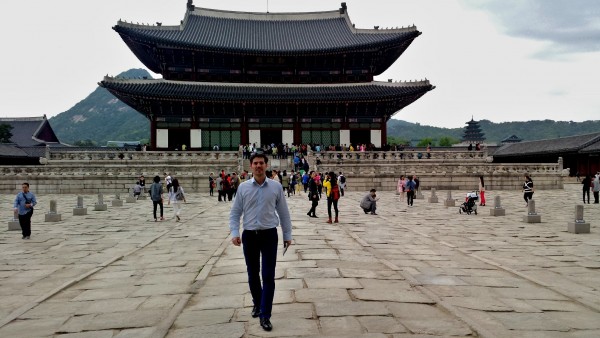 Edgar stands in front of the main entrance to Gyeongbokgung Palace.

Gyeongbokgung Palace.
From there you can walk to Deoksugung Palace. Arrive before 2pm to see the showing of the guard. It is the only palace that sits alongside a series of western style buildings, which makes the skyline a unique one. You will also notice parents and kids in traditionally dress for the Doljanchi celebration, which is a Korean tradition to mark a child's first birthday. Many locals visit as a nice place to relax and find quiet in the city.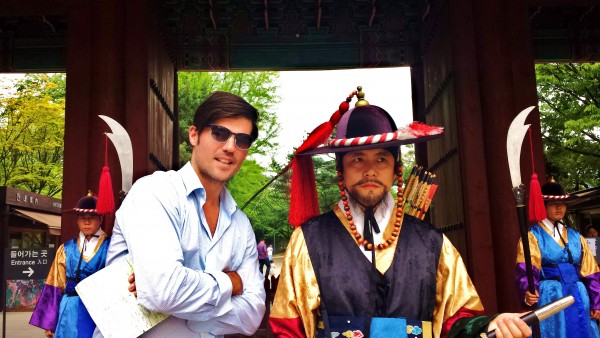 Edgar with one of the colorful guards at Deoksugung Palace.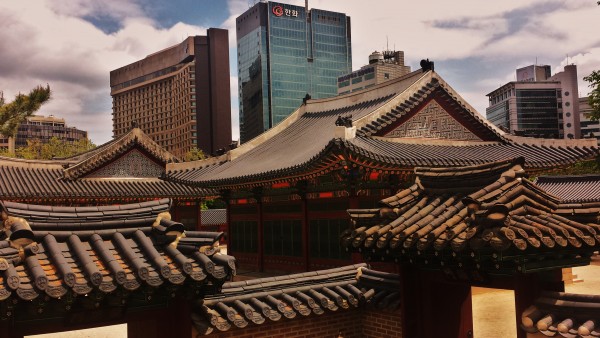 Deoksugung Palace juxtaposed with the new city of Seoul.
The Beomeosa Temple (Temple of the Nirvana Fish) is one of the country's most well-known urban temples. It was constructed in 678A.D. during the reign of Silla king Munmu. Take a couple hours to wonder the peaceful grounds. You'll be energized by the traditional monks practicing their peaceful prayers.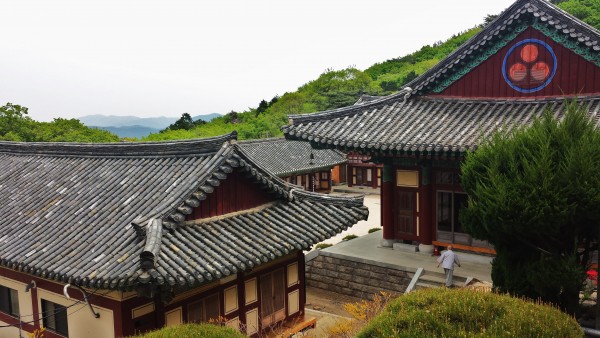 Beomeosa Temple.
The Geumjeongsanseong Fortress is the largest fortress in the Republic of Korea. The fortress was destroyed during the Japanese occupation (1910-1945), but began to be restored in 1972. You will climb a few hundred stairs before arriving at the top of the Fortress but it's worth the unobstructed view.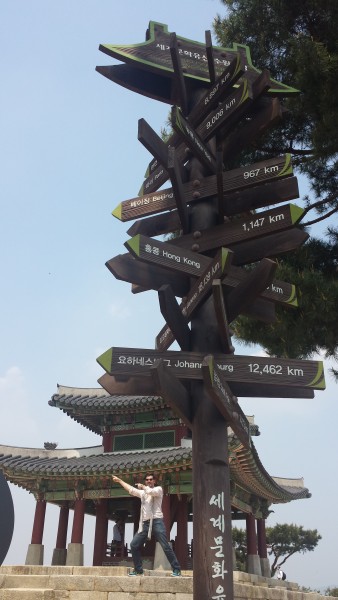 Made it to the top! Arrows give you a perspective of international destinations and their distances.
10. Check out these shipping containers
The iconic Platoon Kunsthalle, a design composed of standardized, olive-green shipping containers and complemented by large industrial rolling shutters, is experimental workshop for subculture and art.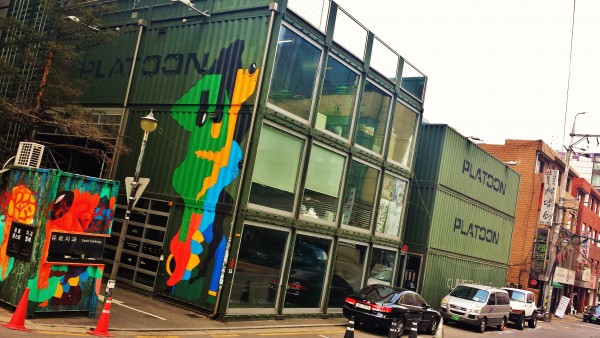 Street art in Seoul: Platoon Kunsthalle.