Shaken, Not Stirred: The 5 Best Hotel Bars in Manhattan
Posted on October 27, 2014 by Edgar Vaudeville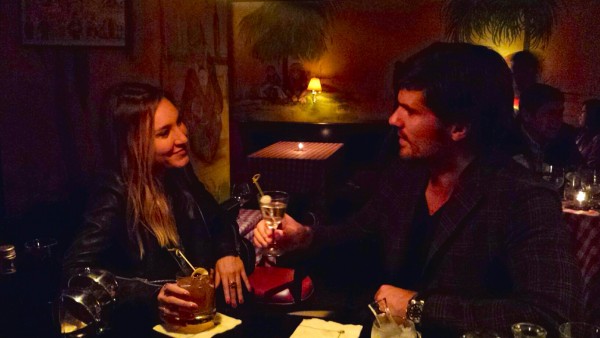 Après dinner drinks at Monkey Bar.
After living in New York City for some years now and having experienced a variety of culinary experiences, I decided to put my in-the-know to the test by seeking out the best hotel bars in Manhattan. And of course, I brought a date along. It's not only about the location or cocktail (martini in my case), but the experience as a whole: from lighting and music to service and scene, and everything in between. Here are my five top-shelf picks.
The dark and sultry Rose Bar before the party starts. Photo Credit: Gramercy Park Hotel.
#1 Rose Bar, Gramercy Park Hotel, 2 Lexington Ave, New York, NY 10010
If you can manage to get the host on your side, you're in at Gramercy Park Hotel's Rose Bar; the worlds of fashion and art just opened up to you. The dark, jewel-toned décor and its old-fashioned, stone fireplace create an authentic and sexy feel. The DJ plays unique deep house beats, creating the perfect atmosphere for a little flirtation. And after a few martinis and meeting some interesting people, dancing is a must.
Stop in après dinner martini on a Thursday or Saturday night. I enjoy a Chopin vodka martini straight up with a twist. For the lady, a ginger fig martini with Reyka vodka, muddled ginger root, fig jam and fresh orange juice. Both are served in large martini glasses, enough to sip for the rest of the evening. No camera flashes are allowed, so be discreet amongst the well-heeled crowd. The prices are slightly more expensive than the competition but the pour is much more generous, which balances out perfectly. David, one of New York's most talented bartenders will accommodate your order.
Bartender Notes: Chopin vodka is the best choice. It is an exclusive Polish vodka from late harvest Podlasie potatoes, which will make your drink creamy with a full-flavored body. Shake vigorously so when you pour, you will see the crystalized ice on the top.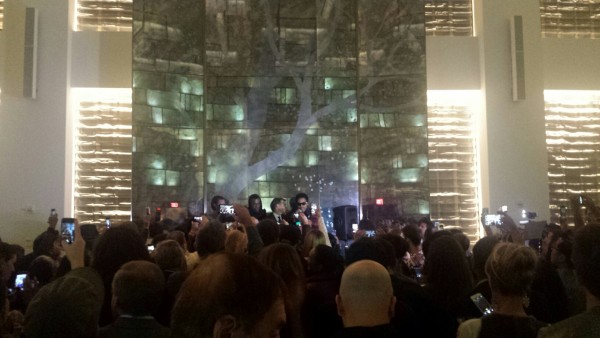 The Living Room in action: a party at Park Hyatt.
#2 The Living Room, Park Hyatt, 157 W 57th St, New York, NY 10019
The Park Hyatt on 57th Street is a new player on the NYC scene. After attending both the grand opening party as well as the Du Jour Celebration with Lenny Kravitz, I'd say the Living Room is on its way to becoming one of the hottest spots in town. The high ceiling, open floor plan and internationally-sourced materials make you feel right at home…if your home was of the highest quality and uber luxurious. Be sure to bring someone you won't mind getting cozy with, as the inviting couches and plush pillows may make you want to cuddle up. The contrast of the openness with intimate spaces sprinkled throughout is a truly unique design where you can watch without being seen.
I recommend a Gibson martini for him and a Venice Rose for her as the primo aperitifs of the night. Venice Rose is a composition of raspberry, lemon campari and rosé champagne. The bartender, dressed in a unique and classy uniform, is very pleasant and always directs you to the right cocktail for what you're feeling. Overall, the drinks are refreshing and simple, yet sophisticated.
Bartender Notes: Making a Gibson: 2.5 pour of a dry gin, a little more than a quarter of Vermouth. A Gibson is normally stirred, but I like mine shaken. Served with three white pickle onions.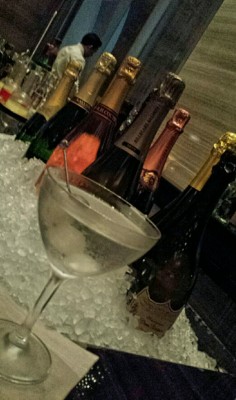 A Gibson at the Park Hyatt Living Room.
#3 Monkey Bar, Hotel Elysee, 60 E 54th St, New York, NY 10022
Hotel Elyee's Monkey Bar opened its door in the 1920's, just before Prohibition. It is an iconic bar with decades of history and energy. Monkey bar is part-owned by Graydon Carter, the Editor-in-Chief of Vanity Fair and has been featured on the TV series "Sex in the City" and "Mad Men". Walking in, you feel as if you've been taken back to the prohibition era. The bartenders are talkative and will enrich your visit to the past with stories collected over the years. It's a perfect place after dining at a neighborhood restaurant such as Casa Lever or Le Colonial.
I decided to order a traditional Gibson. Our bartender, Harper, recommended my date go with something more adventurous and exotic. Known as the "Crazy Monkey, " it is made with a base of vodka, Chartreuse, sweet vermouth, lemon juice, agave and a touch of soda.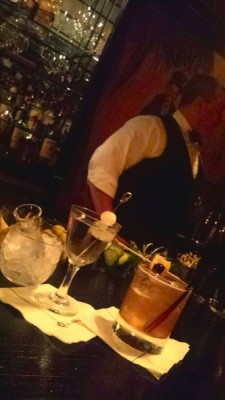 Traditional and adventurous cocktails at Monkey Bar.
Bartender notes: "The perfect ingredients and a lot of love,"  the gin Gibson must always be stirred and not shaken so as not to water down the gin. Using a dry London gin, less than an ounce of vermouth and half a dash of orange bitters to cut the onion. The Crazy Monkey, Harper's creation is served in a rock glass and is a quintessential cocktail for those ready to experiment with a bit of flavor.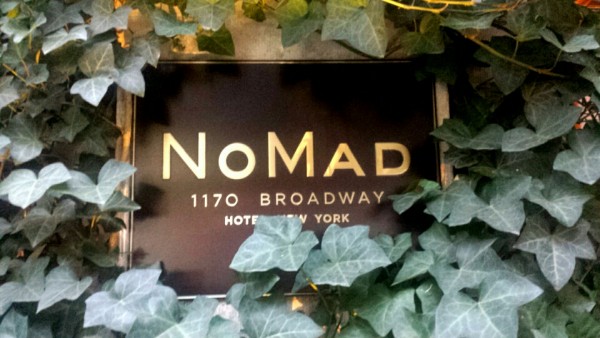 Welcome to the NoMad, aptly named for its neighborhood.
#4 Library & Elephant Bar, NoMad Hotel, 1170  Broadway & 28th
Street A library may seem like the last place you want to go after a long day at the office, but the library at the NoMad Hotel is one of the most appealing after work spots in the city. Don't forget to make a reservation. Without one, you will face at least a 30- to 45-minute wait before snagging a seat in the warm, cozy library. The Elephant Bar itself is actually a great spot to socialize, with a substantial crowd beginning at 6:30pm. The Library is better-suited for an intimate date or business meeting.
All cocktail creations are from a team of three bartenders who change seasonally. I ordered a Manhattan, a traditional martini invented in the 1870's by a gentleman named Dr. Iain Marshall. She ordered a refreshing and light Paloma.
Bartender notes: Jonathan, the head bartender, gave us a few tips on making the perfect Manhattan. Always follow the recipes, be strict on the pouring in order to get the perfect balance, and of course stir, do not shake. Always taste before serving. Ingredients as follows: Angostura bitters, Carpano Antica, Sweet vermouth, rye whiskey. A Paloma is part of the Margarita family with a base of white tequila, mezcal, grapefruit and lime.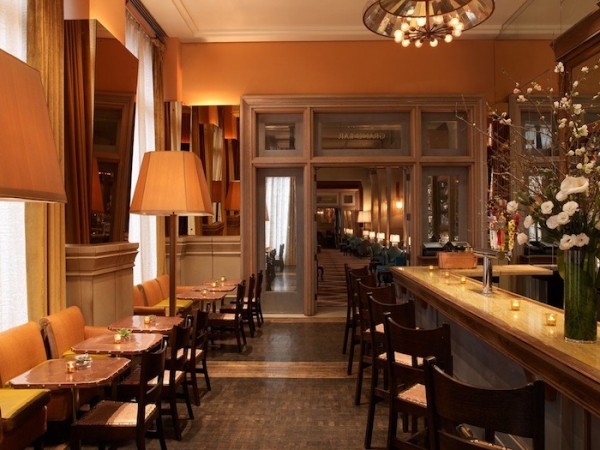 The Grand Bar set for the evening and Salon in the background. Photo Credit: Soho Grand.
#5 Grand Bar, The Soho Grand, 310 W Broadway, New York, NY 10013
In the heart of Soho, Grand Bar and The Salon are well-known spots to hang out on a weekend afternoon through evening. The living room-like Salon next to the bar is a great place to people watch as personalities from around the world arrive to check in. There is also great music, often British oldies. Cocktails are elegant with distinguished flavors. The bartender recommended the "Hell's Hundred Acres". It's a Soho Grand original, created by Jeremy Oertel of the bar Donna in Brooklyn. Soho Grand is launching an entirely new menu for the Club Room which will feature a great fusion of Southern and New England cuisines – ranging from savory and delicious to completely decadent.  The menu is available starting October 2014.
Bartender notes: Hell's Hundred Acres: We infuse a smokey mezcal with dried Mexican arbol chiles, add fresh lime juice, and a house-made pomegranate syrup to create a fairly unique spicy/smokey/citrus experience.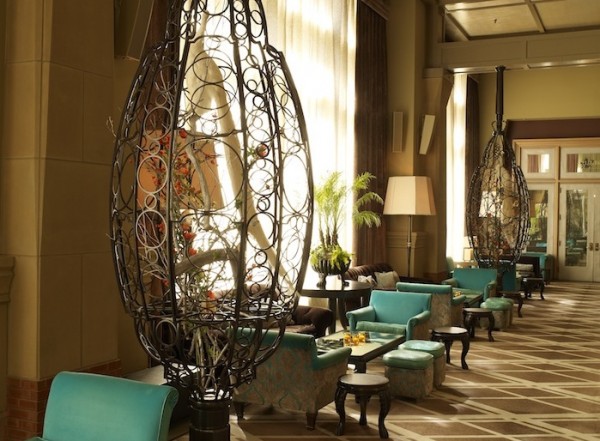 The aqua chaises at Salon, Soho Grand. Photo Credit: Soho Grand.
New York City is known for having plenty of choices for luxury. With these five hotel bars, I met some amazing personalities behind the bar with undoubting expertise and a desire to share their passion for cocktail-making, enjoyed the crowds and atmospheres and believe they are among Manhattan's best. I leave you with this tried and true statement: "Martinis are an art: To make them it's a job; To taste them it's a pleasure."