Chefs Club is the Hottest New Spot in Soho
Posted on December 8, 2014 by Edgar Vaudeville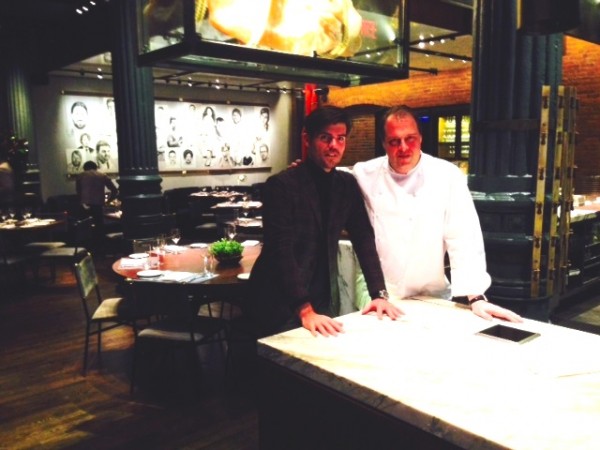 Edgar and Didier Elena, Executive Chef of Chefs Club.
Chefs Club opened its doors on November 21st 2014, on a quiet part of Mulberry Street, soon to be a heavily trafficked area with two major international restaurant projects in the works. Add to that the new luxury development at 224 Mulberry Street and you have the makings of a happening corner in Soho, an already trending neighborhood in lower Manhattan. If you walk too fast you might just miss this spot, which is located in the historic and iconic Puck Building.
After the success of its first location in Aspen in 2013, in the prestigious St. Regis Hotel, no less, Chefs Club has finally made its way to NYC, which will soon become the flagship location (before a quick expansion to Asia and the Middle East).
It is not only a restaurant, but a theatrical performance with an open kitchen and a continuously changing cast. With one Executive Chef and four visiting chefs hand-selected from Food & Wine's top chefs of the year, you can count on an admirable menu and a rotating selection of signature dishes.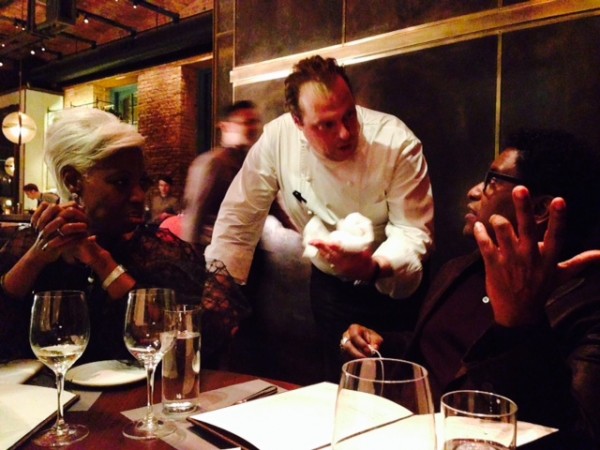 Chef Didier Elena shares in the experience of his guests. Here, mid-conversation as he presents a bottle of wine.
You will see the world-renowned Executive Chef Didier Elena running the orchestra from the kitchen to the floor, a position for which he is well-suited after opening Michelin rated restaurants all over the world. Didier is one of the most talented and humble chefs I've met, his passion, expertise and dedication will quickly make him one of the most-loved chefs in New York.
I arrived at the restaurant around 9pm, the bar was perfectly packed with a beautiful and elegant patrons. It's the type of space that makes you consider what to wear before you head out for the evening. A masterpiece of interior design with exposed brick, high ceilings, soft lighting and even a mammoth-sized rock of Himalayan salt from Pakistan suspended over the main chefs table– a sight to behold! The salt was ordered by the owner to rid the space of evil energy. Which lends me to say, the dishes are well seasoned.
The cocktails are well presented, and one of the best deals in town. I expected a $16 martini like some of the fancy neighbors, but at $12, you can even buy a round for that girl at the end of the bar. This might very soon be the place to see and be seen in Soho.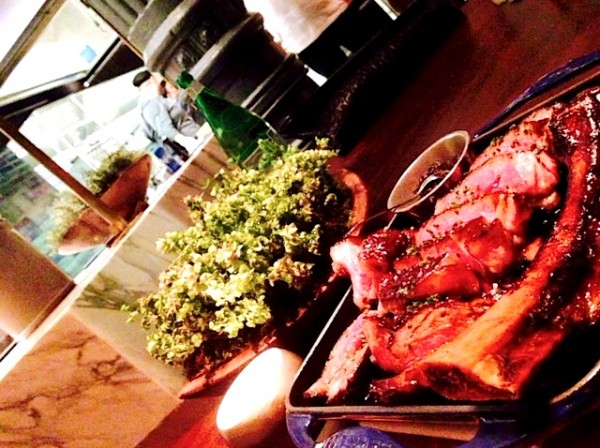 Bone-in NY Strip Steak for 2 – Medium rare – $54 pp.
With the recommendation of Didier, we ordered his signature dishes: the squab a la Plancha; Sasso Chicken; and bone-in NY Strip Steak. Along with the broccoli and pastrami flatbread and Maine diver scallops as starters. It is extremely rare to come to a new restaurant, which just opened no less, and have nothing to criticize. The Chefs Club is one of those places.
My next reservation is already in the books. You can book here. Bon appetite.