Mary Gostelow's Hotel of the Week: Hôtel Hermitage Monte Carlo
Posted on December 17, 2014 by Mary Gostelow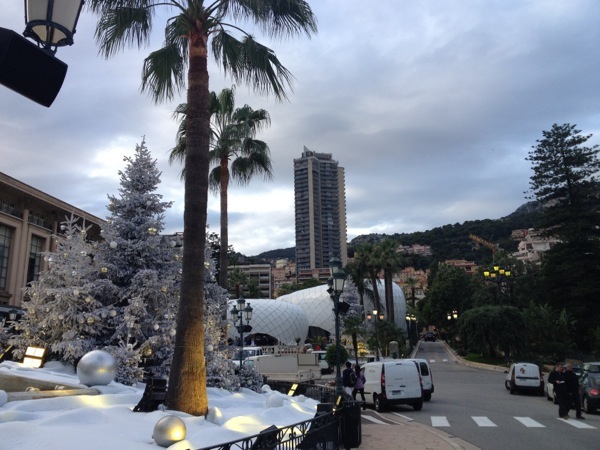 Monte-Carlo's famous Casino Square celebrates the season with snow-covered Christmas trees.
A weekly series featuring luxury hotel expert Mary Gostelow's hotel pick of the week.
Monaco is in proverbial heaven right now. Princess Charlene has given birth to the longed-for son-and-heir, baby Jacques, who comes with his own on-the-spot playmate, twin sister Gabrielle. And it's Christmas, and although Monaco is right on the Mediterranean, thus no snow, the famous Casino Square is littered with plausibly snow-covered trees. Right behind, are white domes that look like Martians have landed: these are yet more retail outlets, offering Armani to Zegna.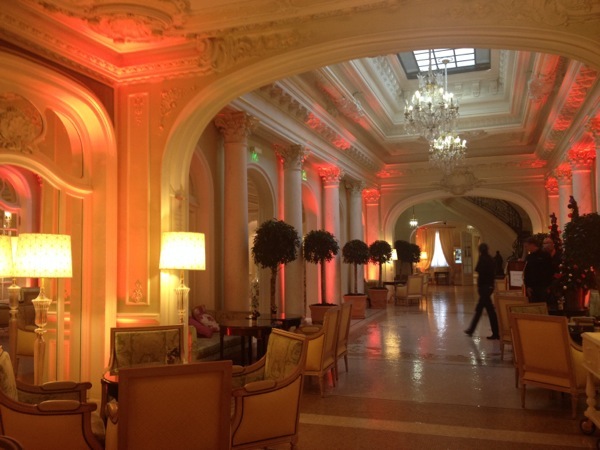 The elegant corridors of Hôtel Hermitage.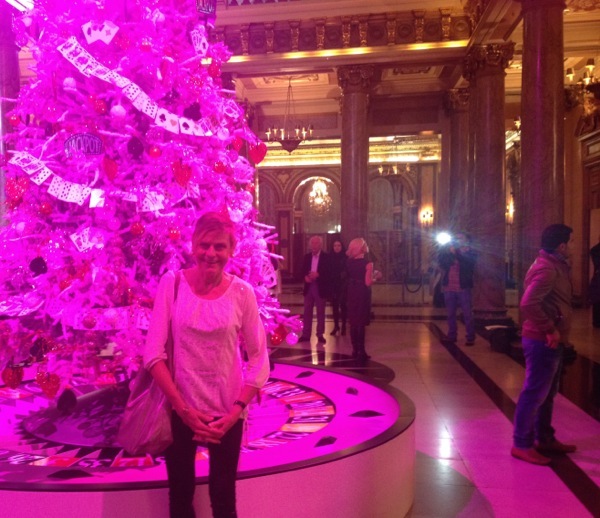 Seeing pink: The Casino Christmas tree.
Even the famous Monte-Carlo casino has gotten into the act with a pink-hued tree made of gaming papers. The casino is run by Monaco's Société des Bains de Mer (SBM), which also has several hotels here. The best-known, Hôtel de Paris, is currently closed for a multi-million renovation by Pierre-Yves Rochon. But there is another SBM jewel, a mere five minutes' walk away: Hôtel Hermitage. This is one of the most beautiful luxury hotels in the world and is superbly run by GM Pascal Camia. Look at the elegance of its corridors and the discreet color of its rooms, and one can tell this is Rochon's masterful design work too.
I have stayed in several of the 278 rooms (half overlook the Mediterranean). My overall favorite is 062/063 for several reasons, one being its delicate stone-white, pale grey and soft heather color scheme. It is the only suite to have a terrace with a hot outdoor jacuzzi big enough for six (there are three other outdoor jacuzzis but they come with rooms not suites). I lay in my jacuzzi looking across Monaco harbor, with its giant super-yachts, to the Palace, where the little twins live, and I watched the sun come up on another glorious day in Monte Carlo.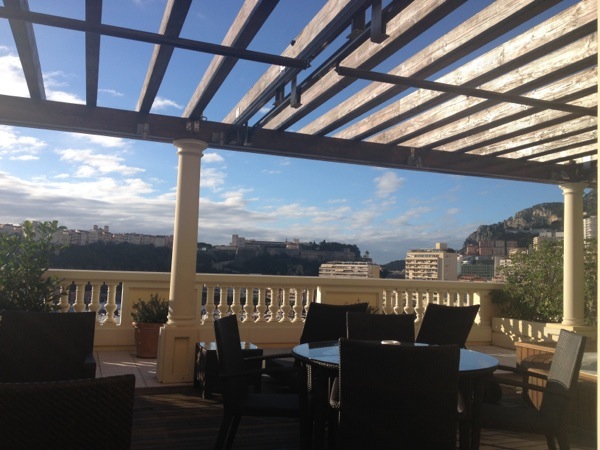 Looking across to the Royal Palace from Mary's favorite room.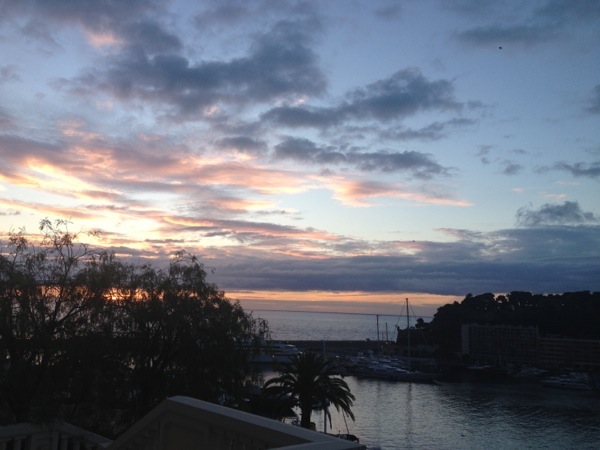 Sunrise from the terrace of 062/063.