Art Basel Miami Beach: A Frenchman's 7 Best Insider Experiences
Posted on January 12, 2015 by Edgar Vaudeville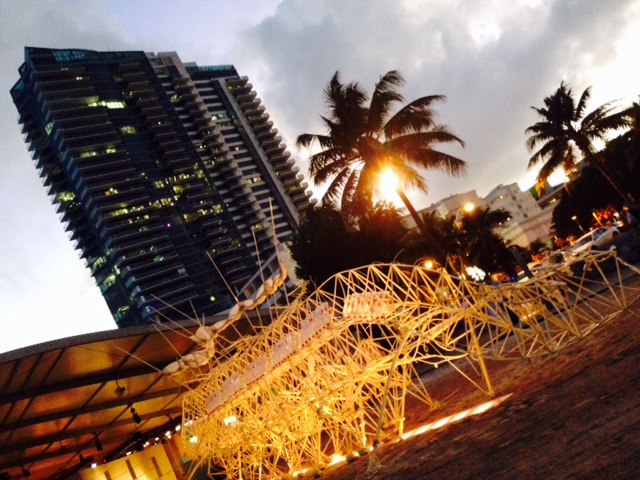 Sculpture Strandbeests, "The Imaginary Animals" by Theo Jansen at Art Basel Miami Beach 2014.
Art Basel is the meeting place for the international art world, and thus, has contributed to Miami's reputation as a year-round design capital. The show presents artwork from across the globe. Over 300 of the world's leading galleries participate, drawing over 73,000 international visitors. In early December, I attended Art Basel Miami Beach 2014- the sun, sand and bubbly version of the global art extravaganza.
Leading galleries from North America, Latin America, Europe, Asia, and Africa show historical works from the masters of modern and contemporary art to newly created pieces by emerging stars. Paintings, sculptures, drawings, installations, photographs, films, and edition works of the highest quality were on display at the main exhibition hall. Nine different sectors within the event help to guide and organize the collections.
It wasn't easy, but I've narrowed my Art Basel Miami Beach experience down to my top seven favorites, covering the people, places, and of course, art! You don't have to be an art expert to enjoy the scene, excitement and culture. Come passionate and you're guaranteed a good time. This applies to Miami year-round too, from rejuvenating in the sun at The Setai to exploring the galleries at Wynwood.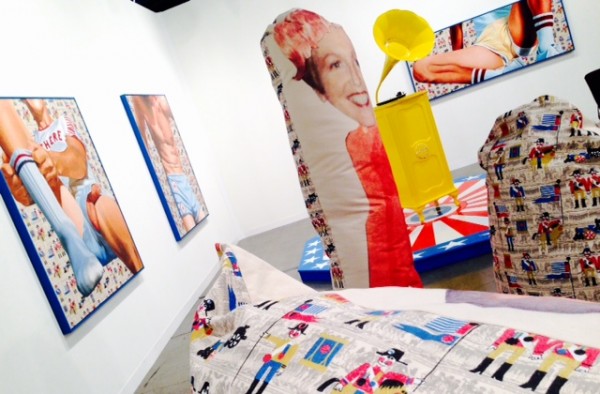 Nine different sectors within the event help to guide and organize the collection of masterpieces at Art Basel Miami Beach.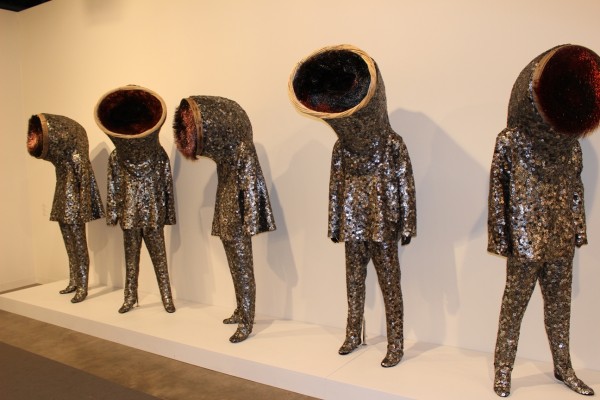 Galleries, curators, collectors, and independent artists themselves are allowed to submit single projects or a series of artworks for consideration. Here, one of them.
1. Dinner at Faena
Who wouldn't want to chow down on Argentinean barbecue alongside the likes of Alan Faena, hotelier and real estate developer behind Faena, a $550 million dollar hotel and residential development, and Len Blavatnik, investor worth upwards of $21 billion. We were welcomed with a theatrical entrance of servers carrying various Ruinart Champagne vintages. A pop-up dinner was created under an elaborate hanging art installation by Gonzalo Fuenmayor that featured long, convivial tables adorned with limited edition Bernardaud silverware and beautiful floral arrangements.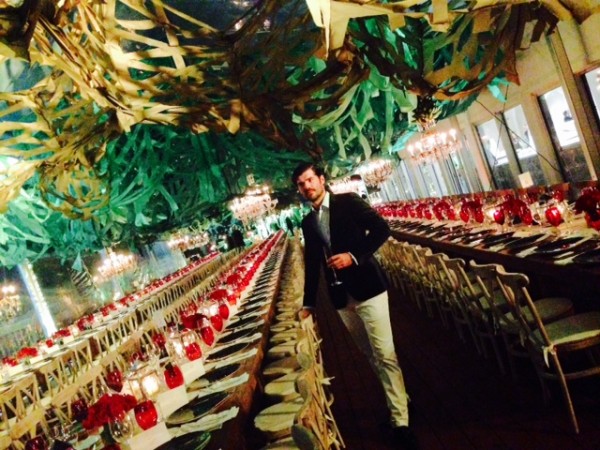 Faena dinner under artist Gonzalo Fuenmayor's installation.
Spectacular projections of Janaina Tschäpe that danced across the walls of the Faena District arts center across the street. A great last minute surprise: Leonardo Di Caprio showed up with his Titanic crew.
2. Lunch, Dinner and Relaxing at The Setai
Without a doubt, the most relaxing time of the entire trip was at The Setai hotel. They offer some of the best services and amenities I have experienced in the city. This is where you want to go when you need to disconnect from the hype and scene of Miami. And trust me, you sometimes need that escape! If you're not staying at the property or are visiting a friend who is, getting access to the pool is a lofty task. But it's where all the celebrities and major art world players like dealer Larry Gagosian will be so of course, you will want to be there too. I would definitely suggest an afternoon in a poolside cabana. Snag the corner one next to the restaurant if you can, and you'll have the prime spot to witness all the action.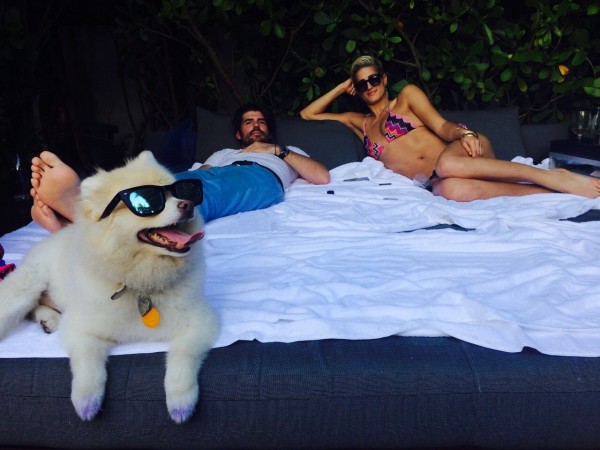 Edgar enjoys some cabana time at The Setai with lady friend and man's best friend.
After a day in the sun (and shade of my cabana), I dined at the private chef's table. Definitely one of the best food experiences of Art Basel 2014 and surely one going forward for all guests lucky enough to enjoy this fine dining experience.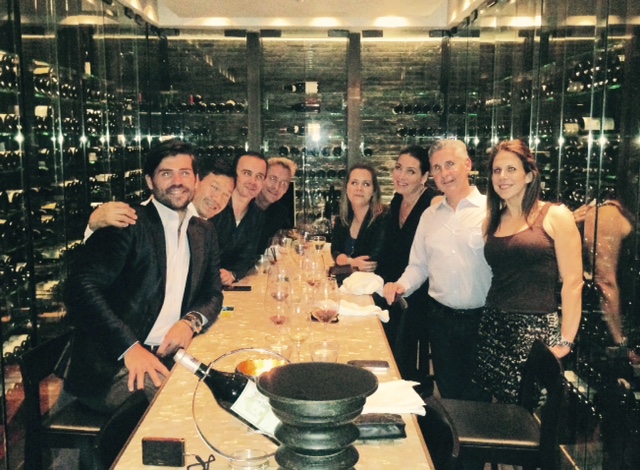 Setai Hotel chef's table with friends and full glasses of vino.
3. Miami Beach Convention Center, VIP preview of Art Basel Miami Beach
You don't want to miss the opening of the art fair. The first round of VIPs were allowed in at 11am, the only time you'll see billionaires sweating and lining up to enter a convention center. It actually reminds me of the opening day of a department store winter sale. But instead of buying a pair of shoes for $59, they are buying a $500k works of art. The sight could possibly be the one thing money can't buy at Art Basel!
My good friend Kulapat Yantrasast, a distinguished architect based in Los Angeles was there to educate me along the way, so I was a bit spoiled. Nothing like having an expert as a personal tour guide through the artists, galleries and trends of Art Basel 2014.
Two of my favorite works: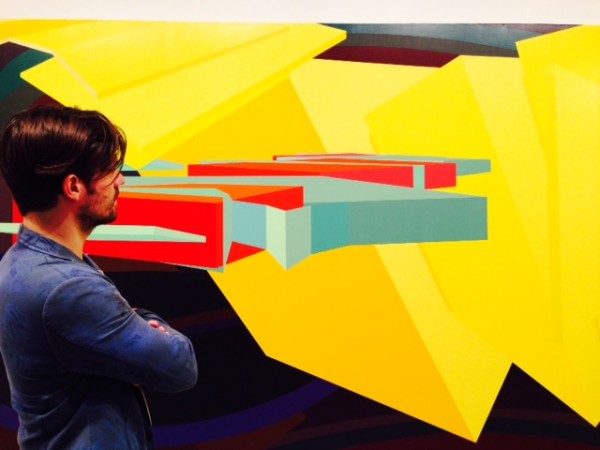 "Sea of Tranquility" acrylic on canvas by Cheim & Read gallery.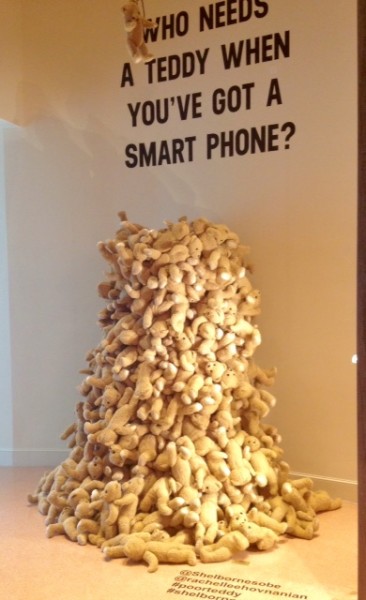 "Who needs a Teddy when you've got a smart phone" @rachelleehovnania #poorteddy
For those visiting Miami outside of Art Basel's weeklong Miami Beach feature, don't fret. The Miami Beach Convention Center is the resource to finding out what's happening and when to be there.
4. Graffiti Gazing at Wynwood Walls
Wynwood Arts District is a paradise just 20 minutes away from Miami Beach, but with Art Basel traffic the ride could take up to an hour. It's one of the world's largest open-air arts installations, with over 70 galleries.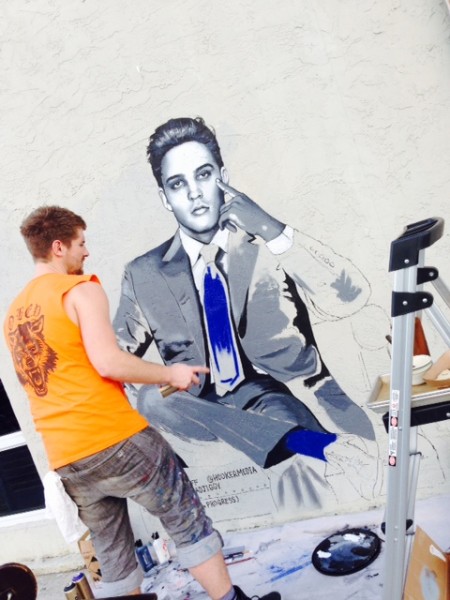 Wynwood live graffiti featuring Elvis. @puckmcgruff @hookermedia @badjiggy
Wynwood was partially developed by the real estate developer and visionary Tony Goldman. What used to be a rundown neighborhood was transformed when Goldman created a mecca out of the already existing graffiti, inviting artists from around the world to contribute to the street art in the surrounding areas. Thus the Wynwood Walls were created, shining light on an often overlooked art form.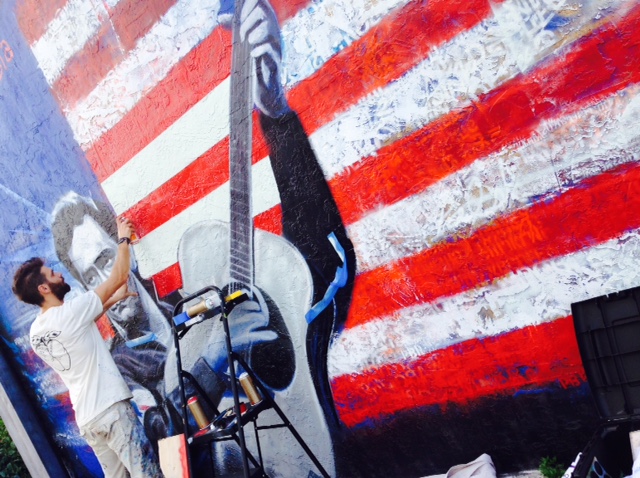 Patriotic Wynwood live graffiti.
Miami, a new world capital of art, must thank Goldman for his inspiration and creativity – and for creating one of Miami's coolest hipster neighborhoods. Wynwood Walls has quickly become one of Miami's main attractions.
Insider tip: Rent a bicycle for an hour or two and cruise around, even on the little side streets and through the unlocked, abandoned buildings. You'll be surprised by what you discover in these unexplored areas. Just be sure to return by sundown. An activity worth the cycling anytime of year.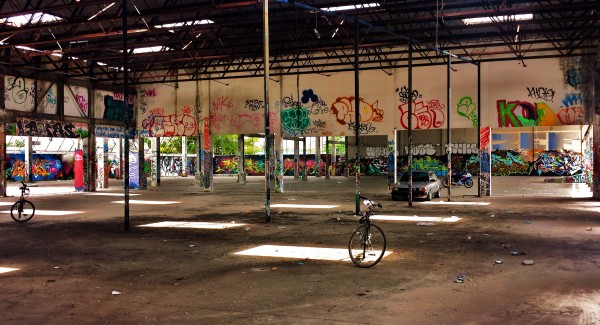 Abandoned pace around Wynwood – Bicycle ride will make you discover the real Wynwood.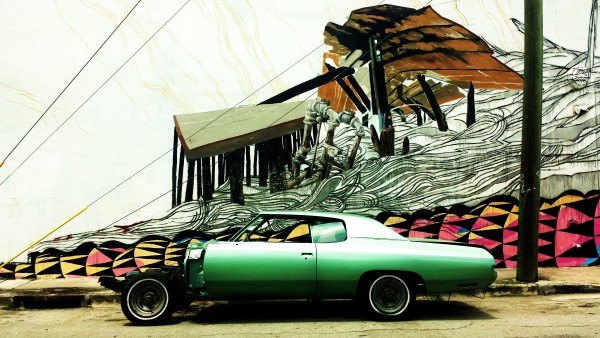 Streets of Wynwood.
5. The Edition Hotel Opening Party: The W Magazine Art Issue celebration And Silencio Paris
W Magazine editor Stefano Tonchi and famed hotelier Ian Schrager invited a select crowd to Edition Hotel opening party for cocktails and performances by Blood Orange and DJ Harvey. Private Parisian club Silencio also joined the opening celebration to create a trifecta of hosts. The large scale production also featured an ice skating rink complete with performers and four bowling alleys adjacent to the VIP tables, parts of Basement, Edition's lower level nightlife venue.
6. Design Miami Opening Fair: Design Miami/Collectors Preview 
Design Miami is the premier contemporary design fair that runs simultaneously with Art Basel in Miami Beach, Florida and Basel, Switzerland each year. It opens to collectors and VIPs at noon a day before the actual art fair. You will have a blast looking at both pieces by iconic and well known designers alongside new creations by emerging designers.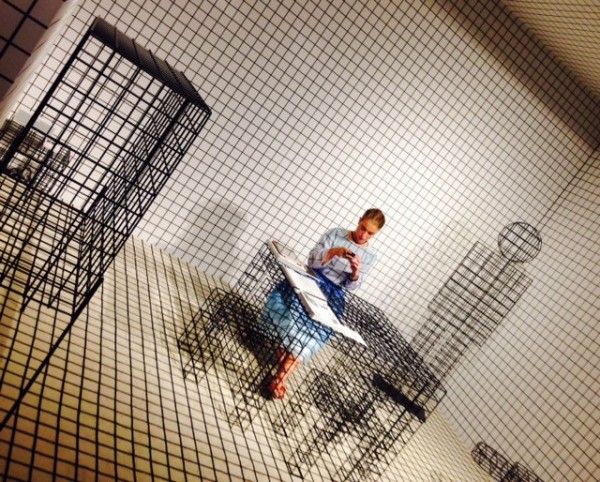 Design Miami – up and coming artist.
One of my favorite designers is R & Company's the Haas Brothers from Los Angeles. Twin brothers Simon and Nikolai spend their time prototyping forms and experimenting with materials, surface textures and processes. Some of their fans include Leonardo Di Caprio, Lady Gaga, Donatella Versace and many more.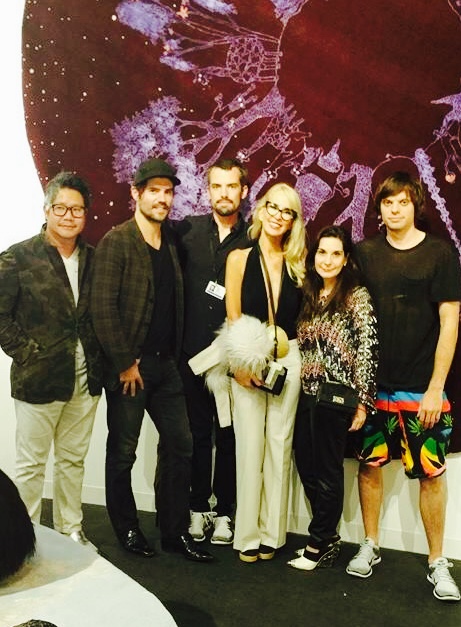 Left to Right: Architect Kulapat Yantrasast, Edgar Vaudeville, Haas Brothers Simon and Nikolai, and friends.
7. Audemars Sunset Party: Sculpture Strandbeest, The Dream Machines of Theo Jansen
Who says relaxing isn't art? I sat back on a beach chair for the sunset, a martini in one hand, vintage cigar in the other, and took in the stunning sculpture, Strandbeest by Theo Jansen.
Basel Miami is for sure one of the most amazing events in the art world, with access to admire some of the most exclusive work around the globe.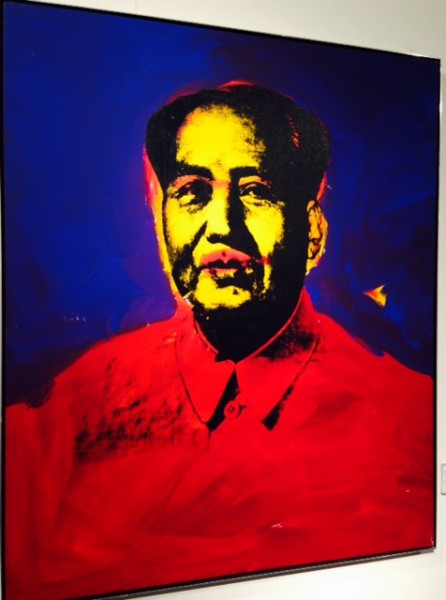 Mao by Andy Warhol.
And last but not least, for those with a sweet tooth and candy lovers out there, a stop at Dylan's Candy Bar will bring you back to your childhood. "There is no age to eat some." You're never too old to enjoy old-fashioned, signature sweets.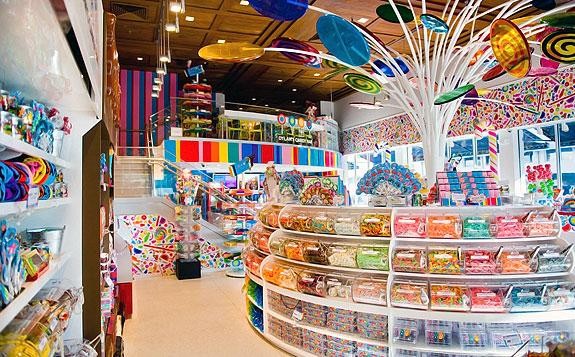 Dylan's Candy Store Miami, an impressive, colorful and sweet display.