Mary Gostelow's Hotel of the Week: Vivanta by Taj – Madikeri, Coorg
Posted on January 29, 2015 by Mary Gostelow
View of the lush greenery spotted with villas from the restaurant terrace.
A weekly series featuring luxury hotel expert Mary Gostelow's hotel pick of the week.
Vivanta by Taj – Madikeri in Coorg, India is the brilliant result of one man's dream. Entrepreneur Pramod Ranjan saw a wild, wooded mountain in Karnataka, bought 180 acres, and spent four years camping there while he designed and supervised the building of what is now a luxurious and remote 63-villa resort. Yes, it is a challenge to get there (three hours' winding drive from Mangalore airport is quickest, unless you charter a helicopter). But oh what a dream, when you get there and look out, 4,000 feet above sea level, at the valley far below!
The resort has a teenagers' game room, an excellent gym and an indoor-outdoor pool. And don't miss out on the Jiva Spa (try the Coorg special: a Gudda bath, in which water from a copper urn is poured over you before a body massage).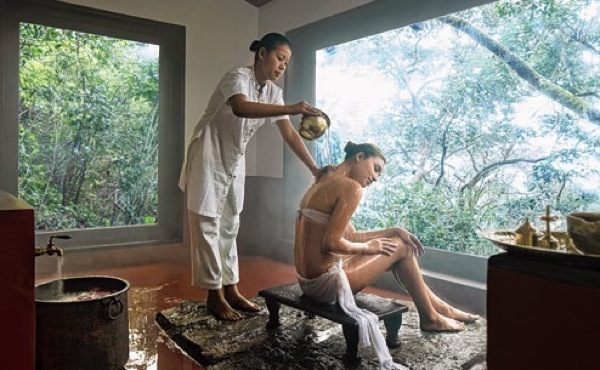 A Gudda bath among the treetops.
Most of the villas are identical: 640 sq ft, with amazing views. I like the three 3,300 sq ft villas with indoor-outdoor 25 ft pools. If with friends or family, take the 8,600 sq ft Presidential villa, with an 80 ft pool.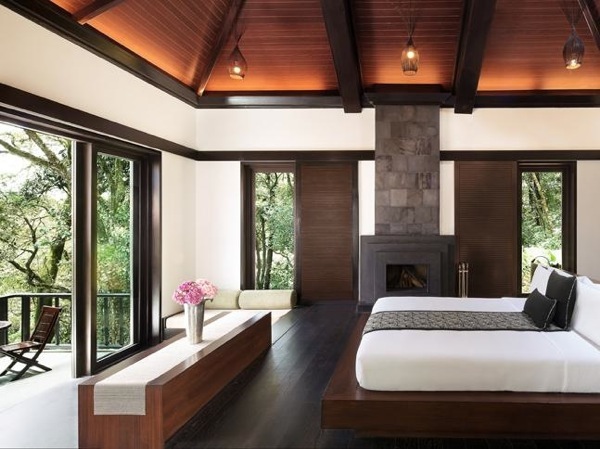 A typical villa at Vivanta.
Here at Vivanta, there is so much to do outside. Explore the working vegetable garden, learn ceramics, bike ride through local villages and woods and explore the hotel's coffee plantation. For serious hikes, try to book the hotel's top naturalist, Abhishek Jain. There is all-day dining, both international and Indian, which can be quite spicy. For dinner, I love outdoor The Poolside Grill which is down in the valley, which you might have zip-lined over earlier in the day! Insider tip: order chef Deepak Shirur's eggwhite-coated chicken kebabs with a passable Indian red, Big Banyan Shiraz.
Read last week's Hotel of the Week here.