Michaela's Map: Bhutan, Giving Back
Posted on January 4, 2015 by MichaelaSGuzy
Produced, co-written, and hosted by: Michaela Guzy; Co-written by: Colin Glaum; Shot by: Zac Osgood and Brian Sachson; Edited by: Kaitlyn Jackson; Music by: Premium Beat; Animated logo by: Ian Glaum; Audio by: Novacaine Studio.
Follow Michaela Guzy, founder of OhThePeopleYouMeet.com, in the Land of Happiness: The Kingdom of Bhutan as she explores how the government and private companies alike are working to support the less fortunate. With 750,000 people and a focus on putting a smile on each of their faces, Prime Minister Tshering Tobgay sits down with Michaela to discuss the importance of happiness and how the current king is holding true to his father's proclamation, "gross national happiness is more important than gross national product," through sustainable development programs and ensuring authentic smiles.
Michaela also visits Amankora, a collection of luxury lodges throughout Bhutan, to talk about the company's commitment to helping their surrounding community, which includes a project for the disabled in partnership with www.BhutanFound.org.
Special thanks to: Qatar Airways, Tourism Council of Bhutan, Aman Resorts, Como Resorts, Termalinca Hotel, Zhiwaling, and The Bhutan Foundation.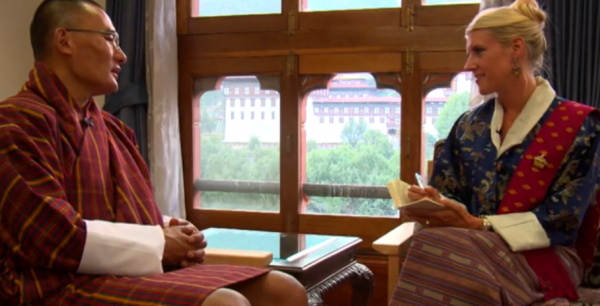 Michaela and Tshering Tobgay, Prime Minister of Bhutan.