A Week of Wellness at The Ranch, Malibu
Posted on April 29, 2015 by MichaelaSGuzy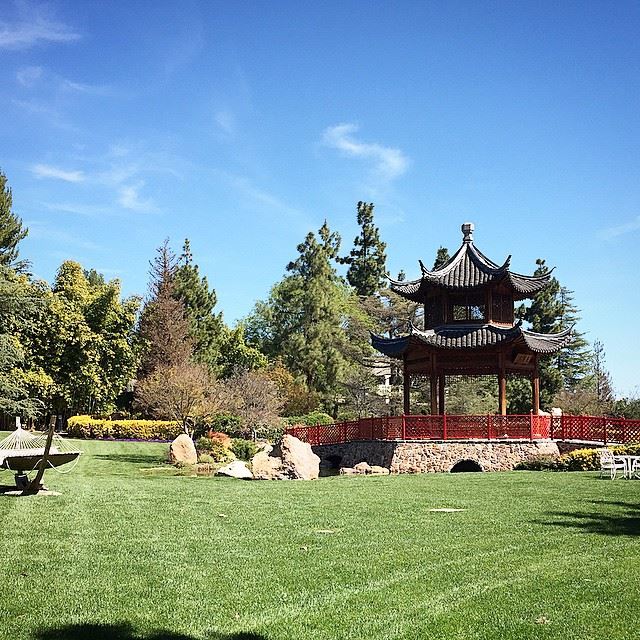 The Ranch, Malibu.
I travel a lot for my business, this travel, food & philanthropic content site, and while I try and be religious about working out on the road, there are certain places that I would make excuses to not work out, ranging from the mundane, I don't have time, to not wanting to become proverbial bush meat in Africa (PS- I have had two armed safari guards block off an airstrip in the middle of the bush so I could run back and forth). I also always try to watch what I eat on the road, my "squirrel food" as my dad refers to my dietary choices, but there is always extra around the middle that I can't seem to get rid of no matter how many sit ups I do.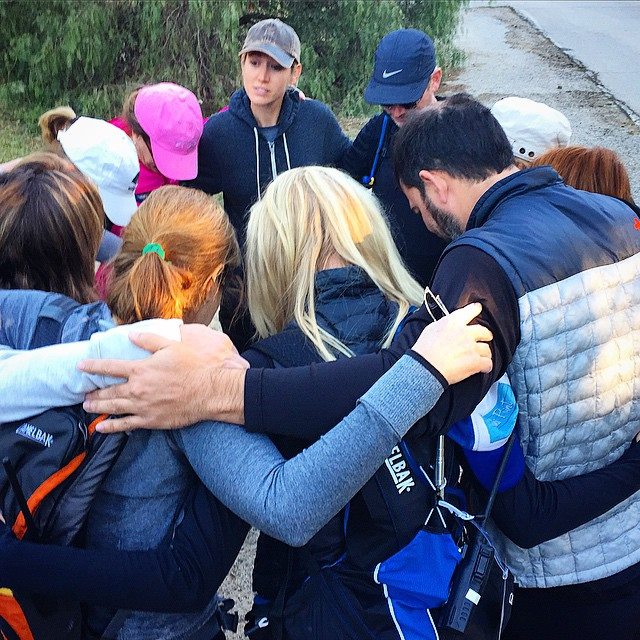 Bonding with fellow Ranchers
Enter a dear friend who has been trying to get me to visit The Ranch 4.0 in Malibu, California for a number of years. The never ending New York winter near killed me, and I was complaining about needing to go somewhere warm and just be active outdoors. She had also convinced several other colleagues who came back raving about the experience and, let's be honest here, they looked pretty amazing. So with a healthy mix of vanity and being vitamin D starved, it took her all of 2.0 seconds before she had me booked at The Ranch. I mean early March in Malibu, CA or New York, NY—the choice was clear.
What I didn't account for is that most people plan their trips in advance, and that The Ranch was the type of vacation that you have to work for. While the reward is without compare, most guests receive instructions about 30 days out detailing how to slowly start eliminating certain foods from their diet for the easiest transition and best results.
Because I only decided a week before, I had about 4 days to prep. My welcome email had specific instructions to cut back my toe nails by getting a "Sport Short Pedicure" and to eliminate delicious albeit unsavory items like soy, gluten, dairy, sugar, meat, caffeine and alcohol the week before. My honest reaction was what's left? I was surprised to find that giving up most items wasn't as hard for me as I thought. I even started to feel like I had more energy and even slept better. I'd be lying if I told you I didn't miss my morning cup of joe, but discovered it was more of a habit than a need. I liked having something hot in the morning, so I began to substitute with hot water instead. Where I totally cheated in my pre-trip prep, was vino, though I scaled back to what is likely considered by most of the medical profession as healthy levels.
over the counter viagra Day 1:
I excitedly skip into the hotel; this can't be that bad, we are at the Four Seasons Westlake for goodness sake. I felt a bit like a kid at camp. Meeting everybody for the first time, filling up our CamelBaks before heading out for our "warm up" hike, a beautiful 4-mile moderate hike in the Santa Monica mountains, followed by a light vegan lunch. Next it's time for weigh in and measurements, always a humbling experience for a gal with curves and then onto VO2 Metabolic Testing. Considered the "gold standard" in cardio respiratory fitness testing, VO2 determines the amount of oxygen a person utilizes during exercise. It was a hard ten minutes! I really pushed myself, but by the end I almost fell right off the back of the treadmill with my creepy mask on.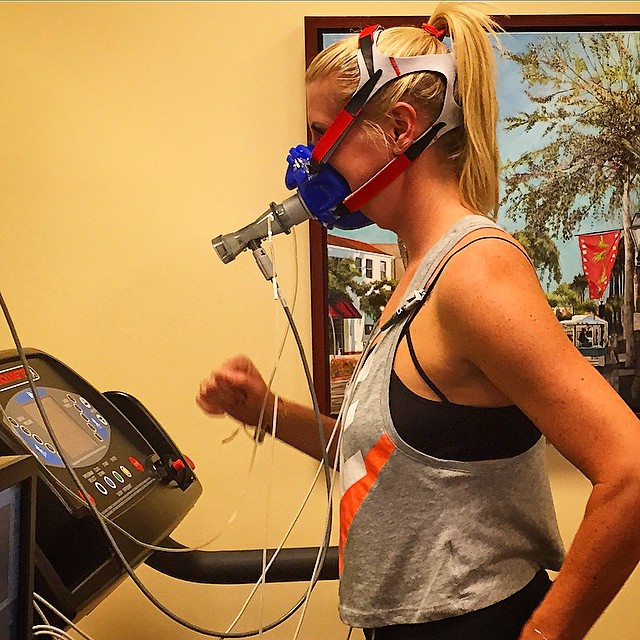 VO2 Metabolic Testing- the moment of truth!
Just when I thought I was going to go check a couple emails by the pool, I was whisked away to an hour long strength training course, an hour long yoga class and then a coveted 45-minute massage (heaven). A two-course vegan dinner was served at 7pm, followed by a conversation about nutrition. It was 9pm on Thursday night, and I found myself looking at the buzzing bar in the hotel lobby with everyone all dressed up and me in my gym clothes wishing I could partake in the evening affairs.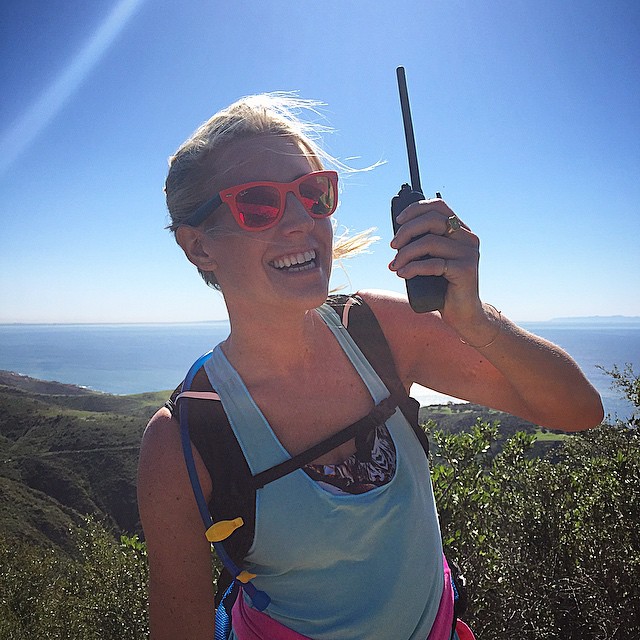 Hiking Santa Monica mountains, walkie talkie in hand.
generic tadalafil no prescription Day 2:
I woke up to the sound of a woman's voice on my walkie-talkie alongside my fancy hotel bed instructing me that it was time to get up. I was shocked to make note that rather than cursing this person, I actually sprang right out of bed and into my hiking gear. The only thing between me and the promise of breakfast was an hour-long stretching class. For breakfast, The Ranch suggests an intake of 350 calories and very clearly label how many calories are in what dish. Breakfast is the only meal on the honor system (i.e. you serve yourself). My deep rooted Catholic guilt took over as I sat there and debated if I was allowed to have more than a half a cup of granola because I'd be hiking 9 miles, but alas stuck with the program to see how hangry (hunger+anger), I would become over the course of the next few hours.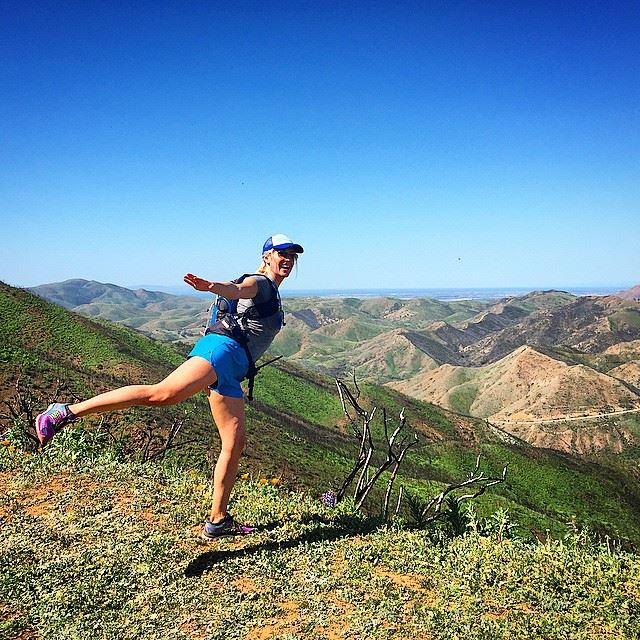 So much energy!
I'm happy to report that I was practically skipping up the mountain, enjoying the gorgeous, sunny day and getting to know all of my diversely talented fellow hikers. I did have to laugh when we took a break at the halfway point and I was given a maximum of six almonds and a pinch of sea salt as a snack. At the end, we were driven to the beach for a picnic lunch and I was ready to eat. So imagine my reaction when all I am given is a cup (not a bowl) of Latin corn chowder and two gluten free sprouty crackers of some sort! Annoyingly, the staff at The Ranch was right; it was filling and in fact delicious. The afternoon and evening were very much the same as the day before, except that I was able to sneak in one hour at the pool before our afternoon classes. But it was so hard to sip only water next to all the other hotel guests' refreshing fruity cocktails. Dementedly, all I could think about while I longingly stared at their frozen concoctions going by, was that each had more calories than the breakfast I was allowed to eat before hiking 9 miles. Hmmmm…this 1200-1400 calorie daily diet was going to be tough.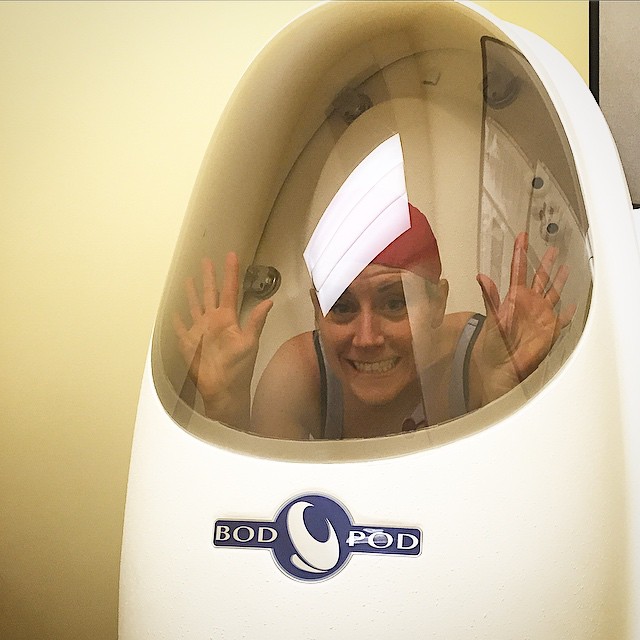 Hanging out in the BodPod.
cialis online canadian pharmacy Day 3:
I started my day in the BodPod. And let's talk about humbling. Exercise Specialist Lisa Brinton of the California Health and Longevity Institute has you strip to your knickers (or a bather) and jump into this space egg machine. The BodPod is measuring your fat mass, blah. Then off to breakfast, an 11-mile hike through the Santa Monica mountains once again, lunch, afternoon classes, massage, dinner and an interesting talk about re-acclimation to the real world. While you eat vegan at The Ranch, they are well aware that most participants will go back to certain foods or habits. The staff at The Ranch 4.0 hope that you leave with a better understanding about what you are putting in your system. They gave us a handy chart to understand the alkaline and acid counts of most foods. While I thought I've been a pretty healthy eater, I started to discover that most of the food I like sat on the acidic side of the spectrum – insert light bulb – maybe a contributor of my stomach issues?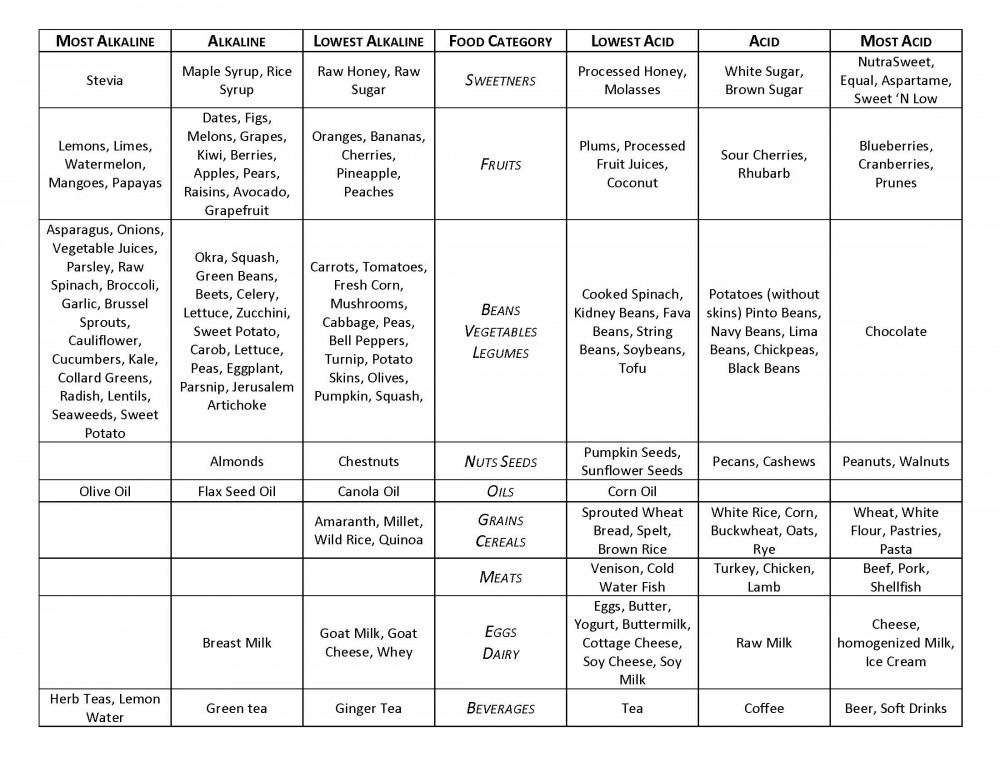 The Alkaline/Acid Chart
Day 4:
I basically Tigger bounced out of bed before the alarm with the craziest amount of energy and bounded down to morning stretch. Based on my body's positive reaction to only 350 calories at breakfast (the maximum recommended portion) the days before, I tested myself to see if I could eat slightly less. To give you an idea, 300 calories is approximately an 8-ounce fresh fruit smoothie (only natural sugars and no dairy), a half a cup of granola with a splash of almond milk and a hard-boiled egg. It doesn't seem like a lot, but it's a perfectly balanced meal and after a couple days of testing yourself, I think you'd find you were quite satiated.
We were off for our final hike a 14 miler. What I loved about each day of hiking was that the terrain was so different and the views over the Santa Monica mountains through Malibu were breathtaking.
After lunch we discussed the results of our VO2 and BodPod tests. I was thrilled that my VO2 (pamount of oxygen a person utilizes during exercise) was Superior Fitness Level Standard. Being a type A overachiever, I was slightly bummed that my BodPod results were just normal. Something about having "normal" amounts of fat bothered me. I spent the time with Scott Silveira who oversaw the VO2 testing to understand how many pounds I'd have to lose to be closer to the athletic scale. He willingly went through the exercise with me, but ended with, "Most people who are in the athletic scale, especially the target number you are mentioning, are professional athletes in training. Maybe just cut back on your vodka soda intake." And there's reality for you! I already know what I need to do to make the difference, but with the help of my handy acid/alkaline chart, I can now calculate what I should balance with when I splurge.
I was pretty pumped when they substituted one of the strength training classes for a dance class with one of our fearless leaders, Tremell Johnson. That man can move! While I could in no way keep up with him, I had a shit-eating grin on my face trying and boy did we sweat.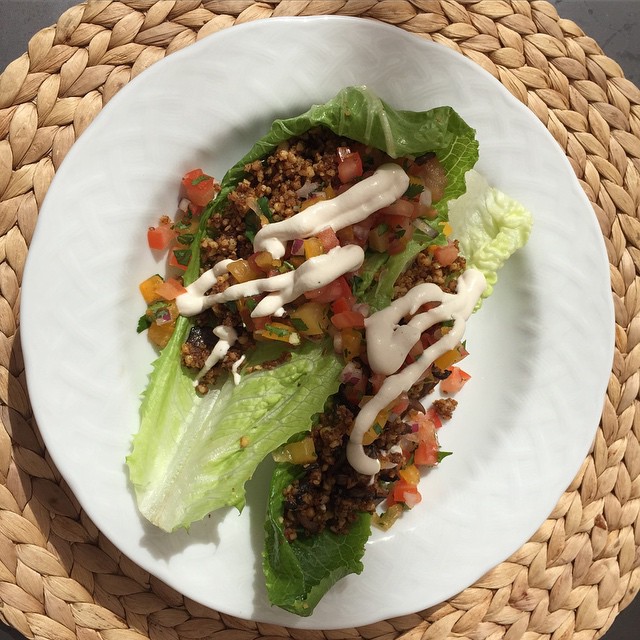 Sample vegan meal of cashew, walnut and mushroom tacos.
Day 5:
Started with a morning stretch class, weigh in and measurements. In just four days, I only lost 1.5 pounds, but I lost 3.5 inches from my chest, waist and hips- score! Even better than the inches was that I was sleeping better than I had in years and my energy levels were on par with that of an over caffeinated 5-year-old.
At 8am before our departure, we attended a breakfast demonstration from The Ranch's talented vegan chef, Meredith Haaz to learn some of the delicious vegan recipes she had been preparing for us over the course of our stay. I've provided some of my favorite fresh dishes she prepared, some of which can be found in the The Ranch at Live Oak cookbook. Plus, an easy and delicious recipe for cauliflower steak- don't knock it 'til you've tried it.
The Results:
All I can say is, even if you think, OMG this vegan diet thing is crazy and I could never work out that much and have a life! I thought the exact same thing. My reality? I met such amazingly inspiring people; I left with a better understanding of what I can personally do better to lead a healthy lifestyle on the road. Look, I'm not perfect- the next week I was in Cuba and totally partook in piña coladas, a street meat pork sandwich and a delicious cup of Cuban coffee. My point is The Ranch 4.0 was a great kick-start. I actually learned a lot about nutrition and have a better overall understanding of food. We all know that diet and exercise are key, it's just a matter of being accountable. What I loved about The Ranch was that it removed temptations and showed me results in a short amount of time. It's like you mother always told you, think before you speak. Just apply it to eating!
A few of the other participants actually go to The Ranch 4.0 a couple times a year. Next, I'd like to try their full week program, which is actually based at their ranch with no wifi instead of the Four Seasons. While I'd likely panic the first couple days with no connectivity, sometimes a little digital detox is good for the soul.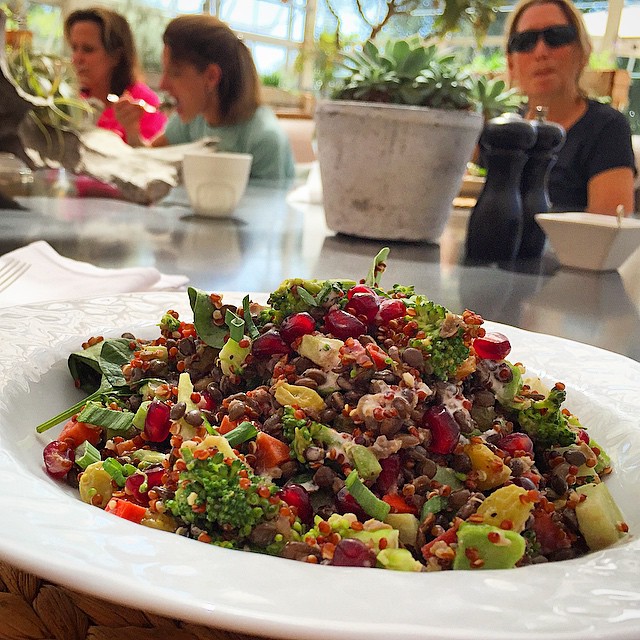 Vegan lunch after a 12 mile hike. Delicious.
A Recipe for Delicious Vegan Cooking: The Ranch 4.0 Cauliflower Steak (2 servings)
1 large cauliflower, leaves removed
6 oz. parsnips (about 2 medium), peeled and sliced
2 garlic cloves
1 fresh bay leaf
2 tablespoons of extra-virgin olive oil
2 tablespoons of finely chopped fresh flat-leaf parsley leaves
1-tablespoon capers, minced
1 tablespoon snipped chives
2 teaspoons fresh thyme leaves, finely chopped
½ teaspoon lemon zest
Sea salt and freshly ground black peppers
The serving is 287 calories, 15 g fat, 0 mg cholesterol, 35 g carbohydrates, 12 g fiber, 8 g protein, 236 mg sodium, 431 IU vitamin A, 193 mg vitamin C, 126 mg calcium, and 3 mg iron.
A quick description: The contrasting flavors and textures derived from the same vegetable in this caramelized cauliflower steak and creamy puree are surprising and satisfying. The gremolata, an herb-and-citrus garnish, adds a bright, fresh touch.
Other favorite dishes to check out:
Zucchini pizza
Eggplant stacks
Lentil broccoli salad
Mushroom and walnut tacos
Latin corn chowder
Food Note: All Ranch meals are made from fresh, organic and vegetarian ingredients. The majority of the ingredients come from the organic garden located on The Ranch property. Other ingredients that may not be available from the garden remain locally grown. That is why the ingredients and recipes consistently vary due to the season. And pick up The Ranch at Live Oak cookbook to make it happen at home.