Mary Gostelow's Hotel of the Week: Mandarin Oriental Bodrum
Posted on September 15, 2015 by Mary Gostelow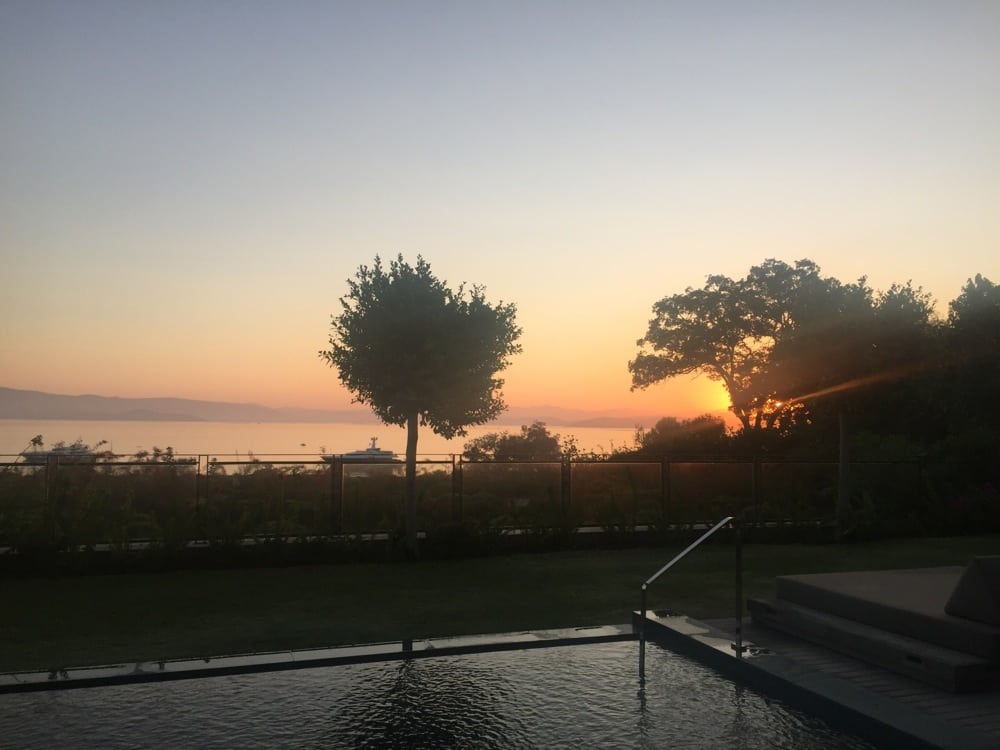 Sunrise over Mary's villa private pool.
Part of a weekly series featuring luxury hotel expert Mary Gostelow's hotel pick of the week. Photo Credit: Mandarin Oriental Bodrum.
Bodrum is the idyllic Turkish peninsula that many compare to Mediterranean haunts like St. Tropez, Monte-Carlo and Ibiza. Summer-long, this is where the high and mighty come, where the biggest superyachts dock. The number flooding the Paradise Bay, where the year-old Mandarin Oriental Bodrum is set, rivals Monte Carlo's harbor in high summer. The hotel has a special arrivals jetty for guests coming by boat, and another arrivals area by the helicopter landing pad. Yes, you can get the picture of the guests by their modes of arrival. This is a well thought out mega-project. Along with 80 bedrooms and suites are 23 apartments, and some of the 126 privately-owned villas ('the great and good, as well as many royalty, from around the world') are sometimes rented out. At high summer over 900 work here – it drops to 120 in winter.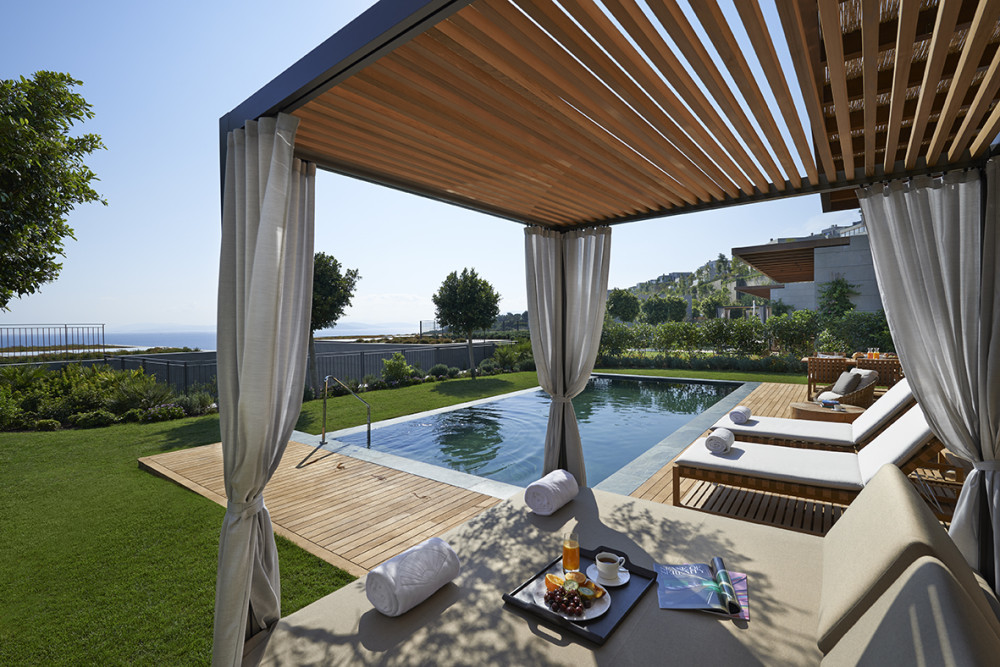 Room with two views: a sparkling private pool and the Aegean Sea.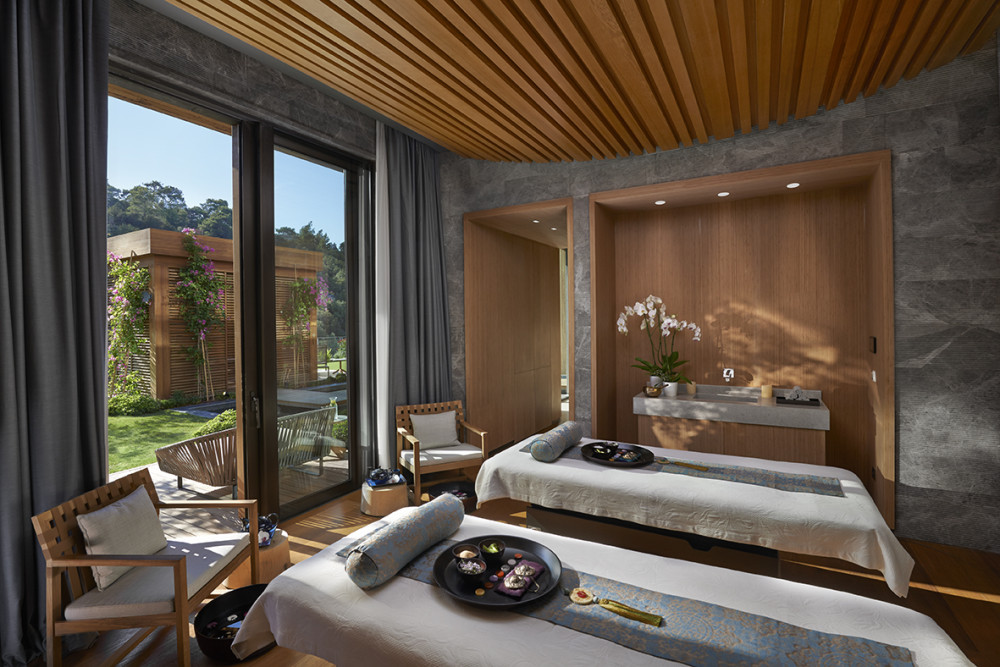 In-room spa at Mandarin Oriental Bodrum.
Add this number to the St Bart's-types running JuJu beach: one of three beaches leased out to Babylon which allows non-hotel guests access to the beach, lovely lawns and an outdoor restaurant and bar with DJ for €60 a day. Hotel guests can use the JuJu beach and the guest-only beach for free (the third beach is for villa owners only). They have pools galore, outdoors and in, and a grand spa with a great Technogym. Of course the equipment is the Italian architect Antonio Citterio's latest, as he brilliantly designed Mandarin Oriental Bodrum's entire interior.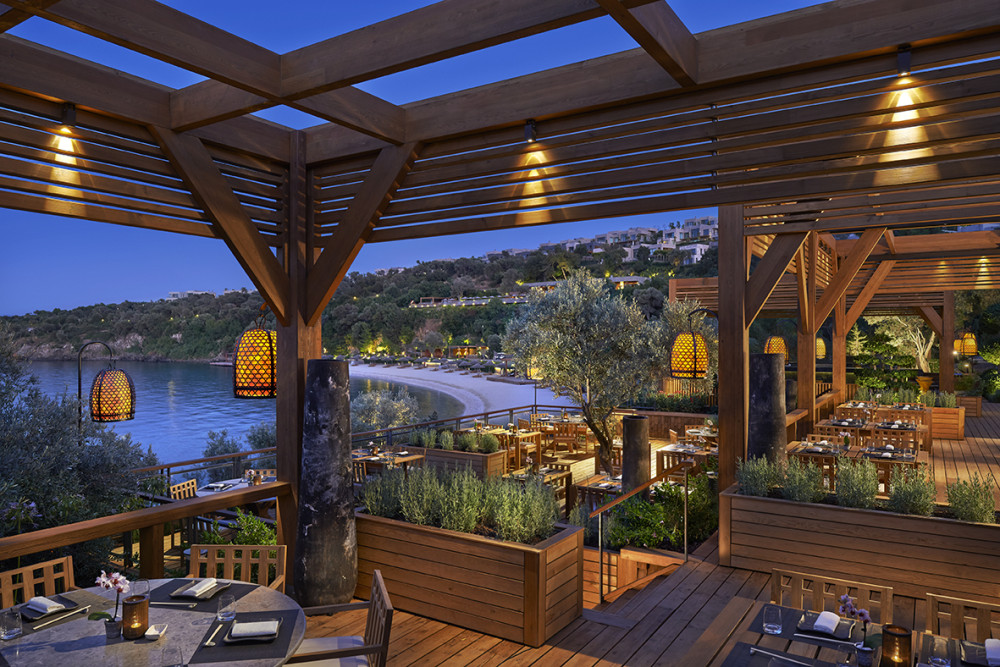 Kurochan, contemporary Japanese served on the multi-level terrace.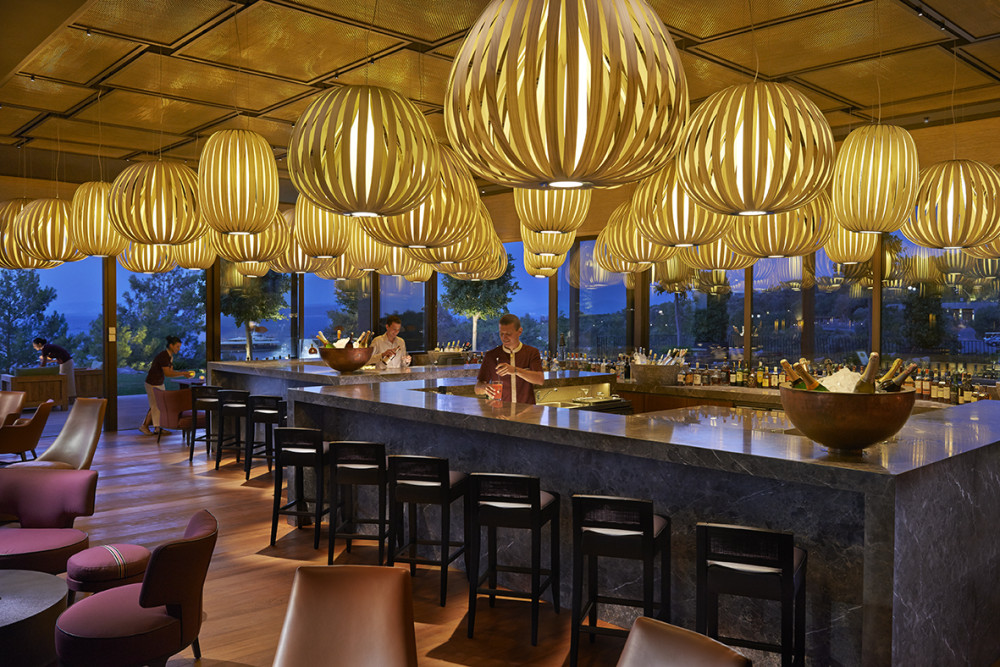 Champagne chilled and ready to drink at the bar. 
Bedrooms have all-teak or all-oak walls, and some of rough stone. Plain marble floors are dressed with beige throw rugs. Hub of public areas, for me, is this theatrical staircase, supported only by metal ropes. His restaurant designs, for Assaggio Italian, Kurochan modern Japanese and so on, mostly have indoor areas with fires that are not used summer long as it is so pleasant dining out. Also enjoy the dedicated breakfast room.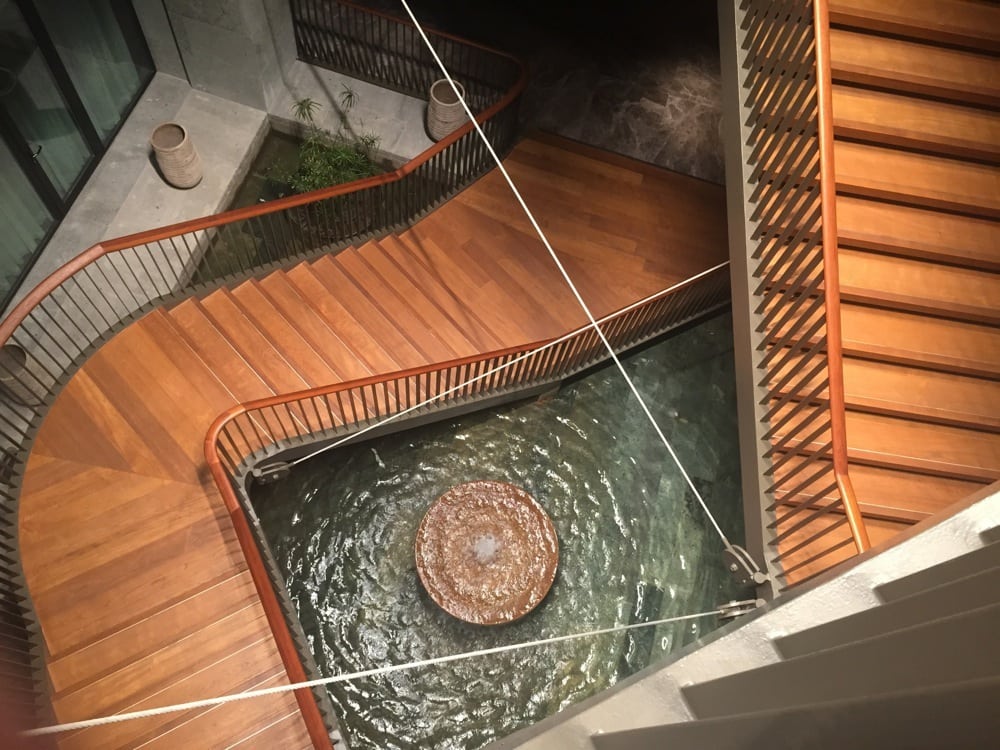 Looking down Citterio's floating staircase, suspended by metal ropes.
As soon as he saw the development of the resort, GM Nejat Sarp – who had been running the hotel side of the Vancouver Winter Olympics and then Brazil's World Cup – said he was hooked. The property's owner has a passion that rivals his, and both want nothing but the best. This is a resort for summer outdoors, and year-round for fitness, spa, and outstanding food. Take a villa like mine, 209, and skinny-dip in your pool as the sun comes up…bliss.
Mary tries the Hendrick's mobile bar.
Read last week's Hotel of the Week here.