The Great Migration of the Syrian People
Posted on March 28, 2016 by Charlie Grosso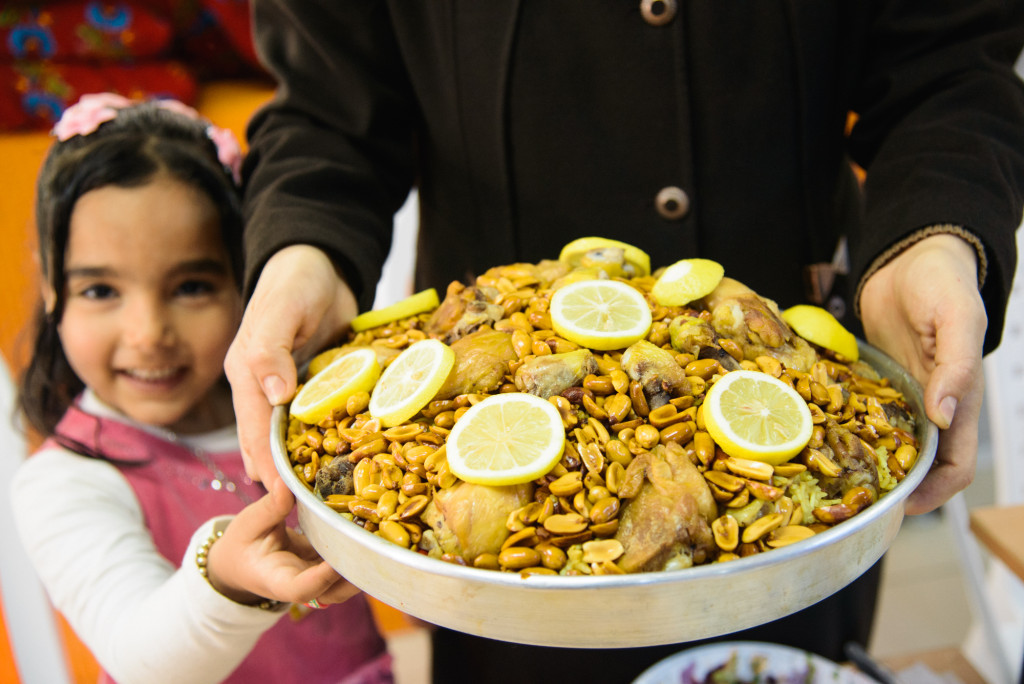 I am standing in front of the dairy section at the supermarket, plastic shopping basket in hand, befuddled by all the options. Which one is butter? Which one is margarine? Speaking little Turkish, each rectangular block is a puzzle. Maybe I don't need butter. I thought for a second. Later, with the help of Google Translate, I return to the store and try again. To my surprise, finding real butter in Istanbul is harder than it looks. This insignificant first-world problem would vex me for a week as I set up house in Istanbul.
Imagine what it would be like to flee your home, smuggle into a new country and the never-ending process of adapting and surviving without assistance and friends and language barrier. Finding butter would be the least of your concerns.
Syria's civil war is the worst humanitarian crisis of our time. Half the country's pre-war population — more than 11 million people — have been killed or forced to flee their homes, according to Amnesty International. Syrian families who have made their way to Istanbul, fortunate enough to bypass the refugee camps, are struggling to make a new home. The day-to-day challenges are limitless, from education to employment to community. Despite the generous aid packages of €3 billion from the European Union to Turkey for Syrian refugees, there is currently little to no government support for the Syrians in Istanbul.
From language barriers, Arabic to Turkish; to education for the children, Arabic School or Turkish School, or the numerous behavioral problems as a result of trauma that are unaddressed; to means of generating income, Syrians currently do not have a right to work; to legal status, Syrians are generally granted "guest," not "refugee" status which translates to little public support, discrimination and even child labor.
Karyn Thomas founded Small Projects Istanbul (SPI) to address some of these challenges. Small Projects Istanbul is a grass-roots organization located in the Capa neighborhood of Istanbul. SPI offers supplemental education for children, language course for adults and serves as a community center. Approximately 70 Syrian women take a part in The Olive Tree Craft Collective, making knitwear and jewelry to generate supplemental income. The women are paid above market rate for the work. Many of Syrian women are well educated, they had respectable careers once, but with Turkey's overall unemployment rate at 10% and their murky legal status, it is unlikely they could ever obtain work in their trained field. So, they knit, they make jewelry, they sew — they are finding ways to create a life for themselves and their family here in Istanbul and SPI is helping them forge the way.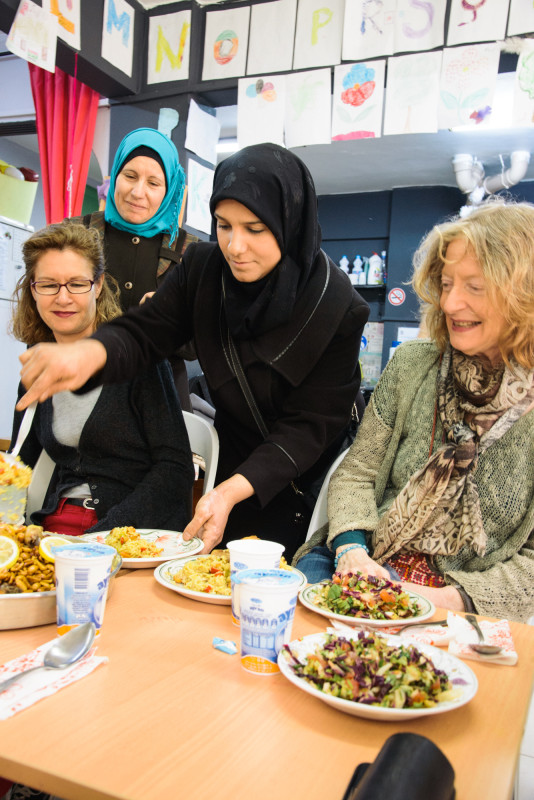 The Olive Tree – Rebuilding Lives is a new program in collaboration with Urban Adventures. The inaugural tour launched on International Women's Day 2016. It is part of Urban Adventure's InFocus Program, dedicated to social responsibility and ethical tourism. The program includes a trip to Capa, a little-toured district of Istanbul to visit Small Projects Istanbul, share a traditional Syrian meal prepared by one of the ladies at the Center and hear their stories. Followed by Arabic Coffee and sweets at a Syrian bakery supporting local business. All proceeds from the tour go directly to SPI and the women who prepared the meals, an additional mechanism to earn, live and share.
There was a lot of nervousness for this first tour, the first meal. Zahida with the help of her 6-year-old daughter Duaa prepared the Kabas (chicken, saffron rice, and fried peanut middle-eastern dish.) Merve, another Syrian women helped with the serving and stayed to talk with us, with the help of a translator. I've met Zahida and Merve multiple times in these past weeks. I was consulting for SPI, road mapping their next phase of growth strategy; a business perspective for the grass root NGO run on the passion and sweat of volunteers.
Before the tour, there was a lot of discussion about whether Merve and Zahida would stay and talk with the attendees, mostly journalists for the inaugural tour, or if they would bring the food and leave. Shannon, lead program coordinator at SPI, thought the ladies might want to leave. She's been working with them for the last three years; her instinct is to protect them, to respect their level of comfort and discretion. We were surprised Merve and Zahida choose to stay through the entire meal, conversing the whole time. There was a sense of satisfaction and pride in what they created and their culture they shared. The women were glowing from not only being seen, but being heard also.
We make it work – regardless the size of the challenge. That is what we do as women. But it is always easier when we don't have to do it alone. Karyn, Shannon, Anna, and the volunteers at SPI found a way to solve daunting tasks the Turkish government has yet to address: education, income, and perhaps the most integral component to rebuilding lives, community.
For more info., visit Small Projects Istanbul and The Olive Tree – Rebuilding Lives.