Vancouver's Neighborhoods: From Ocean to Rainforest
Posted on May 13, 2016 by Siobhan Chretien
buy cheap sildenafil citrate
Waterfall in Lynn Valley, North Vancouver. Photo credit: Mike Karas.
http://she-conomy.com/pick-my-brain buy tadalafil cheap Vancouver, Canada is most often rated the best cities in the world to live, known for its mix of warm winters, snowy slopes, abundant nature and ocean coastline. A diverse population of locals and expats appreciate the city's unique history and foreign roots while enjoying its now modern design. From Gastown to Granville, the city's neighborhoods make it plain to see why so many love to call this rainforest home.
DOWNTOWN
The explorer and North West Company trader Simon Fraser and his crew became the first known Europeans to set foot on what is present-day Vancouver. Today, travelers by sea benefit from the easy access to the center of Downtown. Whether by cruise ship, seaplane or water ferry, thousands of travelers arrive into the city of glass just steps away from the famous "sails" and new convention center. Guests are welcome to visit the eco green roof and tour with the resident beekeeper who ensures these important little creatures thrive.
Art enthusiasts should visit the art deco Marine Building, perhaps one of the world's most exquisite examples of the period's architecture. When it opened in 1930, it had the distinction of being the tallest building in the British Empire. Once you enter through the giant brass door, you are led back in time through a marine theme comprised of details such as carved seahorses, crabs, seaweed and turtles. There is a lovely coffee shop, JJ Bean and pub, the Elephant and Castle. While the elevators are no longer hosted by women in sailor suits, it's a historic gem worth visiting.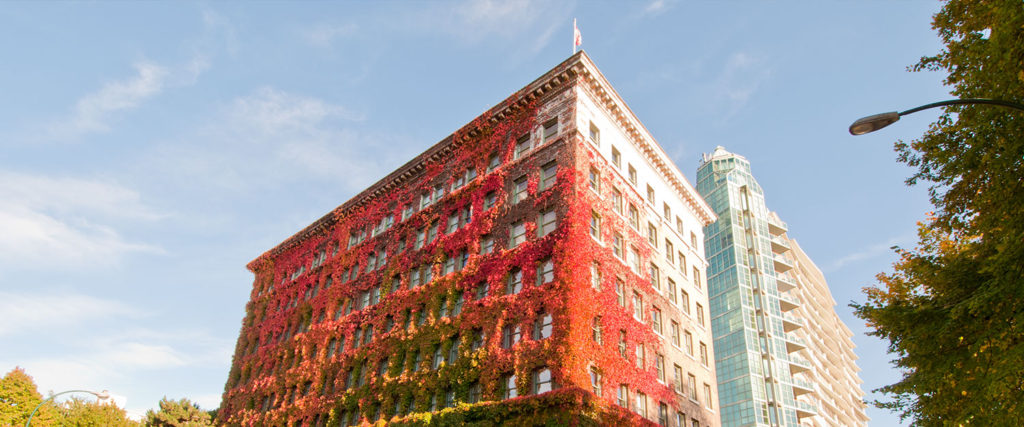 Brilliant foliage crawls up this bayside hotel. Photo credit: Sylvia Hotel.
STANLEY PARK
Vancouver is separated from its coastline by an over 22 km (13.7 mile) long seawall that circles along almost the entire city's water's edge. Joggers and cyclists enjoy the pristine views of the North Shore mountains, palm trees, and fresh ocean water swimming pools. The pool at 2nd beach that sits right next to the ocean within Stanley Park near English Bay is a must when the temperatures hit 90+ in the summer! This bay area is a popular area for nighttime outings with many beachside restaurants and movies in the park.
Step back in time with the bayside Sylvia Hotel. The hotel was built in 1912 and named after the owner's daughter. It is now a heritage landmark. During your stay, ask about the famous cat, Mr. Got To Go who has inspired two popular children's books. Story goes, the stray wondered in one day and decided to check in permanently.
Stop by a lesser-known spot in the park, the 125-year-old Vancouver Rowing Club, for a nice cold one and amazing city view. From here you will hear the 9 o'clock gun sound at 21:00 hours daily, from a cannon in the park!
CHINATOWN
Thank to the city's trading roots, Vancouver has a lively Chinatown universally appealing to visitors, artists and locals. Sample world-renowned Chinese delicacies and savor the rich culture around every corner. Chinatown fascinates with its striking collection of designated heritage buildings and tales of the early Chinese pioneers.
Between 1890-1920, early Chinese immigrants settled in what was known as Shanghai Alley and Canton Alley. By 1890, Shanghai Alley was home to more than 1,000 Chinese residents. Now, it is filled with specialty noodle and bake shops, dim sung and traditional medicine dispensaries. In the heart of Chinatown a historic storefront conceals the secrets of Sai Woo on Pender Street. The modern dining room serves globally inspired cuisine created with surprising, lighthearted twists. Cocktails are crafted with precision using top-shelf liquors, fine teas, and exotic fruits.
The magical Dr. Sun Yat Sen Classical Garden is another hidden oasis. As the first Ming Dynasty Scholars Garden built outside of China, this earthly paradise provides perspective on culture, architecture and horticulture in the Ming Dynasty. It is a haven from the bustling of tea shops, trinket merchants and crowded grocery stores. The night market every Saturday is a small gem with an array of street food and merchants selling everything from slinky nighties to kitchenware.
One of the best bars in the city, the Keefer, located in hotel of the same name, is fashioned after an old apothecary. Stop in for a cocktail before heading just a few doors down to Boa Bei Brasserie. Boa Bei is decorated in Victorian antiques but serves French and Asian influenced cuisine. The pork belly and turnip omelet are not to be missed! How's that for variety?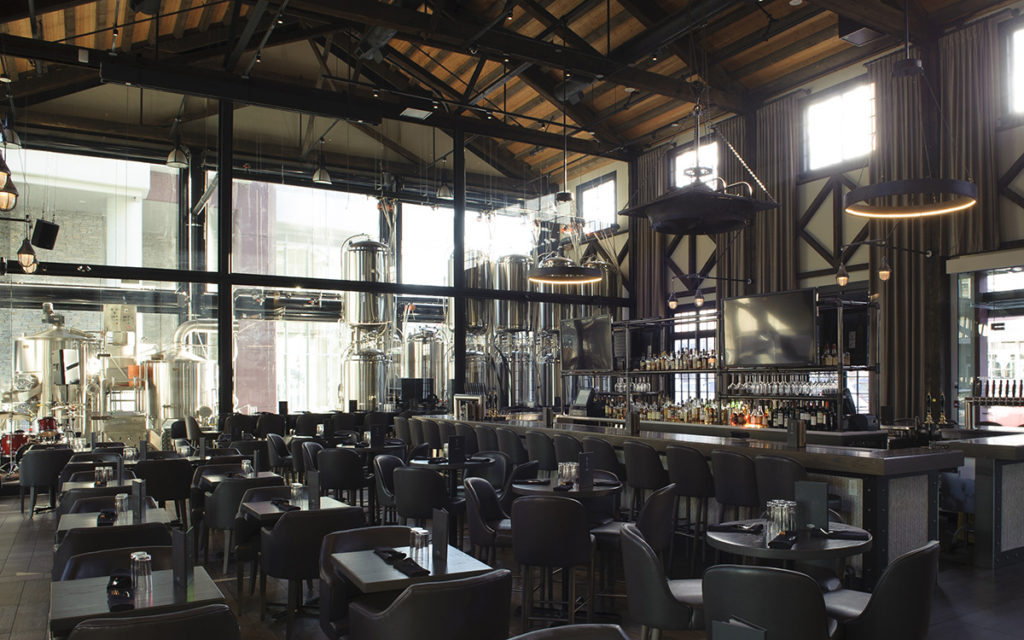 A not-to-miss gastropub in Olympic Village. Photo credit: Steel Toad.
OLYMPIC VILLAGE
Olympic Village is your return to modernity. Easily accessible by water taxi or cab, the village still exudes the beautiful legacy of the Vancouver 2010 Winter Olympics. " Olympic Village" sits next to the Science center and Expo '86 grounds and is a glass menagerie of beautiful and modern new condos. Catch a game of hockey, football or soccer at Rogers Arena and GM Place.
Several bars and cafes line the water with a full view of Downtown. The Tap & Barrel pub has the best view and serves over 50 beers and wines on tap. The focus is on British Columbia products and craft bar, where local seasonal ingredients are showcased. But it is the Steel Toad that takes gastropub to the next level—local brews, the freshest seafood and live local music.
GRANVILLE ISLAND
Continue down the sea wall or take another water taxi to the iconic Granville Island, home to an operating cement factory that had murals painted last summer by the famed Brazilian artists OSGEMEOS.
Granville is a dream come true for anyone who likes wondering markets. The seafood, fruit, meats, and ethnic food counters are sensory overload. Plus, several arts clubs, a comedy house, an art school, its own brewery, sake maker and gin distillery! A special spot is the outside top deck patio at the Sandbar restaurant. Sit beneath the bridge and look out at the yachts and kayakers passing by. And talking about Vancouver and not making a mention about Tojo's sushi would be criminal. Not only is he considered to be the best at his craft, but he also invented the California roll. Take that fun fact back home to your foodie friends!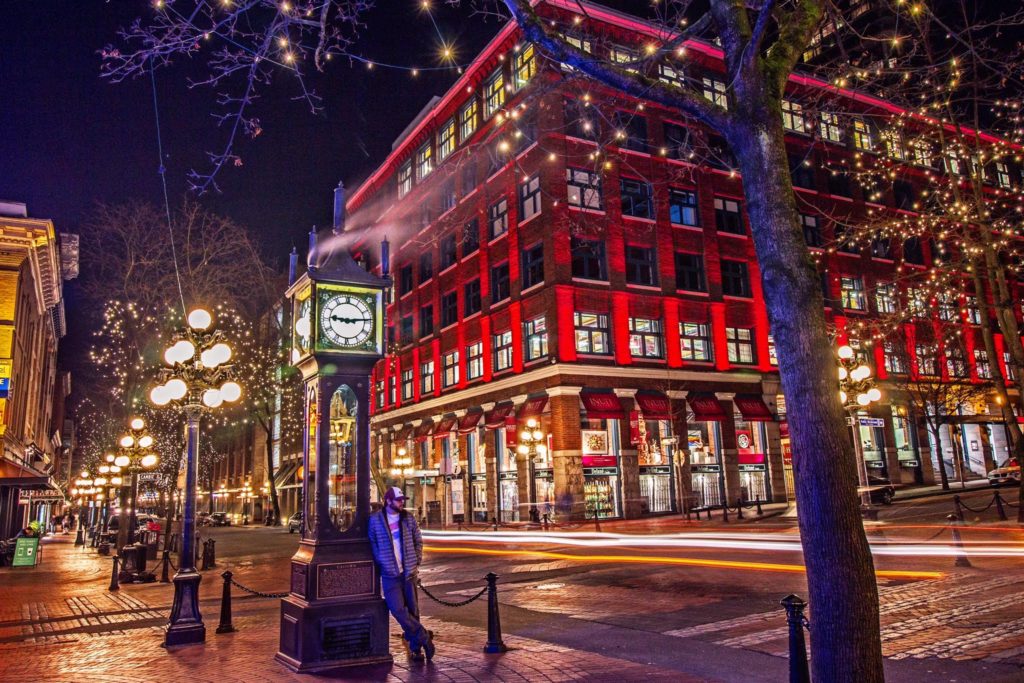 The Gastown neighborhood of Vancouver, Canada. Photo credit: Mike Karas.
GASTOWN AND YALETOWN
Gastown is the more historic of these two neighborhoods and is where Vancouver was founded by a man named Gassy Jack (not sure just how exactly that name came about). He persuaded local millwrights to build him a pub and the rest was history, as hotels and other merchants soon opened up. Loaded with patios, restaurants and shops, Gastown is prime for meandering and relaxing within close range of any hotel.
In Yaletown, as with much of Vancouver, the Canadian Pacific Railway had a huge influence on the shaping the neighborhood. Many former factories, rail buildings and warehouses are now lofts, bars, cafes and shops. After the real-estate boom and bust cycles of the 20th century, the area became shoddy and contaminated, and was bought by the city. After the 1986 World's Fair, held on neighboring former-industrial land, the whole area became ripe for development and is now a modern hotspot.
MOUNT PLEASANT
But a favorite, non-touristy hood is Mount Pleasant. Aptly named, it tributes its history to a little stream. The stream attracted a number of breweries from 1888 to 1912, becoming known as Brewery Creek. In 1890, the first street cars arrived. Since its demise of the area in World War I there has been a resurgence. Vintage and antique shops, micro brew pubs, coffee shops, and a grand cemetery populate the area. For an off the beaten track experience, this is the place. Sip a coffee at Parallel 49th and indulge in Happy Donuts. You won't regret the caffeine or sugar overload! The once porn cinema theatre- the Fox, is now a live music venue as is the Biltmore Hotel.
The Narrow is the only true underground as far as I am concerned. Marked by only a red light next to a garage. I highly recommend the Old Fashioned. Not far is Commercial drive. Known as "the drive", it is the little Italy of Vancouver with supper/dance clubs ( Federico's is epic!) and quirky Italian Renaissance everything!
Vancouver is a city on the edge of nature, where you can snowshoe in the morning, and sip local brews next to the beach in the afternoon. But to take off it's layers and see how the various influences of its past have shaped its neighborhoods, make for an even more enriching and diverse stay.
For more on Vancouver and cities around the world, follow Siobhan Chretien on Instagram at @siptips.