The Plates and Porches of Charleston, South Carolina
Posted on June 30, 2016 by Siobhan Chretien
http://journalofgospelmusic.com/gospel-memories-radio-show/ buy tadalafil cheap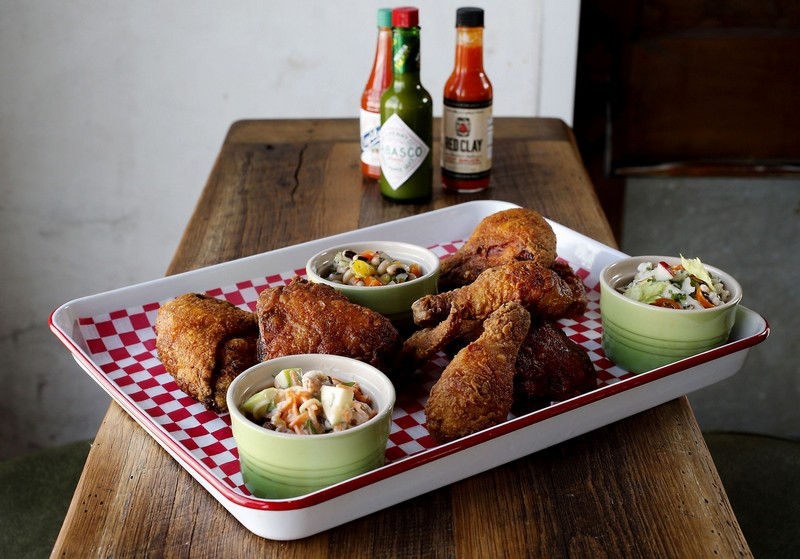 over the counter sildenafil citrate Fried chicken from one of my South Carolina favorites, Leon's Oyster Shop. Photo Credit: Charlestonscene.com.
Founded in 1670, Charleston, South Carolina is steeped in Southern history. So enticing, it is as visually pleasing to the eye as it is mouth watering to your tastebuds. You simply can't separate the two. Charleston is where the first Civil War shots were fired, making it a hot bed of history that is still felt throughout the city today. Best by foot, you can take in the many alluring sights, tastes and sounds.
King Street is the heart of the town. While there are many pristine shops, you need to take the offshoot avenues to find many gems. I loved the Greek revival City Market Hall that houses many local crafts, artists and finger licking street food. While open air, the shaded stalls are a welcome respite from the intense heat. Horse and carriages pass frequently if you want a quick tour or looking for a romantic repose. Known for its "spooky" history, not far from the market is the still haunted Old Charleston Jail.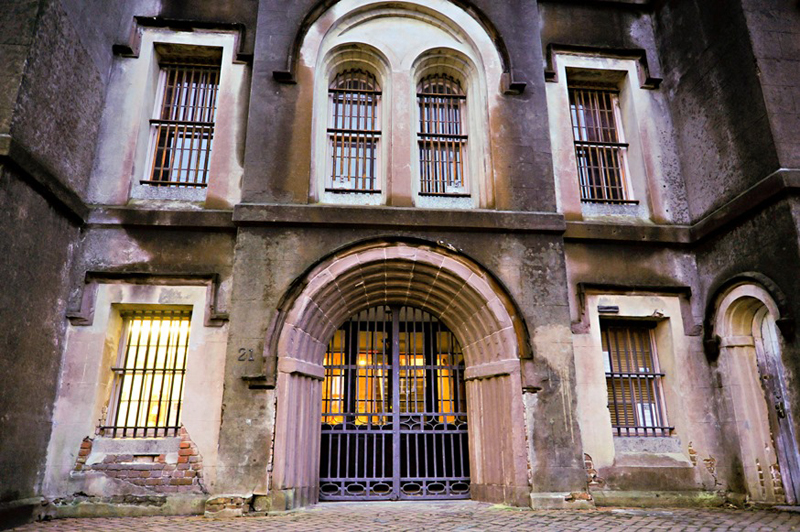 Old Charlestown haunted jail. Photo Credit: Charlestoncvb.com.
You cannot ignore the sensitive history of the plantations and slavery. I made an emotionally moving stop at the Old Slave Mart museum to better appreciate past events engrained in our nation's history and present day perspectives. Hand in hand with this, take the time to understand the deep Gullah culture of the area. Gullah was spoken by the low country's first black inhabitants and there are several restaurants where traditional cuisine is served.
Charleston was settled by the English, Barbadian and Bermudans and thus has a Caribbean influence. The creole influenced food requires a big glass of cold water or a beer to wash it down! She crab soup is a cooler local delight if you are not into spice. My bowl was from the Hominy Cafe. Their fried chicken and the shrimp and grits are also amazing. Other local dishes such as gumbo, fried oysters, low-country boil, deviled crab cakes, and red rice are abundant. Rice is the staple in many dishes, reflecting the rice culture of the low country. The cuisine in Charleston is also strongly influenced by British and French elements. For these flavors, my favorite spots were Leon's Oyster Bar, FIG, Husk bar, Pearlz (happy hour) SNOB and Fast & French.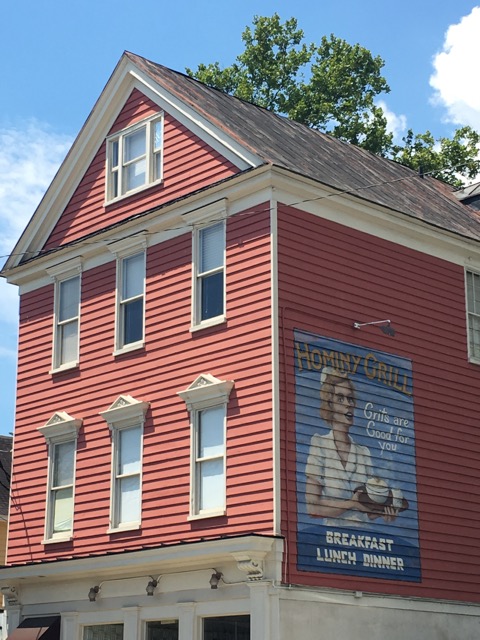 Order the she crab soup from Hominy Cafe.
Charleston is well known for its farm to table and vast regional farming community that provides for the local restaurants. Many restauranteurs feature the farmers on their menu boards. Visit the farmer's market every Saturday in Marion Square. Many food trucks attend; there's no way out with an empty stomach! The market features only locally grown produce and herbs and sustainably-farmed meats and seafood. In addition to the bounty, there are food stalls throughout serving up local favorites, like boiled peanuts, gyros, fried eggs and grits.
The Gullah community also had a tremendous influence on music in Charleston, especially when it comes to the early development of jazz music, which in turn influenced jazz throughout America. The geechee dances that accompanied the music of the dock workers in Charleston followed a rhythm that inspired Eubie Blake's "Charleston Rag" and later James P. Johnson's "The Charleston".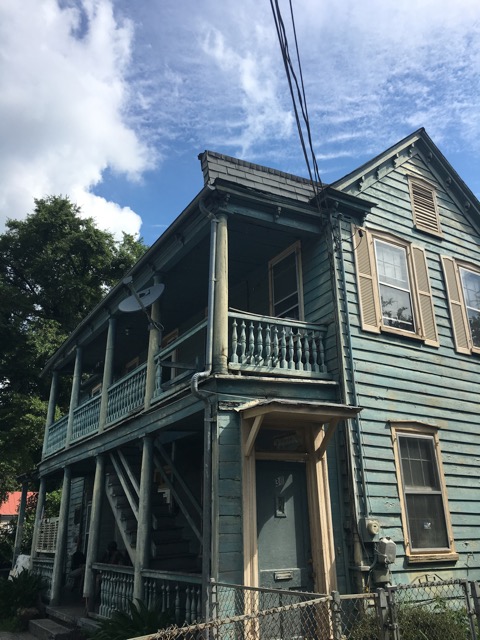 Walking down the street in Charleston. 
When you are as old as Charleston, you have a lot of "firsts'". Like the first American theatre house, the Dock Street Theatre. Drayton house is the oldest, unrestored plantation house in all of America. I was fortunate to find the oldest liquor store in America, The Tavern– established in 1668. Not only is it as cute as a button, it has the best wine selection in town.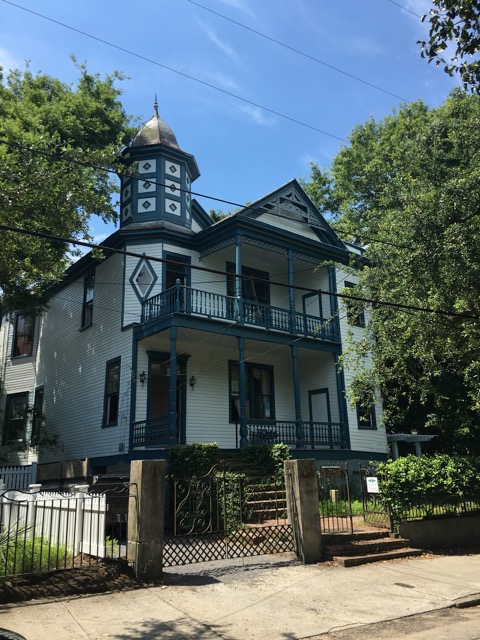 Seek shade from the Southern sun.
The avenues of the French quarter are lined with beautiful homes. It was in this quarter where I was swept away. Away from the hustle, surrounded by century old weeping willow trees and wisteria, I was captivated. Beautiful porches with their original functioning gas lanterns, the flash of fire flies and the smells of fresh baked bread and fried green tomatoes were intoxicating. There are many guides that will walk you through the cobblestone alleys but you can self guide easily. The city has done an amazing job of posting historical signs on homes and buildings of significance.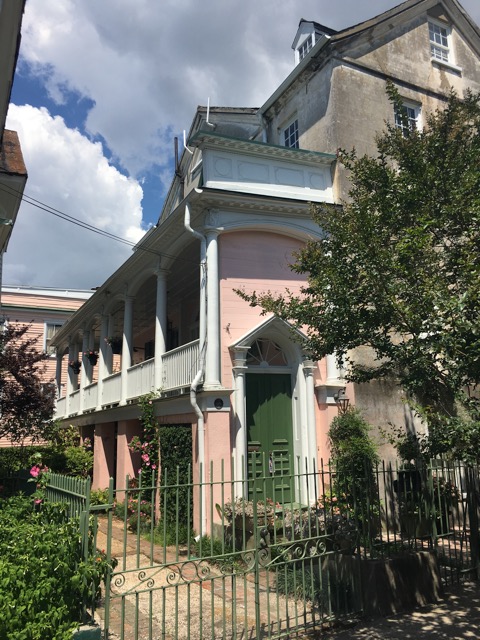 Color on every corner.
Pineapples can be seen everywhere in the city. When captains would come home from their voyages they would bring many exotic souvenirs with them, one being a pineapple. The captain would take the pineapple and put it outside his house on the fence, letting all of his friends know he had come home safely. It became the symbol for hospitality as an invitation for friends and neighbors to join for dinner and hear about his voyages.
When I returned to my accommodations on my last night, which was once a grocer's in the 1800s, I knew this was a special place. The mannerly people are beyond charming, it's hard not to fall in love with the South. I have a new found appreciation for sipping mint juleps while listening to George and Ira Gershwins now famous opera, Porgy and Bess. With many more patios to sit on and plates to taste in Charleston, I can't wait to be back y'all!
For more travel recommendations from cities around the world, follow Siobhan Chretien on Instagram at @siptips.