Coffee, Cocktails and Country in America's Music Capital
Posted on August 18, 2016 by Nikki Pepper

Photo Credit: Country Music Hall of Fame.
Nashville, Tennessee was not on my bucket list. Admittedly, country isn't my genre of jams. But when the opportunity of a long weekend in Music City presented itself, I saw just that- an opportunity. After all, isn't exploring unfamiliar, unexpected places why I have this deep-rooted love of travel?
Turns out, Nashville is cowboy-boot-clad-toe-tappin' awesome. Sure, you should do the ever-popular stuff along the main street, Broadway, from honky tonk bars to 2-for-1 boot shopping. But I learned the city has much more to offer. Venturing beyond the main street will open your eyes to long withstanding music, American history and budding neighborhoods with a thriving foodie scene. What stood out the most to me was the coffee culture, creative cocktails and yes, of course, the country.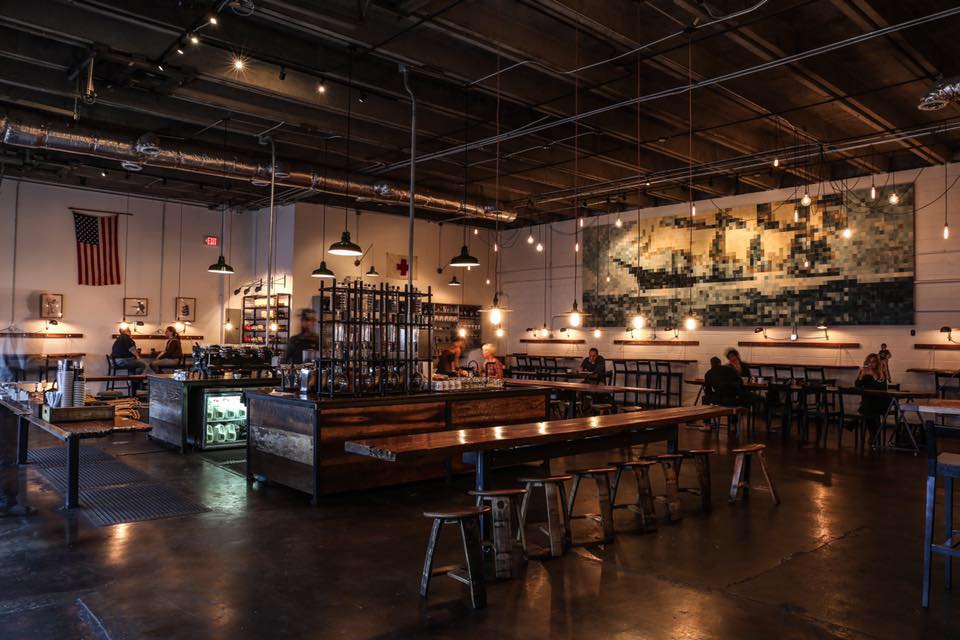 Photo Credit: Barista Parlor.
Coffee
The craft coffee craze has invaded Nashville. Here's where to caffeine-up for a day in the country haven.
Barista Parlor 519 Gallatin Ave.
Although only around since 2011, Barista Parlor takes its coffee seriously. The mad-scientist, high-tech drip contraption is only slightly intimidating when manned by bandana and denim clad millennials with meticulous mustaches. Enjoy the industrial design, take a seat on a metal stool and anticipate your worth-the-wait espresso. Barista Parlor has three locations in Nashville.
Crema 15 Hermitage Ave.
Crema is more than coffee; it's an education that extends beyond its chalkboard menus. The clean, white and wood design of the shop lets the coffee do the talking, whether from Panama, El Salvador or Kenya (or many other destinations). If you fancy yourself a connoisseur, take one of their classes to learn more. Crema prides itself on relationships with farmers. And the coffee ain't bad either.
Frothy Monkey 2509 12th Ave. South
Like it's name, this coffeehouse is a fun destination not only for coffee, but for a full breakfast through dinner menu too. Expect local ingredients and locally roasted coffee. Visit the 12South location as it's the original and located in a cozy house with an inviting front porch for outdoor sips and bites.
Cocktails
Patterson House 1711 Division St.
Never have I ever been waitlisted for a cocktail. Until I stepped into Patterson House. But with no reservations accepted, the wait gives you a time to read over the "House Rules" and build anticipation prohibition-style. The dark, boys club-esk speakeasy sits behind thick velvet curtains and procures a 40 minute wait on any ol' night. Once I was admitted to a cozy booth in the dim lighting, I sipped the veux carre- cognac, rye, carpano, sweet vermouth, benedictine, and Peychaud's bitters. My favorite detail: your check is served in a thick novel.
No 308 407 Gallatin Ave.
The cocktail menu reads like a list of literary greats, with shots named after notables like Borroughs and Bukowski. Live music here is DJ sets, which is a nice palette cleanser if you're feeling country overload.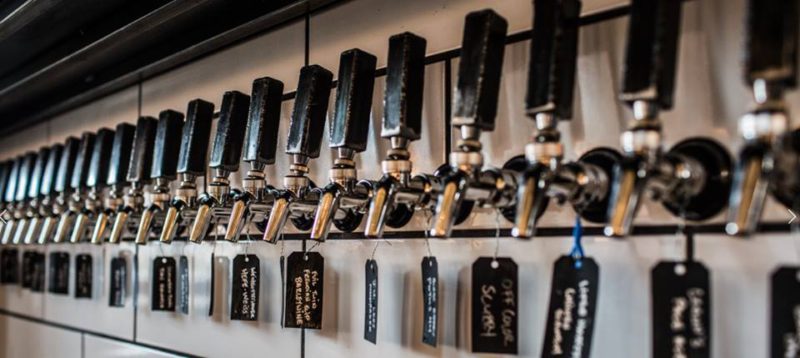 The line of taps at Butchertown Hall Photo Credit: Butchertown Hall.
Butchertown Hall 1416 Fourth Ave.
Butchertown Hall is located in the neighborhood of Germantown, an up and coming foodie district. It boasts a private selection on tap including local, German and American brews. The earthy decor of neutral palette and walls of oversized subway tiles make for a chill place to grab a less-common beer or one of their hand-crafted sodas.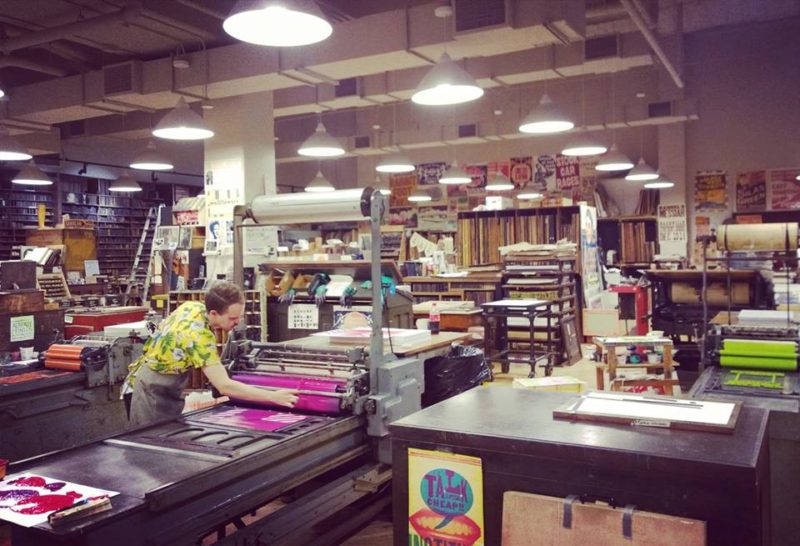 Watch the antique letterpress come to life at Country Music Hall of Fame and Museum. Photo Credit: Hatch Show Print.
Country
Music transcends culture, language, and generation. Everyone can bond over the stories of average, hometown people making it the big stage…with big hair and colorful sequined outfits.
Country Music Hall of Fame & Museum 222 Fifth Ave. South
Between the fringe, vintage cars and music history at The Country Music Hall of Fame & Museum, you'll be entertained whether you walked in a country fan or not. From bluegrass to rock and roll, listen to how music evolved to what we know today. The greats' guitars, costumes and personal belongings are all on display, along with a Hall of Fame wall worth some staring.
After the museum, stop at the Hatch Show Print, an operating letterpress print shop that opened in Nashville in 1901. Browse the gallery to purchase a print of your own, take a workshop or just watch in awe as the presses keep a dying tradition alive.
Grand Ole Opry 2802 Opryland Dr.
Step behind the limelight for a backstage tour of this famous venue. "Grand" is certainly not an understatement- the experience, the venue, the entertainment. Listen to a range of artists, from no-names (yet!) to super country stars. It's a Music City experience worth planning for.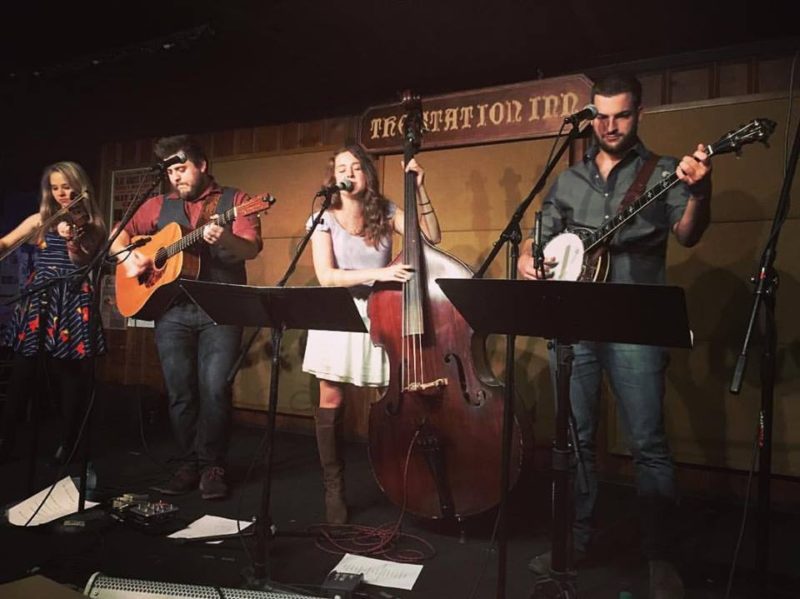 No frills, front row. Photo Credit: Station Inn.
Station Inn 402 12th St. South
Step through this saloon's red front door and be transported to the world of bluegrass. The banjo, the fiddle, the inflection in her voice, the lyrics…it was down right authentic southern America roots music. I sat in a plastic chair at a checker table clothed table and embraced the melodies engrained in this city's and country's history. Come for a beer (nachos and hot dogs also available) and stay for the southern sweetheart swooning on the stage.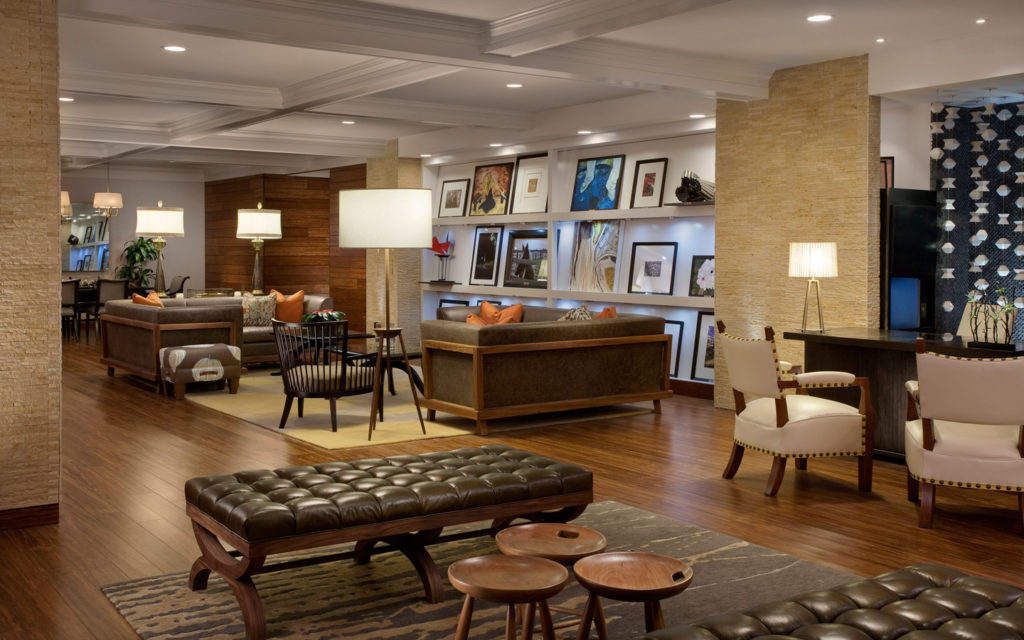 Rest your head at The Hutton, with its artful, luxurious lobby. Photo Credit: The Hutton.
Sleep
As with the rest of Nashville, there is a variety of options depending on the experience you're looking for. Here are my top two recommendations for where to stay.
The Hutton 1808 West End Ave.
Step into boutique hospitality at The Hutton, a property that perfectly combines luxurious and environmentally conscious, like the recycled water program to the complimentary Tesla to take you around town. It's in a convenient downtown location too.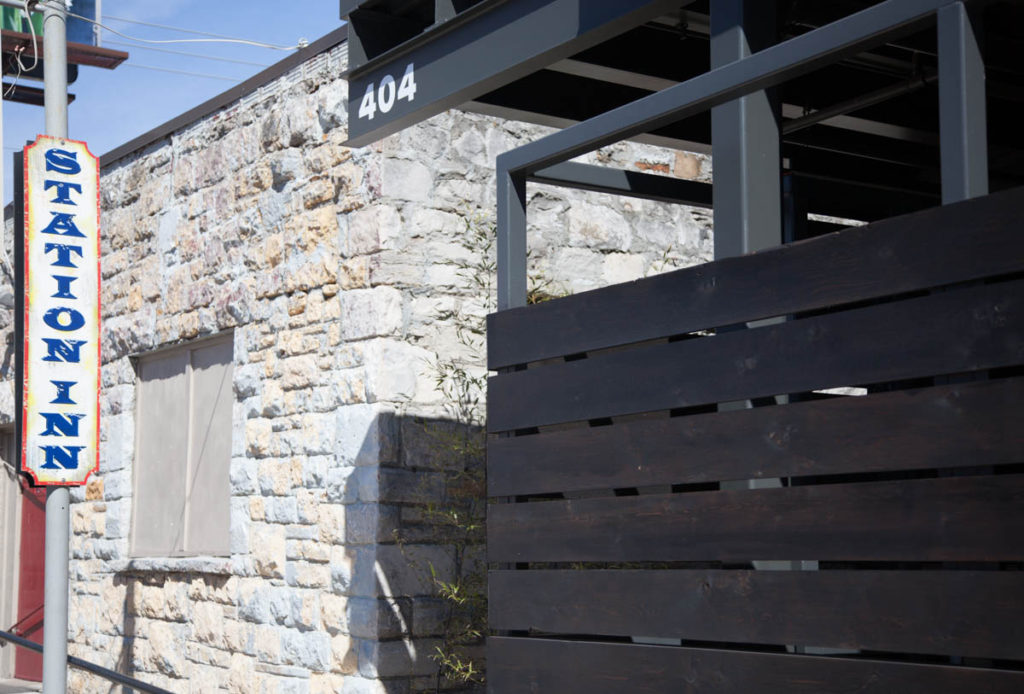 Stumble home to 404, right next down to Station Inn. Photo Credit: 404.
The 404 Hotel 404 12th Ave. South
Ultra-modern and simplistic without feeling hoyty, The 404 Hotel is the cool place to stay. The property is also ultra-small, with only a handful of rooms (literally, one handful: 5) and two room types- king suite or king suite with loft. You'll feel away from the hub-bub yet still connected with the local scene through the local artwork  throughout 404.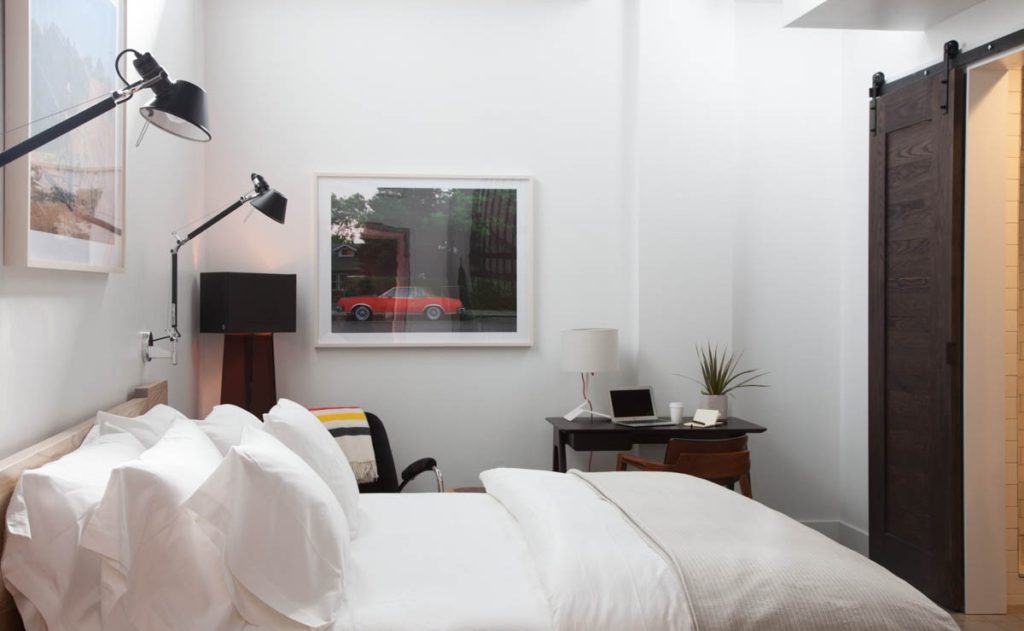 Note the beautifully rustle barn door. Photo Credit: 404 Hotel.