Love Festival Aruba: 3 Nights of DJs, Community and Sunsets
Posted on September 14, 2016 by Nikki Pepper

Before the sun set and the music started.
A sea of white dance against a fluid backdrop of azul. Dashes of fuchsia and neon pink splatter the crowd. This is #LoveFestivalAruba.
***
I stepped off the plane and into the taxi with Broz Rdz and Alex Young, two DJs out of Mexico City. Me, the writer from New York City, covering a three day music festival on Aruba's Eagle Beach, one of the world's top-rated beaches, bringing together 50 DJs from eight countries. We soon learned our driver was the cousin of the festival founders, brothers Chris and Omar Lejuez. "We liked to keep it in the family," he joked, as we hopped out at the Renaissance Hotel, our shared home for this long weekend.
Familial love.
Although my ear might not instantly identify whether a beat is techno or edm, I did instantly assimilate to the group of artists awaiting our transfer from the hotel to the festival. We were from the same mold, we broke it in our own ways, whether DJ or experience artist or writer. We traveled the world to create a story, with our music or our words.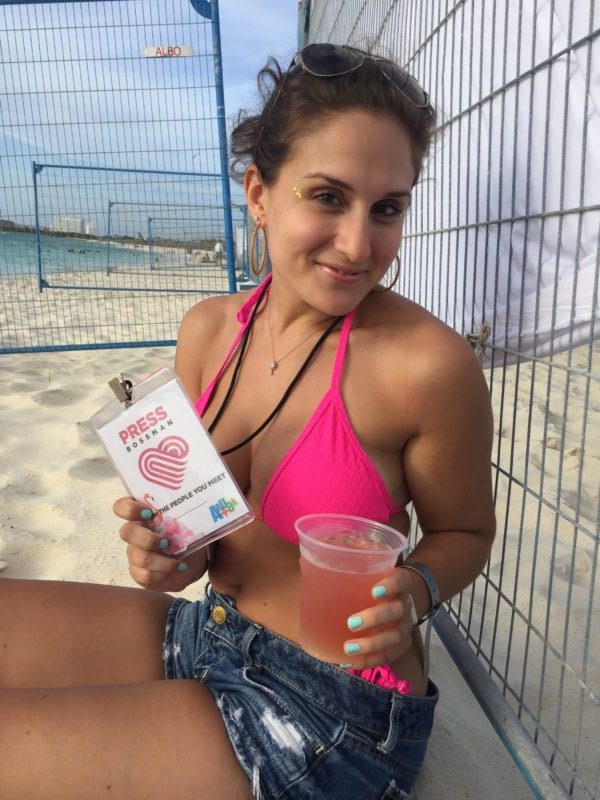 Rum punch, Caribbean sunsets and the coolest press badge I've ever gotten.
A couple emerged; Tara and Kahill, the ILLumautians out of Miami. "We're experience artists. We've been doing this for years. Every time I think I want to slow down, do less events, I settle in at home and within a couple months, I want to do it again," explained Tara. With that, she collected her bags of makeup and layers of costumes. Kahill put on his rabbit shaped LED disco ball headpiece which would later be matched with full body armor and stilts. (Most recently, the rabbit was seen at Burning Man 2016.)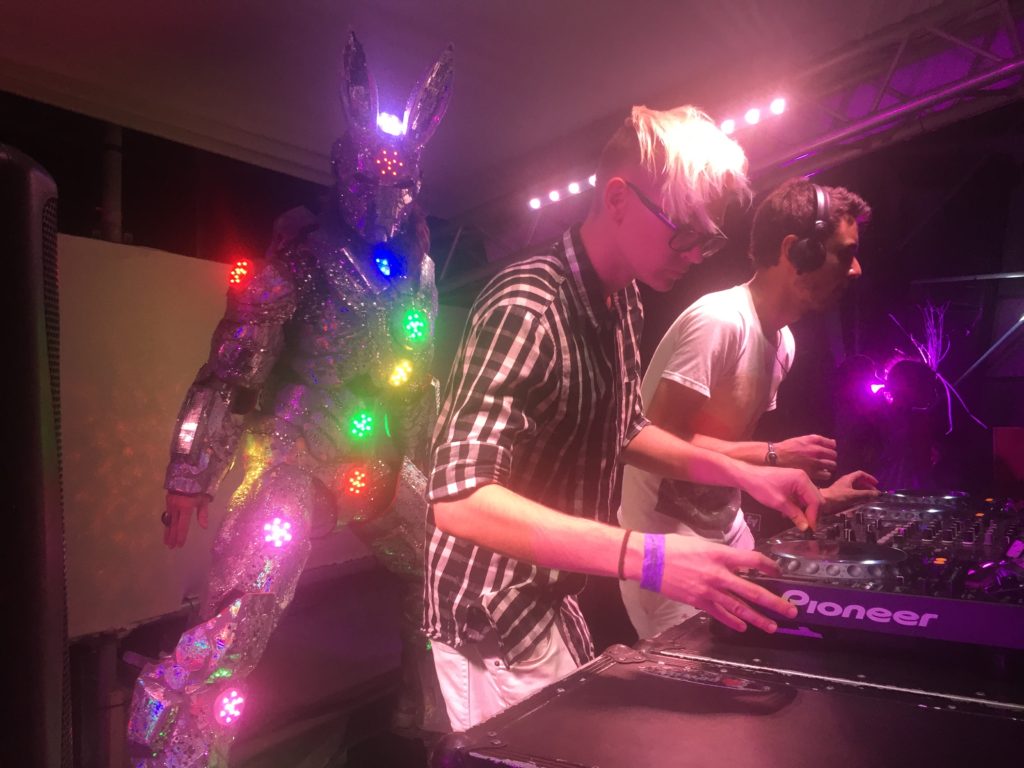 Fisë performs with Kahill as LED rabbit.
At the "doors" – used loosely since Love Festival is 100% outside on a pristine stretch of sand – we received our purple "All Access" bracelets we were entitled to as artists of various mediums.
We celebrated year three of the annual Love Festival Aruba, with three nights and three stages.
One young – albeit already international – artist is Maksym, one half of the DJ duo Fisë, was the only act to play all three nights. "My parents retired to Panama from Montreal when I was nine," his story begins. About an hour outside of Panama City, Maksym had a quiet childhood, teaching himself piano and guitar before discovering DJing. He started playing local clubs young. "I was 14 with my mom in the background." And soon was discovered during a Panama City festival by his now-partner and other half, Sebastian Morxx. While busy playing festivals around the world, they're quietly working on their next big thing. "We want people to see the music. We're working on a show that is 4-D. It's intense, especially while touring." But when the two take the stage, any evident tension dissipates and the two fuse their musical talents in the DJ booth to bathe the sandy crowd in hypnotic melodies.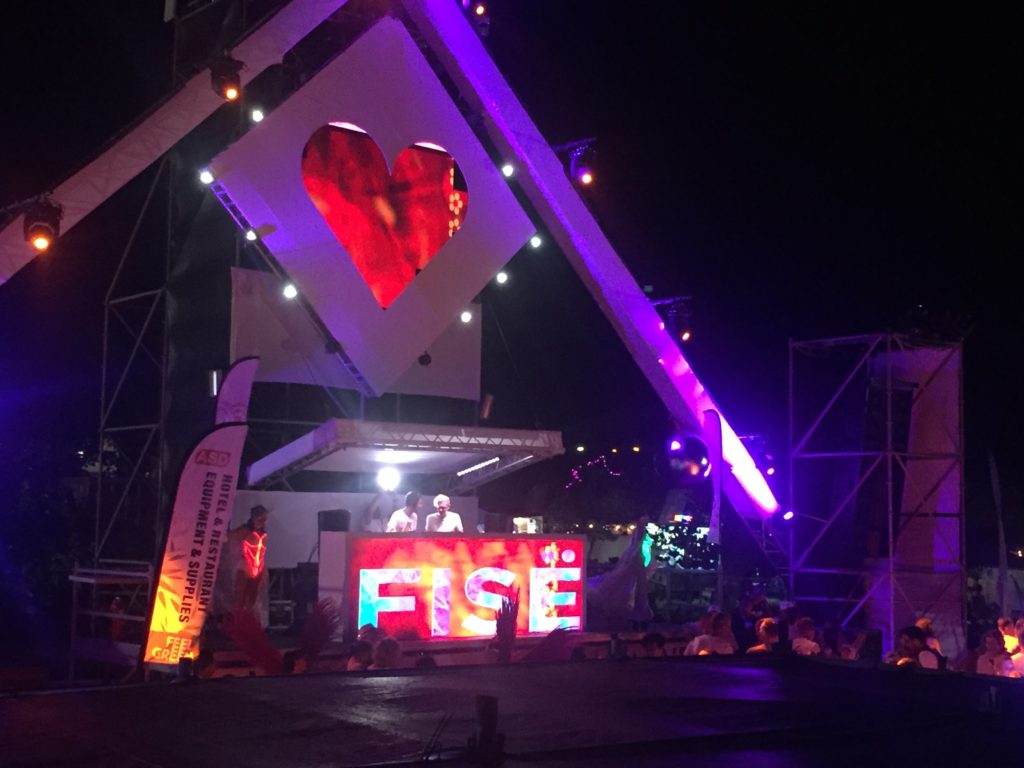 Love stage headlined by Fisë.
On the second night, after unsuccessfully cramming more people into the car, I cabbed it to the festival with Alex, Maksym, Broz Rdz, and headliner Adrian Hour, an accomplished techno DJ from Buenos Aires. With his success so far, I was curious to take advantage of the ride together and find out what's next. "I'm moving to Berlin." Adrian explains, "to further my career, that's the next step to keep learning."
"It's the capital of culture for DJs," Alex chimes in the from the passenger seat. So they all must get along, right? "I bond more with people from other genres. You can learn," Arian explains. Maksym agrees, "There's no competition." All four of the guys agreed that Love Festival was a different and special experience. Having headlined the night before, Adrian said, "They were feeling it, it's all new for them."
And that was exactly the purpose, explained Omar. "We're trying to push the boundaries of music on the island," by bringing together local and international DJ talent on the same stages.
Community love.
I quickly realized I was witnessing the future, simultaneously from stages aptly named, Love, Power and Techno. These artists from around the world came together on this Caribbean beach to bring a community together- both island locals and visitors alike. I witnessed vacationing couples who stumbled upon the festival by happen-stance alongside local groups of friends who bought tickets well in advance, all enjoying the same music in the same place. While the beat went on, time stopped. We were all in this together.
Human love on the beaches of Aruba.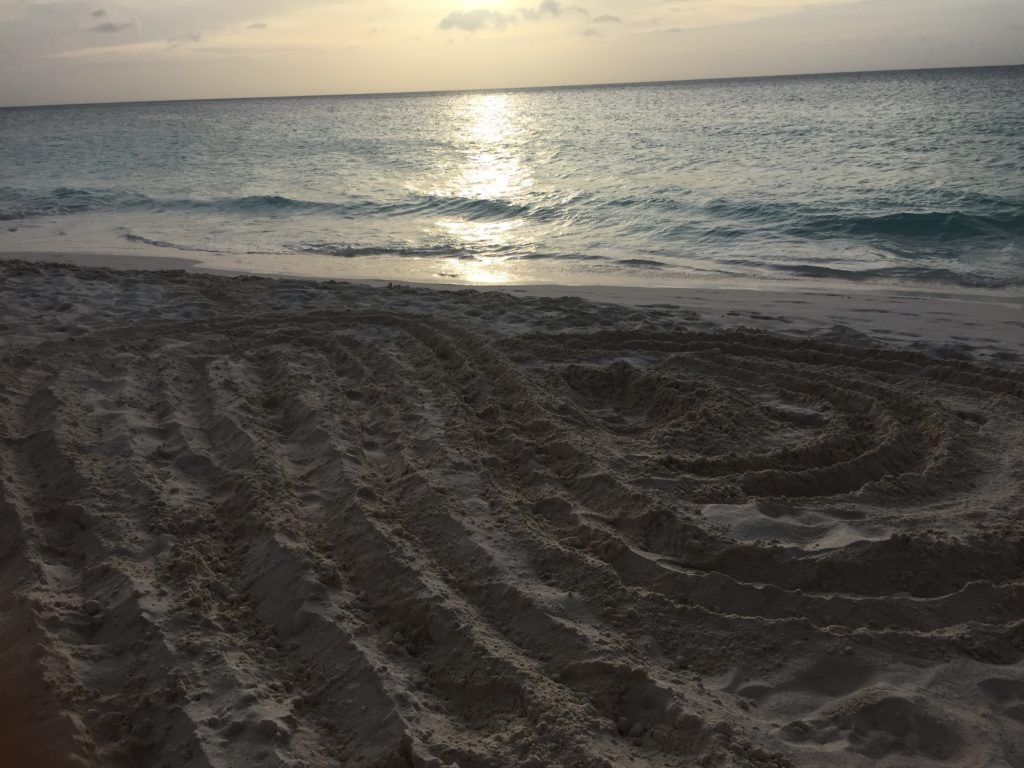 Love even in the sand.
***
Stay Here
Whether in town for the annual festival or enjoying the happy island another time of year, Boardwalk Small Hotel is one of my favorite places to stay. It's owned by twin sisters who opened the property on a former coconut plantation. The spacious and brightly decorated casitas lend to a true island lifestyle.
In the middle of Oranjestad, The Renaissance Resort and Casino is a convenient location to shops, beaches and restaurants. The property is divided into three sections: hotel, casino and island villas. Hotel guests can exclusively boat to the villas and visit Flamingo Beach, complete with, yes, those fun two legged pink guys, wading at the shoreline.