Family Road Trip: Three Generations, One Thousand Miles
Posted on September 27, 2016 by Heather Roth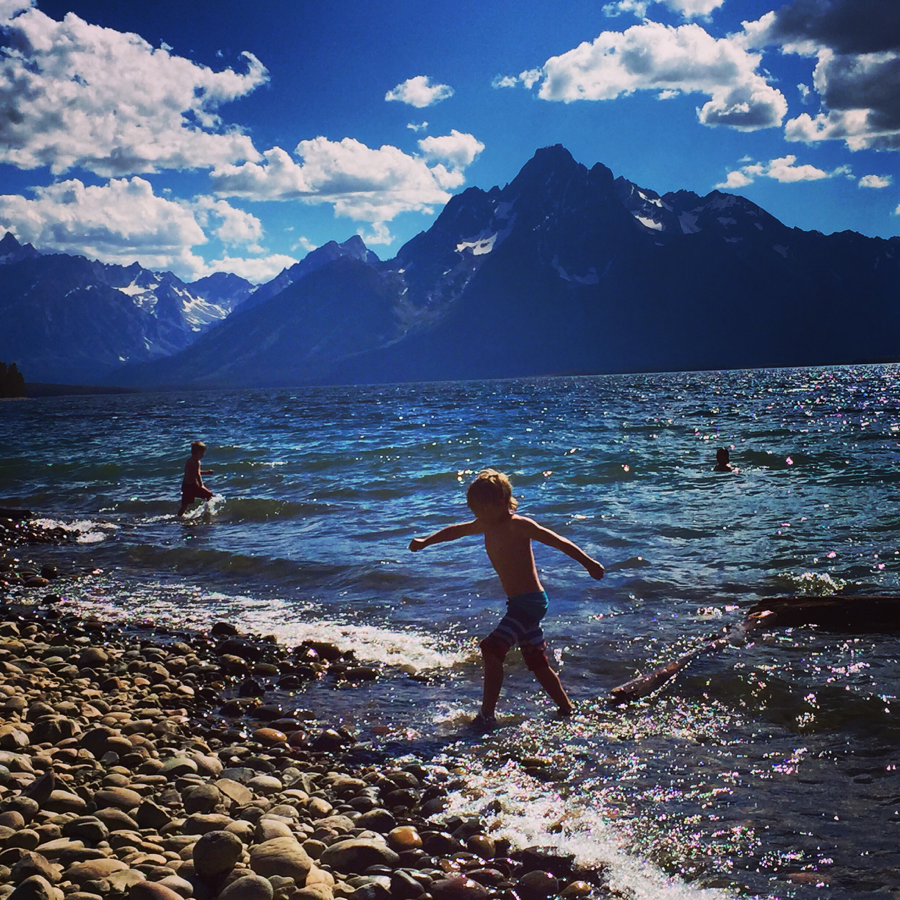 I was five years old; we drove from New Jersey to Florida. I made a bed on the back dash of my father's sedan, my face pressed up against the windshield. It was 1978. There was no such thing as helicopter parents or seat belts.
My father soon moved to Texas and every summer we drove to cooler mountain air and the smell of sage in Colorado or Wyoming. Thus began my love affair with open spaces and family road trips. Now every summer I take my son on a road trip, determined to instill in him the same affinity for "God's Country". This year I invited my father to meet us along the way. After all, he started this annual tradition. Through trial and error, I have found there is an art to road tripping with a child. It's essential to avoid long stretches of boring interstates, you must make an effort to seek out fun activities, and allow ample treats. Coincidentally, this same formula seemed to apply to my 68 year old father as well.
Idaho and Wyoming
We started in Idaho Falls, Idaho because it is an inexpensive flight from Los Angeles and just a two-hour majestic drive over Teton Pass to Jackson, Wyoming. The perfect midway stop is Victor Emporium in Victor, Idaho for one of their famous huckleberry shakes. The store itself still looks much like it did when they opened some fifty years ago, but it has some of the best souvenirs and merchandise around.  My son was delighted to find a pair of  "donut" socks, which he proceeded to wear for three days straight. And "treats" don't just apply to food.
From there we continued onto Grand Teton National Park and met friends at Colter Bay Campground on Jackson Lake. Camping by the lake proved to be a great locale. There is endless entertainment for kids and adults alike.  My son spent hours hunting for polliwogs, riding logs like rafts, and catching frogs while we kicked back. It's amazing what kind of magic transpires when you let a kid be free in nature, miles away from televisions and iPads.
One of his favorite things was completing the Junior Ranger program. Booklets with questions about the park and wildlife can be picked up in visitor centers. Once completed, kids get officially sworn in by a Ranger and receive a special commemorative pin. My commemorative reward was a fresh blackberry Margarita at Signal Mountain Lodge. Okay, maybe two.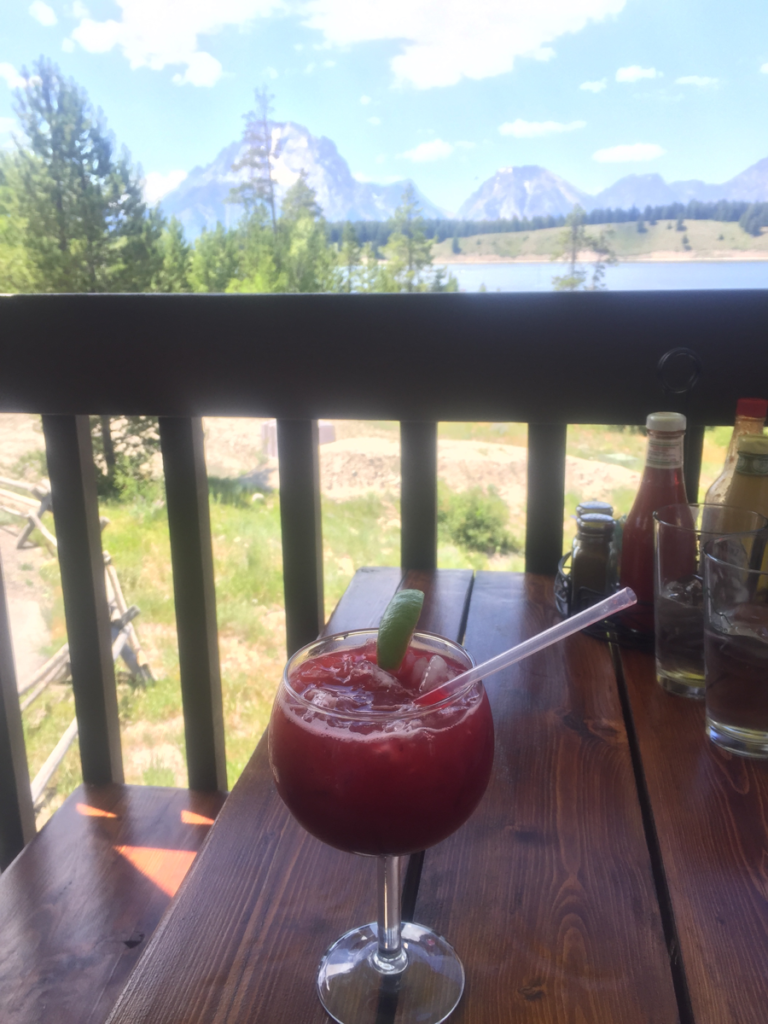 Utah
As a kid, I spent endless hours trout fishing with my father. To be honest, a bit more than a young girl preferred. Naturally though, this was an essential part of our itinerary when we met in Park City, Utah. (The drive from Jackson to Park City is also incredibly scenic. My favorite route is via Bear Lake.) I knew how much Dad was looking forward to fly-fishing with his grandson. However, he went in with realistic expectations. He might just want to throw rocks in the stream, or he might cast once and want to leave, or he might sit on a rock and eat snacks all day. I'm always armed with snacks. Don't underestimate the mythical and soothing powers of Goldfish.
To both our delight my son did none of these alternatives. He threw his first line out and, pardon the expression, was instantly hooked. We can't take credit though. We went with a local company, Provo River Guide Service. Our guide, Jake, had the patience of a saint untangling our snags and guiding our casts.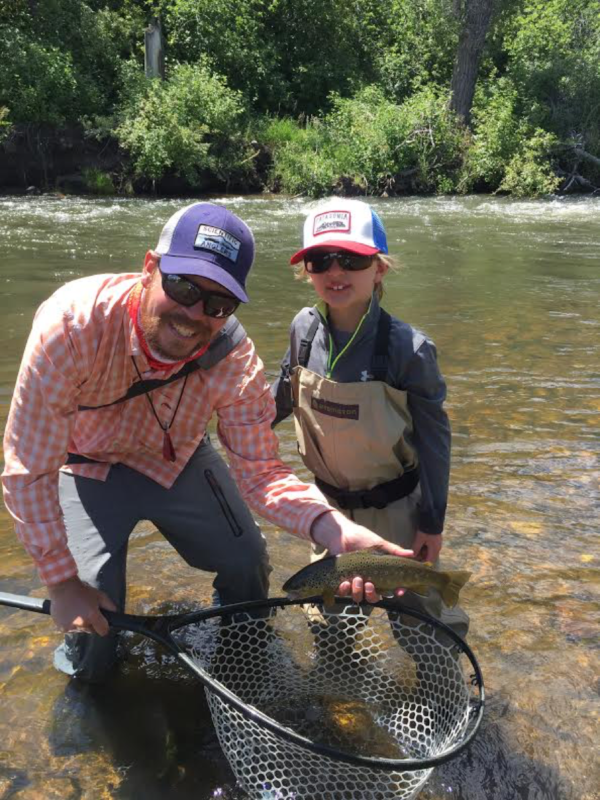 Success! My son likes fishing, something my father and I did throughout my childhood.
That night Dad and I sampled whiskeys, our version of "treats," at High West Distillery in Park City, and discussed our agenda for the next day. Another essential element for the road trip I have found is a loose guideline. It's important to be able to take a left turn if the spirit moves you and not have a regimented schedule. My son was cool with anything as there was ice cream and caves involved. Dad wanted to take the longest route possible, grateful for the time together to talk uninterrupted. I was happy to keep a leisurely pace but wanted to arrive at a hotel by happy hour…I mean sunset. We decided on Zion National Park and the city of St. George, roughly a four-hour drive. Luckily my father was easy going about my son's music selection, also an essential part of a family road trip. I'm sure if Dad never hears another Meghan Trainor song it will be too soon.
We had hoped to hike The Narrows, a popular Zion hike through close-set canyon walls. The canyon is so narrow, the Virgin River covers much of the trail so you have to wade or swim in spots. Unfortunately there was a storm in the forecast so it wasn't safe. Truthfully I think my father and son both feigned disappointment and danced a jig. When I suggested escaping the oppressive heat and crowds with a swim at our hotel pool, they were elated. I've added "find a pool" to the list. The hotel was called Inn on a Cliff; a little gem literally nestled within cliffs above St. George. The rooms were modern and had sweeping views of the desert landscape.
Given the adage, the difference between men and boys is the size of their toys, I thought a Polaris adventure would be the perfect activity for my two copilots. For two hours we drove through sand bowls and desert rock with vistas for miles and miles at the nearby Sand Hollow State Park.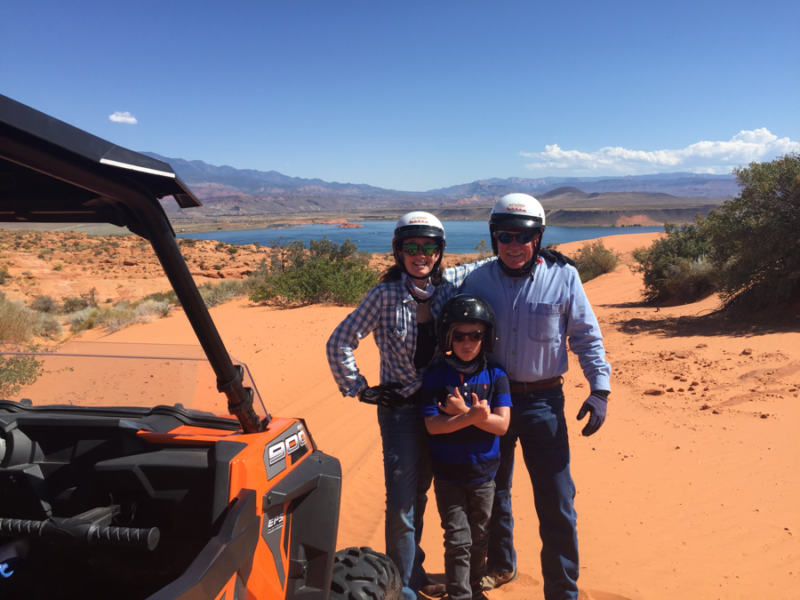 Extreme family bonding: off roading a bit on our road trip.
Our guide from AJV Tours instructed me on how to safely maneuver through difficult terrain and do sick tricks in sand bowls. I'm not sure I would have done it on my own. Having my father and son cheer me on gave me confidence. Plus, I really didn't want to look like a wuss in front of them. We were still high on adrenaline as we drove to Las Vegas to hop a flight home. I dozed off as my father and son played airplane video games. Add "occasional video game" to the list? Nah.