What's Hot in Hotels: The Intercontinental Miami
Posted on November 11, 2016 by Olivia Balsinger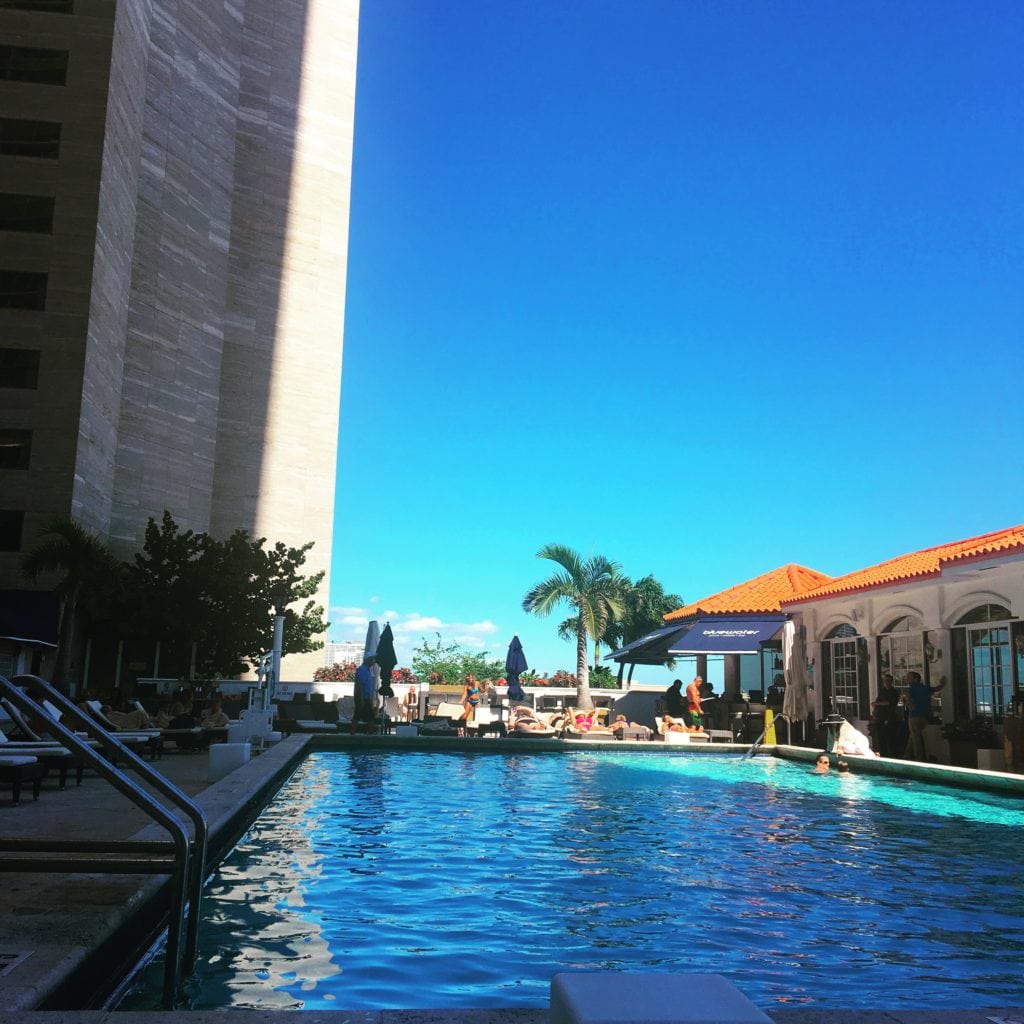 The InterContinental's pool is a place to see and be seen. 
We love Miami. We love as she seductively flamenco dances in a dimly lit, lively bar in Little Havana. We love the mix of Asian, Cuban, African and Latin flair mixing with the salt of the ocean on a stroll through Bayside at The Port of Miami. We even love her ability to transform dark into dawn, as we sit on South Beach in heels and our LBD (little black dress) from the night prior. The sun greets the world, we smile, and Miami smiles back.
When you go to Miami, you expect sexy, bright, and lively. And that is exactly what you find at The Intercontinental Miami.
Overlooking the picturesque Biscayne Bay on one side and the iconic skyline of downtown on the other, The InterContinental remains true to the standards of its worldwide brand: a first class experience that epitomizes comfort, with easy access to amenities in rooms, and service that goes an extra step to provide you with whatever you might need. Located in the heart of Miami's thriving business and financial district, the hotel is a perfect portal from all of the excitement inherent to Miami to a space where you can unwind in ultimate luxury.
Walk into the bright, bustling lobby and you are immediately greeted by a burst of life — and nothing speaks more to Miami than that living-to-the-fullest mindset!  Sculptures and artwork tastefully dot the lobby walls, framing a central grand statue, standing with a tall, proud presence.
Sports fans will be donning their team's jerseys, watching football or baseball games at the bar. Elegantly dressed young women will be sipping cosmopolitans on leather couches, discussing everything from current politics to the best of brunch. And there will be families from all around the world, an eclectic mix of accents and ages, excited to experience The Sunshine State's hot destination.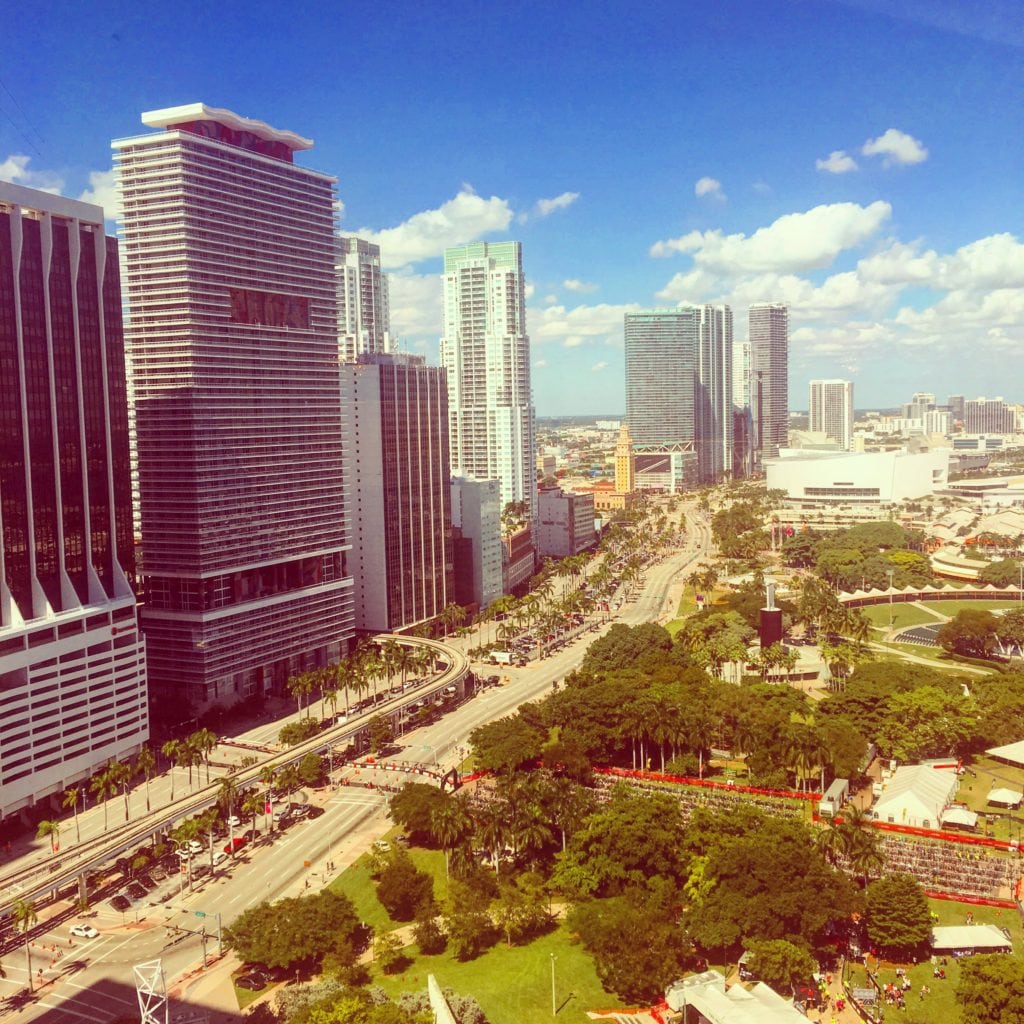 View from the Club Lounge of The InterContinental Miami. 
Feeling hungry mid-stay but too lazy to venue across the street to Bayside's many culinary options? Toro Toro, authentic creations by chef and owner Richard Sandova, is your answer. With chic vibes and contemporary comfort, Toro Toro is a place where "dining is more than a meal." Expertly-crafted, delicious cocktails and an extensive wine collection complement the Pan Latin flavors of its steakhouse entrees, both spicy and savory.
For a more intimate experience but with the same local, sustainable and fresh ingredients of Toro Toro, Table 40 is a private (and pretty unforgettable!) dining experience in the midst of Ole Ole. This experience allows you to dine with up to 14 of your closest (and luckiest!) friends.
Miami wouldn't be Miami without its see and be seen rooftop pools. Luckily, InterContinental's pool and lounge area has got you covered, even if your swimwear doesn't. Enjoy tapas and a margarita poolside, soaking in the sun and views of the glistening bay in the distance. The pool opens to a spa, complete with a complimentary sauna, which can be booked by appointment. 
The property boasts InterContinental Suites, Executive Suites and two Presidential Suites (designed by world renowned tennis star Venus Williams!) The two story suites, having recently underwent $30 million in renovations, are truly a secluded oasis in and of themselves, with a master bedroom, living room, dining room, multi-media room and kitchenette. Two stories of luxury not enough? A stay at the Presidential Suites additionally features butler service, a daily refreshening of the minibar, complimentary airport transport, dry clean and club lounge access, among other wonderful perks.
Both Intercontinental Suites and Executive Suites also give guests club lounge access, which includes breakfast, a tea time and a happy hour. Just the view from this 29th floor overlooking Miami, is enough of a reason to check it out.
Suite life is sweet, indeed. But if not for you this time around, you can still check into one of the hotels Classic rooms, complete with coffee makers, robes, a full marble bathroom and one of the more comfortable mattresses I slept in. Choose between a gorgeous view of either the bay or the city, and sit back and enjoy surrounded by a clean and comfortable contemporary decor.
Miami is a one-of-a-kind type of gal. She brings out a part of you that you may have not even known existed. She is always ready to dance, to enjoy, to laugh, in indulge, to soak life energized by the South Florida sun.