What's Hot in Hotels: The Reef Anguilla
Posted on January 18, 2017 by Olivia Balsinger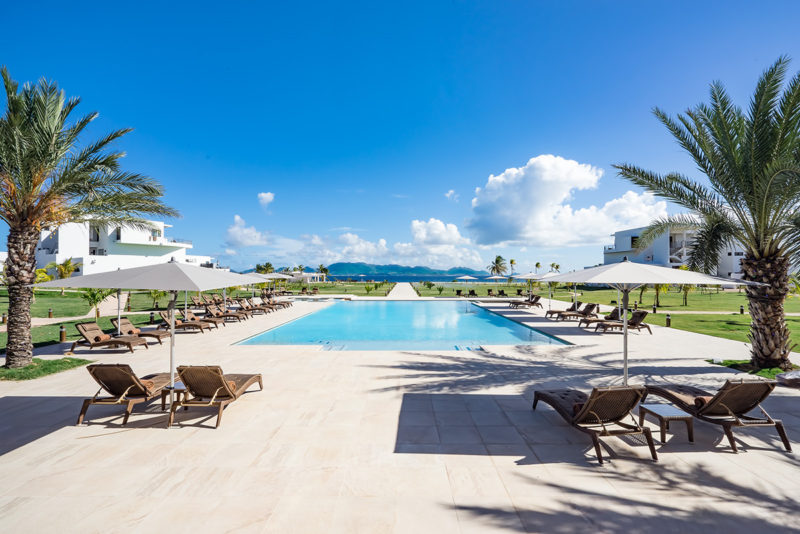 Wellness and luxury collide at The Reef in Anguilla.
As soon as you enter the opulent lobby of The Reef by CuisinArt, Anguilla's newest luxury resort, you will be invited to discover the best of Anguilla through top-notch facilities and chic, modern comfort.
A member of Small Luxury Hotels of the World, the Reef has 80 rooms including 25 Golf-view Junior Suites and 25 Sea-view Junior Suites in the main building. Four additional beachfront buildings will house
30 more suites, like the Corner and Beachfront Junior Suites. Two Deluxe Beachfront Junior Suites feature private and outdoor Jacuzzis.
A visit to The Reef offers you a guiding light on your path to improving your physical, spiritual, and emotional health. That wellness is the core of the beachside resort's program is apparent in the revolutionary amenities. They have implemented in their spa, fitness, and dietary centers.
A reservation at The Reef is a step towards a better you. Allow yourself to be pampered with one of many treatments listed on the extensive spa menu. Take advantage of a relaxing day at the pool by indulging in The Reef's "Spa to You Services," where the spa staff delivers the most relaxing of experiences. Once your treatment is complete, you'll feel rejuvenated and refreshed. Treat yourself to products to match: the 27,000 square foot Venus Spa also has a Farm-to-Spa Blend Bar, where you can make your own body scrubs and bath salts using dried herbs like lavender and rosemary cut fresh from the Hydroponic Garden.
Delight your taste buds with The Hydroponic Garden, fresh produce plucked daily. The impressive greenhouse allows the resort to grow non-native fruits and veggies. The concept of the Hydroponic Garden is rooted in the fact that Anguilla and the surrounding islands rely on other countries for produce, whose quality is often times than not compromised by long shipping periods. Throughout the resort you will be treated to a bevy of nutrient-dense juices fresh from the Hydroponic Farm, as well as farm to table meals.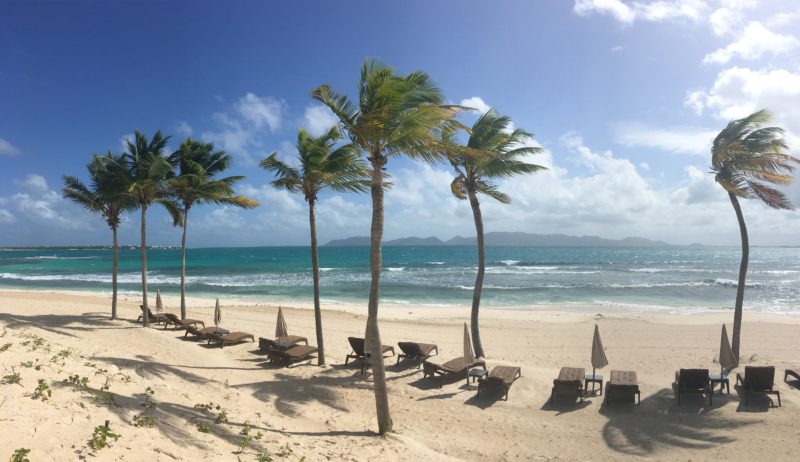 The beach at The Reef.
The Reef also offers a wide range of fitness activities that will make working out seem like…well, a vacation. Included in the resort's roster of fitness classes is yoga, meditation and aqua cycling. Aqua cycling class is set in a sprawling swimming pool that overlooks Merrywing Bay Beach, accompanied by a resident DJ spinning specially-curated playlists from 3pm to 6pm, setting an fun ambiance for sunbathers and swimmers. The Reef has also partnered with Anguilla's distinguished sea adventure company, Anguilla Watersports, to offer
guests a multitude of sea-adventure activities like glass-bottom kayaking, snorkeling, paddle boarding, and a water trampoline. With your stay, you receive reduced pricing for Anguilla Watersports' family-friendly Aqua Park at Cove Bay, the largest inflatable water park of its kind in the Caribbean.
Each room includes a TV system with state-of-the-art technology including bedside "smart" control panels and Tivoli Bluetooth enabled audio systems. The bathroom amenities include Rusk and L'Occitane products, and a freestanding Alissa oval tub for the ultimate bathing indulgence.
There is something about visiting an island as beautiful as Anguilla, where the many textures, visions, and hymns of the natural world bleed into every daily experience, that urges you to want to feel better in
your own skin; perhaps to always feel as beautiful as you do when staring out onto the turquoise ocean with the silky sand between your toes. Your stay at The Reef will not compromise relaxation and luxury while simultaneously motivating you towards your personal wellness goals.