Why I Marched: The Women's March D.C.
Posted on February 1, 2017 by Misty Foster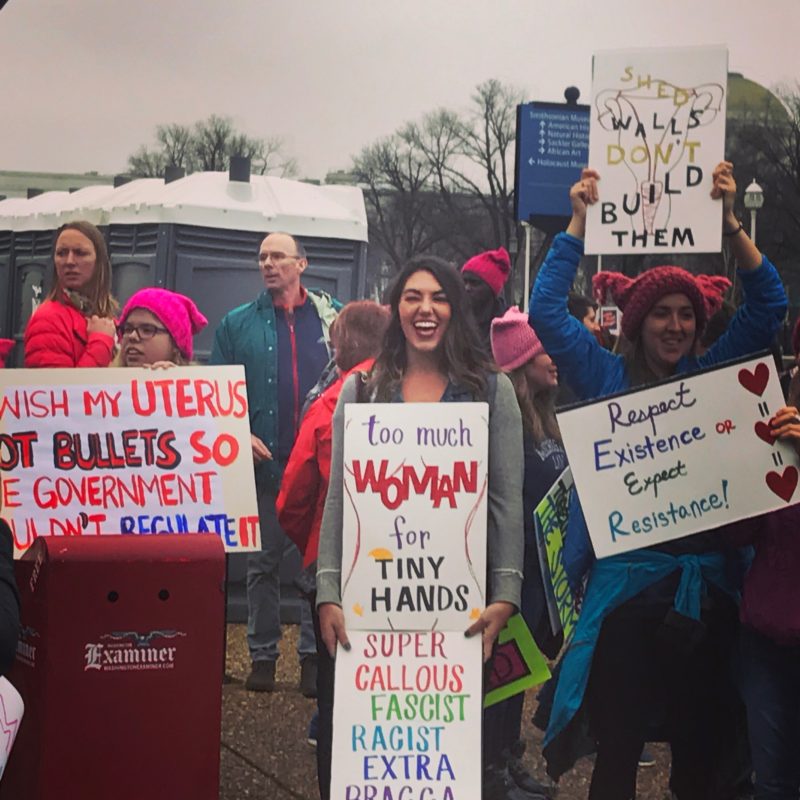 Editor's note: The views and opinions in this article reflect those of the author, and do not reflect OhThePeopleYouMeet.com's overall views and opinions.
When we marched
The Women's March in Washington D.C. and the worldwide sister marches have gained notoriety over past week since the event on Saturday, January 21st. Sentiments from both sides of the political aisle are being shared on social media and in the news. One thing is clear after the march: we the people are starting to speak up more now than ever.
I arrived about 10am with my sister in law, her mother and a friend's mother in tow. A sea of pink hats bobbed up and down as far as the eye could see. We were greeted at the National Mall by the sounds of a First Nations women's booming and hypnotic voice, singing a native song. It felt like a warrior call in preparation for the event.
As more women, men and children trickled in, the magnitude of what was happening began to sink in. This was unlike anything I had seen before. The staggering numbers (over 500,000), show that many Americans feel unheard or upset about the direction this newly elected administration is headed.
Why we marched
With the unprecedented actions President Trump has taken in his first week in office, it's likely that the reasons people march and peacefully protest will continue to increase. The women's march was unique in that it was a fairly broad platform, which mostly catered to ideals about inclusivity and non-violence.
The diversity of the march struck me as positive and a reminder of the global world we are living in. It wasn't for one group, one race, gender or ideology; though it did lean more heavily towards the rights of women. The proposed funding cuts to women's reproductive health access, has enraged many across the country. However, it wasn't all about uteruses and what to do with them. The march covered an array of topics from reproductive rights, voicing concern over the treatment of Muslims, refugees and immigrants; support for the Black Lives Matter (BLM) movement, LQBTQ rights, concerns for the environment and the direction of education. Though "pro-life" groups were officially uninvited to speak at the march, they were still welcome and present.
The organizers and speakers of the march were diverse as the crowd was large. Big name activist like Gloria Steinem, Angela Davis, Michael Moore and Janet Mock headlined. Alicia Key performed, actresses America Ferrera gave a passionate speech about immigration and Scarlett Johansson spoke about her experience with Planned Parenthood. The star-studded stage was a lovely treat, but the real standouts were women like Rhea Suh, president of the Natural Resources Defense Council and Zahra Billoo, spokeswoman for the council on American-Islamic Relations, who have given their lives to their causes. Also in attendance were the mothers of police brutality victims Eric Garner, Trayvon Martin, Jordan Davis and Dontre Hamilton. Singer/actress Janelle Monae wrote a song specifically for the march about these black men who lost their lives.
Reflections on the March
This march was a reminder that we are all participants in democracy. It doesn't always feel like it, and there are often times when our needs and desires go unnoticed. If nothing else, it was a reminder that we have the right to freedom of assembly, the right to freedom of association, and the right to freedom of speech.
The impressive line-up of speakers gave me hope that our community is bigger than any challenge being thrown our way. That we are ready to stand with those who have no voice. To stand for the marginalized, the forgotten and the oppressed. That collectively we can be a safe haven for those who are hurting. That the movement doesn't stop with the march. One thing that the organizers of the march have done well is staying connected with those who attended. They've sent out a action list for ten actions over the next 100 days. The first action is to download postcards and express your concerns by sending them to your senators.
One of my favorite moments during the march was when six year old Sophie Cruz, immigrants rights activist, got on stage and shared her fiery speech saying,"We are here together making a chain of love, to protect our families". Let us fight with love, faith, and courage so that our families will not be destroyed."
For all the strife that this election has caused, it has also created more space for a dialogue between friends and families. I've seen more honest communication between folks who truly want to understand each other in the week since the march. We still have a ways to go, but the current state of politics has shown us that we can no longer be passive bystanders. That if we want to be heard, we must make it known.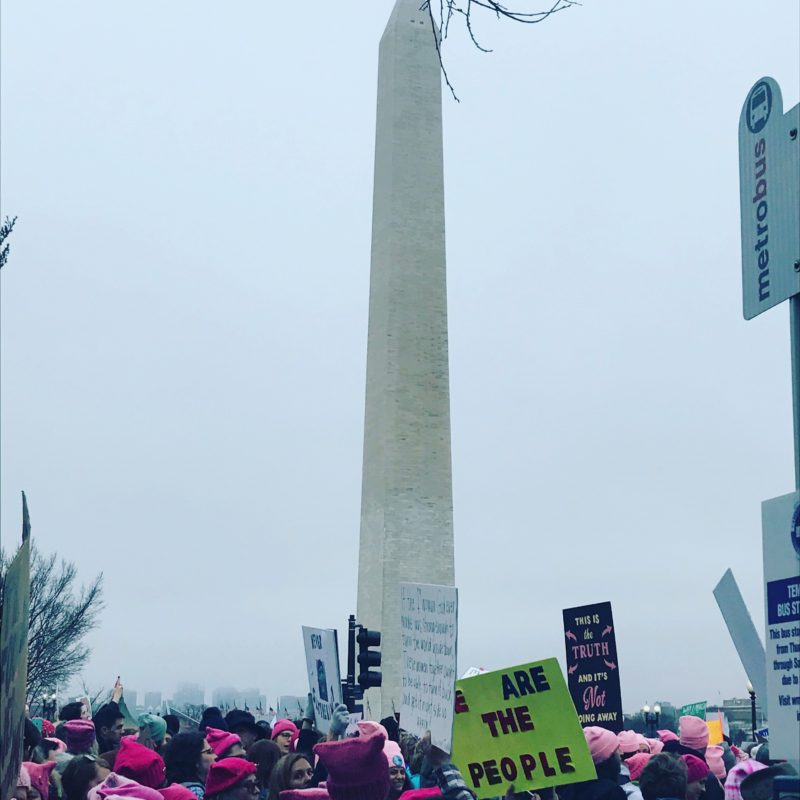 The Washington Monument in the background of the march.
Where to stay in D.C.
Next time you are in the D.C. metro area, whether to peacefully protest or just for fun check out the district, you are going to need a swanky place to stay.
Mason and Rook for a more modern, luxury feel. Part of Kimpton Hotels, Mason and Rook was christened in the Spring of 2016 and is located in the 14th st. corridor.
The Jefferson for a classic, historic stay. The Jefferson is a 5-star, boutique hotel that will give you a high touch experience will make you feel like a member of the White House.
Where to eat in D.C.
Founding Farmers This farm to table restaurant boasts, delicious, farm-fresh food and an all american vibe! They are all about sustainability, community service and proprietary beverages!
Hazel– Head over to D.C.'s Shaw neighborhood for a global, culinary experience. Eating at Hazel is an experience. They've hired artisans and makers to give the design and decor a truly eclectic atmosphere. The food are works of art as well!
Off the Beaten Path in D.C.
My favorite thing to do in the metro area is visit the Torpedo Factory in Alexandria, VA. This old munitions plant has been transformed into spaces for artists. With over 82 working artists, you can walk around and watch things as they are being crafted. You can also grab a cup of nitrogen infused at Eats Place and Cafe, then walk around the harbor and enjoy the view of the Potomac!

Get your explorer on at the National Geographic Museum. Yes, the Smithsonian is awesome but Nat Geo is a travel fanatics dream! This month they are hosting a photography exhibit on the most popular photos from their Instagram.