Dancin' & Drinkin' in NOLA Streets: Your Comprehensive New Orleans Drinking Guide
Posted on April 29, 2017 by Cora Boyd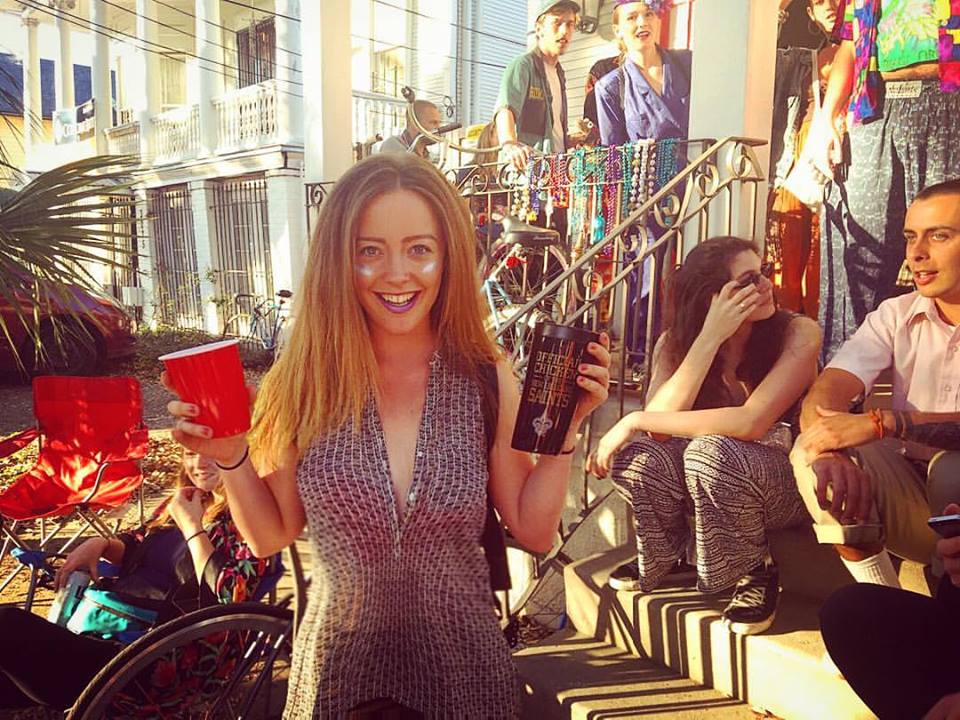 Olivia Balsinger – OTPYM Deputy Editor and friend of author Cora Boyd – enjoying New Orleans. Photo Credit: Olivia Balsinger.
The rumor you've heard is true: New Orleans knows how to par-tay.
And the other rumor? Also true. You can in fact drink in the streets.
While there's certainly more to the Big Easy than booze and beads, engaging in the diverse and lively drinking culture isn't a bad way to experience the city…or pass a day. And in New Orleans, you can bet there's something and somewhere to drink at all hours of the day and night.
From the smell of fresh jasmine on one street corner, to the stink of a tourist's vomit on the next, the city encompasses many extremes at once: extreme weather, extreme beauty, extreme sadness, extreme resilience. New Orleans has been through a lot of hardship, and thereby takes nothing for granted. Perhaps that's why New Orleanians celebrate life and its earthly pleasures at any and every opportunity.
And where earthly pleasures are concerned, there's enough variety for everyone and their three brothers to enjoy. (Even, as the fates would have it, a superb dive bar called Three Brothers.)
A "lost weekend" is practically a right of passage in Nola.  But if you're going to do it, do it right.  Get off Bourbon Street, indulge in some of the best cocktails in the country, and don't turn up your nose at the dive options either; some of the city's most compelling characters and experiences are waiting to be discovered in lesser-explored corners.
So go forth, explore the city, heed recommendations, but most of all, stay flexible: The Big Easy is best experienced with a similarly easy attitude. The following is a guide for the valiant day drinkers among us.  We recommend breaking up your day by alternating between classier and…well… divier choices.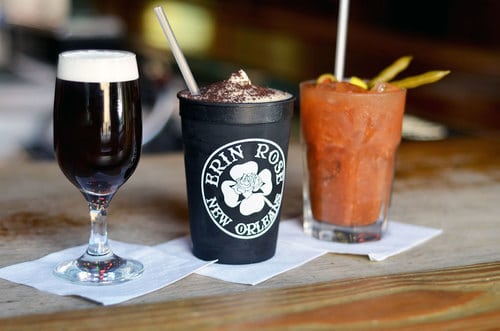 Photo Credit: Erin Rose.
buy generic viagra Morning: rise and shine and start the day off right with…drinks.  
here The Classier Option:  Bloody Marys at The Ruby Slipper Cafe
It has tomato in it, so it's healthy, right? Take your pic from three Ruby Slipper locations, because with the caliber of their Bloody Marys, one location just wasn't enough. And don't forget to get extra celery. You have a long day ahead; you're going to need all the fiber you can get.
order cialis without prescription The Divier Option:  Irish coffee at Erin Rose
The person strange enough to nibble on a dog's hair whilst hungover and coin the term "hair of the dog," probably hangs out at Erin Rose. As your memories from last night slowly come back to you, you can contemplate the origin of this idiom over the best frozen Irish coffee you've ever had. You're going to end up back here at four in the morning, so you may as well cut to the chase and start right at the source with this tasty pick me up/slow me down beverage.
Midmorning: keep the morning going with brunch. And drinks.
The classier option: Court of Three Sisters
If online dating profiles are any indicator, along with walks on the beach, everyone's a sucker for brunch. But not all brunches are created equal, and the jazz brunch at Court of Three Sisters definitely takes the cake (literally). Limitless buffet of creole breakfast classics?? Lush courtyard worthy of a Shakespearean monologue? Live calming jazz band???  Sign me up.
The Divier Option:  BYOB Brunch at Slim Goodies Diner
Yes, BYOB brunch. Because New Orleans. Grab a bottle of champagne at Spirit Wine a couple blocks away, and Slim Goodies with provide the orange juice and the tasty food. If you're extra hungry, try the Creole Slammer, a breakfast medley drenched in crawfish etouffee.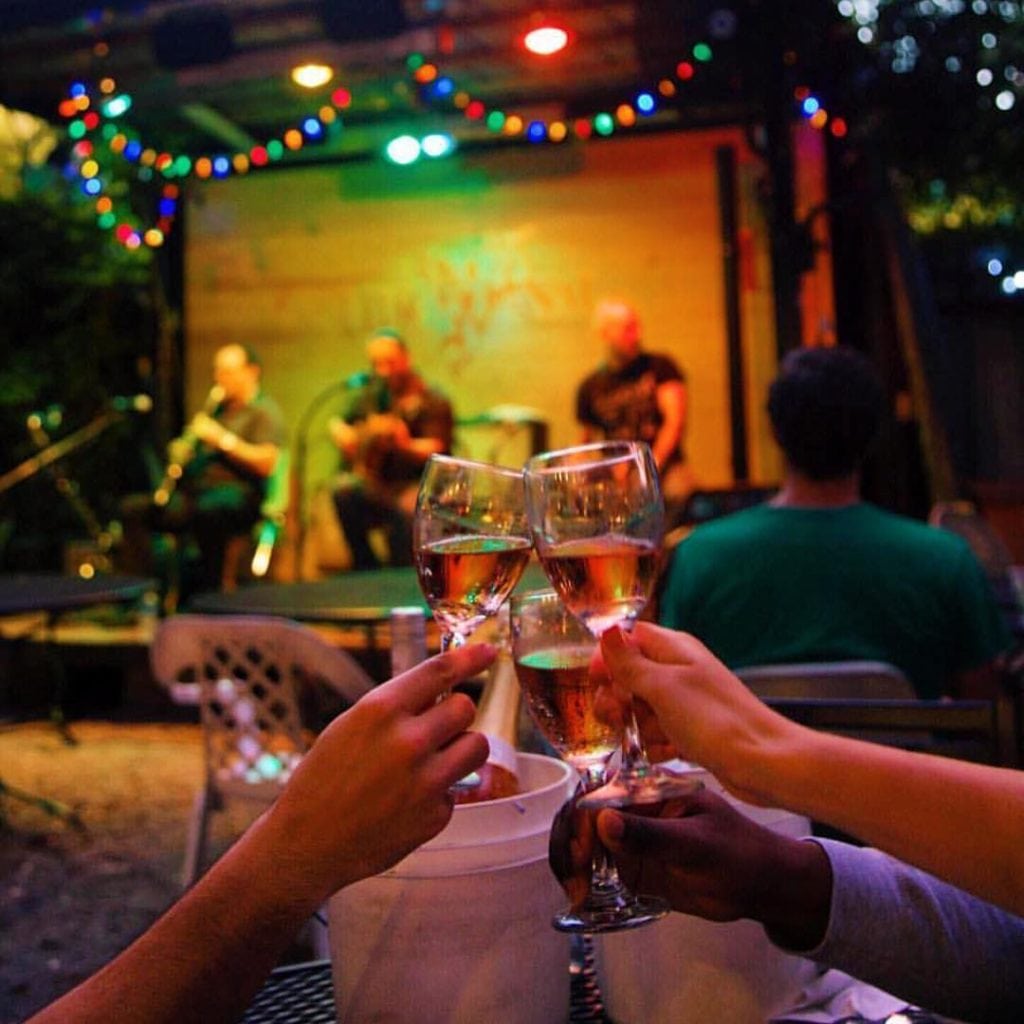 Cheers! At Bacchanal Wine. Photo Credit: jetBlue.
Afternoon: Unwind in the sun with….yes! Drinks! 
The classier option: Bacchanal Wine
Nestled against the levy in the outskirts of the city, this gem is a bit off the geographic beaten path.  But with piazza-style outdoor seating, a delectable wine selection, cheese plates worthy of Dionysian approbation, and live music seven days a week, the masses are eager to make the haul to Bacchanal. If you don't want to be trampled by a wine-crazed stampede, it's best to go early on weekdays. Which happens to coincide perfectly with their happy hour from 11am – 6pm.
The Divier option: $3 cocktails at Barrel Proof
Barrel Proof, whiskey bar extraordinaire, is hardly a dive.  But their happy hour prices could be found at biker bar off Route 66.  Roll through around 4pm to take advantage of their assortment of $3 cocktails, and if you feel like unleashing your inner frat star, $2 PBRs. Classy?  Divey?  Why choose one when you can have the best of both worlds.
Sunset: Pick yourself up after a long day of drinking with….wait for it…drinks. 
The classier option:  Cure
This former firehouse turned James Beard award winning cocktail bar oozes sex appeal. Loose yourself Hansel and Gretel style in the lush ivy-covered walls of patio, or lose yourself Eminem style inside amidst dim lights and sick beats.  Whichever path you choose, your taste buds will be lost in wonderment at the drinks. We recommend "El Topo" if you're feeling smoky, and "A Die Hard Reference," if you're feeling more like Don Draper on a Friday night.
The divier option: daiquiris and crawfish at "The Fly"
"The Fly" is a place college bros, families, and slack-lining hippies can all enjoy. A grassy nook on the banks of the Mississippi River, The Fly ideal for watching tugboats chug into the sunset. Warning: you will feel like Mark Twain. Grab daiquiris to-go up the road at New Orleans Original Daiquiris (colloquially known as "the dack shack"), and depending on the season, grab a bag of hot boiled crawfish at Big Fisherman Seafood en route.  Whoever said life's a picnic probably lived in New Orleans.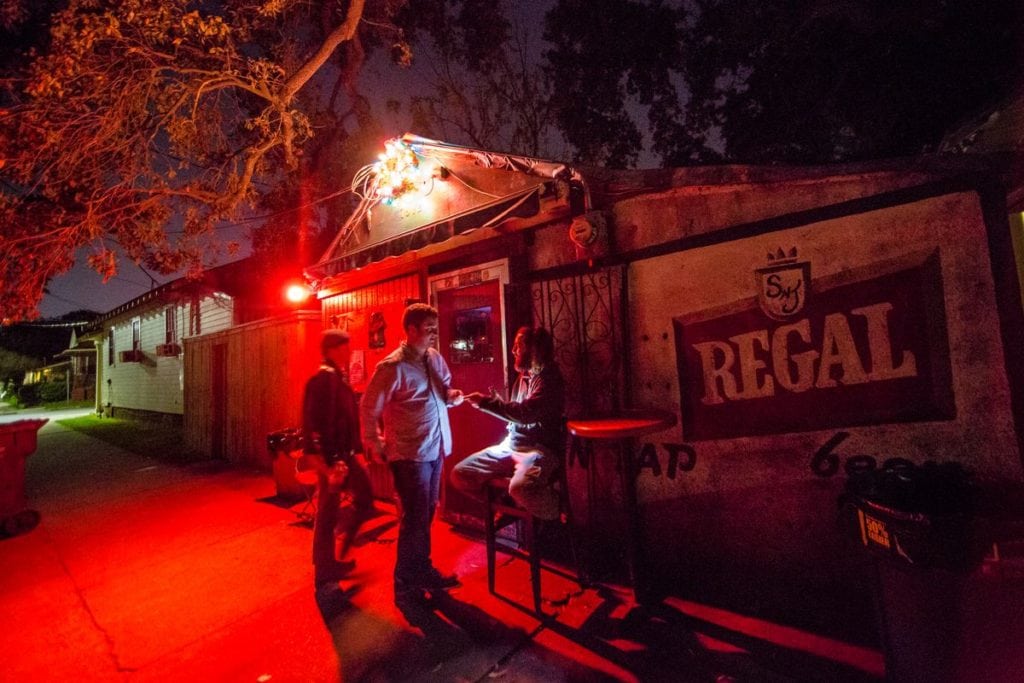 Outside Snake and Jake's. Photo Credit: Eater.
Wee hours: after a night out finish strong with…DRANKS.
The divier option: Snake and Jake's Christmas Lounge
To level with you, at four in the morning, there are no classy options. But lucky you, the dive options abound.  All roads lead to Rome. And in New Orleans, all nights lead to Snake and Jakes.  Purportedly Mick Jagger's favorite Nola bar, this tiny neighborhood spot opts for what appears to be an aluminum sheet rather than a roof, and attracts a variety of clientele along with a rotating cast of dogs. The fun doesn't get started until around three in the morning. Crack open a Schlitz, plop down on the couch, and prepare yourself for whichever trumpeter, Silicon Valley CEO, or bachelor party you'll discuss philosophy with tonight. Or rather, this morning.
The other divier option: The Saint
It's like Snake and Jakes but with dancing.  This bar also aggregates a diverse crowd of people who all share one thing in common: a marriage to the night. After the day you've had traversing the city, you're one with the crowd. Bottoms up, friends.