My Solo Wellness Trip to Bali
Posted on April 16, 2017 by Janna Lozow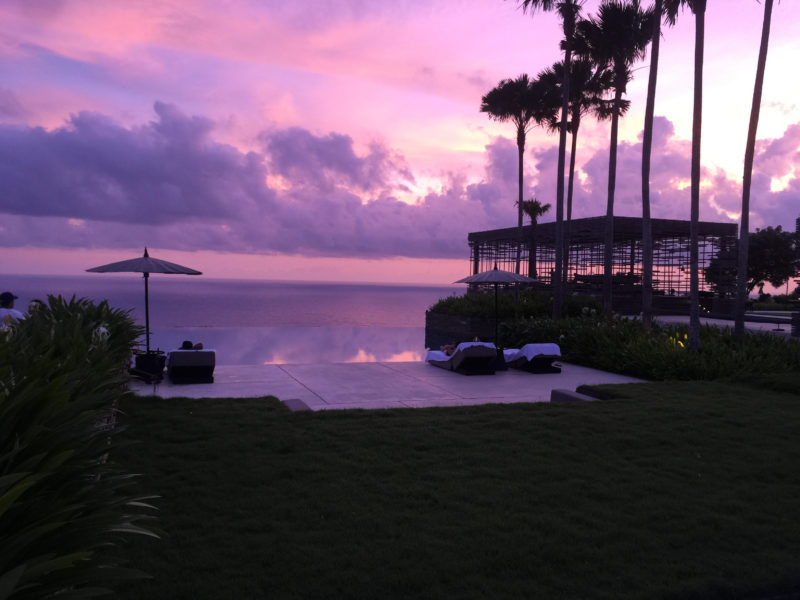 Sunset in Alila Uluwatu.
Maybe it was Elizabeth Gilbert in Eat, Pray, Love that made Bali, Indonesia the go to place for woman soul searching or maybe it's the beautiful beaches, healthy food, warm people. Whatever the reason, Bali is the perfect destination if you're looking for down time from day-to-day life and to embrace wellness.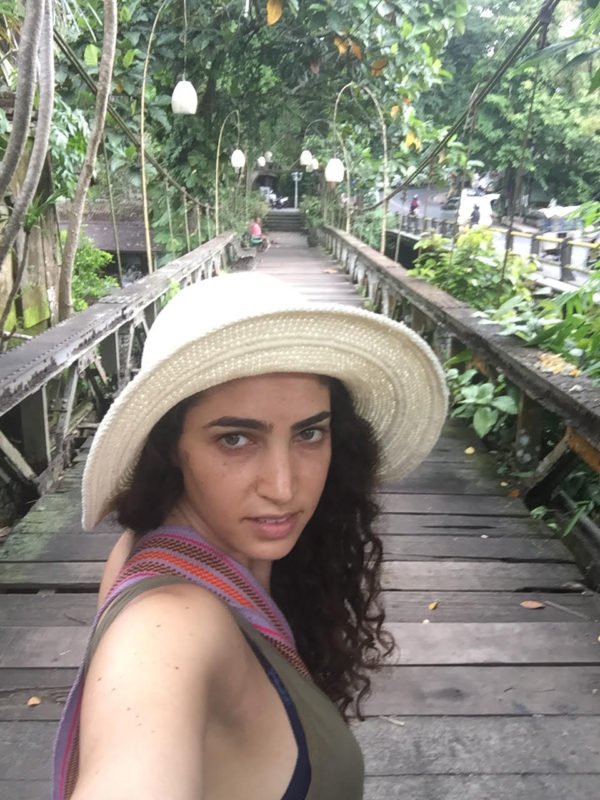 Amidst my solo journey through Bali.
Seminjak
My trip started off in Seminjak; This area offers more of a night scene but it's worth visiting if you are interested in doing some shopping, eating good food and relaxing by the beach. I stayed at the Courtyard Marriott. The location is central, rooms are clean and it's affordable. If you want to splurge I would recommend staying at The Legian since it is right on the beach with a beautiful infinity pool. No matter where you decide to stay don't forget to bring mosquito repellant!
The absolute best part of my trip was yoga with Olop Arpipi. Getting to his class is the equivalent of getting into a hot speakeasy in New York City. No website or signs on his yoga studio…or more like yoga barn. It's everything you would expect when thinking of yoga in Bali (yes, there are chickens in the background). He teaches Iyengar Yoga, and I would suggest going to a beginner class unless you consider yourself an Iyengar master. People travel from all over the world to practice with him yet he has the most present and grounding energy.
My favorite meal was breakfast at Nula Bowls. I had the Uluwatu bowl- a dragon fruit blend topped with strawberries, mango, coconut flakes and honey. It's one of those Instagram-worthy plates.
Sisterfields is an iconic Australian Café that is worth the wait. I had the bircher muesli with saffron poached pear, raw date and chia seed granola, yogurt and rambutan honey. Next door there is a coffee shop called Expat with one of the best matcha lattes I've ever had. The best part in my opinion was dinner at Kaum, Potato Head is the specialty, a meal of rice, spicy sauces (sambal) and animal protein. They recommend sharing but don't worry if you are planning on going solo; you still must order! Also try the turmeric and coconut milk rice. They offer several vegetarian options as well.
When you can get massages under $25dlls, you got one every day. At least that's what I did! After much market research and testing, I recommend Jari Manari Dancing Fingers for a full body massage and Spring Spa for a facial. They use all natural, organic products.
The view from above in Uluwatu.
Ubud
Most people in the wellness world go straight to Ubud. It's located in the jungle of Bali and you can find rice fields, yoga, organic restaurants as well as temples and a cultural experience.
For yoga, I highly recommend the Yoga Barn mentioned earlier, but I personally also like smaller studios with a cozier vibe. I recommend checking Radiantly Alive for some great instructors and a more boutique approach.
I stayed at a retreat in a place called Dragonfly Village set in the rice fields with stunning nature all around. The only downside was that there is no air conditioning. If you are looking for the a/c and an overall high end, pampering experience try COMO Shambhala Estate or the luxury boutique Bisma Eight.
My favorite food experiences in Ubud were at Wild Ginger, a cozy and delicious spot. The owner worked in several kitchens including NYC's Nomad until she came back home to Bali and opened her restaurant. Try the mixed vegetables cooked in curry. Alchemy is the vegan hot spot in Ubud. The chocolates are to die for. I would also recommend Sari Oraganik for the location in the rice fields and the hibiscus kombucha.
Traveling is super affordable with Uber. I had a driver for nine hours and only paid 45 dlls. Other places worth visiting are Thanh Lot, the popular temple located on the beach 30 minutes from Seminyak and Uluwatu Temple located up in the mountains with the most magnificent views.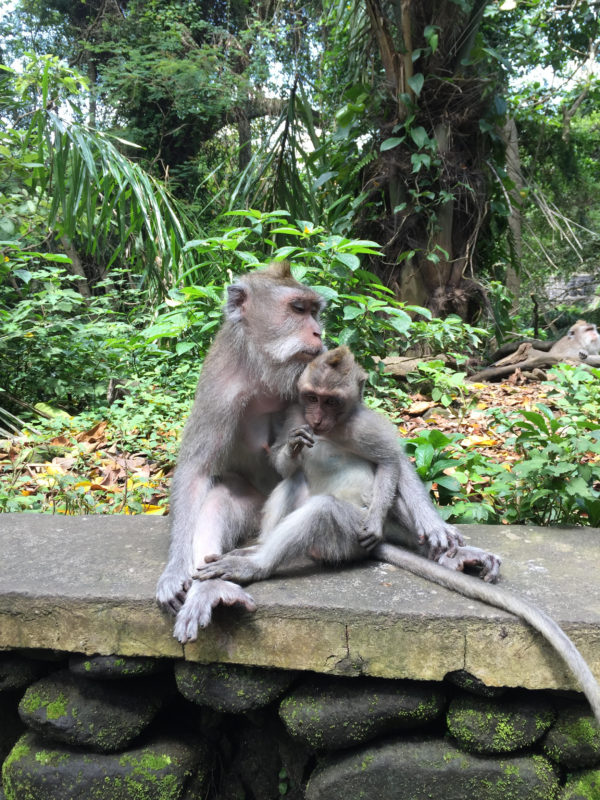 A glimpse at Monkey Forest.
Grab a cocktail at Alila Villas Uluwatu and watch the sunset (pictured at top). Trita Empul is where people go to receive a water ceremony. If you enjoy surfing and laid back people check out Changu. It has a cool expat vibe and mark my words, the next hot spot. I did not get to hike the sunrise at Mount Batur but I've already added it to my to do list for my next solo trip to Bali. Oh, and also go see the monkeys at the Monkey Forest!
From my experience, I highly recommend embracing your own company and follow your curiosity. Constantly take in the smells, sights and sounds. This awareness will create a truly transformative experience.