Top 10 Family-Friendly Luxury Trips
Posted on April 11, 2017 by Julie Danziger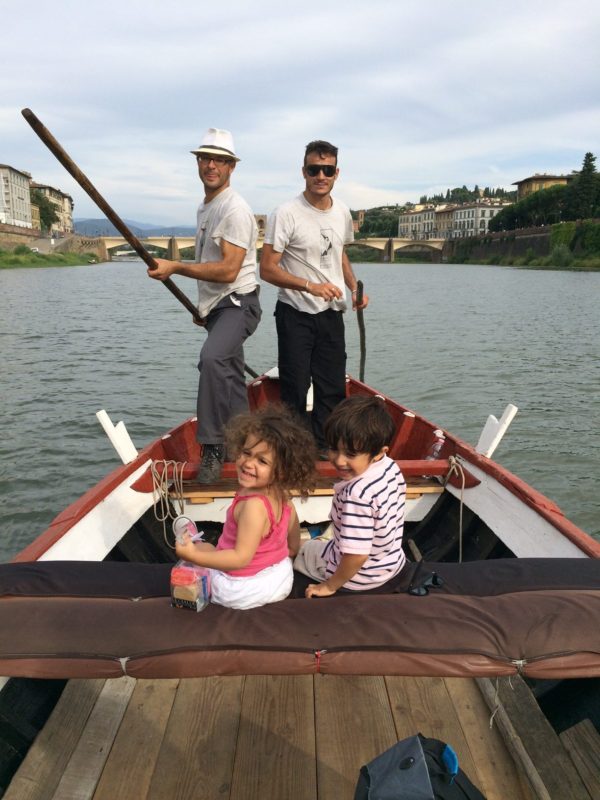 The kids in Arno, Italy.
It's a common misconception that luxurious travel is for the adults-only crowd. Through our travels, my husband and I have explored several luxury trips that were a success- even with three little ones! Here are my recommendations for family-friendly luxury trips to take with the kids.
Peru including a day on the Hiram Bingham train
Macchu Picchu, one of the most famous examples of Inca architecture, is a must see for solo travelers and families alike. And what better way to experience it than arriving by train? We boarded the Hiram Bingham 1920's train and enjoyed excellent service and cuisine while making our way into the Peruvian mountains.
Paws Up Ranch in Montana
A dream of many boys (and girls) growing up – to be a cowboy (or cowgirl!) of course. At Paws Up Ranch in Montana, no one will be bored with the plethora of activities–from riding, rafting and fishing to rappelling and paintball. Think a super luxurious version of summer camp.
Disney The VIP Way
When planning our recent Disney trip, the anxiety started to kick in. Mikey wanted to experience all things Star Wars, while Roslyn just had to meet Olaf and basically every princess in "the land" and baby Freda, well she just had to be fed and kept cool. And as for my husband, Joe, all he wanted to do was take a nap!
So long are the days of the Disney stress for parents! Our VIP guide, Tara, turned this into the most relaxing experience, taking us from ride to ride, zipping through lines, even hitting the right food spots and making sure everyone in the family was happy. Amazing. Next, head back to the Four Seasons for one of the most luxurious hotels in the country (let alone Orlando!) where our kids splashed around right in front of us in the water park while we chilled out with a sangria and a smile. Plus with Uber all over Orlando, getting around was a breeze.
London
Running around London for a New Yorker is almost like being home, but backwards. However, you are still a tourist. We made sure to cover the ground needed, but in a relaxed, luxurious way. There are some really amazing folks out there that offer behind the scenes, VIP access to everything from Harry Potter to the Churchill War Museum. London is truly a playground for adults and kids with so much to do – all that can get taken up a notch to the luxury level making it super enjoyable, where parents almost feel bad NOT bringing the kids.
Alaska by Boat
Many of our luxury clients think of luxury cruises as an option for the more mature generation or for those looking to line up in a buffet line. I cannot tell you how amazing seeing the wildlife of Alaska by boat can be! Cruise lines like Regent even offer kids and teen programs – giving adults a nice break and kids some really cool activities.
Jumby Bay Resort in Antigua
The funny thing about Jumby is it doesn't appear to be a luxurious vacation before you arrive. It is so relaxed and understated that the first day is just "okay" but once you get into the island vibe this is literally one of the most relaxing and enjoyable places out there. What is so great is they happen to include meals, drinks and lots of activities….While when most think all-inclusive they do not think luxury, Jumby reinvented the term "all inclusive" to make it cool.
Acqualina Resort
Acqualina Resort is one of our kid's most favorite places in the world! They take kids programs to the next level with a mini-turf field for soccer, creative projects and amazing beach games. And with a top notch yoga program offered and spa, there is nothing about Acqualina that doesn't make us smile.
Japan with Tweens
Teenagers are probably the toughest age to keep excited and "busy." For a family heading to Japan with teenagers we've incorporated stops to suit their interests including Ginza for shopping, sushi making, Pokemon Center, the fish market, sumo wrestling lessons, a Harajuku dress up experience, a stay in a local ryokan (Japanese inn), plenty of food and a spa a thrown into the mix. And, of course, a stay at the most luxurious hotels!
Africa Safari for Teens
Africa is a life changing experience. Seeing the look on a 12-year-old kid's face the first time he sees a leopard hunting its prey is priceless. Africa is one of those jaw dropping ultimate in luxury vacations. Dive into the ocean with great whites swimming up inches away from you, bike through the win elands with amazing food for the kids and fantastic wines for the adults and waking up at dawn for a sunrise balloon ride – wow.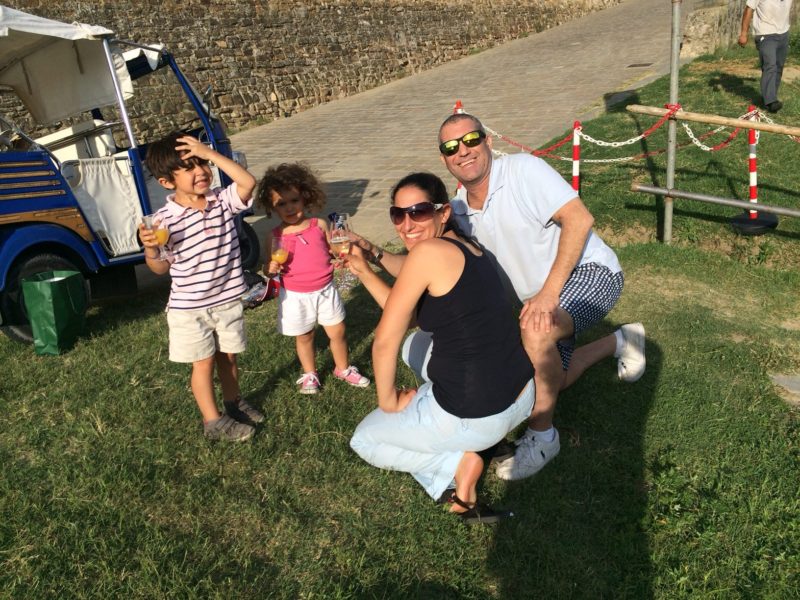 Wine Tasting & Cooking Classes in Tuscany
When most people think "wine tasting in Tuscany" I am going to assume they don't consider it with a 4 year old and a 2 year old, but we did. My husband has never been to Italy and we were itching to take the kids somewhere "more than a beach," which is what we had done for a few years. So we did something which we thought perhaps was unconventional and then realized it was more common than we thought!
We packed up the kids and took them to Italy. Flying into Rome, renting a car and driving to the incredible Castiglion Del Bosco, which is the jaw dropping, stunning estate owned by the Ferregamo family in the heart of Tuscany. A place we tend to send honeymooners and couples has slowly become a playground for our affluent travelers and their kids.
We soaked in the Tuscan sun walking along the impressive gardens. Kids absolutely loved hand picking fruits and veggies, tasting them as we walked. At the foot of the gardens they even have a kids club! Creative activities in an incredible setting at CDB kids club. Next up wine tasting – walking through the vineyards, tasting the grapes, moving along into the cellar where a scavenger hunt and some games were created to make it fun for the kids yet a wonderful experience for adults.
During our trip out to Italy, we also visited Florence, Capri and Rome where we enjoyed activities that are a wow for the adults and kept the kids excited including a private fresco painting class in a studio not open to the public, cooking classes in a local pizza shop, boating on the arno with apple juice for the kids and champagne for the adults and incredible dining experiences. We even had the opportunity to enjoy one of the best meals in Florence at the Villa San Michele – kid friendly food for them followed by the kids club director scooping them up to play while the adults enjoyed a fabulous 4 course meal.
Volunteering with the local community in Mexico
When I say "I am going to Cancun" with the kids, I get some eye rolls. Cancun and Mexico in general may still have those traditional all-inclusive hotels of yesteryear but the destination has made some room for new home run concepts and experiences. We were ready for this!
Staying at places like Nizuc in the Cancun area, and one of the amazing properties in the unique Mayakoba complex completely turn a typical Cancun trip into an ultra-luxe experience.
During our stay, we wanted the kids to experience more than "a fancy hotel with private pools and butlers," because we wanted them to see that Mexico has a tride and true culture. The amazing team at Banyan Tree Mayakoba set us up with a personalized volunteer experience tailored to suit our kids ages. (Our kids were 7, 4 and 1 at the time so we could not go too far with them.)
With our translator, driver, guide and kids packed up we took a ride to a local school in Playa Del Carmen. The school is filled with less fortunate kids who grew up with greater disadvantages. Some troubled, and some just growing up literally on the street.
Prior to our trip, we took the kids to a local store and they hand-picked school supplies which they personally delivered and handed out to each of the kids in the school. They learnt about the program, school in Mexico, and the community. Our kids were really interested in the center for blind and deaf kids, where they learned a lot.
One thing we've leared? Luxury travelers are looking for more. With the kids, they not only want to experience a fresh, new, high end resort, but many want a unique experience to go along with it.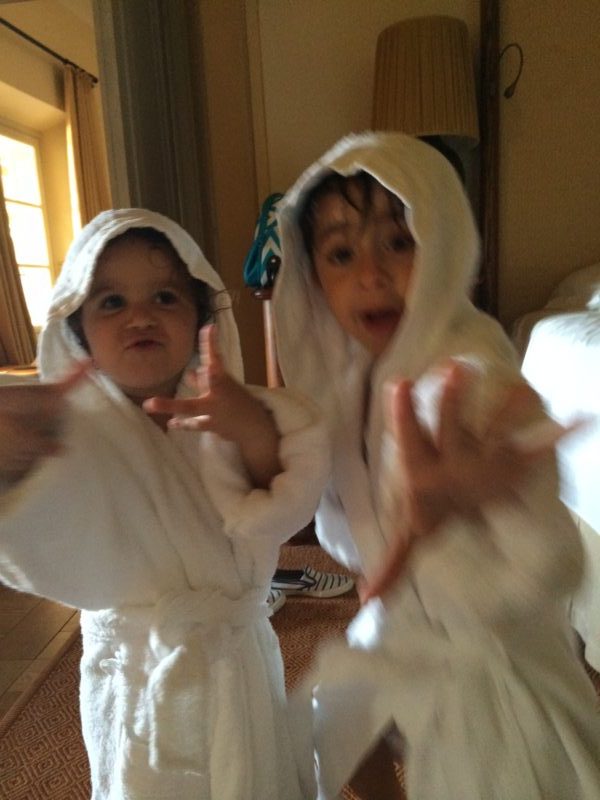 This is as still a photo as I could get during our NYC stay.
Party in the Big Apple
This one was lots of fun! Recently, our daughter, Roslyn, was set to celebrate her fifth birthday and when we asked what kind of party she wanted she said she wants a slumber party in a hotel or a pool party. We don't have a pool at home, but you know who does – The Four Seasons Downtown New York City.
The kids packed their suitcases and we were off! Arriving with a couple of five year olds to this brand new New York Gem was a treat in itself. One of the girls asked "Mom, can I have a hotel for my birthday like Roslyn?"  Priceless. Entering our room filled with balloons, a Happy Birthday note and sign, and a table ready with personalized punch for the kids, popcorn, and a movie ticket for a slumber party movie night was perfect. Taking sleepover parties to the next level and incorporating travel in to the mix! The next morning the kids dressed in bathing suits and robes and headed on down to the pool.