Co-Pilot Spotlight: Guy Bigiaoui
Posted on July 10, 2017 by Nikki Pepper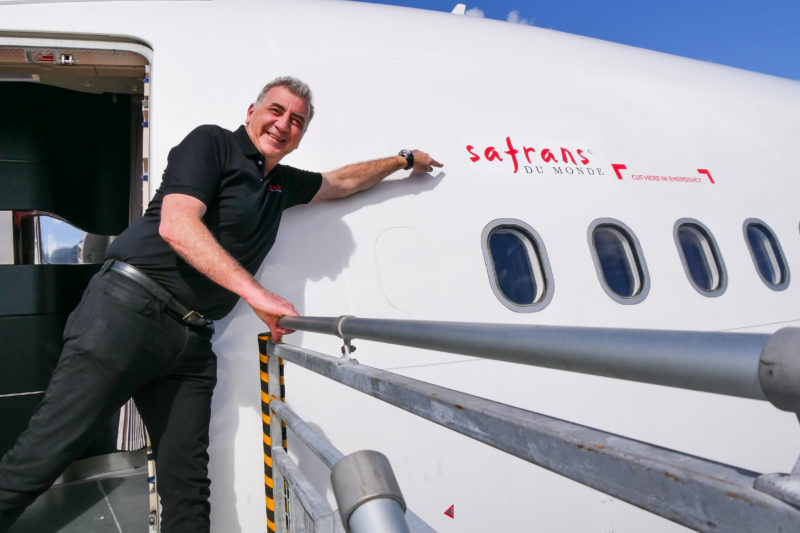 The Co-Pilot Spotlight navigates into the minds and experiences of travel professionals and professional travelers. Join us in the cockpit with Guy Bigiaoui, CEO of Safrans Du Monde, who knows a thing or two about flying.
OTPYM: Where was the first place you ever traveled?
GUY: Israel
Where is next for you? 
Tanzania, Ethiopia and Jerusalem to scout for the upcoming 2017 World Tour by private jet embarking on November 11th. I am excited about fine tuning the details of this trip: monitoring the timings and distances; visiting the hotel properties and choosing the rooms; choosing the places for the venues; looking for new surprises for the participants. In summary, creating the voyage.
Why do you choose to travel?
I do not see it as a choice, rather I need travel to feel alive, to progress in life.
How has travel helped to define your world view?
The more I travel, the more I understand how far I am from understanding our world and humanity.
The Air Cruise gives another perspective than other methods of travel. It provides a global vision of the world as you travel through different countries every 3 days. 
Where is the favorite place you've traveled?
This is extremely difficult to answer! I would say for nature and wildlife Namibia and Tanzania; for civilization Japan, Israel and Peru; for cities New York, Paris (my own city!), Saint Petersburg and Tokyo; and for landscapes France, Italy, Chile.
When on your travels have you felt the most out of your comfort zone?
When I lost my way the first time I traveled in Japan, but I wasn't in any danger so I thought it was fun! I also once had a nightmare of a time getting from Delhi to Kilimanjaro–anything we tried to arrange was met with a new problematic situation.
Who is the most interesting person you have ever met while traveling?
So many encounters on so many trips! Probably Hugues in Namibia, a veterinarian who specialized in lions. He used to run the National Park of Namib Naukluft, where he named each of thes famous dunes and could talk endlessly about fauna, flora and life in the desert. 
What is the most adventurous food you have tried while on the road?
A centipede stew in Zimbabwe. I wasn't much of a fan.
What's the next trend in travel?
Definitely Air Cruises but with a real personalization. It's beyond the comfort of a private jet because it permits travelers to enjoy access to extraordinary activities that "money can't buy" and that one would not do when traveling independently.
Safrans du Monde stands out as a unique option as travelers can enjoy the experience of an Air Cruise yet still get the feeling that they are free to choose their experiences, from activities to meals.
Any funny anecdotes from the road?
So many but there was this one particular guy who was obsessed with telling everyone what his body temperature was. He would share everywhere we went throughout the whole world tour! Another was when, after breaking the record of crossing the Atlantic in two hours and 21 minutes aboard the Concorde, we had to land in Gander instead of St. Johns, Newfoundland, because of the weather conditions. Then we had to transport all 99 passengers in school buses for three hours to get to the hotel that was only 10 minutes away from the original airport. More bus time than flight time! Thank God everyone's sense of humor!