Where to Eat, Play, Stay in New Hope, PA
Posted on August 7, 2018 by Nubia DuVall Wilson
New Hope, Pennsylvania in historic Bucks County is a laid-back, artsy destination that has become a go-to weekend getaway spot for folks in NYC metro area (it is about 65 miles from Manhattan) because of its quaint downtown, eclectic dining scene, nightlife and cultural attractions. Oenphiles can enjoy wine tastings at nearby vineyards and history buffs will enjoy visiting places like the 125-ft Bowman's Hill Tower, built around 1929 to commemorate what may have been a lookout point for George Washington's troops.
buy tadalafil online canadian pharmacy The Salt House
For some fun day-drinking, go to The Salt House, which does not have an official website and is off of the main drag on 7 E. Ferry Street (so you might not notice this small gem!). Skip the downstairs area, which has a long bar and tables, and head upstairs for a rustic ambiance with worn leather couches, antique chairs, old books and cool artwork on the walls—snag the corner table with a nice view of the Delaware River. The craft cocktails and small plates are delicious, perfect for sharing if you are on date or with friends. Try the farm fresh deviled eggs; spicy maple bourbon pickles; Berkshire bacon-wrapped dates; and grilled artichokes with garlic aioli.
trusted tablets Nektar Wine, Beer, Whiskey Bar and Restaurant
Love this place! Nektar has a modern, airy yet comfortable interior decor and friendly staff. They serve small plates, sandwiches, charcuterie meets, artisanal cheeses and salads from products sourced from local farms and suppliers. Try an old fashioned cocktail with Basil Hayden's bourbon while savoring these dishes: fried cheese "Saganaki;" panko-crusted shrimp with thai chili sauce; goat cheese & smoked salmon sandwich; and goat cheese & potato croquette. The outside terrace is one of the most picturesque places to dine in town.
WHERE TO PLAY:
Wycombe Vineyard
There are six wineries within eight miles of downtown New Hope. Wycombe Vineyard is known for producing very dry wines. On Fridays, the wine tastings are complimentary and you can try as many as you'd like. Over the weekend, tastings are $5.00 and include gourmet cheese and charcuterie. The owner, Rich, enjoys talking about the history of the 65-acre property and his love for wine. All the grapes are pressed in a traditional European fashion using a hand-operated basket press and then fermented in smaller batches. Try the Chambourcin, which is a red wine bursting with flavor or his version of an Alsatian Riesling. For a full list of vineyards, go here.
Bowman's Tavern and Restaurant
The place to be on a Friday night for music lovers is Bowman's Tavern and Restaurant, which hosts open mic with a pianist all night. The tavern has a delicious menu, great cocktails, and a high-energy crowd. Try the mushroom bruschetta for an appetizer and the petite filet or pan roasted branzino for an entree. They have a happy hour special called Six Until Six, which offers six-dollar tavern favorites (calamari, wings, mussels) and cocktails (French gimlet, Moscow mule) from 4 pm to 6 pm.
WHERE TO STAY:
Inn at Bowman Hill
There are a few options in New Hope area, such as the Fox & Hound Ned & Breakfast and Lambertville House, but they pale in comparison to the Inn at Bowman's Hill, a five-acre gated estate and the only AAA Four-Diamond property in New Hope (they've won it consecutively for more than a decade). The larger suites are in the main house or stay in one of the more intimate retreats in the Carriage House where there are a total of four accommodations that feature fireplaces, heated two-person whirlpools, heated towel racks, and private verandahs (three out of four).
The main house features four luxury suites, each with distinctive styles. Two suites have private verandahs (George Washington and Penthouse) and panoramic views of the grounds. The Penthouse Suite has a corner tub under a sky with 300 fiber optic stars – even a shooting star if you look carefully. The backyard of the main house is a secluded retreat with a terrace, jacuzzi, heated pool, pond and even a chicken coop! The English Breakfast is spot on–baked beans, tomato, sausage, bacon, eggs any style and bread. The owners and staff will do everything in their power to make sure you enjoy your stay—even transport those who are car-free to destinations close by as the Inn is about a five-minute drive from downtown.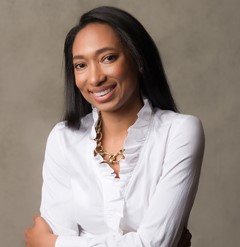 About the Author:  Nubia DuVall Wilson is an author, poet, journalist and the owner of Cielo Consulting, a boutique public relations and marketing agency. Nubia started her journalism career at Real Simple magazine and has published two books, Encounters with Strangers and The Survivors Club. She also owns the blog, Encounters with Nubia: My Take on Motherhood, One Trip at a Time, where she shares her travel adventures with her family and the ups and downs of motherhood. Learn more at www.nubiaduvall.com. Connect on Facebook, Instagram, Twitter and on her Goodreads Author Page.