Haberdashery Heaven in Harlem
Posted on December 2, 2018 by Siobhan Chretien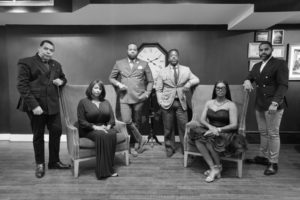 Harlem.  Just the name itself immediately conjures up images of the street performers, intimate jazz clubs, soul food institutions and African-American heritage.  I have always felt drawn to explore the suburb of New York City hoping to uncover more its' authentic eateries and stylish clubs. Its main artery, 125th Street, is home to the iconic Apollo Theater. The area has an amazing mix of 19th-century brownstones and it is in one of these beauties that I visited a Harlem original, the Harlem Haberdashery.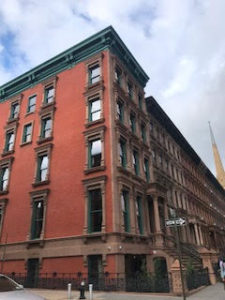 Photo credit by Siobhan Chretien

Harlem Haberdashery is the award-winning (Time Out New York) bespoke boutique listed as "One of the best places to shop in Harlem" by (Racked.com). The shop in the former home of the late civil rights leader Malcolm X, carries emerging accessory and apparel designers and pays homage to Harlem's rich history and luminaries. Harlem Haberdashery was created by the legendary custom-fashion design and styling company 5001 FLAVORS (featured in CNN Films documentary "Fresh Dressed"). It is the "retail expression" of the 5001 Flavors brand which has been highlighted at such cultural institutions including: Museum of the City of New York  and the Schomburg Center for Black Research. The "best kept secret" of award-winning fashion stylists, film, music video and television wardrobe stylists, and celebrities 5001 FLAVORS just celebrated 26 years of operating their custom-clothing and accessories, fashion styling and manufacturing family business.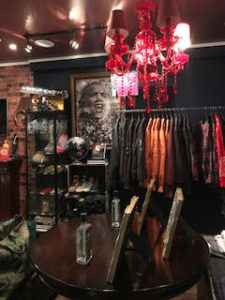 Photo credit by Siobhan Chretien
As soon as I walked down the steps and entered the shop, I was struck by the bespoke, cool retro vibe and the feeling of warmth and love. Vintage photos, Harlem memorabilia and of course clothes! – filled the space on the lower level.  Unique one of a kind pieces from onesies to leather hand painted jackets, camo sweats, vintage pashminas and blinged out tuxedos fill the colorful space. While sipping their fine spirits, I sat down with the owner and president Sharene (Shay) Woods and I learned more about the Harlem Haberdashery 's and 5001 Flavors history.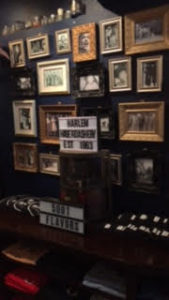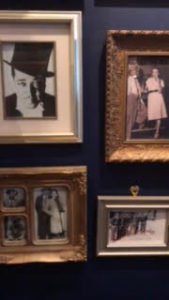 Photo credit by Siobhan Chretien
Established in 1992 by the Harlem, NY born and raised husband and wife Guy Sr. Wood and Sharene Wood (formerly Barnett) the 5001 Flavors brand gained "behind the scenes" notoriety by creating iconic fashions including extraordinary leather ensembles for the late Notorious BIG to Grammy award winner Alicia Keys; to futuristic designs for Grammy award winner entertainer/producer Missy Elliot.  Exotic fur creations for hip hop's Fat Joe; career evolving ensembles for professional athletes like NBA star Carmelo Anthony, to Super Bowl NFL star Victor Cruz, and looks for NBL star CC Sabathia; to rare costumes designed for hip hop's mogul Sean P Diddy, to designs for Beyoncé and daughter Blue Ivy and many more.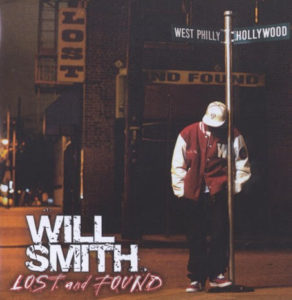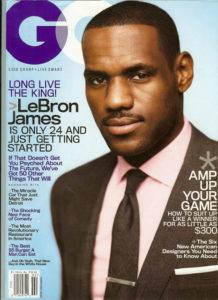 The Haberdashery was opened 7 years ago as the retail expression of the clothing brand. The family is impressive as not only entrepreneurs but for giving back to the community. Harlem Haberdashery philanthropic endeavors include: The League: A Distinguished Gentlement's Movement, Inc., #TakeCareOfHarlem, and three (3) annual philanthropic events: "Masquerade Ball", "Elegant for Prom" and "Holiday Toy & Coat Drive. Harlem Haberdashery regularly donates to Boys & Girls Club of Harlem, Food Bank of New York, Harlem Hospital Center, and other charitable organizations.
I was invited to try their latest venture, their first national brand extension HH Bespoke Spirits Collection. The curated spirits collection launched in November in California, Massachusetts and New York. The collection includes Harlem Haberdashery Bespoke Gin, Harlem Haberdashery Bespoke Rum and Harlem Haberdashery Bespoke Vodka.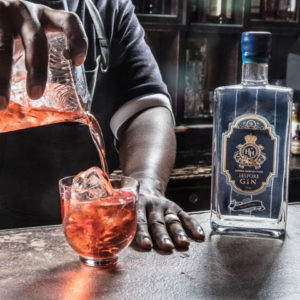 photo credit Brent Herrig
I have sipped many a sip and I can tell you, these are good! Great in fact. They are of unparalleled quality and taste clean and crisp.  As pretty as they taste, the packaging is handsome. Each of the brands packaging pick up elements of a fine suit such as the tartan elegance on the gin bottle. Each spirit contains 40% alcohol and are made with the finest ingredients, a nice belly warmer as the cold winter months hit.   These make amazing Christmas gifts.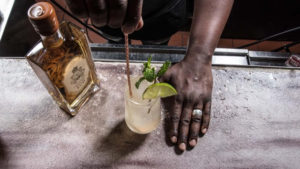 photo credit Brent Herrig
The Harlem Haberdashery is hip, sexy and something you think you would only read about in the pages of top celebrity and fashion magazines. But it is in fact a warm, welcoming showroom and the family invites you to make it your own private club. They know what it means to create your personal expression of success. I highly suggest checking them out!
https://www.harlemhaberdashery.com/