Mary Gostelow's Hotel of the Week: W Austin
Posted on February 19, 2015 by Mary Gostelow
https://auntchiladas.com/banquets-and-events/ canadian pharmacy cialis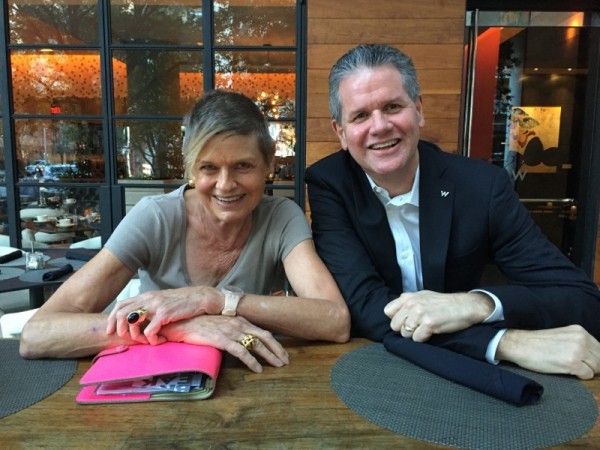 click here Mary with hotel GM Drew McQuade.
A weekly series featuring luxury hotel expert Mary Gostelow's hotel pick of the week. This week, a review just in time for SXSW 2015.
W Austin is a center of activity, especially musical and IT, with more than a hint of State legislature and Formula One thrown in. Oh yes, and sport. Magic Jordan, one of the investors in the 251-room hotel, was present for the December 2010 opening.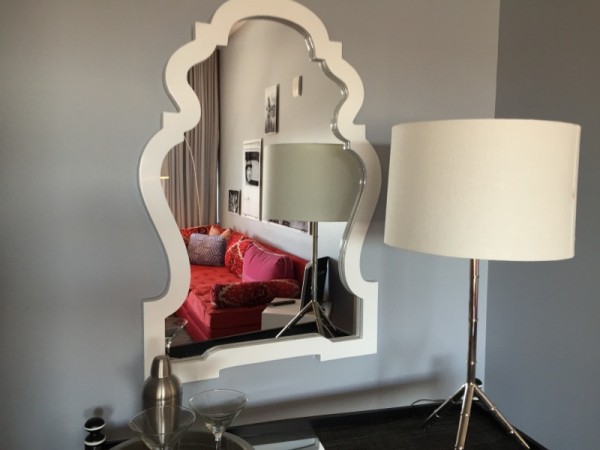 Reflection of suite 1606.
There were warehouses on this spot, on Lavaca and Second, a few yards from Lady Bird Lake. There are flavors of old warehouses at ground level today: the exterior has sheets of rusted copper and interior public rooms have wood floors rising to 20-foot high ceilings. The main floor living room flows from library, with a whole wall of some 8,000 old vinyls, through to drawing room with chess board, and bar. Wall art is unique and worth a look. Here, a painting by contemporary artist Tracey Harris – check the book titles! And there, a framed medicine cabinet – check the labels! Behind front desk are real cactus plants, back-lit from behind.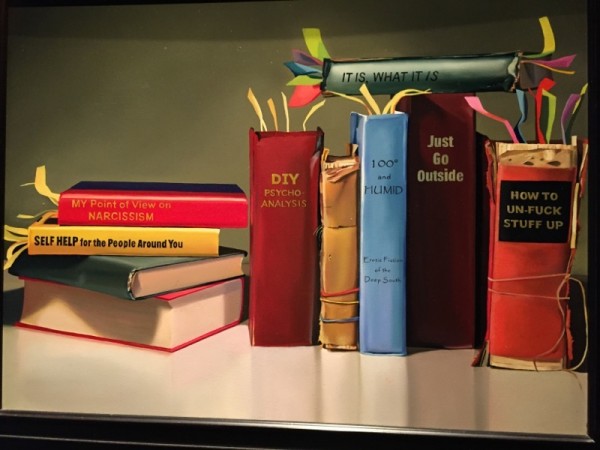 A Tracey Harris painting- note the witty titles.
Cheeky art- a faux pill cabinet.
Upper floors are deliberately utilitarian in style. Fantastic Suite 1606 is typically grey with a concrete pillar and bursts of bright color. Black and white photos are mementoes of the Austin City Limits festival, with its first recording with Willie Nelson back in 1976. Its view, down to Lady Bird Lake, is always full of interest (make a martini with the set provided, and nibble on the board of charcuterie that was made by hotel's own butcher). At weekends, head down to the outdoor terrace to enjoy live music. Directly across Lavaca is Google's new Transformation Lab, a magnet for all wanting to be ahead of the tech game. Anybody, any age, feels at home here. GM is Drew McQuade.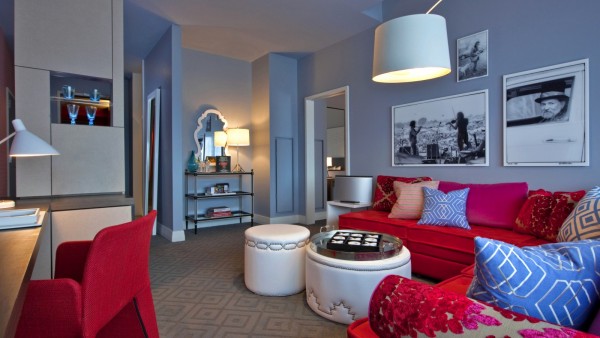 The Fantastic Suite with walls decorated in Austin City Limits photography
Read last week's Hotel of the Week here.