Roy Choi's A-Frame: My Hawaiian Soul Food Experience
Posted on November 19, 2015 by Michaela Leonard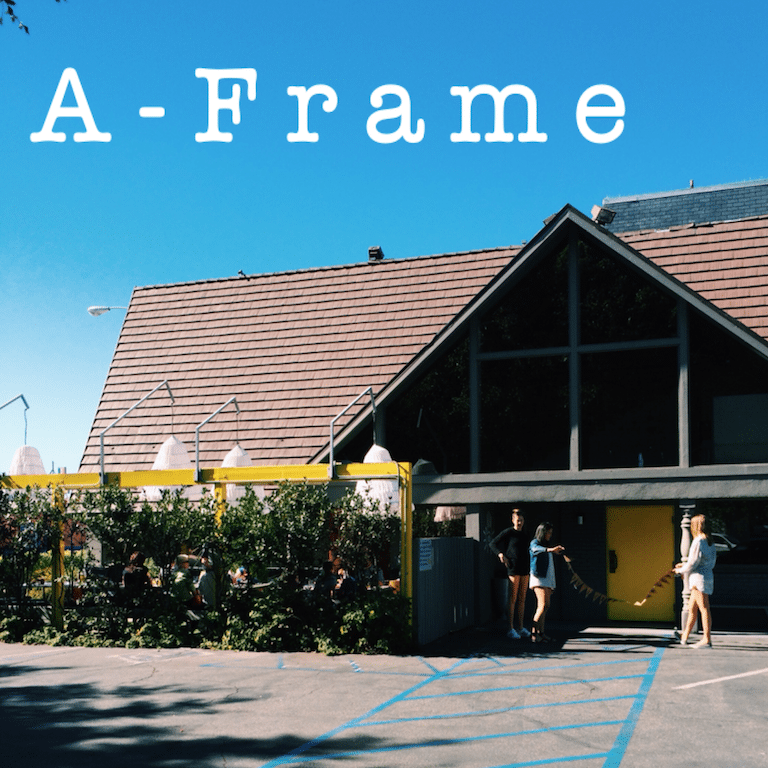 I became a fan of Roy Choi, who is often described as being the "godfather of the food truck movement", after my first experience with Kogi, his Korean BBQ food truck, which opened Thanksgiving of 2008. I stood in anticipation in a 40-minute line at Abbott Kinney's June First Friday street festival to get my first taste of Choi's infamous short-rib tacos and kimchi quesadillas, and the wait was well worth it. The popularity of his Kogi trucks brought him fame and credibility as a classically trained chef with a distinctive flare that sets him apart in the Los Angeles food scene. So, when I heard that he had his hands in the cuisine at A-Frame, a Los Angeles restaurant that puts a spin on authentic Hawaiian cooking, I was immediately intrigued.
Saturday's brunch at A-Frame – with a group of my closest gal pals – only solidified my support of Roy Choi. The Los Angeles based restaurant has an urban picnic feel and is home to a gregarious bartender, a cheery crowd of guests, and personable hosts and waiters who greet you with a friendly, "Aloha". At A-Frame, Roy Choi's Hawaiian-infused kitchen offers a wide variety of both authentic and inspired options on their brunch and dinner menus.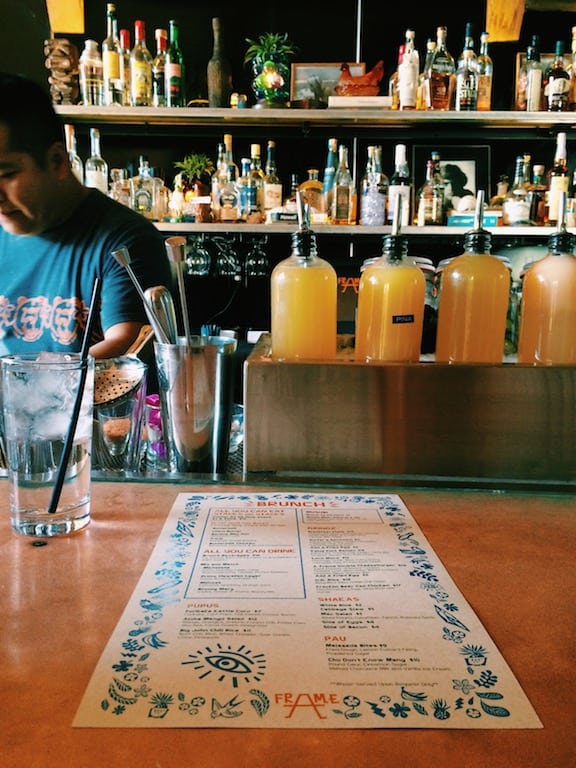 Brunch at the bar. Mimosa anyone?
Guests are encouraged to chat with strangers at communal picnic tables in the brightly decorated indoor dining area or out on the umbrella-covered patio. The sea breeze made it a bit too cold to sit outside that day, so our party of 10 was seated comfortably along the wall.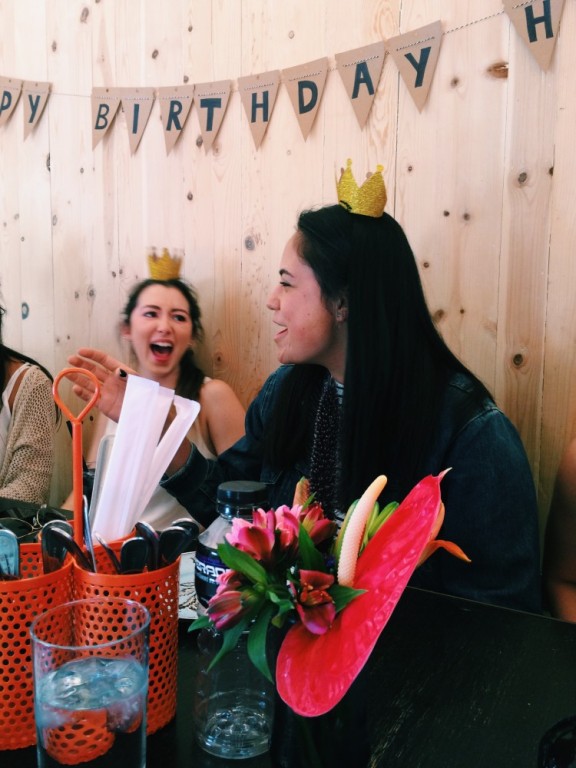 Saturday afternoon brunch for a friend's birthday.
We started with the Furikake Kettle Corn, with a flavor blend that was surprisingly salty and savory. Next up were samplers of ahi tuna and shrimp, whose quality was enhanced by the freshness of the fish. The Breakfast Plate was a perfect serving size with homemade spam being the highlight. The Surfer Sandwich consisted of spam, grilled pineapple, cabbage slaw, sriracha, and sweet Hawaiian bread. This was a unanimous table favorite, proving my friends really love spam!
The waitress didn't stir when one person ordered several rounds of the $15 bottomless pancakes….to share of course! One of the side options was a crackling beer can chicken fried to crispy perfection.
Choi's courageous rendition of the classic Hawaiian dish known as The Loco Moco is multidimensional. This hambagu steak dish is served hot over white rice and topped with a sunny side egg, chives and pickled pear onions. It is doused in a curry gravy that gives the dish a trendy feel. Full disclosure: I had to restrain myself from licking the tray clean.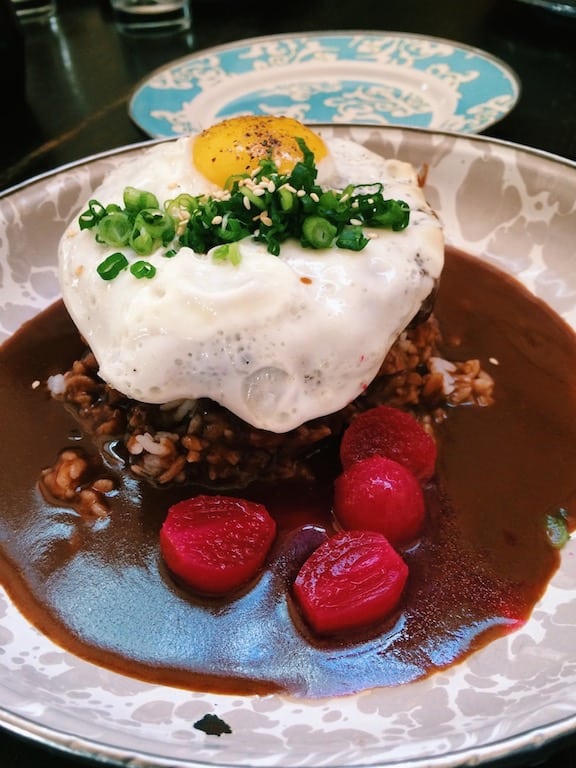 Just put an egg on it.
We took full advantage of the $15 drink option, interchanging between Mimosas, Micheladas, Bloody Mary's and Primo Hawaiian Lagers throughout our leisurely meal. We had to be sure to try them all. Several of my self-proclaimed Bloody Mary aficionado friends raved about its perfect level of spiciness and welcomed addition of citrus to the traditional tomato juice.
Bloody Mary goodness.
The highlight of the morning was undoubtedly the Malasadas donuts that we ordered for desert. These warm, powdered sugar coated treats are dipped in a lemon custard filling and are a tasty variation from the typical donut holes you get on the mainland. The service was very laid back and kind enough to continue bringing us water while we lingered. We raved about the "Hip-Hop Barbecue" Pandora station that blessed us with throwback jams and several hits by Queen Beyoncé. As Snoop Lion played, we settled our very reasonable check and agreed that we will definitely be back! Probably for the Luau Hour (Happy Hour) weekdays 5-7pm and weekends 10pm-close. Located at 12565 Washington Blvd, Culver City, CA 90066.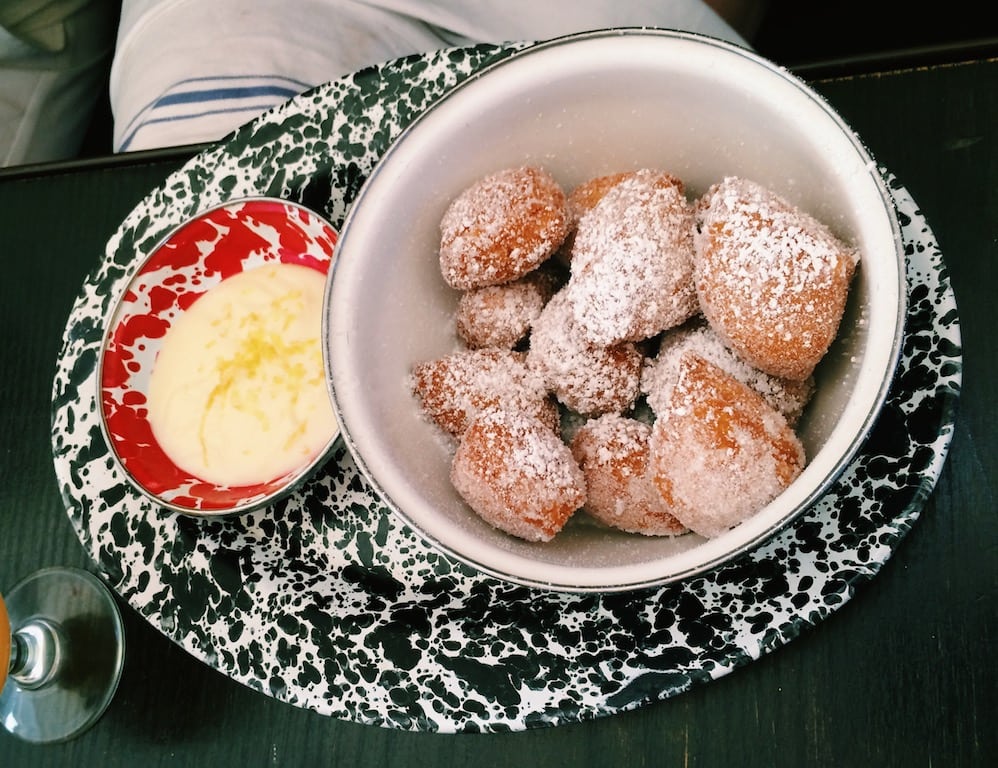 The best version of donut holes you'll ever taste!