Your Key to the Florida Keys
Posted on December 14, 2015 by Olivia Balsinger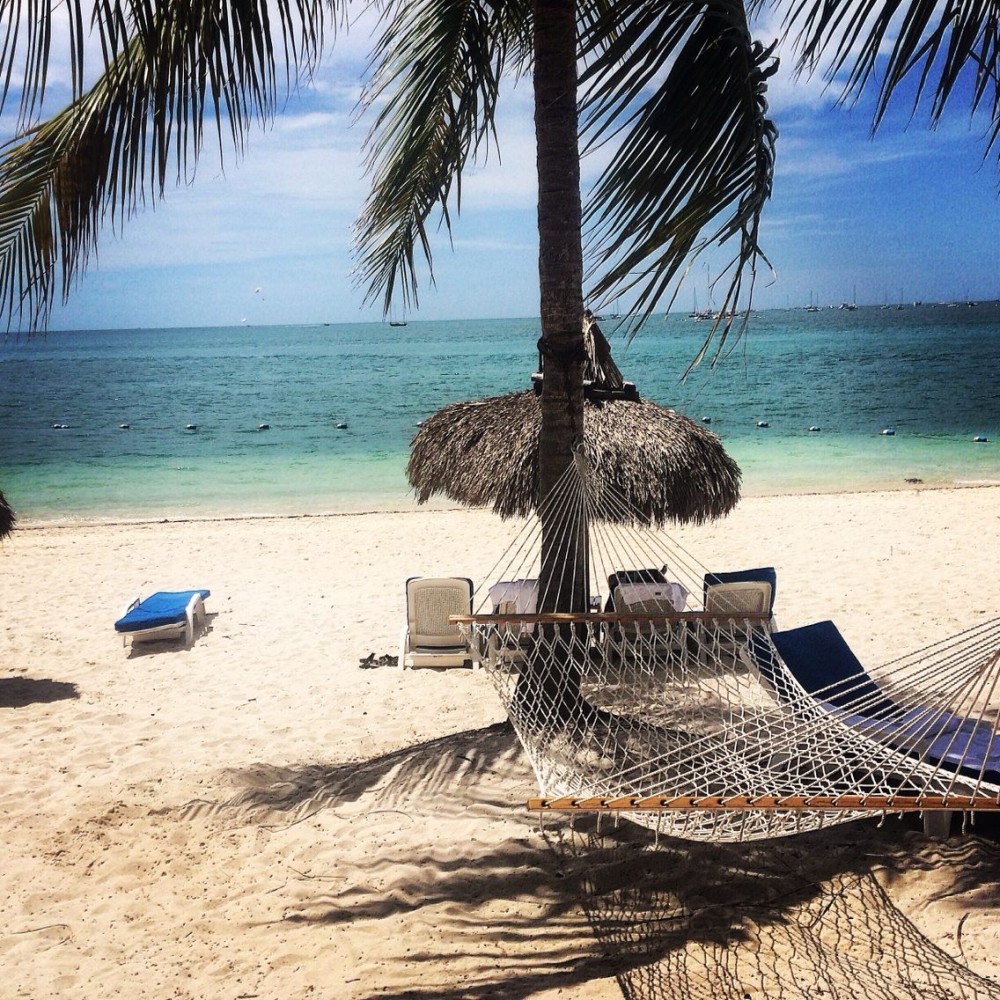 Can life get any more perfect than a hammock on Sunset Key? Photo Credit: Olivia Balsinger.
A haven for fishermen, foodies, and beach bums alike, the Florida Keys is the destination spot that encompasses it all.  The Keys, lying about 15 miles south of Miami on Florida's mainland and 90 miles north of Cuba, spans 112 miles long. Often referred to as "America's Caribbean," the archipelago is home to more than 1700 islands. Some islands, like Key West, are quite developed and populated, while the beauty of others lies more in the undiscovered.
Key West
Take San Francisco and place it in the Caribbean, where beautiful sunny weather is a guarantee. Add in some authentic rum,  an average of 260 days of sunlight a year, many Key Lime pies, a laid back attitude, and the flair of neighboring Cuba, and you've got yourself Key West. The best time of the year to visit is between January and May– you are least likely to run into a hurricane.
What to Do
Take a ride on the  locally owned and operated Old Town Trolley Tour for a comprehensive look at all that Key West has to offer. The location is known for its "Transportainment," a combination of transportation and entertainment.  The guides for these attractions are engaging, divulging anecdotes and personal experiences with the locality that travelers would not be able to find in their guidebooks.
The Key West Aquarium is just one of many family oriented attractions in the city. Photo Credit: Olivia Balsinger.
Many historical figures and artists fell in love with Key West—and with good reason! A trip to the key is incomplete without a visit to The Ernest Hemingway Home and Museum where the famed author lived  for ten years with his second wife, Pauline,  and several six-toed cats (some of whose descendants still roam the property!).
Hemmingway's strong presence is still very much felt on the island–and it all happened because of  a tardy delivery of an automobile in 1928 on his journey to Cuba.  But an improperly timed delivery ended up being one of the best things that could have happened to the writer bursting with creativity and angst. He used the laid back vibes, the island groove so particular to Key West to write some of his best novels including "A Farewell To Arms," and "To Have and Have Not."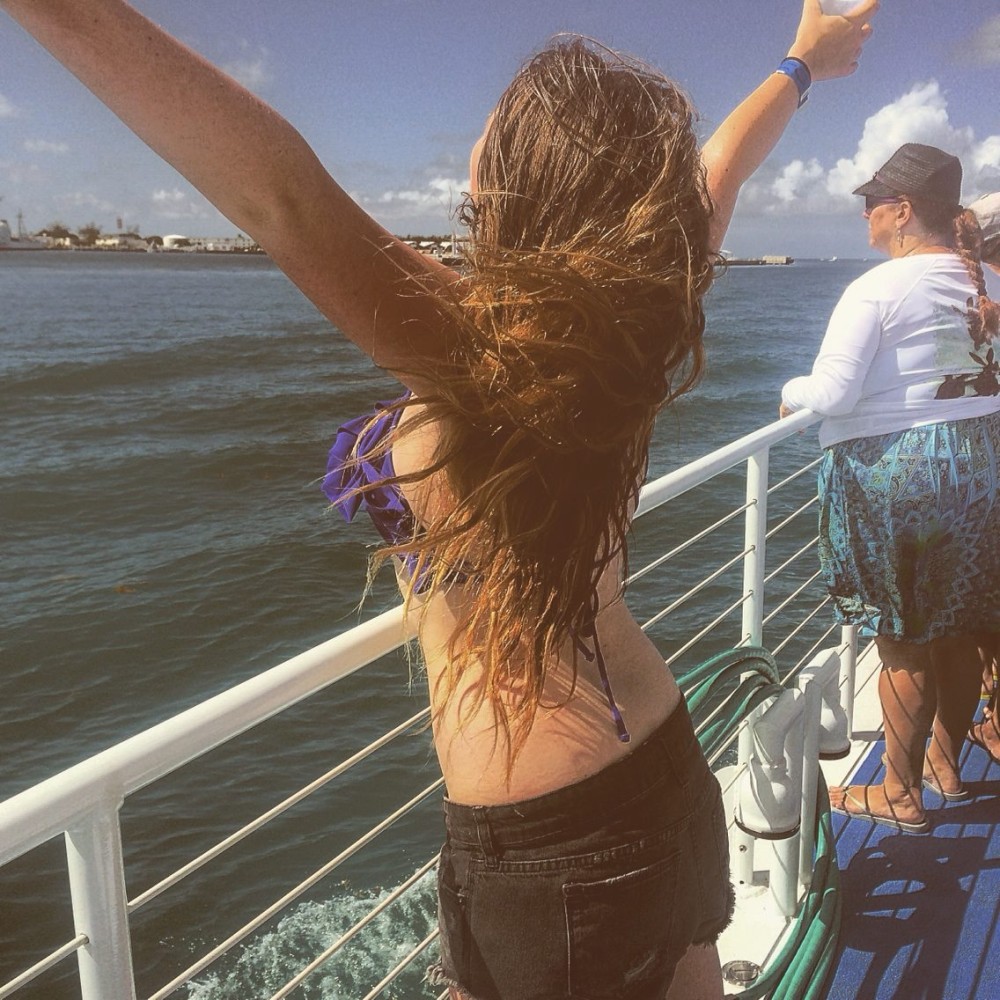 The author embracing life on a Fury Adventure boat. Photo Credit: Emma Wager.
For those looking for the all-day, all-inclusive activity experience, Fury Water Adventures is the company for you. The morning begins with an hour and a half sail to The Great Florida Reef, the third largest coral barrier reef system in the world, where participants can borrow snorkeling gear and dive right in. After an ample amount of time to explore beneath the sea, the boat sails back to land while a lunch is served. Throughout the duration of the afternoon, passengers are allotted time to jet ski, parasail, swim and play on the floats in the water, or simply soak up the sun.
A tour of Key West's First Legal Rum Distillery will surely add spice to any itinerary. The first for the Florida Keys, the Distillery is located in a former Coca-Cola bottling plant that was converted into a pre-Prohibition Era bar named Jack's Saloon. The Chef of the Distillery, Paul Menta, understands the importance of treating rum with the same specificity and care as cooking a gourmet meal. He explains this entire process on guided distillery tours, which culminates in tasting a variety of rum flavors, including my personal favorite, a tantalizing Key Lime Rum.
Perhaps one of the most beautiful traditions is the nightly Sunset Celebrations, a street carnival that takes place in Malloy Square and overlooking the Key West Harbor. Children will delight in witnessing the talented street performers and musicians, while adults will enjoy displays of local arts & crafts and psychic readings. All will love snacking on local Key West goodies from food carts while watching in anticipation for the sun to set over the harbor. And even though it happens 365 days a year, hugging and clapping ensues each night at the closure of yet another day.  Each sunset is a triumphant bow of the wonder of MotherNature.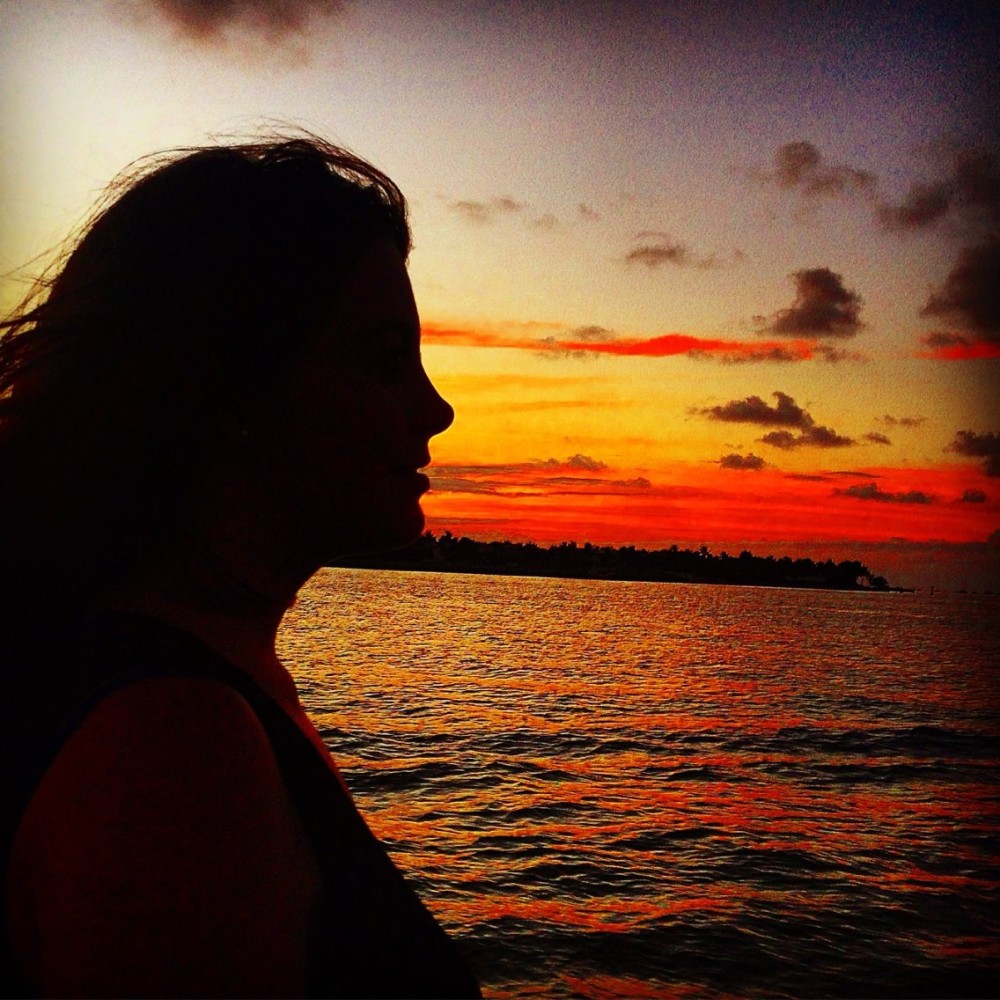 The author experiences yet another perfect Key West evening at a Sunset Celebration. Photo Credit: Emma Wager.
Yet another way to watch a stunning Florida Keys sunset is with a glass of wine in hand while gently rocking on a historic schooner in The Atlantic. This dream scenario is offered each evening on a Danger Charters Wind & Wine Sunset Sail, which features a wide selection of wines and beer, hors d'oeuvres, and an enthusiastic crew to explain what is being served.
A visit to Key West in incomplete without experiencing the unique nightlife and gay-friendly bars and restaurants on Duval Street. Known by Ripley's Believe-It-or-Not as the"Longest Street in the World" Duval spans from The Gulf of Mexico to The Southernmost Point in the Continental USA. Get "wasted away again at Margaritaville" at the original Jimmy Buffet's Margaritaville; enjoy a"Frozen Pain In The Ass"  and the live band at Ernest Hemingway's favorite bar, Sloppy Joe's; and finally, be sure to watch one of the world famous KeyWest drag shows, where optional audience participation adds to the fun.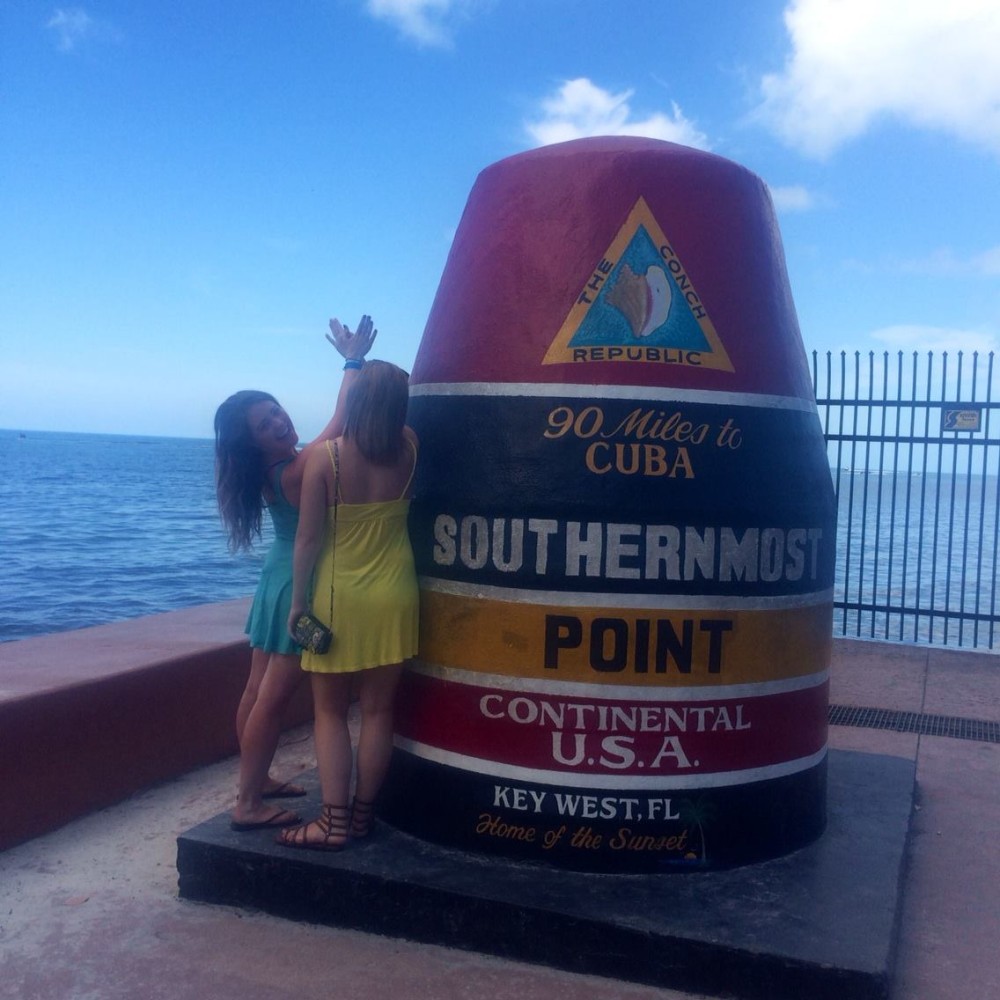 Key West's "Southernmost Point" is just 90 miles from Cuba! Photo Credit: Olivia Balsinger.
Where to Eat
A property which has hosted cock fighting, gambling, and even boxing matches refereed by Ernest Hemingway is now home to BLT (Bacon, Lobster and Tomato) Eggs Benedict and arguably one of the airiest Key Lime pies in the city. Located in the historic Bahama Village neighborhood, Blue Heaven offers  both indoor and outdoor seating, and friendly roosters who roam the grounds freely. This is not a Key West location to miss—your stomach will thank you.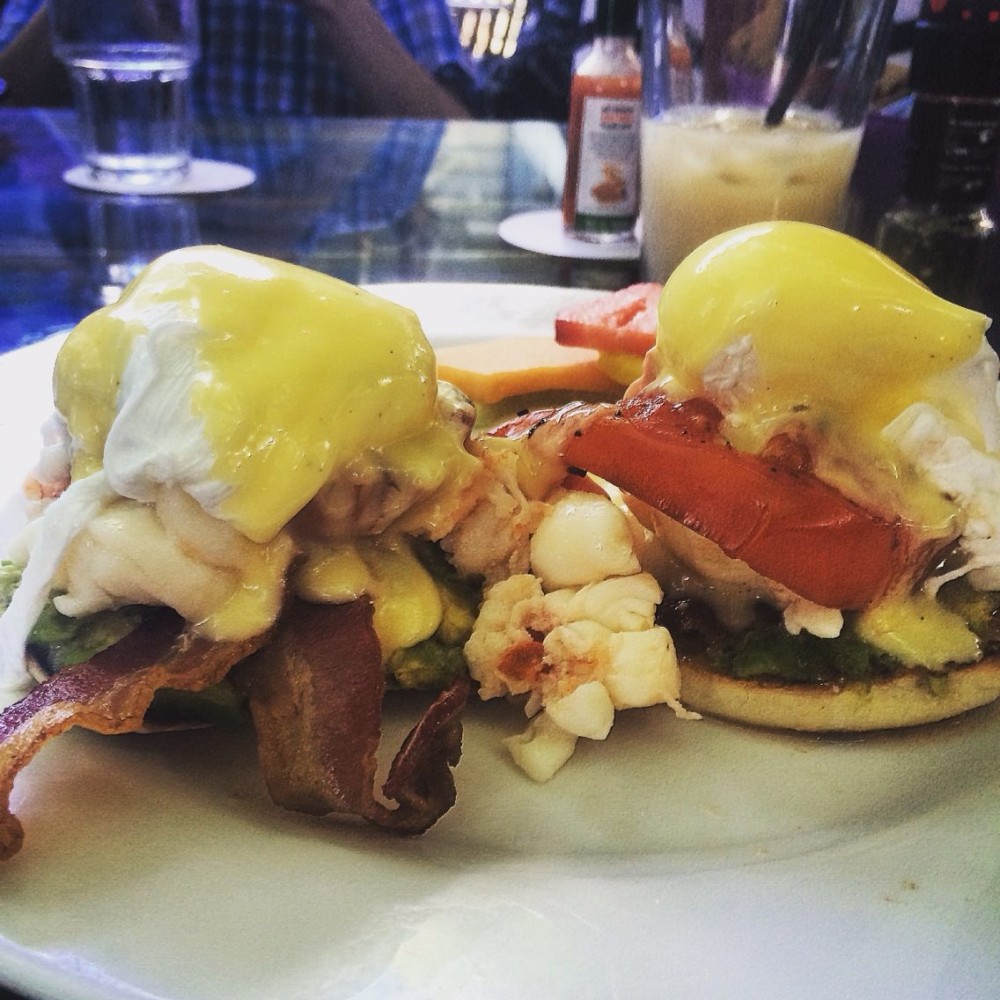 Bacon, lettuce, and lobster from Blue Heaven? Yes, please! Photo Credit: Olivia Balsinger.
For a formal sit-down experience, enjoy a "Toes in the Sand" Dinner at Casa Marina, A Waldorf Astoria Resort. As the name infers, dinner is served on the hotel's white sand beach, awarding diners the opportunity to relax, listen to the waves collapse against the shore, and literally feel the sand between their toes while enjoying a refined meal. (And hey, you would most definitely not be disappointed with a stay in one of the hotel's posh 4-star rooms either!)
Sunset Key's Latitudes Restaurant is located on the resort property and boasts not only renowned menu selections, but stunning views overlooking the water as well. A short boat ride across the harbor will ferry visitors to Sunset Key, even if they are not resort guests, to experience the restaurant. It is here that renowned Executive Chef Brendan Orr brings together locally sourced tropical fruits and fish with classical cooking techniques that culminates in unique menu offerings.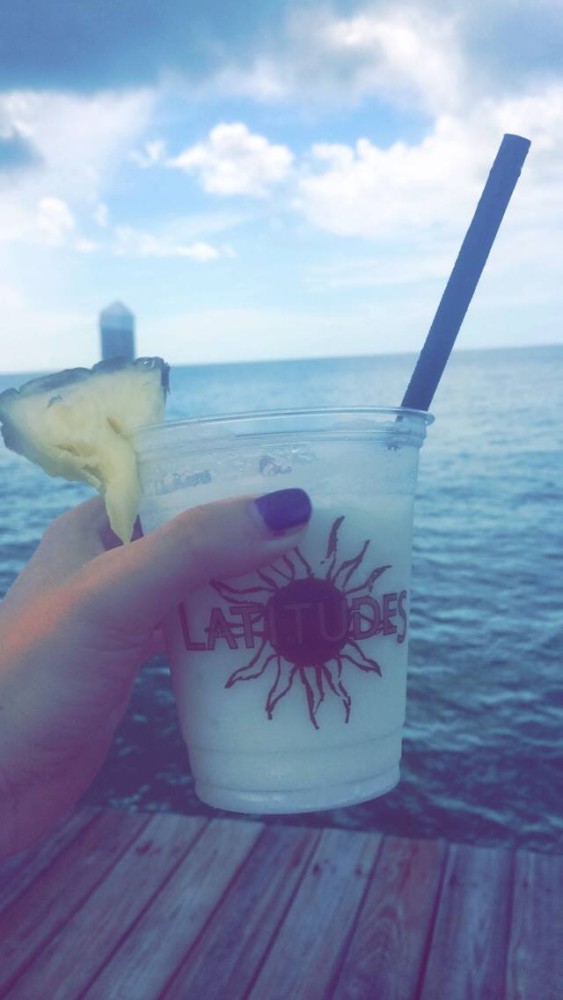 Truly no better way to relax than with a Latitudes piña colada in hand on Sunset Key. Photo Credit: Olivia Balsinger.
Where to Stay
A five-minute boat ride from the Westin Resort Harbor, Sunset Key Resort's remote location provides the tranquil getaway from the lights and excitement of Key West. Sunset Key's staff understands the importance of small gestures for guests—whether offering a golf cart ride from the boat cottage or leaving a wicker basket with fresh croissants and fruit on the porch in the morning,  the resort truly exemplifies the "home away from home" experience.
With an infinity pool and bar, multiple tennis courts, a spa, and even a private white sand beach and boat access, spending a vacation entirely on Sunset Key is surely relaxing for adults and activity-filled for children. However, with the ferry stopping on the Key twice an hour up until 2 a.m. (and the ability to schedule pick-ups afterward), the excitement of Key West is also just a few minutes away. Sunset Key encompasses the best of both worlds.
Just steps from the famous Duval Street, the rebranded Southernmost Beach Resort Key West is the product of the unification of the historic Southernmost on the Beach, Southernmost Hotel in the USA, La Mer, and the Dewey House. The resort will offer beachfront views of the Atlantic Ocean in contemporary rooms with that Key West flair. Families will delight in the resort's three swimming pools, private pier and sand beaches, on-site restaurant, and tropical gardens.
Lower Keys 
What to Do
Founder and operator of Serenity Eco Therapy, Sarah Sullivan, understands the importance of letting go and promoting mental clarity through nature and natural balance. Visitors can begin their journey towards inner peace by combining yoga, Pilates, cardio, and meditation on a paddleboard amongst the picturesque mangroves of  Bahia Honda State Park.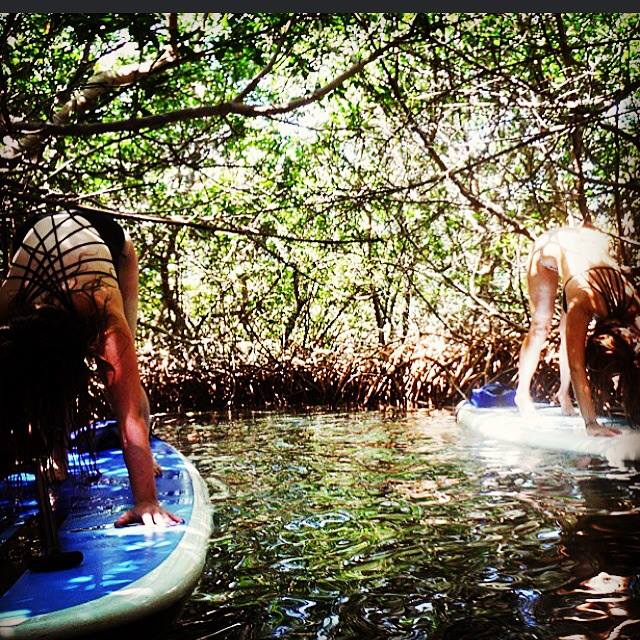 Serenity Eco-Therapy allows participants to find balance, both literally and figuratively, on paddle boards in mangrove forests. Photo Credit: Meera Dattani.
Where to Eat
The slogan of No Name Pub in Big Pine Key makes perfect sense: " A nice place if you can find it." While  pub is tucked away off the highway,  it is certainly worth the trip. Currency from around the world covers the walls, traditional pub food is served, and the "old" Florida Keys atmosphere cannot be beat.
Marathon and Islamorada
What to Do
The Turtle Hospital in Marathon is thought to be the world's only state-licensed veterinary hospital dedicated to the treatment and healing of sea turtles, whose injuries vary from cancer to "bubble butt." Guided educational tours teach about the procedures of treating hurting turtles and also allow visitors to observe and be introduced to them.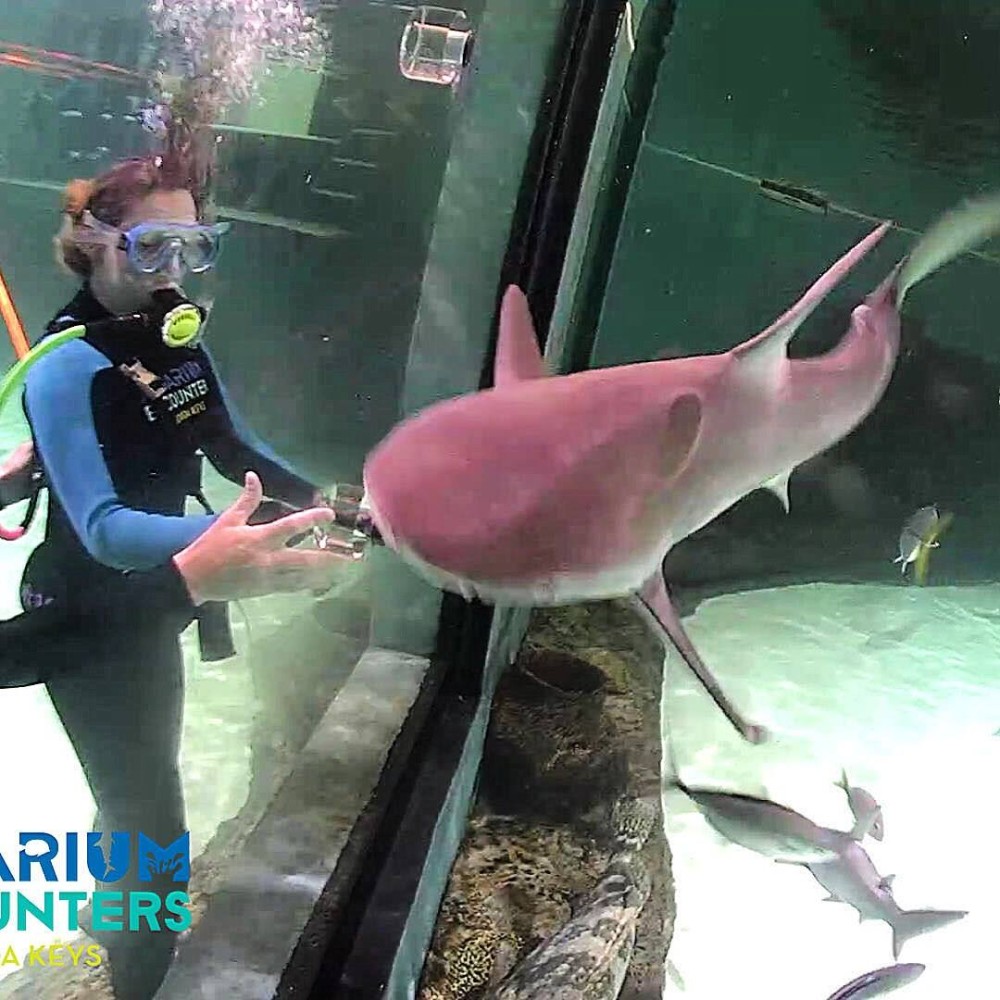 The author getting quite personal with sharks at The Florida Keys Aquarium Encounters in Marathon. 
The Coral Reef Encounter at Florida Keys Aquarium Encounters in Marathon, opened in summer 2014, is the perfect activity to immerse guests of all ages and swimming or diving abilities with sea life. An experienced diver will explain the basic procedures of diving into the 15-foot tank with a simple diver's mask. Once in the water, participants will swim through colorful reefs  and feed invertebrates, fish, and small stingrays. Following the guided swim around the tank, the now confident divers are allowed to feed electric eels, giant stingrays, and even a few sharks through a small, bulletproof hole inside the glass tank. Both photos and a video are taken throughout the encounter for guests to cherish as a memento of their unique experience.
Arguably one of the most quintessential Florida Keys experiences is visiting Robbie's Marina, which has been in operation for more than 18 years on the Lower Matecumbe Key. From snorkeling trips and fishing charters, to quirky Keys shops and The Hungry Tarpon, a famous restaurant, the marina has it all. Additionally, guests can take a bucket of bait onto the dock and feed the many hungry tarpon, a bluish-green game fish that can grow up to eight feet and still jump a few inches out of the water for food.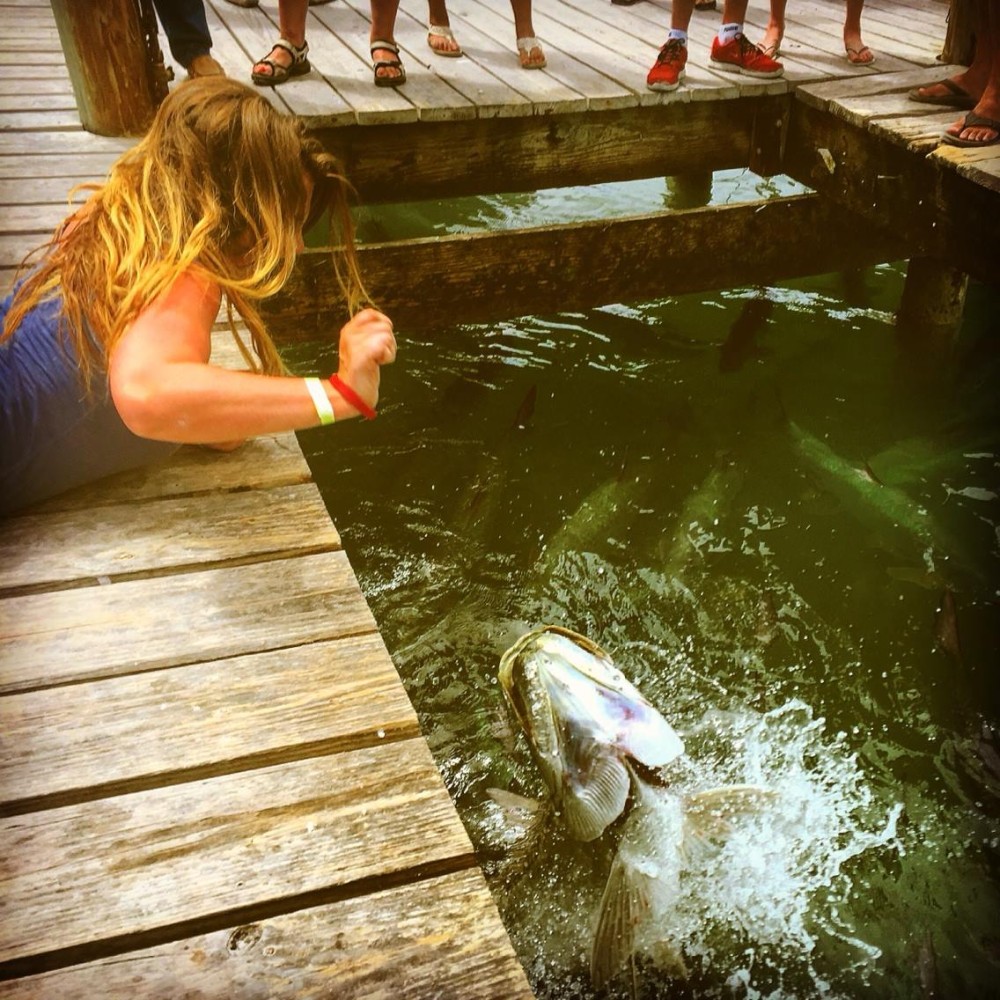 The author is equally terrified and excited about her first tarpon experience at Robbie's Marina. Photo Credit: Parm Parmar.
Where to Eat
Pelican Cove is home to Wild & Lime Restaurant, a casual poolside favorite, tucked away under the palm trees and just steps from the beach. Have a light lunch or sip on a tropical drink while watching the ocean, and follow this by relaxing on the Pelican Cove beach or using their non-motorized water sports
No visit to the Upper Keys is complete without a beachside dinner at Marker 88 in Islamorada, a landmark in the area since 1967. For those looking for an even more intimate and unusual dining experience, owner and operator of the restaurant Bobby Stoky can host a small group on the beach with a cooking demonstration (and tasting!) of a multi-course meal.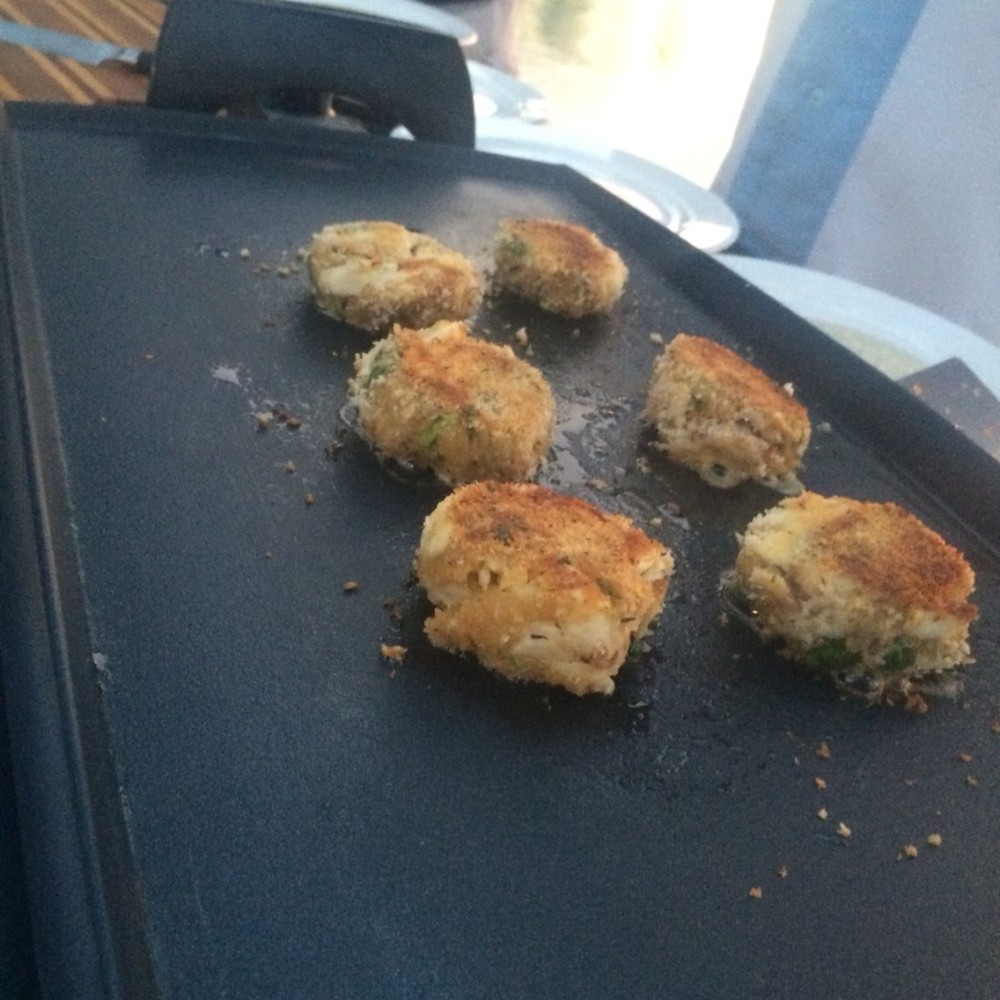 Marker 88 sure does know how to make some delicious crab cakes. Photo Credit: Olivia Balsinger.
The Florida Keys evokes a special something for travelers of all ages and interests. After all, as former President Harry Truman, longtime enthusiast and part-time resident of the Keys, proclaimed, "I've a notion to move the capital to Key West and just stay."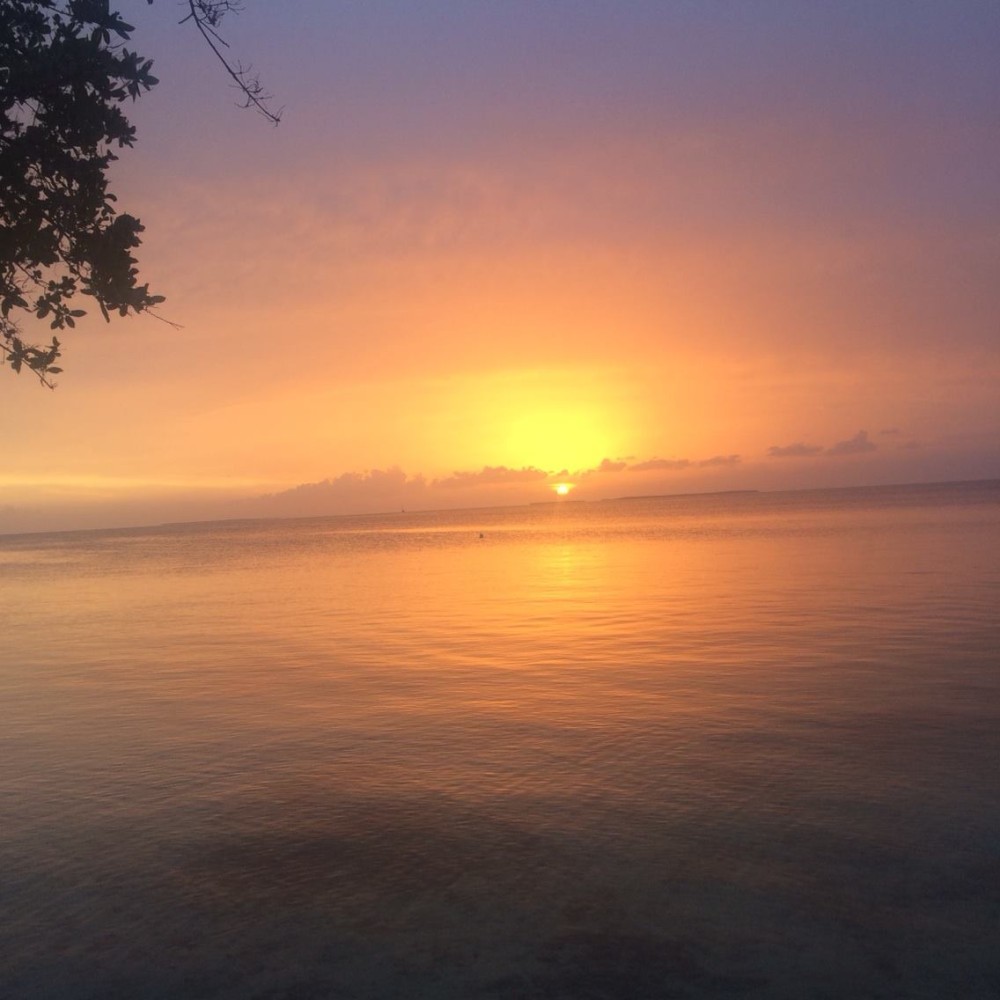 The only thing to dislike about being in paradise? Leaving. Photo Credit: Olivia Balsinger.
Where to Stay
Playa Largo Resort & Spa in Key Largo, set to open in Spring 2016, will include 167 luxury rooms and suites, a private marina, multiple bars and restaurants, a secluded white sand beach, a full-service spa and fitness center, and a beach house for private or corporate functions.
Amara Cay Resort, a boutique hotel, is one of four resorts owned by Islamorada Resort Company in the town of Islamorada. The extensive renovation enhances the outdoor patio and included upgrades and renovations on 110 suites. The posh lobby is also home to the newly established Oltremare Ristorante, which combines traditional Italian dishes and that distinguished Key West flair and seafood repertoire.
With a bar and massage table located in the pool area and a beachfront complete with a boating dock and a motorized water sports booth, guests will find themselves plenty busy. However, the resort also offers a complimentary Mercedes shuttle to guests who want to visit Islamorada's numerous attractions, restaurants, and bars.
The luxurious offerings don't end here. In addition to the Amara Cay Resort, The Islamorada Resort Company owns and runs three other resort properties in Islamorada including Pelican Cove, La Siesta, and Postcard Inn.