How to Stay Fit While Traveling
Posted on January 12, 2016 by Jack Ezon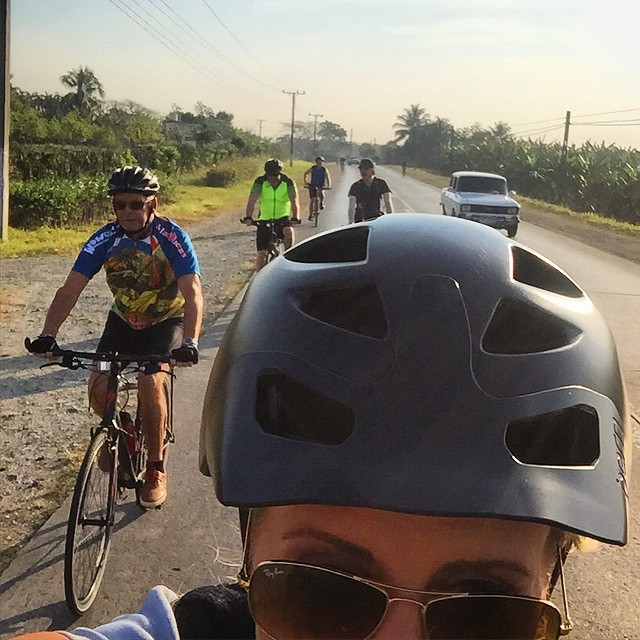 Michaela's Map crew cycling through Cuba. Photo Credit: Michaela Guzy.
Just because you leave your routine when you travel doesn't mean you have to let yourself go along with it.  If you travel infrequently and want to splurge on local flavors, I get it; but if you are a regular traveler those fabulous, buttery French croissants, the incredible local Argentinian wines, those indulgent Swiss chocolates could mean 10-20 pounds a year. Having worked my butt off to shed almost 50 pounds recently, I stay pretty committed to keeping it off despite the fact that I am on the road once a month, and to some amazing place around the world at that! Here's what I recommend for when that corner patisserie is calling your name yet you want to stay fit while traveling.
General tips
– Don't let your exercise routine go when you travel; and if you want to indulge more, make more time to exercise.
– Try to make your exercise part of your experience. I try to avoid a hotel gym and opt for a local class. In Los Angeles, I love to hit a local Soul Cycle studio while in Turks and Caicos I took a memorable Barre class at the Gansevoort. If I am stuck in a gym I opt for a cool new workout to give my body a change. Shangri-La and Fairmont often have the best indoor gyms – they even have sneakers and gym clothes you can borrow. In several cities the concierge even hooks me up with local classes.  I hopped on a group run through Charleston and will never forget my early morning "running tour" through Rome. Though I was there on business I snuck in a 6:30am 2-hour run with a tour guide who swiftly showed me the cities highlights as I burned off the necessary calories from all the previous day's pasta intake. Some cities are just made for running while others are a bit more challenging. One of my favorite cities to run in are Chicago on the LSD and San Francisco along the Embarcadero. Cycling is also great exercise (like OTPYM's 500km ride through central Cuba!)
– Eating can be a challenge, especially if you are entertaining and it is just plain unreasonable to expect total acetic will power. Balance indulgence with moderation.  Try that local flavored pasta at lunch but get berries for dessert or a simple salad for dinner. My goal on the road is to be a solid B+ in my calorie intake. An A+ is unreasonable and anything less gets a failing grade.
Before you go
– Contact concierge at your hotel to get a list of local classes and/or prepare bike or jogging routes. I'm adamant that their is no better way to explore a city than by running it. I always run with my Garmin watch and app and enjoy looking back at all the crazy places I've explored by foot. Many hotels can even organize a running guide to tour a destination as you run. I also like to find out the time of sunrise to take advantage of the natural light as the sun comes up. Local classes can also be a blast; meet locals and see their version of your typical Zumba, spin or other class.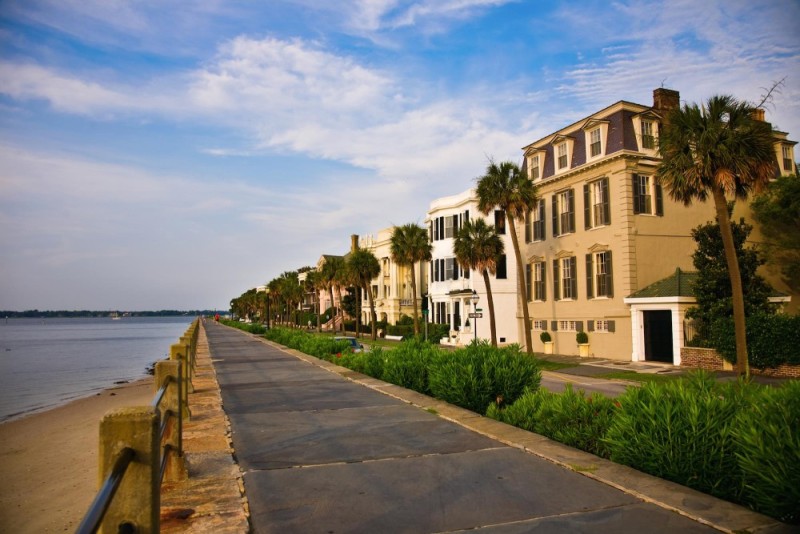 A scenic path for a run past Charleston Harbor and historic homes. Photo credit: Belmond Charleston Place
– One of my favorite runs was in Florence. The Portrait Suite has six different runs to choose from and a host of run-friendly gear to go along with it.  Closer to home, the Belmond Charleston Place not only had different running maps for me but they even had a running guide who gave me a tour of the city during our 7 mile run around the town.
– Ask your hotel for recommendations for a trainer if you need the added discipline and commitment. Be honest with yourself.
– Pack exercise gear. Just the fact that it takes us precious "cargo" space motivates me to use it. I know it sounds cliché but I love my Lululemon..it's versatile, compact and just feels plain great to work out in. I bring 2-3 sets and always wash them in the sink as soon as I'm back in my room to avoid a stinky suitcase later on.
– I like a fresh green juice to start the day. It gives me a boost of vitamins and nutrients to keep me full and hydrated. Contact the hotel concierge in advance to see if the hotel can prepare one for you daily or if they can order it in for you.
– Load exercise videos on your iPad, phone or laptop. I opt for videos under 20 minutes. That way there's no excuse not to sneak in the time.
– No chocolates please!  Ask your concierge to please forego the wonderful sweet turndown or welcome trays. I ask for crudité with mustard instead (hummus, guacamole, and other dips can we even more fattening than the chocolate).
– Bring a large water bottle and keep refilling it, especially in flight. Aside from keeping you hydrated and full, we all know it aids in weight loss.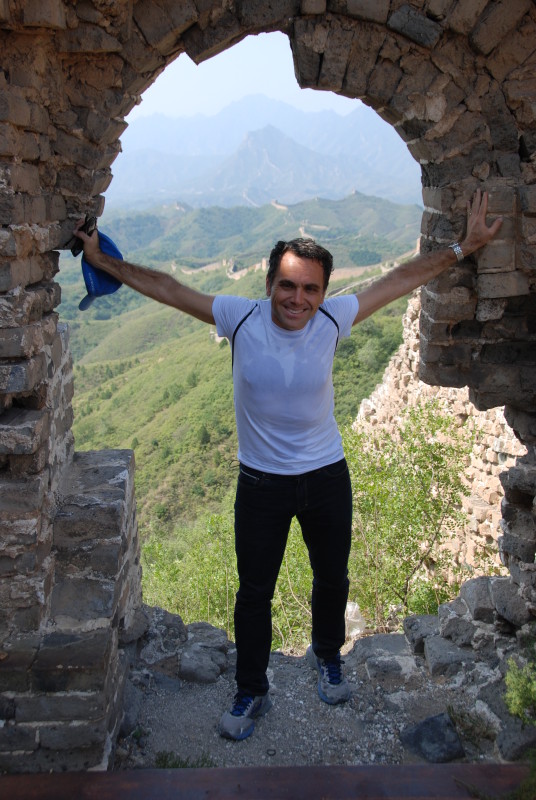 Hiking the Great Wall of China. Photo Credit: Jack Ezon.
While you are there
– Keep healthy snacks on hand.  I like apples, celery, raw nuts, and protein bars. Kind, Cliff and inBalance bars are my favorites but it's totally personal preference. Lara bars are also amazing natural power boosters. I like to create my own own mini-bar so when I reach for those M&Ms I stumble upon – wow—an apple.
– Order a healthy salad or steamed vegetables before dinner.  My favorite is a ratatouille or Greek Salad- always hits the spot! This way, you don't arrive to that late night dinner starving and scarf down half the bread basket.  Try to avoid simple carbs at all costs.
– Don't ever think "this is my last meal here"  or "I am in ____ and I cannot leave without eating this."  It is okay to cheat a little, but it will not be your last chance at an amazing meal so break that thinking!
In Flight
– Order special meals that are more lo-cal, like the vegan or vegetarian option  Avoid the bread basket. It is soggy and rubbery anyway.
– Bring snacks like popcorn, celery sticks and mustard to dip. I bring fruit in the morning (and buy a yogurt and honey in the airport).
– Water, water, water – drink as often and as much as you can. Tea is perfect too. This does wonders for your skin in flight too as dehydration really takes it's toll on your whole body.
– If the flight is exceptionally long, I like to do core exercises at my seat; simple things like planks or pulses.  It is also great to stretch as well. If you have access to a great lounge like the Lufthansa First Class terminal in Frankfurt or the Virgin Clubhouse in Heathrow you can exercise, shower and hit the Jacuzzi before or after your flight. Doesn't get much better than that!