Souljourn Yoga: My Journey of Yoga and Community
Posted on February 23, 2017 by Jordan Katz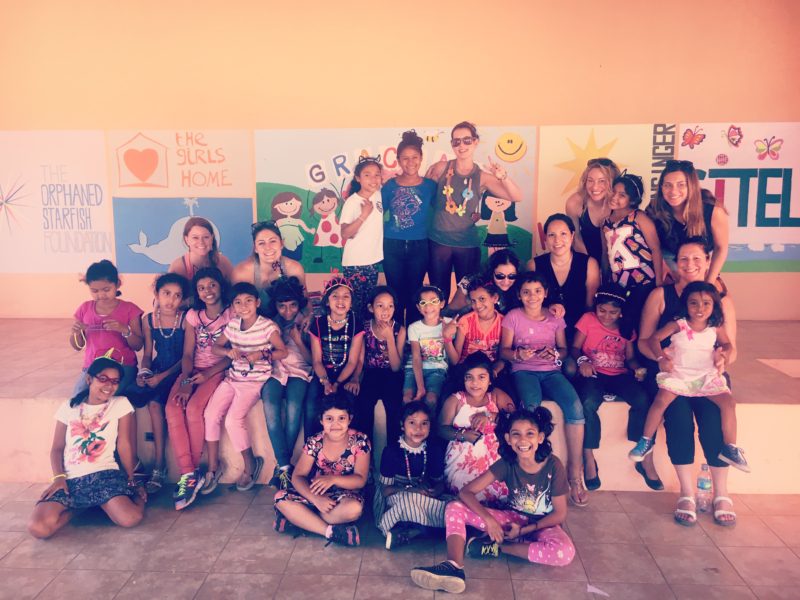 The Souljourn Yoga crew and local girls in Nicaragua.
I've never had to wake up before sunrise to walk five hours to school. I didn't grow up at risk for violence and sexual assault. I didn't return home to a house of siblings whom I'm expected to care for, help my parents with manual labor or be privy to domestic violence and alcoholism. Then to finally be told that the closest secondary school is an eight hour car ride and that my journey of learning halted and replaced by child marriage, reproduction and loneliness.But for some young women and girls, this is reality, a global epidemic that transcends culture and creed. Education becomes a "fork in the road" that immediately alters the outcome of a girl's life.
Because my education was handed to me just because of where and to whom I was born, I wanted to create an opportunity to make tangible change and pave the way for other girls to receive the same chance I did. Thus, Souljourn Yoga Foundation was born. Our mission is to raise funds and awareness for girls' education in developing countries through global yoga retreats. To take the yoga practice off the mat and infuse our sojourn with the Sanskrit word "seva" which means to "give back" as we partner with sister organizations on the ground such as the Sacred Valley Project in Peru. Sacred Valley Project houses and provides secondary education for girls who would've otherwise been denied the opportunity. Included in any Souljourn Yoga tuition is a $300-500 tax-deductible donation to organizations like the Sacred Valley project where participants will spend time with the girls and local organization that each trip supports.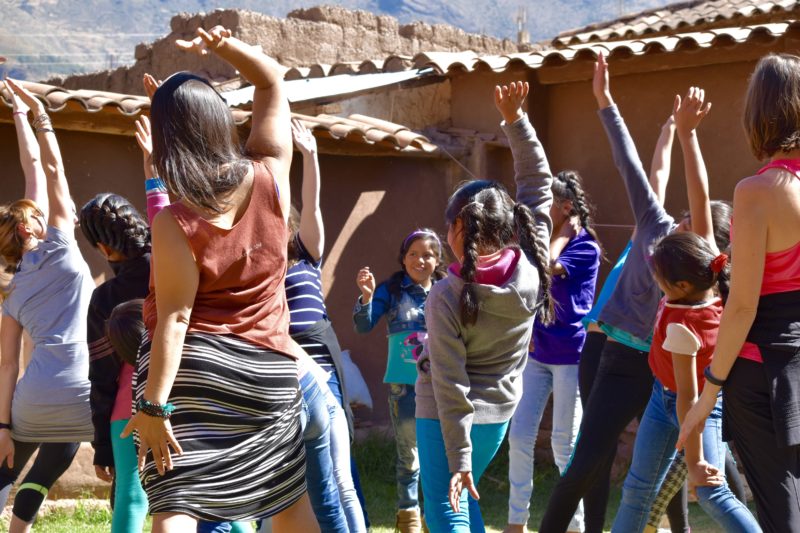 Souljourn Yoga leads a practice with travelers and local girls in Peru.
Our first retreat was a 10-day journey to Peru where nine women from 18-53 years old came together from across the country to go on a yoga retreat of a different kind. Sure, there was the attractive highlights such as visiting the famous Machu Picchu, hiking, bike riding down into a cloud forest, sweat lodge, zip lining and of course yoga, but the real personal transformation came when we visited the girls from the Sacred Valley Project. Aside from bringing them new school supplies and a garbage bag filled with sanitary napkins, the best memories were created by just spending time with these inspiring young women. I couldn't tell you the last time any of us had jump roped, made a braid train, or played freeze tag! By dropping all of the pretenses of how we viewed ourselves were open hearted and free. It's no secret that giving back is contagious because it feels good and the immediate ripples of change are visible. It's instant gratification, an empowering or uplifting feeling, removing your ego (the perpetual laundry list of things we want to change or adjust in order to be happy). The selflessness nourishes the heart.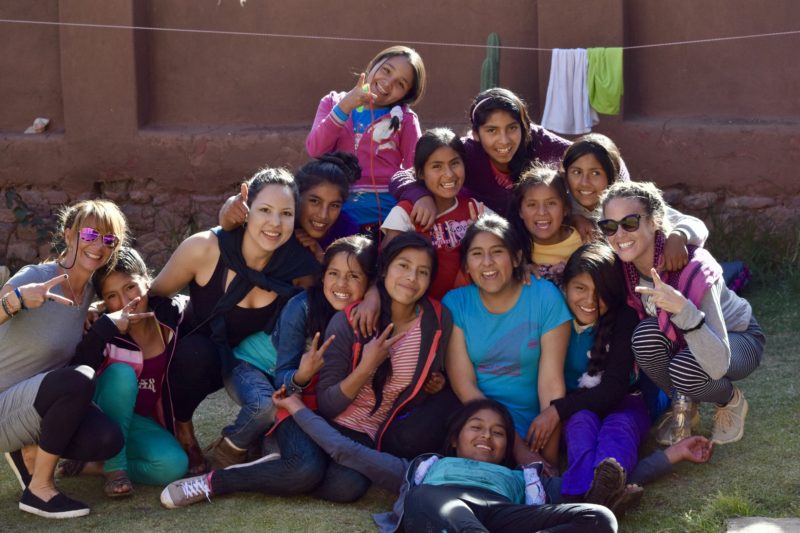 The Souljourn yogis and new local friends.
It's not uncommon for our "first world problems," trials, and tribulations get checked upon arrival. Not to say we don't have personal struggles, but when seeing young women and girls not have the right of choice for body, mind, and heart gives sobering perspective. It's a call to action, to stand up as a global collective and say, "This isn't right." Often times international yoga retreats are operated in developing countries without acknowledging the host community. It is Souljourn's goal to support ethical tourism so that we can form lasting relationships.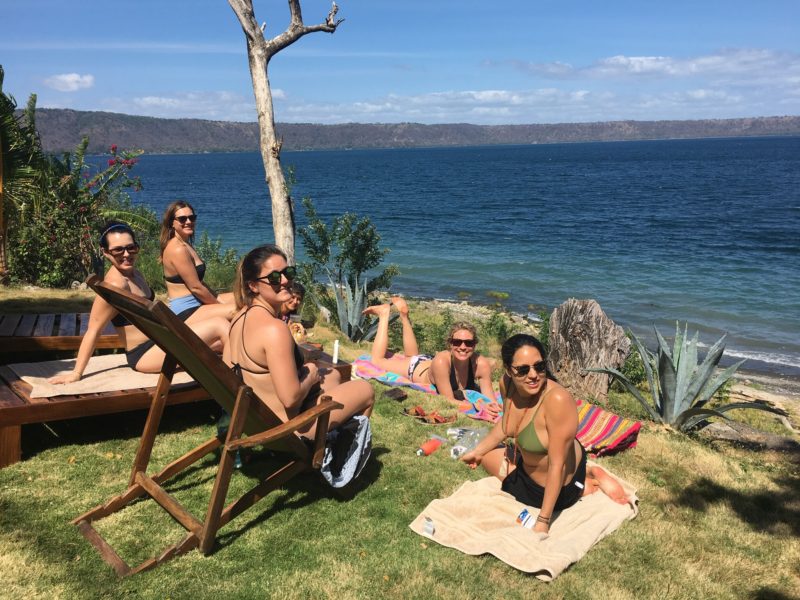 A break from the flow in Nicaragua.
In early 2017, Souljourn Yoga ventured to Granada, Nicaragua to work with the Girls Home, a social orphanage that houses girls aged 4-18 who are unable to stay at home due to safety concerns. Many of the girls are survivors of rape or abuse. Themed "a retreat of making and movement," we taught the girls yoga and beading as a way of meditation. We learned to make malas overlooking the crater lake, snacked on chia seed bowls, had yoga twice a day, and a learned how to make tortillas.
Our hope is that our travelers leave feeling bittersweet, with a visceral experience that expands their awareness and understanding of these girls who have been handed unimaginable obstacles and opposition.  It's the balance between the light and dark that make for a memorable trip. This summer, we will be returning to Peru from May 26-June 4 and Morocco where we will be supporting Education For All Morocco, an NGO that provides secondary education for girls in the Atlas Mountains.