Uganda Marathon 2017: Awareness and Adventure
Posted on February 27, 2017 by Tarka Rose-Venning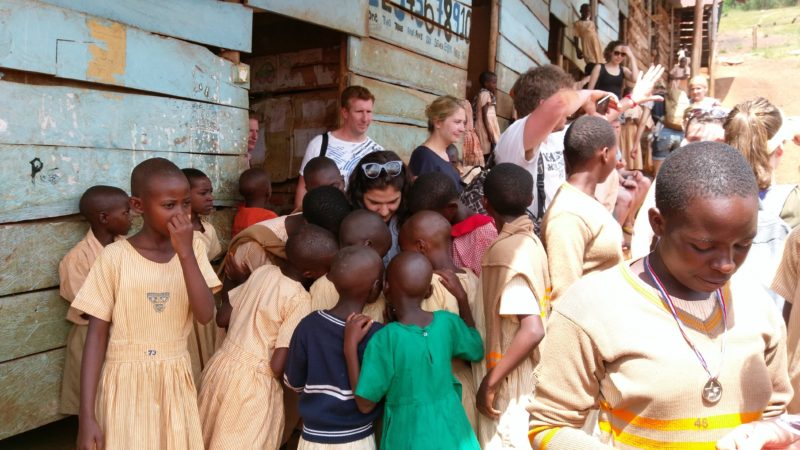 Visiting one of the projects the Uganda Marathon selected during the 2016 race.
A Look Back: Race Day 2016 
5am. Sun's not risen. Birds are silent. All you can hear is the rustle of tent flaps, the creaking of bones and the groans as people emerge from their tents, bleary eyed and nervous. We smile and nod good morning, not wanting to break the silence hanging over the camp. We laid everything out the night before but there's still a moment of panic wondering whether we've forgotten anything important, like our running shoes. Then off to breakfast where we know we aren't going to eat because no one wants to need the toilet at kilometer 15 in the middle of the bush!
As the predawn sky lightens so does the mood. It's finally setting in, this thing we've been talking about and dreaming about, preparing for and fundraising for: The Uganda Marathon 2016.
Balloons, people, flags, people, music, people– so many people! There are only 150 international runners and about 2000 local runners from Uganda and neighboring countries who've come for the race. There are runners in sandals, runners in business shoes, runners in jeans and a three-piece suit. We look over-prepared with our taped knees, energy gels and orthopedic running soles.
We're off, slowly at first as everyone tries to negotiate the throng of runners and find their pace. Then the pace picks up as the pack starts to spread and people fall in to their rhythm. The run is equal parts grueling and amazing, with people coming out of their homes and shops to cheer us on, cars stopping to honk at us and children holding our hands as we ran.
42 kilometers fly by and before I know it I'm about the cross the finish line. There are people cheering, people just like me, who'd flown halfway around the world to spend a week in rural Uganda with complete strangers. Crossing the finish line though I didn't see strangers though; I saw friends. Someone who had cried when we visited the women's prison, someone who had asked to borrow mosquito repellent after being eaten alive, someone who had offered to help us pitch our tent. Such an amazing feeling; such amazing people; such an unforgettable experience.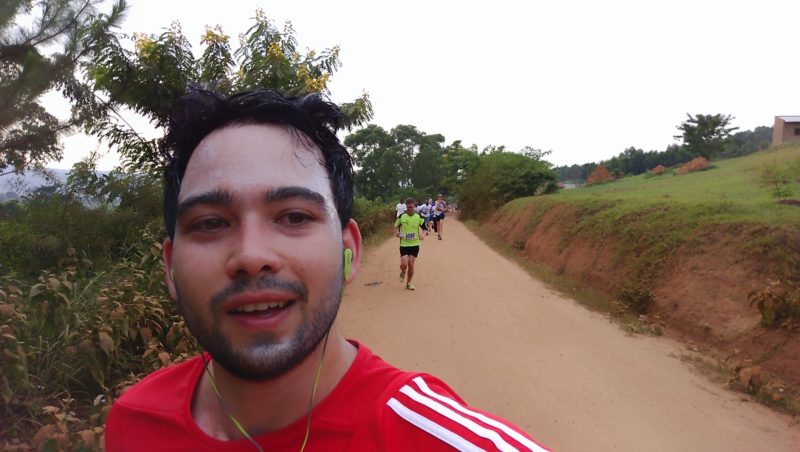 Running the 2016 marathon, 42 kilometers through the mountains.
Uganda Marathon: The Details
Fundraising is a huge part of running any marathon and with the Uganda Marathon, it's no different. One of the core values of the event is that we are giving back to a community that is opening it's arms to us. The approach is very simple: Raise as much as you are able to in order to support the various projects the marathon has selected throughout Uganda.
But the difference with this marathon vs. others is there are no minimum targets or requirements in order to take part. Organizers believe that a blanket target cannot be a reflection of how much each individual is capable of, nor wants to fundraise, so the power is entirely on you to set your fundraising goal. The only thing that they do ask is that whatever you set your target as, you go out and smash it! The marathon takes 10% of fundraising to support the running costs of the event. Everything else goes directly to your chosen project.
Each year, the Uganda Marathon receives applications from hundreds of different projects around the Masaka region. The marathon also has a dedicated team in Masaka who searches for projects who may not have the availability to submit applications. Each effort must tie to one of the UN's 17 Global Goals to be selected. Runners then have the opportunity to directly support these projects – ranging from education to wellness to sustainable development – and visit them while on the ground. Hence, the marathon is more than a race, it's a seven-day event of community, adventure and fun.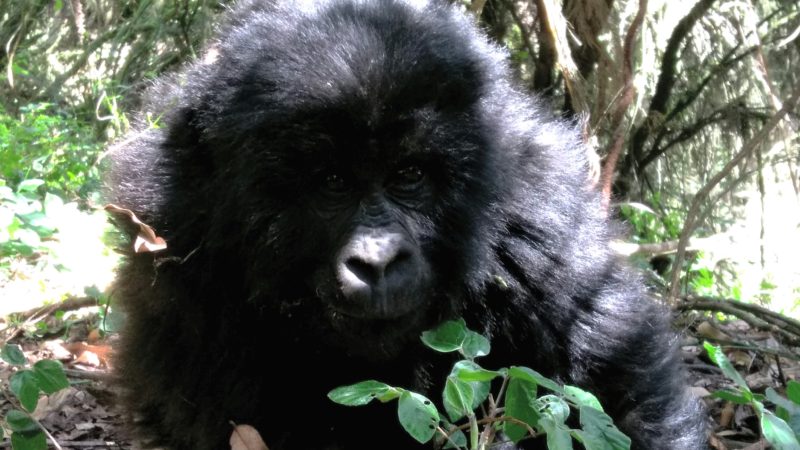 The alpha Silverback on the trek.
Gorilla Trek: One of Seven Days of Adventure
We arrived at Mguzinga National Park after an hour's drive along some of the worst roads we've seen in Uganda. Arriving at the base of the park, we walked about 20 minutes through lush farmland where the locals were growing wheat. You could've easily mistaken it for the French countryside; it was that green.
After two hours of hiking and whacking away dense bush and vines with our waling sticks, we heard the snapping branches and low growls of a Silverback. Our jaws hit the forest floor as we marveled at the size and awesomeness of this incredible beast. Our shock quickly turned to cooing though when someone spotted the baby of the group, a curious two year old no larger than a human of the same age. With wide inquisitive eyes and drooling mouth, it stared at us while chewing away at leaves. (Check out the iPhone video we recorded!)
We followed the group for a while, mother, baby and alpha, before they joined up with a second adult male in a shaded glade. Shortly after that we were joined by two more gorillas, a juvenile male and a grumpy old silverback male, the old alpha. He came in shrieking and charging, making a grand entrance. The rangers and park authorities do an incredible job of limiting to only one trek a day, eight people max, to try to preserve the gorilla's wild nature and not cause them too much anxiety at seeing so many new humans.
The Gorilla Trek was a tour we took post -race organized by the Ugandan Marathon. They use various local services to promote sustainable tourism. We recommend booking through the Ugandan Marathon as they know all the best local guides, provide honest pricing, and support positive impact organizations in the region.
Check out #UGM2016 for inspiration from last year's race and visit ugandamarathon.com to get involved in this year's race, June 4, 2017.