Co-Pilot Spotlight: Divia Thani
Posted on May 19, 2017 by Nikki Pepper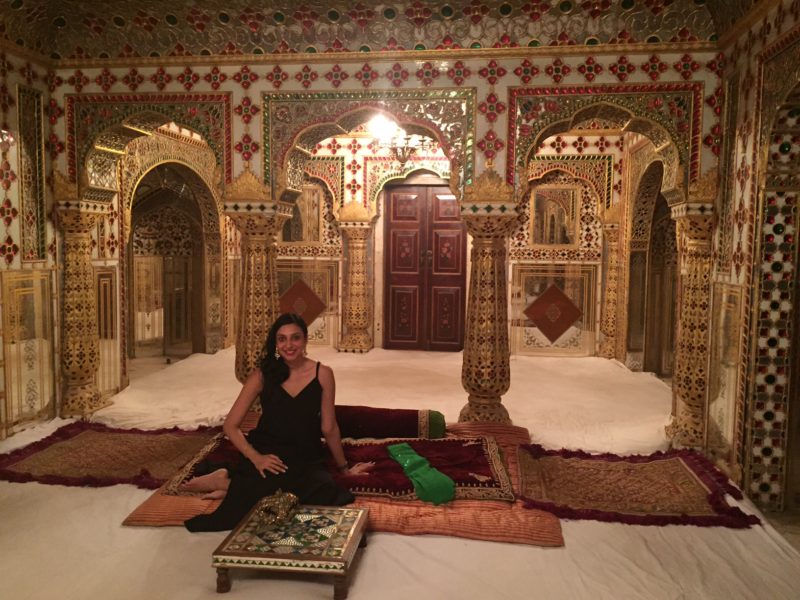 The Co-Pilot Spotlight navigates into the minds and experiences of travel professionals and professional travelers. Join us in the cockpit with Divia Thani, Editor-in-Chief of Conde Nast Traveller India, whose love of travel started even before she could remember.
OTPYM: Where was the first place you ever traveled?
DIVIA: My mother says my first flight was when I was a year old—to Lagos, Nigeria, to visit my father. We used to fly Swiss Air back then. When I was a little older, the pilots would let me in the cockpit and the flight attendants showered me with gifts as I was always getting airsick.
Where is the last place you visited and where is your next?
I recently spent a weekend at the Anantara Al Jabal Al Akhdar, on the edge of a glorious canyon in Oman. And next is Peru, because I am a glutton.
Why do you choose to travel? 
I don't know a life without travel. It's in my blood. It's when I choose not to travel that I feel claustrophobic, bogged down, and sad. I travel to keep my sanity.     
How has travel helped to define your world view?   
I left home at 17 to go university in a small town in rural Pennsylvania. For a big city girl from Bombay, this was as far from my comfort zone as I could get. It wasn't deliberate; I was lonely and I was stared at a lot! But when I had the choice to leave, I decided to stay. I realized that, much as I was so envious of my Indian friends studying and partying in New York and Boston, I was seeing a side of the US that was really unique and getting to truly understand a different culture and lifestyle. There's great value in that. There's something to be learnt, something to take away, no matter where you go in the world.
Where is the favorite place you've traveled?   
South Africa. It has that magical golden light, incredibly scenery, fantastic wine, the most spectacular wildlife and jungle camps, a vibrant fashion, design and art scene. The people are incredibly warm, and take such pride in their history. I fall in love with it more each time I visit. The Delaire Graff Estate is my favorite spot in South Africa—diamonds, art, wine and views! It's my idea of heaven.
When on your travels have you felt the most out of your comfort zone?   
Russia. Everything felt weird and slightly sinister, and yet Moscow was cool as hell and St. Petersburg so beautiful and rich. I went back a second time, and would happily return for a third.
 Who is the most interesting person you have ever met while traveling?
Travel has allowed me to meet some of my literary idols: I met Pico Iyer on a starry summer night in Muscat, ran into Kazuo Ishiguro in London on his birthday, randomly drank whiskey from a New York hotel minibar with Salman Rushdie, and spent an afternoon chatting with Jhumpa Lahiri in Brooklyn. In China, I met a woman author whose novel I read as a teenager and made me think Shanghai was the coolest place on earth. And at the annual Jaipur literature festival, I've met award-winning, world-famous writers when they're beyond drunk and scrambling to see Oprah Winfrey or a Bollywood star.
What is the most adventurous food you have tried while on the road? 
Street food in Vietnam and Cambodia. But I couldn't tell you what I ate as I was too afraid to ask! My girlfriends did try dog meat (which they chased with shots of questionable rice wine) and they were scarred from the experience.
What's the next trend in travel?   
People are traveling with the single idea of enriching or transforming themselves through an extraordinary experience. The Northern lights, Cherry Blossom Season in Japan, Ayurveda retreats in Kerala—they will sign up for them more and more.
Any funny anecdotes from the road?  
I detest packing and almost always mess up. I have shown up for an African safari in flip-flops, went trekking in Tasmania in Ferragamo ballet flats, and to a destination wedding in Thailand without my lingerie bag! On the flip side, I don't wear sneakers or sweat pants on flights, so at least the look is chic even if utterly inappropriate!