A Tour of Bali by Bike
Posted on June 3, 2017 by Misty Foster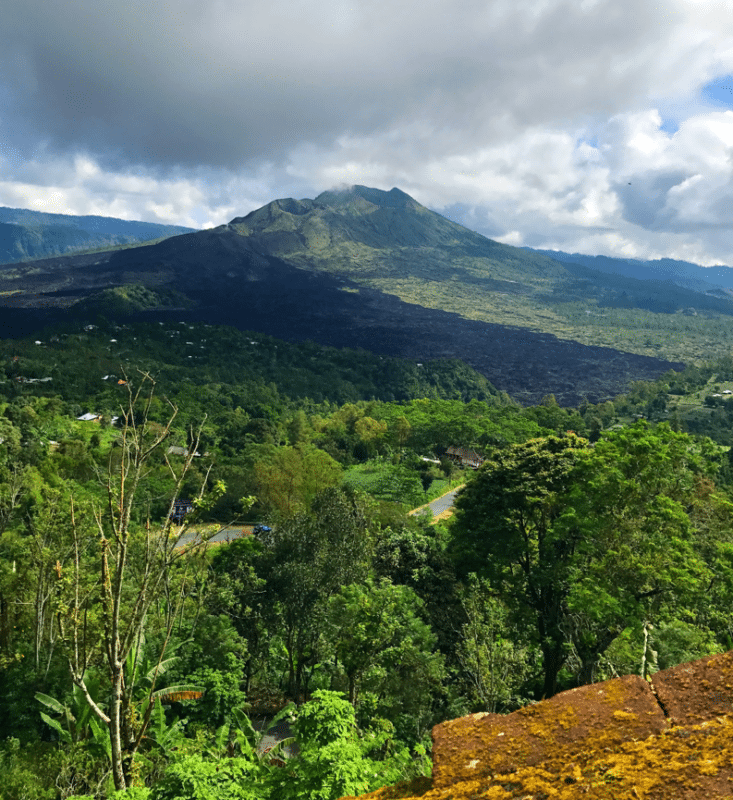 Mt. Batur. Photo Credit: Misty Foster.
If the lyrics to Queen's Bicycle Race are on loop in your head, every time you ride your bike, this one's for you.
Bali, Indonesia is an island full of two-wheelers. Not just of the pedal variety, the motorized version is far more common. In fact, you'd be hard-pressed to visit a part of Bali where people aren't on a scooter. Driving a car isn't encouraged for visitors. The locals are really the only ones who do it and for good reason: there are no real rules on the road. No stop signs, traffic lights, etc. Well, if you are in a major city like Kuta, there are some. In any case, the rules of the road are confusing at best and treacherous at worst. Most visitors hire drivers when in Bali, because the Balinese are the only ones who can navigate the madness. So why is riding a scooter any different, you ask? It may not be, except for the fact that everyone gives way to the scooter(s). Most drivers on the road are on scooters and there is a sense that at least ⅓ of those are probably tourists, and the locals can pretty much spot which ones those are.
If you aren't brave enough to try a scooter yourself, you can hire a taxi driver to scoot you around. Or you can use the app GoJek, which is essentially the Uber of scooter-dom. Have I said scooter enough? I think so. 
Alas, we are here to talk about a different type of two wheeler: the beloved bicycle. I'm not sure how it happened, but I somehow become addicted to going on bike tours when I travel. It started in Santorini, crept it's way into my trip in Johannesburg and bam, landed a spot on my itinerary in Bali. Perhaps it's the mix of being able to see the backroads of a destination and the thrill of flying downhill. There's also the fact that it happens to be a very environmentally friendly way to see a place. Each tour I've gone on has been a wonderful mix of action, history and adventure.
The bike tour I took with Bali Eco Cycle was no exception. You may be scratching your head wonder, "aren't bike tours already eco-friendly? What makes this tour different?" With many companies greenwashing their brand, it can be hard to know when someone is using the eco-angle for marketing vs. when they are being authentic about it. What makes this company stand out is that, yes- biking is eco-friendly, but they also have an agricultural and cultural focus.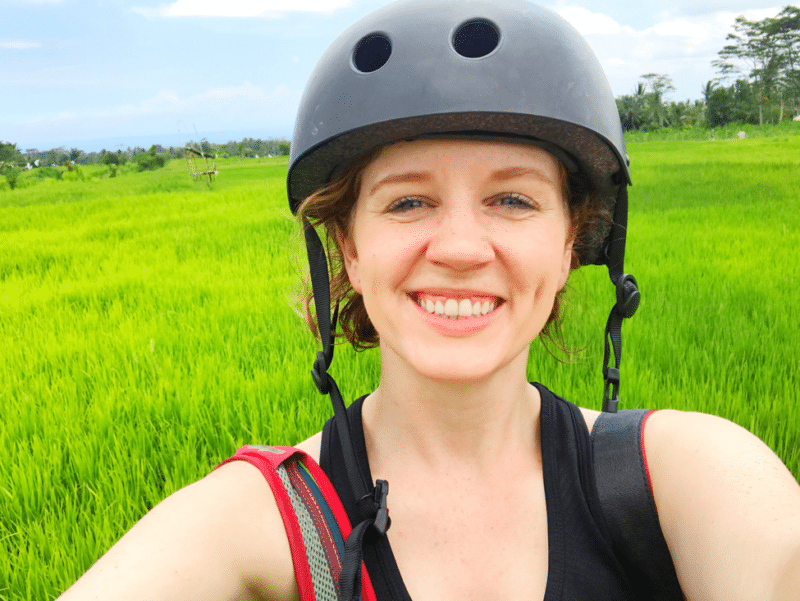 A "getting ready for the bike tour" selfie.
Bikers are picked up from their hotel (near and around Ubud) and taken to a mountaintop town near the volcanic, Mt. Batur. You start out with a breakfast and scenic view of Batur and then are taken to an organic coffee plantation nearby. The most popular coffee in Bali is the Luwak, which is produced by the Civet cat. I'll spare you the details on how the coffee is made, but let's just say that it's the sh*t. It is very good and also the most expensive coffee in the world. A cup in Bali goes for 50,000 IDR, which is about $4.00 USD. Not bad, but if you were to try and buy Luwak coffee in the states, you could easily expect to spend about $50 for a pound.
Once at the plantation, the guide explains the medicinal and cultural importance of the local plants and how the Balinese use them. I found myself giggling because much of the rhetoric was, "this plant is VERY good for the woman." Meaning…it will bring her babies. This particular plantation that Bali Eco Cycle has paired up with is concerned with environmental care and not feeding their plants pesticides to grow. Guests get to sample over ten different coffees and teas that are from fruits grown locally in Bali. It's a yummy way to fuel up for the three hour bike tour you are about to embark on.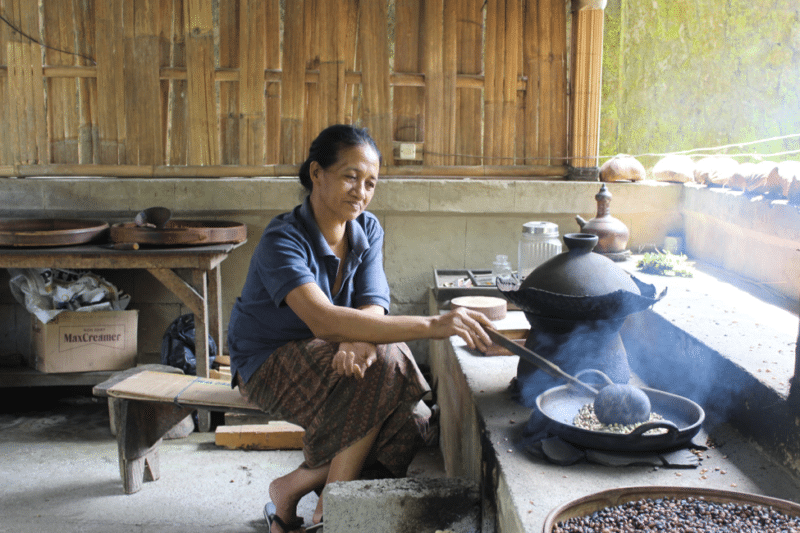 Roasting the Luwak coffee. Photo credit: Misty Foster.
The tour is largely downhill, with only a few off-roading moments, making it suitable for bikers of all stages. One such example is when you are taken through the rice fields. There gravel and uneven terrain can be somewhat challenging, but the guide suggests walking during that section if you feel uncomfortable. They even have several guides on the tour to make sure safety is a priority the whole time. Visiting the rice fields are a treat. Most travelers see the rice terraces from afar, but on this trip you get to see first hand how the irrigation works and walk around in the field.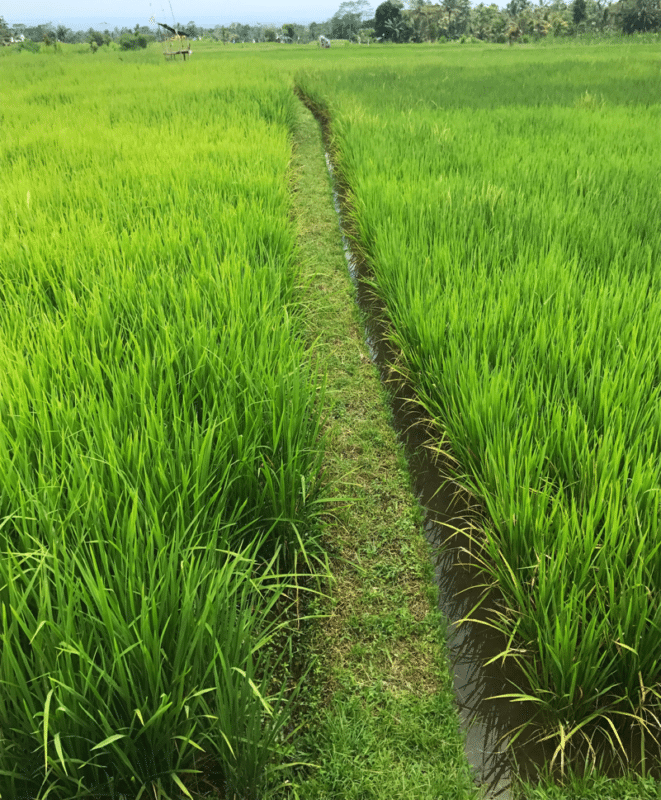 Rice paddy. Photo credit: Misty Foster.
The next stop on the trip is to a local village, Song Landak. The company donates a portion of your payment for the tour to the local villagers in exchange for letting the riders come by. This promotes a good relationship with the locals and gives them a chance to directly profit from visitors. Once in the village you can also purchase hand-woven, ceremonial baskets to take back as a souvenir. Balinese homes are set up for multiple members of a family to live there, well into their elder years. The patriarch and matriarch have the biggest and nicest house, for good reason. Each home has a shrine and offerings are made to the gods three times a day, by the women of the household. There is also a special part of the home dedicated to cremation preparation, which in Hindu culture is extremely important. They keep the posthumus bodies for a month, while preparing for their cremation and then take their ashes to the ocean for reincarnation. If a family is poor, they have the option for traditional burial and every five years, there is a mass cremation ceremony for all the buried bodies.
My favorite part of the tour was seeing the old banyan tree. The enormous and ancient tree, stood firmly in the middle of a courtyard waiting for us to greet it. It had a little passageway in the middle of the tree that you could walk through. Our guide jokingly said it was a fairy portal. We spent a good amount of time with the tree, talking with some locals who hang out nearby and I even held a large (non-poisonous) spider that one of the men saw crawling around.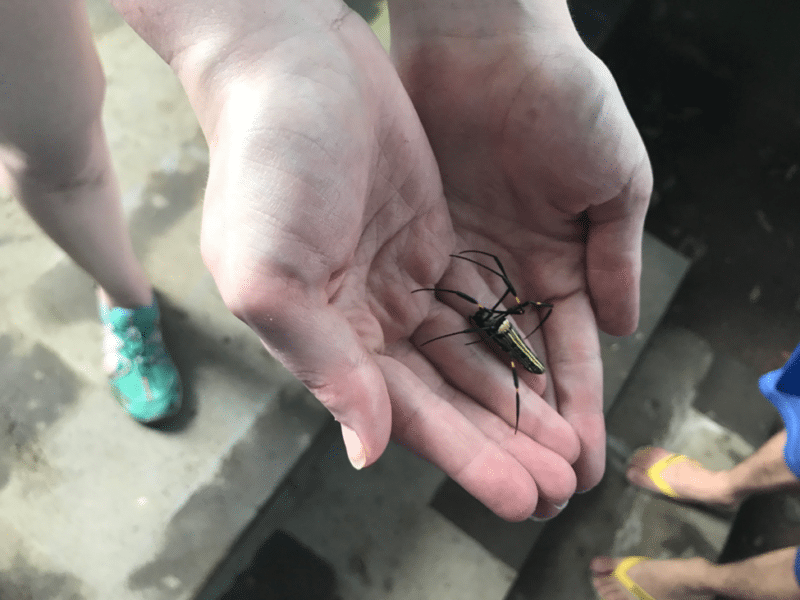 Up close and personal with a local. Photo credit: Misty Foster.
The tour ends with lunch overlooking more rice paddies. The sky cracked open and started to pour rain once we sat down for lunch. A welcome gift after a long ride through the backcountry. Our guide, Pago was extremely informative, warm and took great care in explaining the cultural nuances of his people and land. Biking with Bali Eco Cycle comes highly recommended for anyone with a penchant for activities that keep the mind, body and spirit healthy!