My Hometown: Port-au-Prince, Haiti
Posted on April 3, 2018 by Olivia Balsinger
My Hometown is a series highlighting the hometowns of our contributors, join us with Valerie Verdier, yoga instructor at Modo yoga, Modo Yoga NYC and Moksha Yoga Montreal, teacher development, executive director KAY (karma Ayiti Yoga).
OTPYM: Tell us about yourself and your work.
Valerie Verdier:  I am quite fascinated by the human body more specifically the way it moves which is why I study Massage Therapy and Kinesiology in University.  Being a yoga instructor has helped me combine curiosity for movement with breath awareness. The teacher development is fairly a new concept at Modo Yoga and in NYC we are two at this job. Like any other profession, becoming a good yoga instructor takes  a lot of dedication to your own practice and  continued eduction, and one of the best ways  I know how to keep the information and the new skills is to integrate them and in your teachings and when they work pass it on to your fellow teachers for their own improvement and, by extension,  better studio performance.  And the work we  do with KAY,  a non-for- profit organization, Is to bring yoga classes as a from of fitness and recreational activity to under privileged youth
Where is your hometown? Were you born here or did you move here?
Haiti is Home. I was born in Port-au-Prince, Haiti.
What makes you consider it home?
Everything makes me consider it home–the culture, the food the music, the beaches, my family. I was raised in Port-au-Prince, was already 19 when I moved to Canada for university. No matter how long I have been away, how far I have traveled, when I go back its like I have never left.
What is your favorite local dish and/or place to eat?
Even if wanted to I couldn't choose just one so I will give you two of my all time favorite DIRI DJON DJON rice with black mushroom served with GRIYO: fried pork with some PIKLIZ on the side (onions, cabbage, carrots in a spicy vinegar sauce) often paired with a side of BANNAN PEZÉ fried plantain, Sòs Ti-malis, spicy tomato sauce (that goes on the rice) and fresh avocado salad.Thats a full meal right there for fish lovers: Pwason BOUKANNE,grilled fish.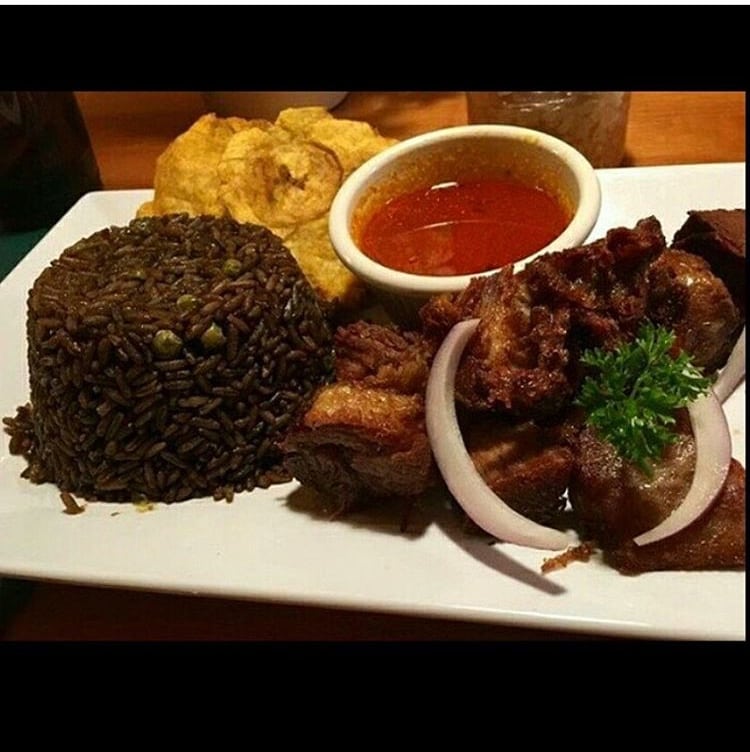 What is your favorite place to stay when you are "home"?
I stay at my mother's house, the house I grew up in. But going home is an experience much more then the place I stay. I go to some of my all time favorite restaurants, and of course at least one or two nights at the beach. I try to attend a Haitian folklore class with live drums at my old dance school. I go back the old places that I loved growing up and try to visit parts of the country I still don't. Which is one of the reasons I am starting the Volunteer/Retreat yoga adventure in Haiti in November (website coming soon karmaayiti.org ). Kay will be offering starting November 2018  a Volunteer and Yoga retreat program  where the participants will enjoy  daily yoga practices but  also spend the first half  of the trip volunteering in the local community and the second half exploring Haiti's spectacular beauty.
Can you give a little personal story about why it's a life changing place?
I might be a little biased since I was born there, and I make it a point to go home at least once a year. But Haiti thought me how to leave in the moment and not take anything for granted. It is not something you can put into words. The interaction with the people, their smiles and there way of life will touch the visitor's heart. But don't get me wrong, their is extreme poverty and abundant wealth, corruption but that's not what defines us. You have to be there to experience it.
And where do you suggest that travelers stay to feel "local"?
When visiting Haiti I would suggest having a guide. If the guide is a friend and you stay with them, there's nothing more local then that. If you are staying in Port-au- Prince and at a hotel some suggestions: El rancho, Kinan,Villa Therese, some new ones: Oasis, Karibe, some international branches like Marriott and Best Western.
What unexpected activities can you experience in your hometown?
Understand that Haiti is a third world country, that has been hit by some major natural disasters
in the past few years and there is a lot of poverty but if you are open-minded and ready for an adventure, Haiti might be the perfect experience to feed your soul and experience a fulfilling cultural exchange with the people, the food, the history and the exotic excursions. We Haitians, we live in the moment so if you want to visit we are happy to have you. Come in December and get ready for the night life experience that goes on until 3-4 sometimes 5 am with Llive music dancing parties. Visit around Mardi Gras and experience the pulse of the country with the music KANAVAL (carnival) . Visit at any other occasion during the year , its summer all the time, see the culture, meet the people do some humanitarian work.
What's a neighborhood I need to explore off the tourist map?
Haiti is divided in10 different districts. If you have time and you can travel to a few of them then I would suggest a few things:
Bassin Bleu: a waterfall on the hills of Jacmel, capital of the south-east district Ile à vache. Some would say this remote island has the best beaches in Haiti. You would need to plan your visit there. There are two resorts you could try Port Morgan and Abaka Bay. Cap Haitian: capital of the North district. So much to see you might want to stay a few days. Its full of history and culture, some of the house date from the French colonization. While you are there visit Labadie ( labadee in English), plage Cormier, The citadelle Laferrière, Vertière and more. If you choose to stay in Port-au-Prince the capital of Haiti In the Ouest district, other then the 10 beach resorts on the Côte des Arcadins, check Molin sur Mer, Kaliko,Wahoo Bay, visit Furcy kenscoff. Stay in Petionville for some of the best Haitian restaurant like: la reserve, Papaye. Go for the view but eat some local dish at Observatoire.
 Is there a reputable company or place to go to get a guide or tours line up in advance?
Yes–experiencehaiti.org offers different options on why you should choose Haiti, where to stay and what to do.
Haiti roots : http://leoshaiti.com/haitiroots/ #haitirootstourhaiti.net also offers a couple of tours once you are in Haiti viatour.com  (by trip advisor) offers about 10 different excursion tours in Haiti
Haiti roots : http://leoshaiti.com/haitiroots/
What makes your hometown special/unique?
For a while now all we see in the media is the struggle, the devastation and poverty of the country, which is a reality but not the only one. the Haiti I know is magical. It has a vibrant culture of music, food, art and amazing beautiful people. Haiti or Quisqueya is the name of the island. Although tiny, the island is separated in two , the Ouest side, Republic of Haiti and the East, Dominican Republic. there is a beautiful contrast of mountains after mountains in the countryside and pure blue turquoise water that meets the white golden sand beaches all over the costal side.
What is your favorite memory in your hometown? Why?
When I left Haiti for Canada, And I don't recall if it was the first or the second Christmas break
visit, but my high school friends and I went to BAL (live music party) with my all time favorite band CARIMI at le FLorville. The place was so packed that I am sure if it was in Canada they would have shut it down. A lot of use are here from school and want make the best of the short time we have. "People are laughing, dancing ,the music good and my heart is racing. We decide to go see the band up close and make our way to the front of the stage. They played an old hit that brought me back to high school. The lead singer stops singing turns the mike to the crow. everyone signs. I stand tall, lift my arms in the air close my eyes and let the crowd move me" I am happy. I am home. I realize for the first time that n matter where I end up in life, Haiti will always stay in my heart.
Why would someone want to visit your hometown?
Simple It will be a life changing adventure.
What song best represents your hometown?
I believe there is a Haitian song for every mood. Our music is a reflection of our history, with French, Spanish, African and Caribbean influences. Although the national style is known has Konpa, we have much more to offer like mizik rasin, Twoubadou, Rara, rap kreyòl, and more. The song in the story above : Ayiti Bang Bang Carimi . This is a dancing kompa music. It talks about the reality of the country and how we neglect it. Maybe let me give you a few different styles
Imamou lele : boukman Eksperyans (this rhythm is for local Haitian dance "folklore")
Mèsi lavi or l'odeur de ma terre: Emeline Michel : nostalgia
Haiti chérie: Jacques Sauveur Jean, Clément Bélizire, Fabrice routier  (twoubadou ) this is a
profession of love to the country
Some of the newer generation
Trou bwa Kayiman : Freedom
Danré Ra: Olivier duret