The Place Where the Drama Began
Posted on June 19, 2018 by Olivia Balsinger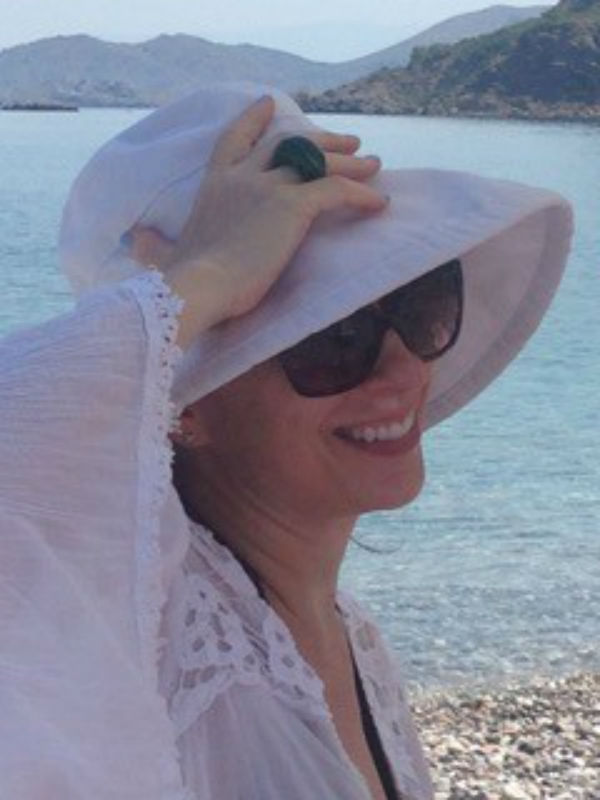 sildenafil citrate without prescription It was a historical time for Greece, a historical time for me.
That feeling when … the conflicting blues of sky and water bathe one's eyes with soothing beauty, subtly framed by the greys and whites of the stone beach. From my vantage point on Nagos Beach in Chios, I could finally breathe. In the distance are boats and the tip of Turkey. Behind me are sweet cottages, a little snack shop, and majestic summer homes owned by families of ship captains built into the mountains to provide exquisite views of the sea. The idyllic scene is disrupted by a pile of clothing on the beach, abandoned in the middle of the night by Syrian refugees who had arrived by boat, trying to escape their land in turmoil.
Greece was in the midst of a financial debt crisis. In America, the news highlighted empty ATM machines and panic that ensued with protests in Syntagma Square and throughout Athens. I was simply a NYC girl with career and love life issues, about to mark a big birthday.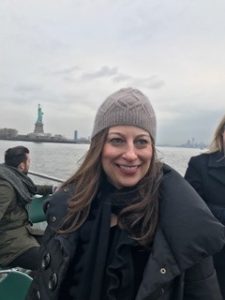 "You are who you are when you travel, only more so," is a favorite quote from a former boss, a travel magazine editor-in-chief. However, I wanted to leave my stressed out self behind! One night I met a friend for a martini, pondering whether I should plan a party or an epic trip to celebrate my ancient age. Anna, a ship captain's daughter who grew up in Athens and spent summers in Chios, nonchalantly said, "Why don't you come to Chios for a few weeks?" I didn't have the time off from work or the funds, but I was yearning to get on a plane. When I was 22, I went on a 33 day European tour to 12 countries — including Hydra  — and I always wanted to go back to a Greek island. I vividly remember the taste of the tomatoes, cucumbers, feta, grilled swordfish … the sparkling blue and green … the beautiful couple in the jewelry store that doodled my name in Greek and sold me gold hoop earrings that I still cherish.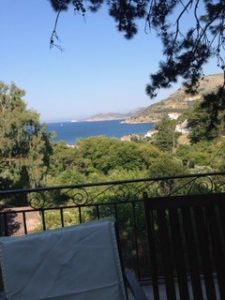 When I mentioned the serendipitous conversation to a friend in my office the next day, he said, "When someone invites you to a Greek Island, you go!" I called Anna to see if she was serious, and she said her mom had loved meeting me at a Christmas dinner in New York. I was worried that two weeks would be an imposition, but Anna's European sensibility was apparent when she emailed, "I was looking at the calendar and the days you'll be in Chios and said to myself: "What?? This is so little time…I wish you could stay with us for a month."
I flew into Athens and stayed overnight at the Sofitel by the airport to catch an early Olympic Air flight to Chios the next morning. The chic flight attendants looked like they were selected by central casting from Pan Am circa 1960's, wearing retro uniforms and chignons. Perhaps visiting an ancient country would make me feel young! Anna and her sister Titika greeted me at the airport, with large families hugging all around us. I can't even explain the sensory beauty of their family summer home – the views, the breeze, flowers. Anna's slim and chic mother Irene only spoke Greek, but we were able to communicate by pointing and complimenting each other's outfits. She could tell I was a fan of her cooking because I devoured the mid-day meals. I tried to charm her by learning some Greek words and phrases, writing them phonetically in my phone so I could remember.
Cali nichta – goodnight
Efharisto! (EfHarryStol)- thank you
Thalassa – sea
Gia sou (Yasu) – hello, cheers
Yefsi – taste, tasty
Neh – yes
Mageia – magic
Catalava – I understand
Krasi – wine
Agroktima – Country House
Panselinos – Full Moon
Mitera – mother
Pateras – father
Mornings were spent lounging on Nagos Beach. Anna's friend Stefano would set up "Elisa's umbrella" from his house each morning since I was the only one on the beach who was hiding from the sun! Lunch was the big meal of the day back at the house, often with guests – then afternoons were the time to take a nap or a walk  – and of course, Ouzo every afternoon. Opa!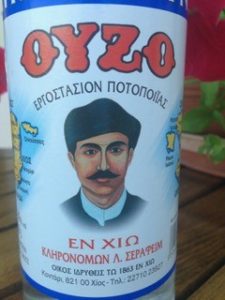 The sisters and their friends took me to the town of Kardamyla most evenings, and we sat at little tables by the water at Destil. The twinkling lights of the ships made my imagination wander, and I loved hearing stories about their ancestors. One night we went to Nostos restaurant in Lagada.  I learned that honking of horns meant a wedding reception was taking place.
Anna and Titika took me on adventures around the island, including Pyrgi; a medieval village in south Chios covered with colorful tiles. I adored the castle and shops in Mesta. One afternoon we drove to Anavatos to see medieval ruins. We seemed to be the only car driving up the curvaceous mountain. Our phones stopped working, it was otherworldly. Climbing the ruins, I behaved like a tourist and took selfies. The heat was intense so we tried to get water at the little shop, but the lone proprietor understood when a swarm of bees caused us to run away!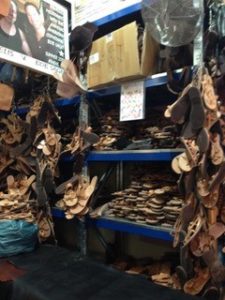 In Old Kardamyla to get souvlaki with Irene and Anna, they showed me houses where family members grew up. Walking down the street, ladies on their porches would wave and shout greetings. I was beyond in love with the history of the town, and the intimate feeling of belonging
We went to a festive "Country House" dinner in Kardamyla with a big group. Even though I couldn't order for myself or participate in some of the conversations in Greek, I had so much fun. They always poured the last sip of wine into my glass, and I found out later that symbolizes I'll be the next girl married!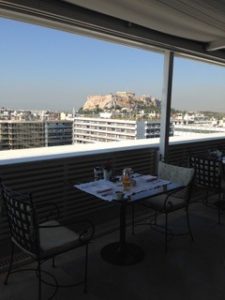 I was sad to leave Chios, but had arranged to give myself one full day in Athens. It was a worthwhile splurge to stay at the King George hotel when I ate breakfast on a terrace in view of the Acropolis. Fine shopping was in Attica, but I preferred to meander around the Plaka to explore the little shops — I felt like I was helping the local economy by buying gifts and chatting with the shopkeepers.
The new Acropolis museum was awe-inspiring, as was walking through the Dionysus Theater. I climbed to the Acropolis in 100-degree heat. With my new age and bad knee, I was euphoric that I made it! Exhausted from the heat and the climb, I had a little bit of my own drama when I treated myself to a waiting cab and "Georgie" the taxi driver tried to persuade me to go to Zorba on the other side of the city for $18e! I got out at the Plaka and went back to the route I knew since I only had one day.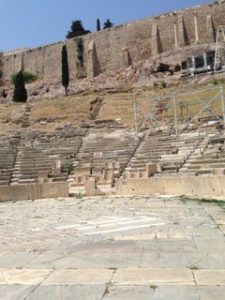 I found Pantelis Melissionos – the poet sandal maker. After he custom made a pair of leather sandals for me, I asked where I should eat a late lunch. With phonetic spellings on my phone, I finally stumbled up the hill to a side street of the Plaka and found the Taverna of Psaras – he was trying to tell me it was the Fisherman's Tavern. Vivian Leigh & Laurence Olivier once ate there, so I felt it was meant to be! I savored the tastiest fish and loveliest wine, indulging myself and happily aware that I didn't have to rush anywhere.
You are who you are when you travel, only more so. Greece opened my heart and my mind, and the people I met reminded me to breathe and to enjoy every moment of my own story in progress.
-Elisa Shevitz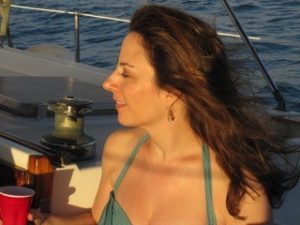 buy sildenafil citrate online canadian pharmacy About the Author:
Elisa has been a lover of words her whole life, but mostly all she really wants to do is get on a plane! She ALWAYS has her passport updated and was the only kid in her high school who subscribed to European travel magazines. She's a storyteller who has spent most of her career publicizing Travel + Leisure, Food & Wine, Departures … and Broadway … and now is having a go at writing her own story.
here CHIOS
Nagos Beach, Chios
https://www.chios.gr/en/nagos-en
Destil in Kardamyla
https://www.xo.gr/profile/profile-907239670/en/
Pyrgi, medieval villiage
https://greekcitytimes.com/2017/10/25/pyrgi-thestunning-medieval-village-chios-2/
Anavatos
http://www.chios.com/en/villages/central-villages/anavatos
Mesta Village
http://www.explorechios.gr/en/explore/villages-of-chios/south-chios/40-mesta
Ano Kardamyla
http://www.chioslife.gr/en/villages/kardamyla
ATHENS
King George Hotel, Athens
http://www.kinggeorgeathens.com
Pantelis Melissinos, The Poet Sandalmaker
https://melissinospoetsandalmaker.com
Pasaras Taverna
Theatre of Dionysus
https://www.ancient.eu/article/814/theatre-of-dionysos-eleuthereus/
Acropolis Museum
http://www.theacropolismuseum.gr/en