My Hometown: Sao Paulo, Brazil
Posted on August 27, 2018 by Simon Mayle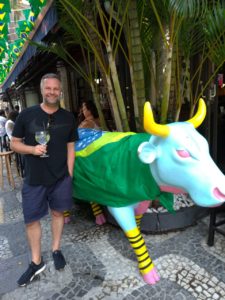 Who:  Simon Mayle, Event Director, ILTM Events and Proud Experiences
Where is your hometown? Were you born here or did you move here?
Sao Paulo, I moved here from London in January 2014 with some hesitation, took me less than 3 weeks to fall head over heels in love.
What makes you consider it home?
My home, my partner, my work and my heart is here.
What is your favorite local dish and/or place to eat?
Brazilian life centers around food; so it's difficult to choose one type of favorite food but that said I'm happiest when I'm at my local "boteco" (a kind-of simple corner street bar) Praca Cheese in Pinheiros; eating a coxinha (shredded chicken in a potato and breadcrumb ball) and drinking an ice-cold Original (a local beer, normally served in wine-cooler style sleeve in large bottle with small cups) ideal for sharing with friends.
What is your favorite place to stay when you are "home"?
I love my neighborhood Pinheiros, which sits between the chic Jardins and boho Vila Madalena neighborhood.  There's big avocado tree right in front of the house and the rest of the trees that line street have an array of beautiful orchids hanging off them.  On the corner of the street sits one of Sao Paulo's best restaurants, Arturito and in front of it one of the coolest, Feed Food at Cartel, on the next block is the square Benedito Calixto, where on Saturday's there's an antiques market and many people gather for sunset drinks on Sunday there's a street food market. This is where I feel at home.
And where do you suggest that travelers stay to feel "local"?
I love Vila Madalena, whenever I return from a trip and need a little reminding why I love Brazil so much and live so far from my homeland, I head there – the streets are full of samba, the shops are artisnal and it's home to some of the very best street art in the world. You can't get more Brazilian than this.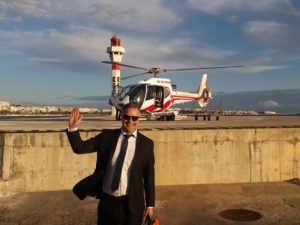 What unexpected activities can you experience in your hometown?
Avenida Paulista on a Sunday. This is the equivalent of London's Oxford Street or New York's 5th Avenue, which on a Sunday is closed to traffic and along street you'll find all walks of life, music and entertainment, everything gathered in one street.
What's a neighborhood I need to explore off the tourist map?                         
Also on Sunday, you'll find miles and miles of lanes on the main roads closed to traffic and converted into bike lanes. I'd encourage you to hop on a bike and get lost – the old centre of Sao Paulo is one of the least looked after but also one of the oldest and arguably most beautiful. Similarly, on a Saturday daytime, a great place to visit off the usual beaten track is Bom Retiro home to the Korean neighborhood, with many great restaurants and the wonderful Pinacoteca museum is found close by.
What makes your hometown special/unique?
Someone said to me recently, "Sao Paulo is the ugliest city I ever fell in love with and it's true – first impressions, Sao Paulo is not beautiful, like Paris or Barcelona, but you get off the main roads, into the neighborhoods and you'll find a very green city, with gastronomy, art and a joy like no other.
What is your favorite memory in your hometown? Why?
Impromtu arrival of Samba bands on the street, gathering followers as they stop the traffic and parade through the neighborhoods. Goose bumps!
Why would someone want to visit your hometown?
Normally they don't, ha! All my visitors want to come to Brazil and meet me in Rio but without fail when we do a tour of Brazil, and finish up in Sao Paulo – they all say that Sao Paulo was the most surprising of the whole trip.
What song best represents your hometown?
For me "Nao deixa a samba morrer" – don't let the samba die.