My Hometown: Istanbul
Posted on November 19, 2018 by Shirin Bebe Schade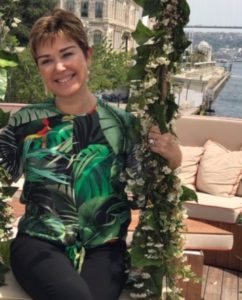 Who: My name is Shirin Bebe Schade.
What you do:
I am the Managing Director of  TravelStyle which I have founded in 1999 to design priceless bespoke itineraries for our high-end guests coming from all over the world to discover Turkey from a different, rather unique perspective.  Ever since we have never had a website but only work very exclusively through word of mouth and referrals.
Where is your hometown? Were you born here or did you move here?
I was born in the capital city of Ankara, however, moved to Istanbul at the age of two after which Istanbul became my hometown.
What makes you consider it home?
Although I have spent many years in the United States, Europe, and Asia prior to setting up my company, Istanbul has been the city where I have spent most part of my life and many of my family members and friends have lived in Istanbul which also makes it home for me.
What is your favorite local dish and/or place to eat?
My favorite dish is a nicely grilled delicious seasonal fish which comes out of the Bosphorus accompanied by some ''meze'' – that is  Turkish style tapas. We are blessed with the different variety of fish that one can find nearly every month. My favorite fish restaurant is Bebek Balıkçı located in the lovely neighborhood of Bebek on the Bosphorus, right by the water.  
What is your favorite place to stay when you are "home"?
Our apartment! Overlooking the Bosphorus from atop a private forest right from the center, I have Europe to my right, Asia to my left, the Bosphorus bridge linking both continents in the middle – an unparalleled idyllic view to say the least.
And where do you suggest that travelers stay to feel "local"?
I think what counts more than ''where'' one stays  in the city — may it be in the old part of town at the Four Seasons Hotel Sultanahmet, at the Bosphorus with the Çiragan Palace Hotel Kempinski, at the Four Seasons Hotel Bosphorus or again at the St. Regis which is more centrally located  — it is ''the way one experiences the city'' that will make him or her feel ''local''.
What unexpected activities can you experience in your hometown?
Getting access to sites that are otherwise closed or closing those that are normally accessible to the public to have a private visit all to yourself or then again getting access to private residences of art patrons, collectionneurs and influencers could be some of the unexpected activities one could experience in Istanbul.
What's a neighborhood I need to explore off the tourist map?               
One should definitely explore the Asian neighborhoods of Kuzguncuk which has remained intact for the most part of it, Kadiköy with its colorful marketplace as well as the up and coming neighborhoods of Moda and Kandilli.  
What makes your hometown special/unique?
It is the only city in the world that is home to two major continents: Asia and Europe, which are separated by the Bosphorus and linked by three bridges along it. Istanbul is a perfect blend of old and new, a melting pot of civilizations and religious diversity which few could possibly rival.
What is your favorite memory in your hometown? Why?
Watching the beauty of Istanbul from atop when covered with a white lace of occasional snow in Winter.
Admiring the beautiful Spring tapestry of color created by millions of tulips planted all over the city.
Dancing to the rhythm of the music during Summer parties along the Bosphorus.
Feeling the light breeze while jogging over Autumn leaves in the Belgrad Forest.
Why would someone want to visit your hometown?
Because you would not want to miss out on the beauty, the cultural diversity and of course the historical richness one would come across every step of the way experiencing the ''real Istanbul''.   Historical yet cosmopolitan, with a variety of arts & culture, fashion, and host to some of the very best restaurants in the world, it is a city which has something in store to fulfill – and exceeds – any visitor's expectations.
What song best represents your hometown?
''Istanbul'' by the famous late singer Charles Aznavour or then again ''Istanbul Not Constantinople'' by They Might Be Giants.